Easy and fun to make these Gingerbread Oreo Cookie Balls are made with Gingerbread Oreos, cream cheese, and milk chocolate.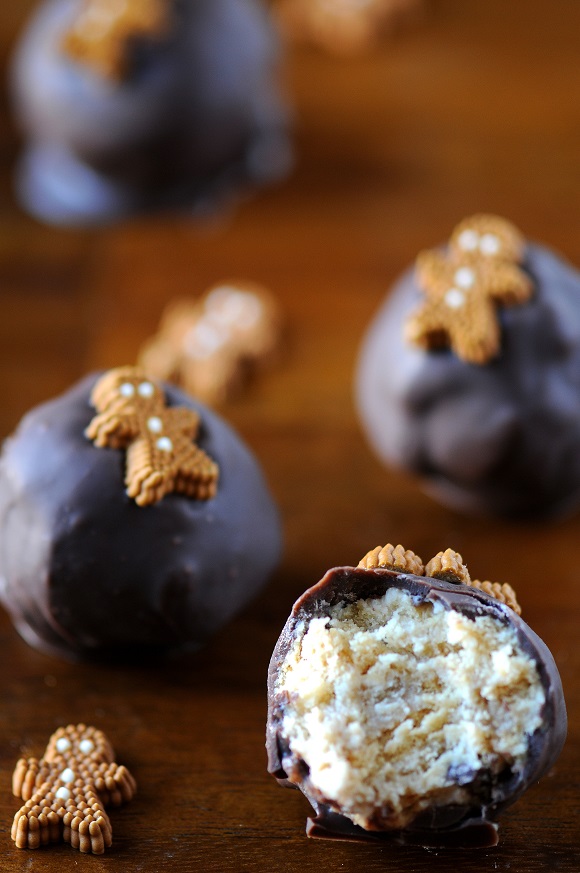 So when Oreo first contacted me about making cookie balls for them I wanted to do the Gingerbread ones.
But I was told they were not doing the Gingerbread flavor this year so I went with the Birthday Cake ones instead.
Which were a big hit, so much so I am considering making some for my wedding since you can do them ahead of time and decorate them however you would like.
Then I found out they were still making the Gingerbread ones (I think only Walmart has them).
So I went ahead and made a version of those as well (no they did not compensate me I just like them).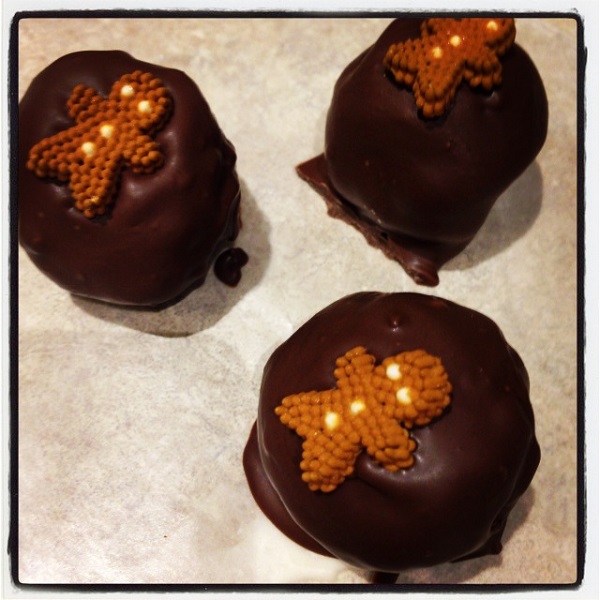 And yes, those were ridiculously good as well.
The hockey team got them this time.
As usual people were in awe that all they were was ground up cookies with some cream cheese and chocolate.
They did think the little gingerbread men on top were cute too. 🙂
Other than cookie ball making here are some other things going on.
#1: This is my new guilty pleasure.
I found them at Target.
I think the chocolate is a little too thick but I feel that about all chocolate covered potato chips.
Still highly addictive though.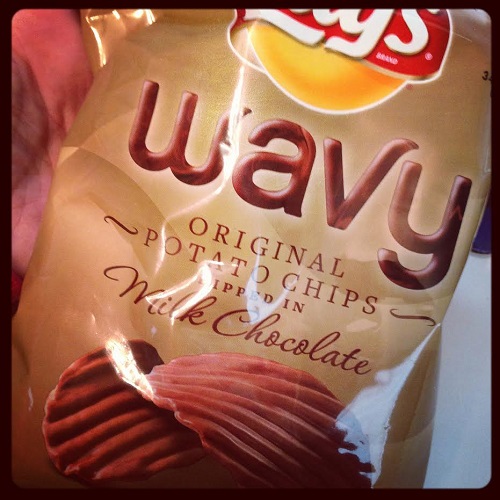 #2: I think a lot of you forget that I write for Tablespoon (which is run by General Mills).
You should go over and check it out.
Often if there is not activity on here it's because I was doing a bunch of stuff for them…like these cute little gingerbread whoopie pies.
#3: Yes I am one of those people who put up their tree already.
Thanksgiving is late this year (and technically I already had mine in October) and darn it all I love the Christmas tree.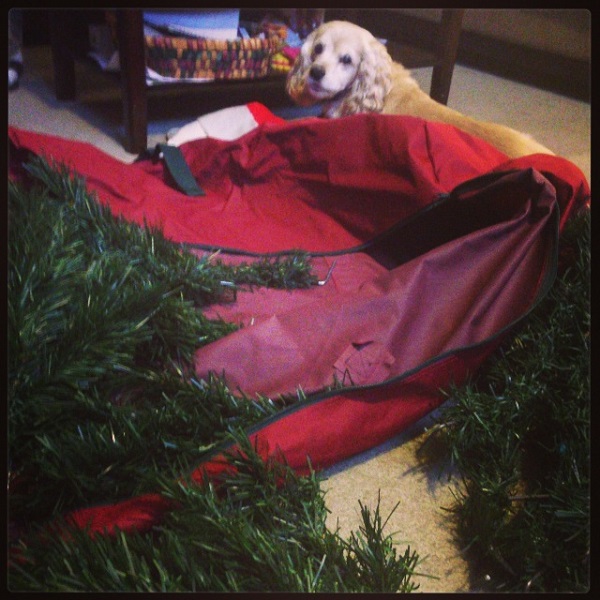 I mean come on…it's so pretty.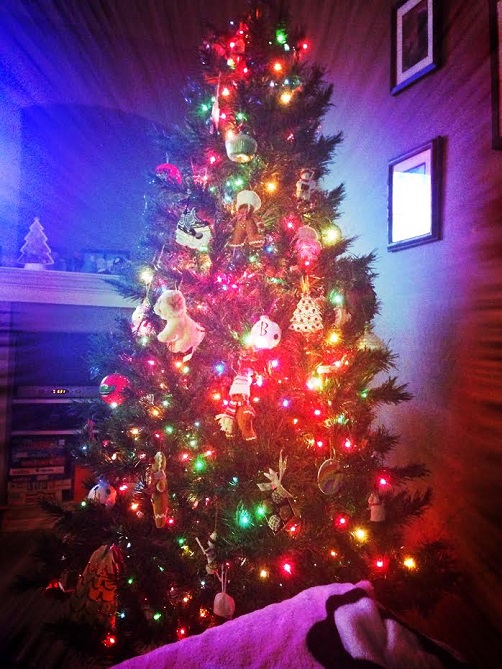 #4: This weekend my husband, the dog, a few friends, and myself all participated in the Ugly Sweater Run.
Crazy Cocker Spaniel wasn't excited about her sweater but she did have a great time at the walk/run.
She kind of half walks and half runs whenever the mood strikes her. 🙂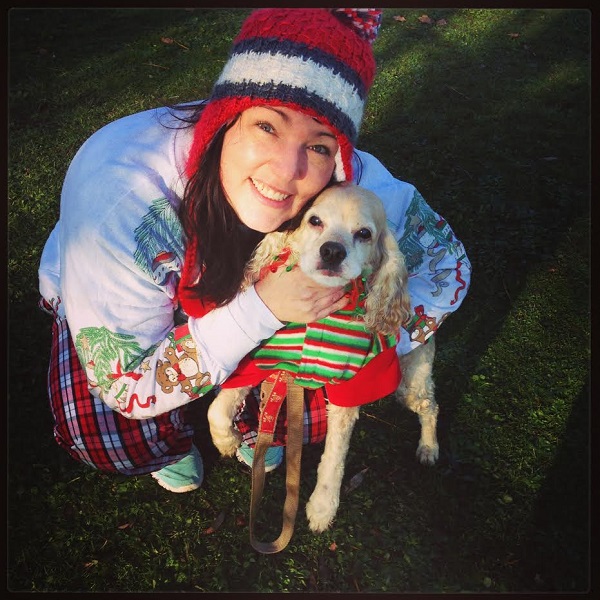 Yes, we do look styling.
The lovely things you can find for mega cheap on eBay.
And yes that is little stuffed animal Christmas bears on my sweatshirt.
Super yes that hubby is a fantastic sport for dressing up and going along with my crazy ideas.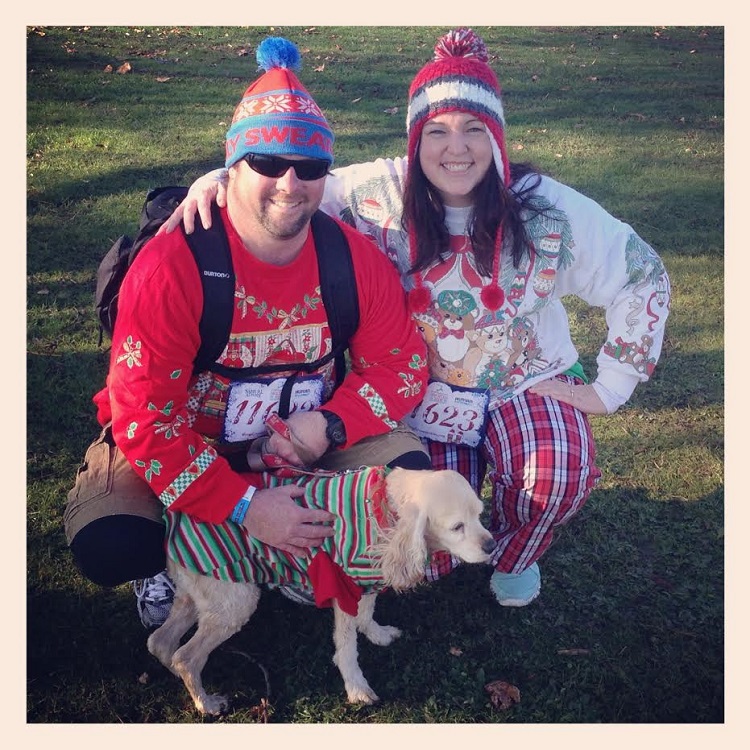 And this would be Crazy Cocker Spaniel after the walk. 🙂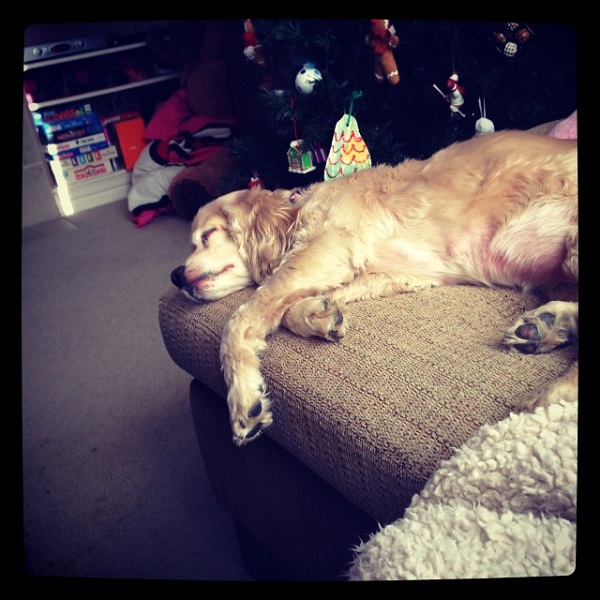 Want More Gingerbread Recipes?
Chocolate Gingerbread Layer Cake
Clementine Upside Down Gingerbread Cake
Spiked Gingerbread Hot Chocolate
Milk Chocolate Gingerbread Fudge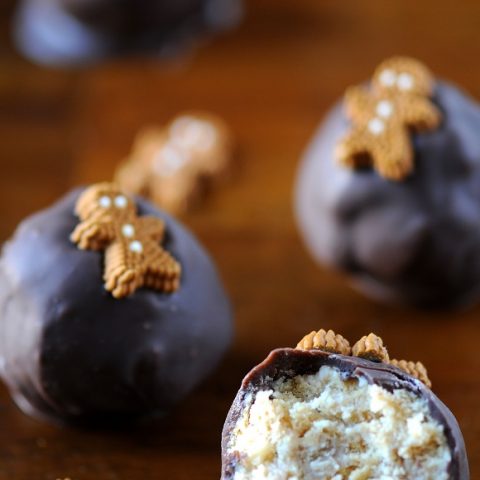 Gingerbread Oreo Cookie Balls
Ingredients
1 pkg. (8 oz.) brick cream cheese, at room temperature
36 Gingerbread OREO Cookies, finely crushed (about 3 cups) OR 20 gingersnaps plus 16 golden Oreos crumbs
16 oz. milk chocolate (or chocolate candy melts), melted
Mini gingerbread men candies for decoration
Instructions
Mix cream cheese and cookie crumbs until blended.
Shape into 48 (1-inch) balls.
Freeze for 10 minutes.
Dip balls in melted chocolate; place in single layer in shallow waxed paper-lined pan.
Add mini gingerbread men to cookie balls before chocolate starts to set up.
Refrigerate for one hour or until firm.