Beer lovers will love this Apple Oktoberfest Cheese Soup. A beer cheese soup with a hint of sweetness from the apple.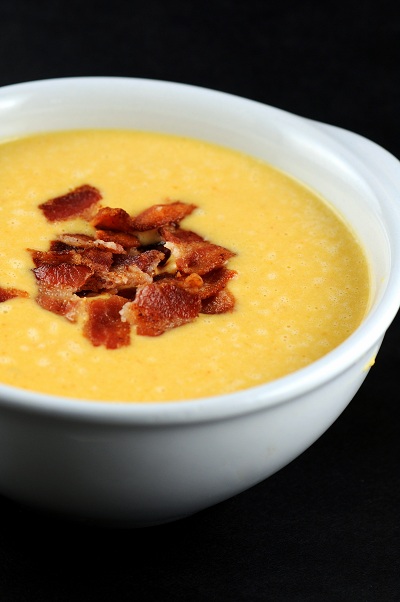 If we can't figure out how to cure the common cold can we at least figure out how to harness the snot and make it into an alternative fuel source?
Gross yes I know.
It's a food blog why talk about snot?
Because darn it all we have useless gadgets galore and yet no one is working on this for me.
At this rate with my cold I could have fuel for the remainder of the year. 🙂
So I'm sick…but I'm not.
I feel fine.
With the exception of producing a large amount of what I hope to become an alternative fuel source…and just on one side.
And I can't sleep because I am hopped up on Sudafed.
Which I had to sign my life away for and be judged by the pharmacist for having to ask for it.
They scan your driver's license.
So odd.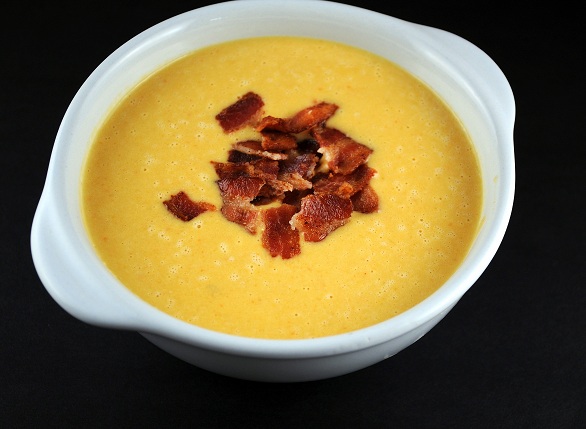 So when I am sick I want two things and two things only carbs (usually in the form of cinnamon-sugar toast…but I need my mom around to cut the crust off 🙂 ) and soup.
I actually made this Apple Oktoberfest Cheese Soup a couple weeks ago when I saw it over on Evil Shenanigans.
I tinkered with it a little and you need to know that it does have a strong beer taste.
So if you aren't a fan of beer stick to a light beer (think PBR or Bud) and you won't even notice the beer taste as those aren't really beers. 😛
If you are a beer and cheese fan be sure and try out this Cheddar Ale Spread from my archives that I serve at pretty much ever party.
P.S. If you are an investor of sorts…invest in Kleenex…. I will make you a fortune. 😀
P.S. It's a great day to buy my cookbook Holy Sweet!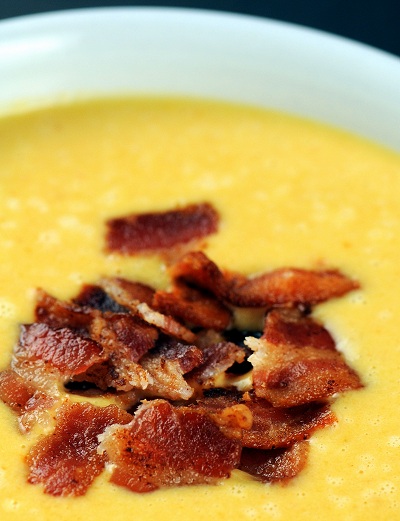 Want More Soup Recipes?
Cheese Tortellini Zucchini Corn Soup
Dill Pickle Cheddar Cheese Soup
Apple White Cheddar Onion Soup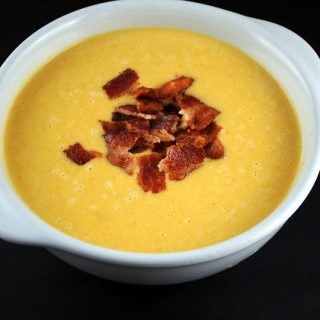 Apple Oktoberfest Cheese Soup
Ingredients
8 strips bacon, chopped
1 medium onion, chopped
1 Granny Smith apple, peeled, cored and diced
1 medium carrot, peeled and chopped
1 rib celery, chopped
½ tsp. salt
½ tsp. pepper
¼ tsp. dry mustard powder
¼ tsp. smoked paprika (I searched everywhere for this and ironically found it in bulk at Costco)
1 tsp. minced garlic
¼ cup all-purpose flour
2 cups chicken stock
1 cup Oktoberfest style beer (I went PNW and used Pyramid Oktoberfest)
1 cup heavy cream
5 ounces sharp cheddar cheese
3 ounces smoked Gouda ( I may have been more generous with the Gouda)
Instructions
In a large sauce pan, fry up your bacon (use the whole package…you know for snacks. 🙂 )
Once bacon is crisp, remove and set aside.
Add onion, carrots, apple, and celery to the bacon grease and cook on medium heat until the fruits and veggies are translucent.
Add in the garlic and sauté for 30 seconds.
Throw in your spices and flour and cook out the flour taste for about 2-3 minutes. It will turn a little brown…go with it.
Deglaze the pan and try and get all the good bits of the bottom up with the beer and chicken stock.
Let simmer on medium for about 15 minutes.
Working in batches and being careful because it is hot.
Blend the soup with the cheese. Yes you read that right. Hopefully you have a good blender. I have professional Vitamix and that sucker will pulverize anything (one of the best investments I EVER made).
Once the cheese and soup are all blended together put back in pot and add heavy cream.
Heat up and serve warm with a ton of bacon.