This Cookies and Cream Hot Chocolate is made using melted cookies and cream ice cream for an over the top cozy treat.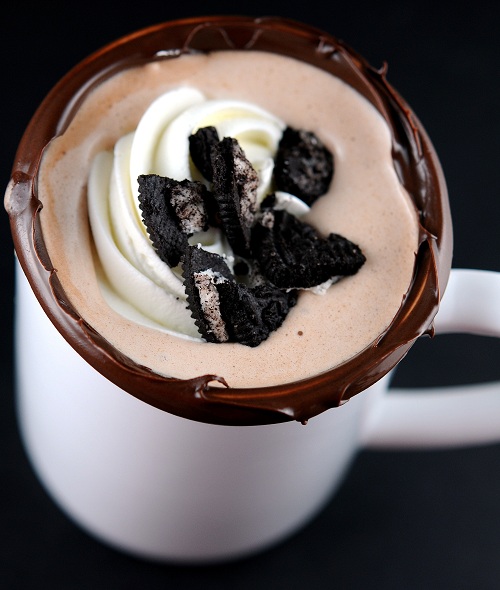 Growing up my parents had these drinking glasses with two naked cartoon characters on it.
I would always giggle when I would get that cup.
It came from a comic strip called Love is….
Each cup had the naked couple doing something quite innocent and would say something along the lines of Love is…accepting that no one is perfect.
They were cute and as I got older I learned to love them…and steal them when I went off to college. 🙂
I learned over the years that the cups were a good reminder that the little things really do add up and while life can be complicated love should not be.
Oh sure it can be hard at times as many people aren't big on compromise but at the end of the day if it's THAT hard to be together maybe you aren't supposed to be.
I am very fortunate that my husband and I while we have had hard times being together isn't hard at all.
Probably because we really appreciate the small things and try not to expect grandiose things from each other.
And with that I am going to do something I rarely do here…get mushy.
My own version of Love is if you will.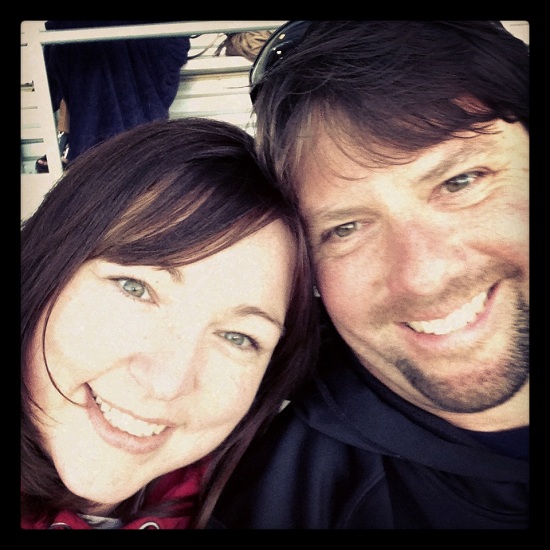 Love is….
…cuddling and watching hockey together.
…holding my hand at public skate.
…doing the laundry 94.734% of the time.
…cooking with me.
…cooking for me (breakfast every weekend).
…helping me be a better hockey player.
…texting me every day when at work to tell me that you miss and love me.
…never taking stress out on me.
…making props for my food blog.
…keeping me warm when I am cold.
…singing 80's songs with me in the car and not even noticing that I sound like I am beating a cat when I sing.
…moaning more than me when you eat something amazing.
…letting me steal your clothes.
…getting my tires rotated and changing my oil to keep my car safe.
…someone who accepts me completely and doesn't try to change me…nor I him.
I could go on but you are probably vomiting at this point and vomit and a food blog don't mix. 😛
So I had posted the frozen whipped cream that I make for hot chocolate.
A few people were interested in more flavors so I will put those up in the coming weeks as I am sure more cocoa will be made as the temperature decreases.
This Cookies and Cream Hot Chocolate really does not that much chocolate in it for a hot chocolate.
It's actually cookies and cream ice cream melted down.
I got the idea from our old neighbor who used to melt down chocolate ice cream and just mix it with water to make cocoa.
Yeah, that was good hot chocolate.
So I Googled and found that a lot of people do that.
But for some reason they add like a stick of butter and a ton of sugar PLUS the ice cream and that seemed like a bit much.
You can buy store bought if you want but I wanted very few ingredients in mine.
You technically don't need to make the ice cream but I feel the churning really gives it an extra cream edge.
When served my step daughter told me she was always in awe of what I could do with food (or drink).
So I am pretty sure it was a hit…since none was left.
You could easily experiment with all types of ice cream to take your hot chocolate over the edge.
Make it and serve it to the one you love.
And as always it's a great day to order my cookbook.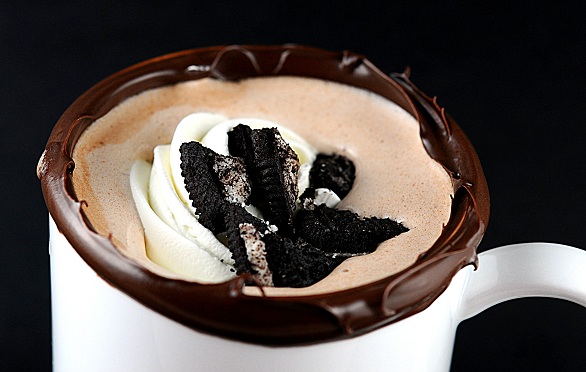 Want More Hot Chocolate Recipes?
Circus Animal Cookie Hot Chocolate
Spiked Stroopwafel Hot Chocolate
Spiked Gingerbread Hot Chocolate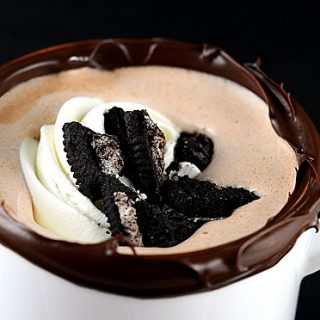 Cookies and Cream Hot Chocolate
Ingredients
Cookies and Cream Ice Cream:
3 cups heavy whipping cream
½ cup powdered sugar
1 cup Oreo cookies
1 tsp. vanilla bean paste
For the Hot Chocolate:
3 cups cookies and cream ice cream
3 TBSP unsalted butter
¼ cup mini chocolate chips
1 cup water
Oreo Frozen Whipped Cream Circles (see here)
Instructions
For the Ice Cream:
In a bowl combine the heavy cream, sugar, and vanilla paste.
Place in fridge overnight.
Place in your ice cream machine and freeze to the manufacturer's instructions.
Remove from bowl and fold in Oreo cookie pieces.
For the Hot Chocolate:
In a large saucepan, melt together the chocolate chips and butter.
Then add the ice cream.
Once ice cream has melted add the water to thin it out and let it be heated through.
Serve warm and add Oreo Frozen Whipped Cream Circles.