This Pumpkin Pound Cake with Maple Glaze is a moist pound cake with a yummy buttery maple syrup glaze to make this a fall favorite.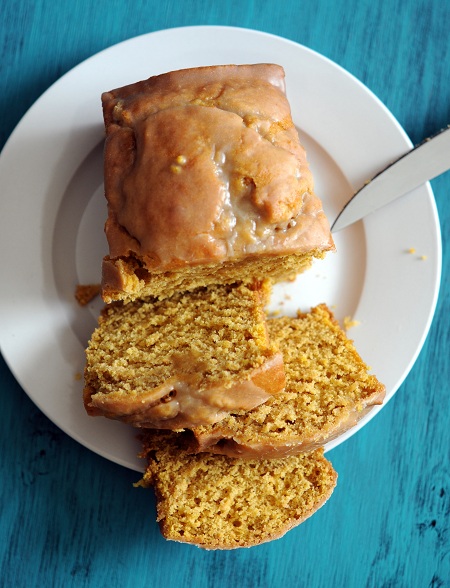 I was having writer's block (still am) and insomnia from the Sudafed and so I thought I would just write random crap.
And since I have had this recipe ready for days but nothing to go along with it.
I think I am going to put my dog on a dog shaming website.
She has a serious used Kleenex problem.
She used to try and hide it like all good closet snot eating dogs should but NO she has gotten so brazen that she really doesn't care if we are standing right there.
I had a college moment today where the machine was down and I needed gas or else I wasn't going anywhere.
So I had to scavenger my car for money.
Just a little over $6 in change.
I felt like a moron paying the guy mostly in nickels but hey, it is what it is buddy.
I had the slight need to punch him when he suggested that I only get $5 something in gas and buy a lotto ticket with a spare dollar.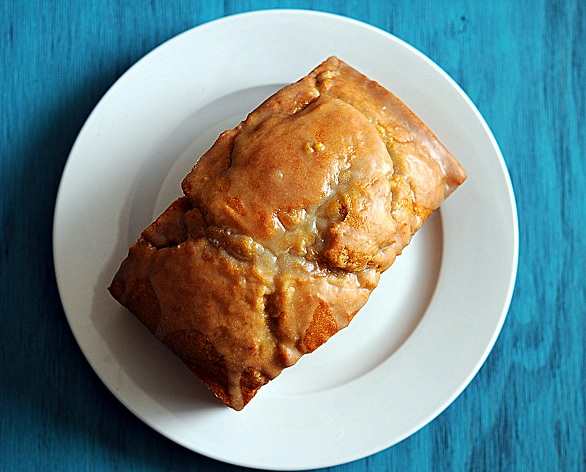 After months of searching I finally found Key Lime Pie Vodka…pretty much about as yummy as expected.
Now I am wishing I never found it. 😛
Oh and I found Pumpkin Pie vodka too.
That has yet to be touched…but don't you worry, I'm sure something will be done about that. 😀
Amazingly I made it out of Target for under $30…I get some sort of award for that right?
I found an old mix tape when cleaning the other day.
I listened to some depressing music as a teenager it's a wonder I made it out alive.
My friends too…we all listened to it.
My very pretty blue background was made by my husband and his daughter who was nice enough to paint it for me.
I love helpers.
Don't run a blog about your family talking about how poor you are that you aren't going to have Christmas.
And you can't afford to feed your kids or throw them a birthday party (they are two make them a cake and be done).
But just a week and a half before take pictures of the new clothing you bought they young kids and Sparkly Blue Tom's shoes for yourself that cost $50.
Then get donations from people so that you can still throw the party.
Ummm, here's a crazy idea if you really are struggling skip the party and I don't know use the money to feed your kids.
Because I am going to guess that sparkly Tom's shoes don't taste very good.
This Pumpkin Pound Cake with Maple Glaze is pretty darn tasty.
If you have pecans throw some in it.
I didn't have any so they got left out.
But I think they would have gone nicely with the cake.
Hubby polished off a mini loaf in the blink of an eye…so apparently he thought it was good.
Can you freeze these?
If you want to freeze these you can.
But you want to freeze them without the glaze on them.
When you are ready to use them you can make the glaze and glaze the loaves.
P.S. It's a great day to buy my cookbook Holy Sweet!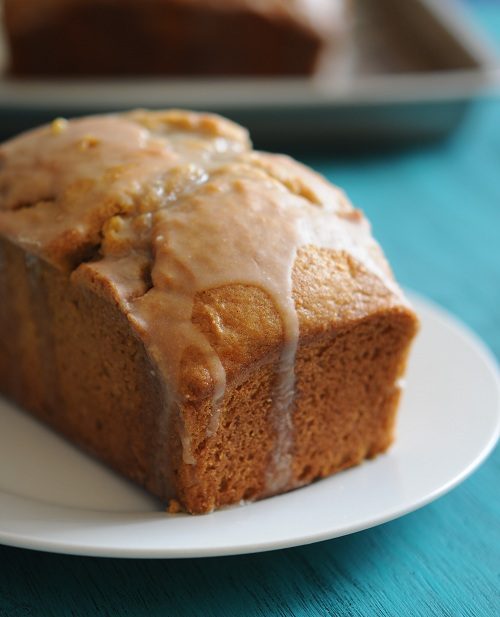 Want More Pumpkin Recipes?
Pumpkin Spice Latte Russian Tea Cake Cookies
Salted Caramel Frosted Pumpkin Cupcakes
Chocolate Cinnamon Frosted Pumpkin Cupcakes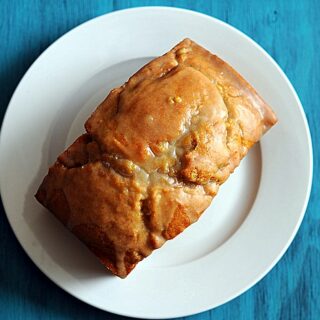 Pumpkin Pound Cake with Maple Glaze
Ingredients
For the Cake:
3 cups all-purpose flour
2 tsp. baking powder
1 tsp. baking soda
1/2 tsp. salt
2 ½ tsp. pumpkin pie spice
8 ounces unsalted butter, at room temperature
1 cup granulated sugar
1 cup packed brown sugar
5 large eggs
1 can (15 ounces) solid pack pumpkin
1 ½ tsp. vanilla bean paste
For the Maple Glaze:
4 tablespoons unsalted butter
3 tablespoons maple syrup
3 tablespoons heavy whipping cream
¾ cup powdered sugar
Instructions
For the Cake:
Heat oven to 325F.
Grease and flour a 12-cup Bundt cake pan or you can use 4 mini loaf pans I use these .
In a medium bowl, combine flour, baking powder, soda, salt, and spice; set aside.
Using a stand mixer with the paddle attachment cream the butter and sugars until light and fluffy.
Beat in eggs, one at a time, beating well after each addition.
Beat in pumpkin and vanilla.
Slowly beat in dry ingredients. Continue beating on medium speed until smooth and well blended.
Spoon into the prepared Bundt pan and bake for 55 to 60 minutes (if you are using the mini loaf pans they take a little less time about 45 minutes…but watch and see as every oven is different), or until a wooden toothpick or cake tester comes out clean when inserted in center.
Cool for 15 minutes in the pan on a rack; invert onto a serving plate to cool completely.
Glaze with the Maple Glaze.
For the Maple Glaze:
In a small saucepan, combine the butter, maple syrup, and cream; bring to a boil. Continue to boil for 1 minute.
Remove from heat and sift the powdered sugar into the hot mixture.
Whisk until smooth. Let cool for about 15 to 20 minutes, until slightly thickened.
Stir in the finely chopped pecans, if using.
Drizzle over the cooled cake.