This Sweet Potato Apple Cider Soup is made with fresh apple cider, spices, maple syrup, and cream. All the flavors of fall in one bowl of soup.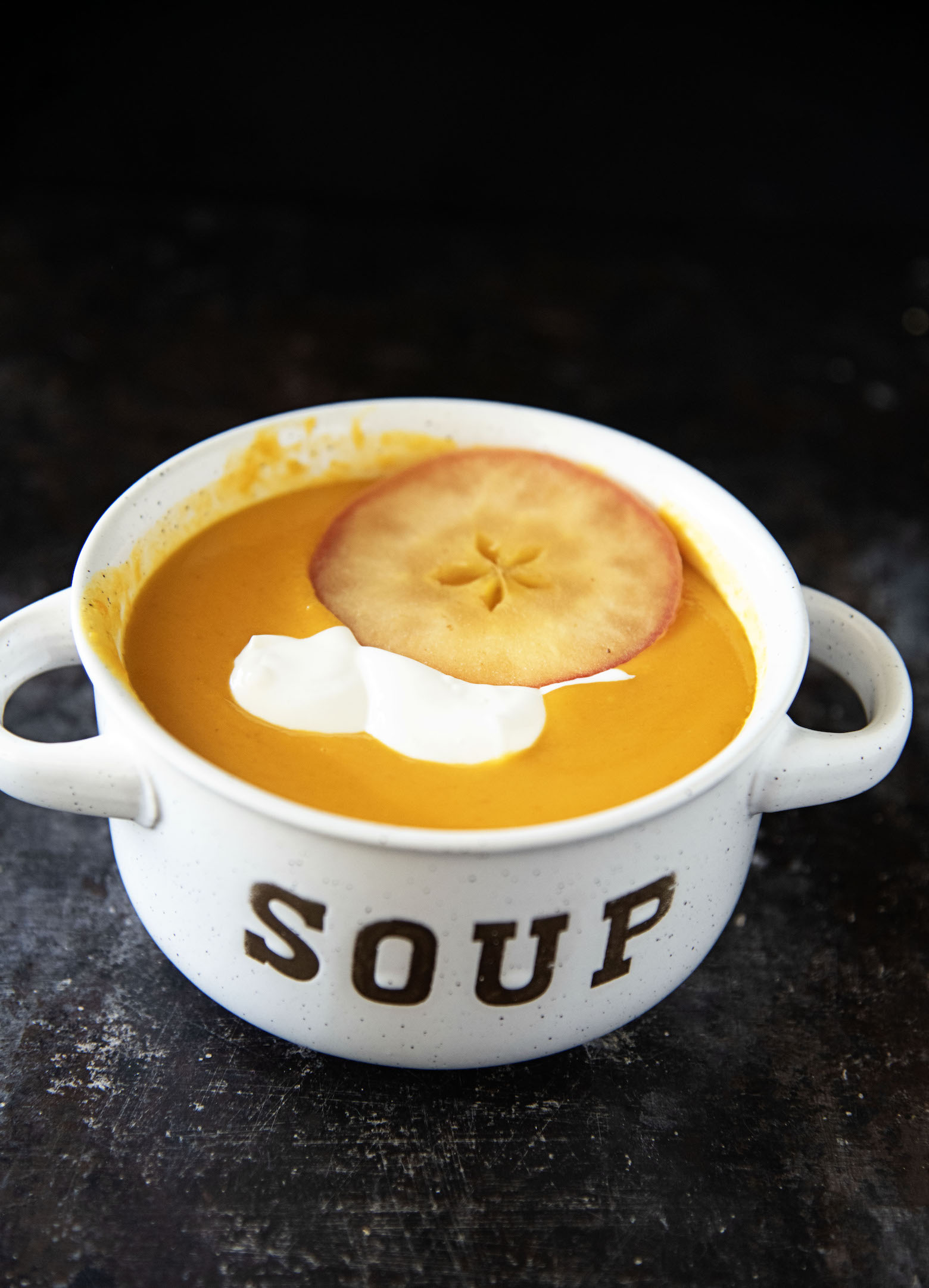 When I was in Chicago last week with Red Star Yeast there of course were other bloggers there.
There were a few of us that had been blogging for a long time…I'm coming up on 15 years of blogging.
Not too many of us who started out back then still doing it.
Many of them had only been blogging for a few years.
That's not a bad thing it's just they came in at a different time in blogging.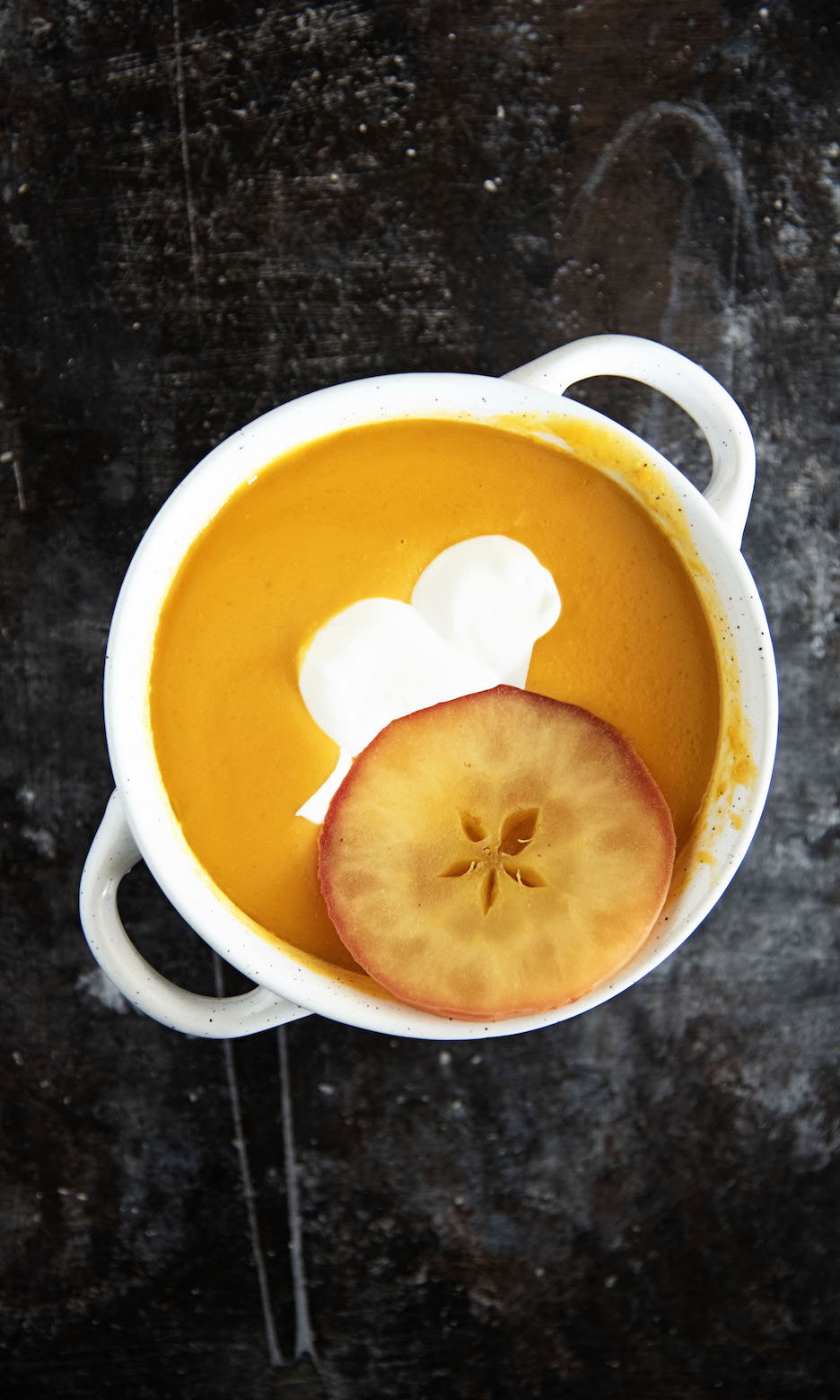 You Did What?
We were laughing extra hard because did you know the first few years of blogging I gave out my phone number at both Canadian and American Thanksgiving time?
And I ENCOURAGED people to call me with any pie or dessert emergencies.
Yep, I did that.
I can't believe I did that but I did.
And yes, people called.
At all hours of the day and night.
But back then food blogging was a relatively new thing and so I didn't have tons of people calling luckily.
I cannot imagine how that would go over today. 🙂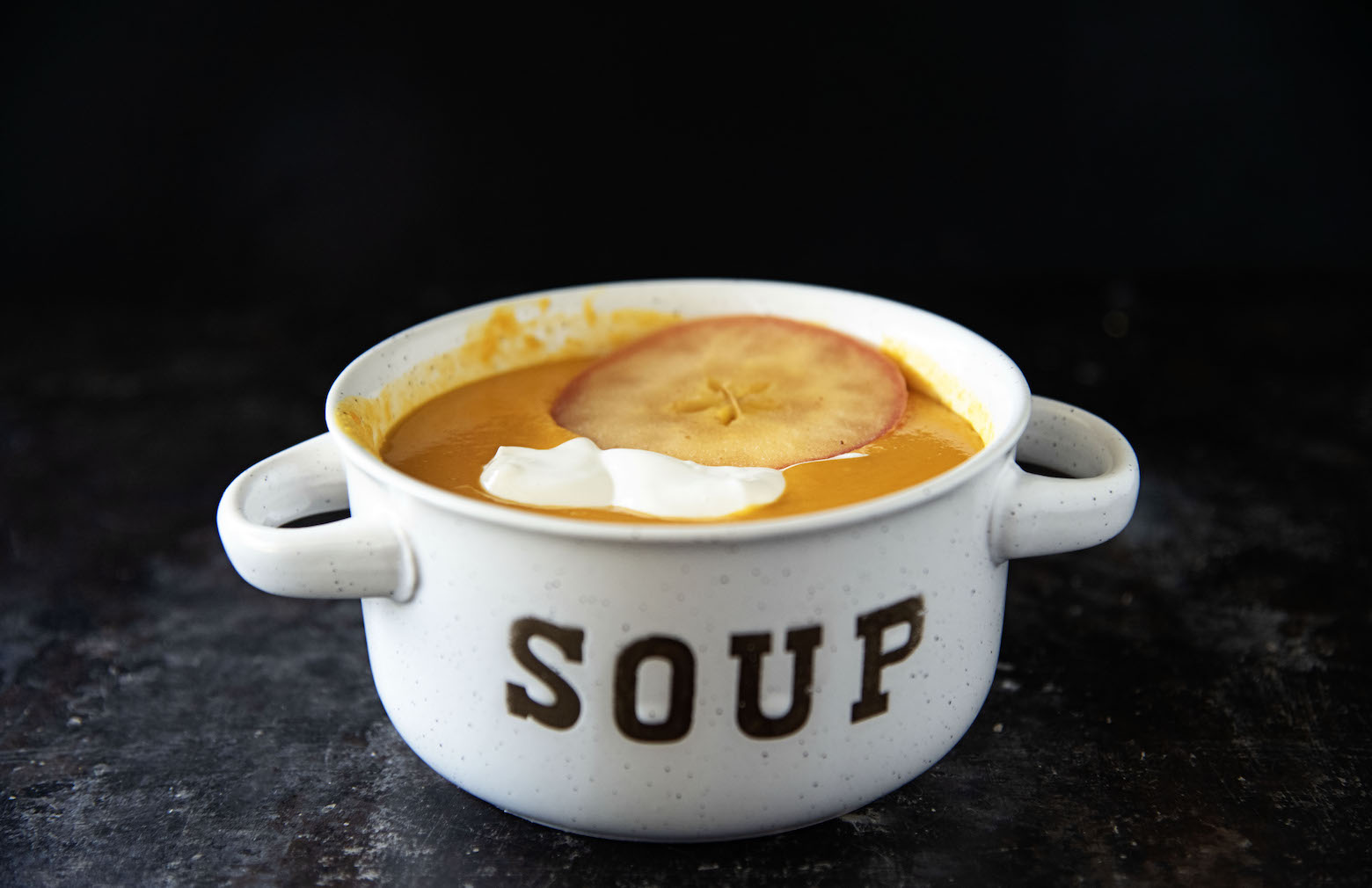 The new bloggers remind me of my early days of teaching school.
Such enthusiasm.
A belief that they were going to do this the rest of their life.
Zestfully saying how it's the best job of their life.
All things considered it is a great job.
It's extra great for me because of my autoimmune stuff.
There are not many jobs you can do in pajama bottoms. 😛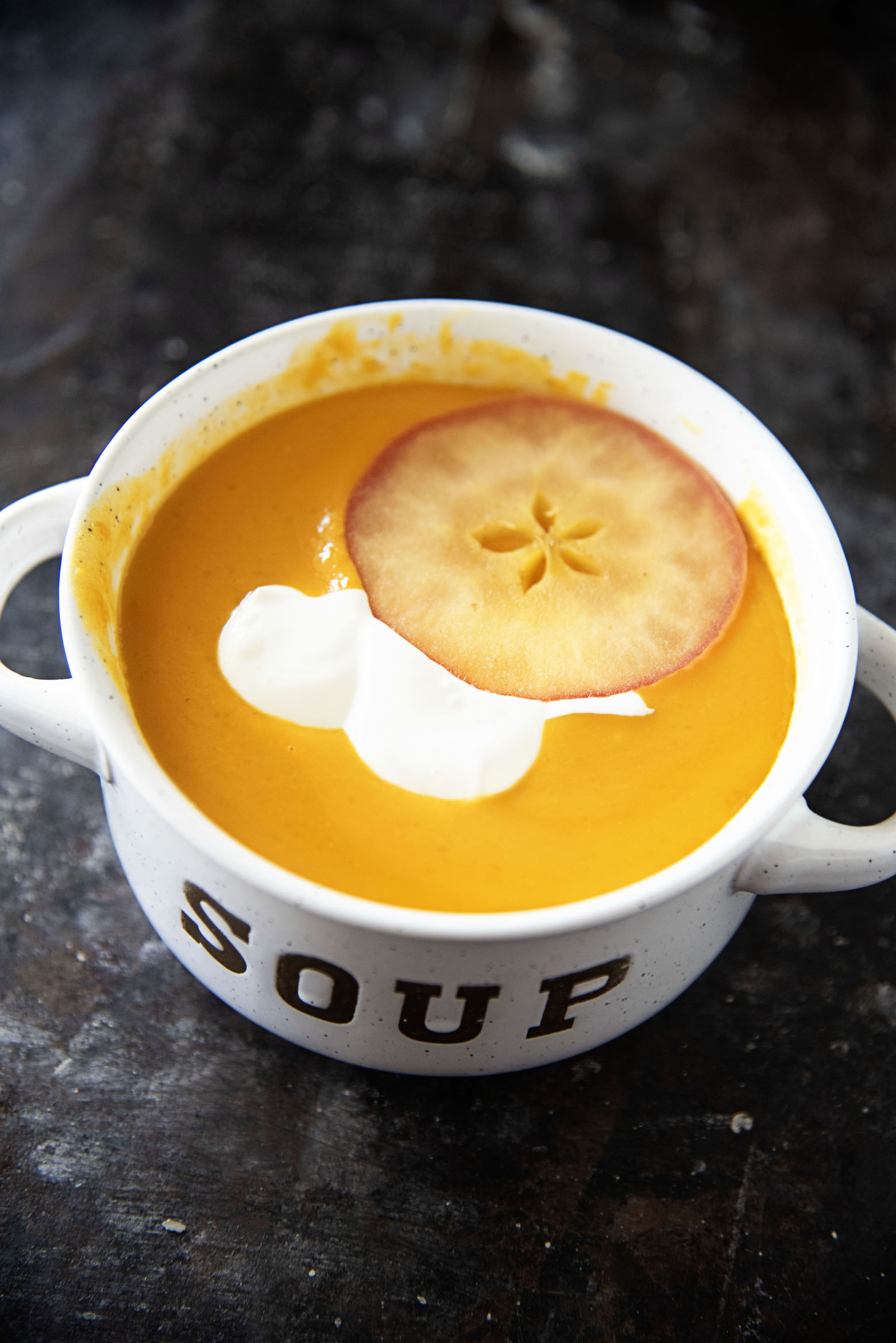 But sometimes it does make you want to scratch your head.
When I get questions that Google could easily answer.
Or mean emails telling me how absolutely horrible something I made is.
That happened this week.
Their issue with the Toffee Apple Cider Pound Cake was the same issue that I deal with every fall.
The issue?
People put Apple Cider VINEGAR in a recipe that calls for Apple Cider.
Happens…all. the. time.
So as you can imagine those using apple cider vinegar are definitely NOT happy with how the baked goods turned out.
So please note this Sweet Potato Apple Cider Soup calls for apple cider…and NOT apple cider vinegar.
I'd like to keep my hate mail down this week. 😛
P.S. It's a great day to buy my cookbook.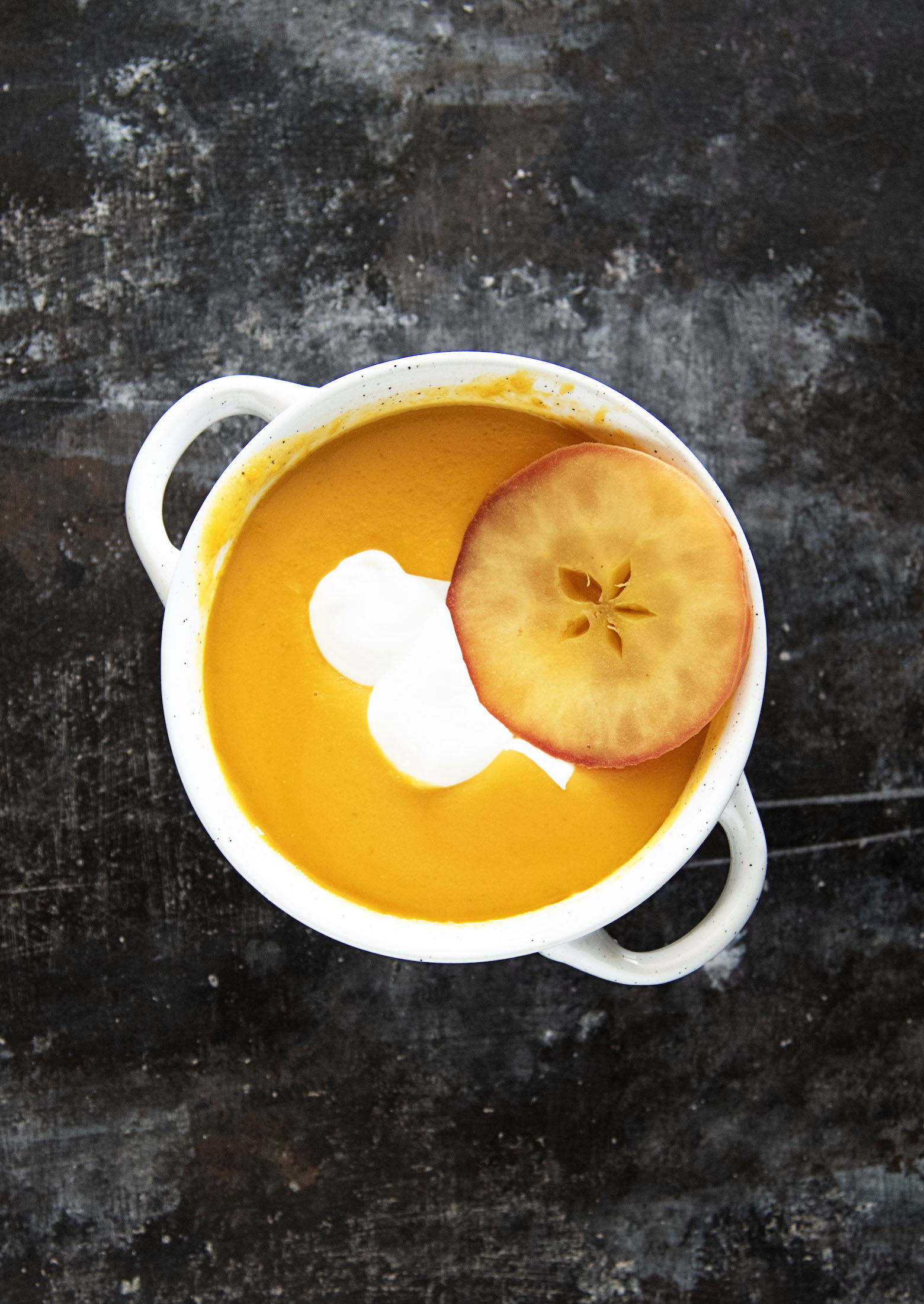 Want More Soup Recipes? Try these:
Dill Pickle Cheddar Cheese Soup
Apple White Cheddar Onion Soup
Pear, Onion, and Gorgonzola Soup
Butternut Squash Soup with Caramelized Apples and Maple Cider Cream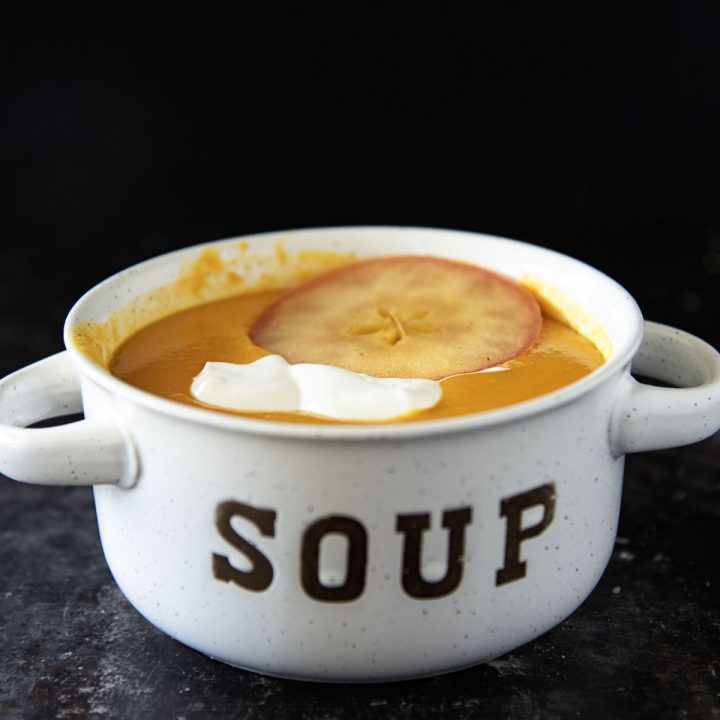 Sweet Potato Apple Cider Soup
Ingredients
2 whole medium sweet potatoes, peeled and diced
2 TBSP Unsalted Butter
2 cloves garlic, minced
1 whole apple, Peeled And Cored (preferable a tart apple)
1/2 cup sweet onion, diced
12 oz. apple cider
1/4 tsp. cayenne pepper
1/4 tsp. ground cinnamon
2 TBSP maple syrup
salt and pepper, to taste
1 cup heavy cream
Instructions
Place potatoes in a large pot with the veggie stock.
Bring to a boil and cook sweet potatoes until fork tender.
Meanwhile, in a large pot add butter, apples, garlic and onions over medium heat.
Saute until apples break down and onions are translucent.
Add in cider, cinnamon and maple syrup.
Simmer on medium/low heat until potatoes are finished cooking.
When potatoes are cooked add them into the pot with the apples and onions.
With your immersion blender, blend until smooth. If you have just a regular blender, blend the soup in batches.
Season with salt and pepper to taste.
Mix cream in just before serving.