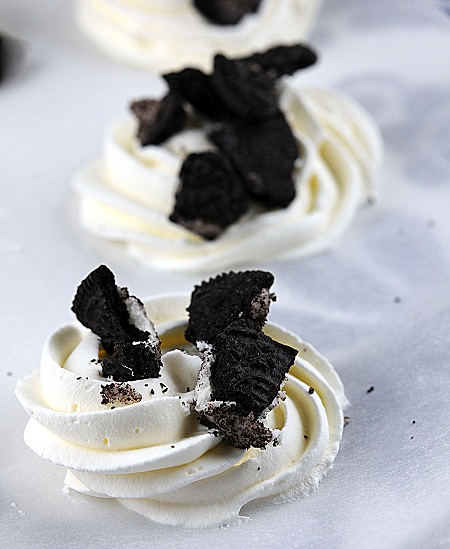 It seems to really only be cool around these parts but since it is cool that means it's cider, hot tea, and hot chocolate time. Almost always I go with hot chocolate.
Most people tend to like either marshmallows or whipped cream with their cocoa. I happen to like both, though if I could only have one I would probably go whipped cream.
Not sure when I started making frozen whipped cream circles but they are a great idea for when you are entertaining. I love to have a variety of flavors depending on the time of year. One flavor that everyone can seem to agree on is Cookies and Cream.
Oreo Frozen Whipped Cream Circles
1 1/2 cups heavy whipping cream
1/4 cup powdered sugar
1/4 cup Oreo's, crushed
Prepare a baking sheet with parchment paper.
In a stand mixer with the whisk attachment, whip the cream until soft peaks start to form.
Add the sugar and beat until whipped cream is stiff.
Fill into a piping bag and pipe whipped cream circles onto the parchment paper. Make them the size just shy the size of your favorite cocoa mug.
Sprinkle with Oreo pieces.
Freeze for about 3 hours. Then remove and you can store in a freezer safe air tight container.