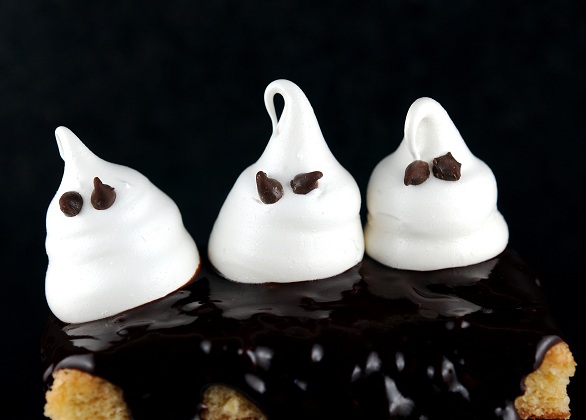 I once worked for a principal who had a habit of making up words. The general consensus was that she was trying to sound smarter than she was. The students mock her behind her back…and yes, even the staff did. So much so that we made Bingo cards that we would use in the staff meetings. Try not to judge too much it helped pass the time. Plus the winner got free drinks at Happy Hour on pay day Fridays. 🙂
So when I was making this cake all I could think of was the word Boo-riffic. Which of course is not a word but it is to me. And well it's my blog and now that I have a print button I can do whatever I want. Because print buttons give you and excuse to rule the blog world…to be the best blog!!! Anyway… I've made these little meringue ghosts pretty much every Halloween but this time I decided I needed to put them on top of a cake.
Staring at my bag of peanut butter cups I decided that I needed to make a buttercream frosting out of them. And this cake was born. The ghost come into play as I am quite sure you could die from overload with eating this cake: chocolate chip cake layers, peanut butter cup butter cream, peanut butter cups, Oreos and ganache. It's super-cra-olistic (hopefully that's on your made up word Bingo card).


To Die For Peanut Butter Cup Chocolate Chip Oreo Explosion Cake
1 recipe chocolate chip cake (see recipe)
1 cup crushed Oreo
1 cup chopped peanut butter cups
1 recipe peanut butter cup buttercream (see recipe)
Chocolate ganache (see recipe)
Meringue ghosts (for recipe go here)
For the chocolate chip cake:
8 TBSP unsalted butter, at room temperature
1 1/4 cup granulated sugar
1 cup light brown sugar, loosely packed
3 large eggs
1/2 cup milk
1/2 cup vegetable oil
1 TBSP vanilla bean paste
1 1/2 cups cake flour
1 tsp. baking powder
1 tsp. salt
3/4 cup mini chocolate chips
Combine the butter and sugars in the bowl of a stand mixer fitted with the paddle attachment and cream together on medium-high for 2-3 minutes.
Scrape down the sides of the bowl, add the eggs, and mix on medium-high again for 2-3 minutes.
Scrape down the sides of the bowl once more. On low speed, stream in the milk, oil, and vanilla bean paste.
Increase the mixer speed to medium-high and paddle for 4-6 minutes, until the mixture is practically white.
Stop the mixer and scrape down the sides of the bowl.
On very low speed, add the cake flour, baking powder, and salt. Mix for 45-60 seconds, just until your batter comes together.
Spray a quarter sheet pan with cooking spray and line it with parchment.
Using a spatula spread the cake batter in an even layer in the pan. Give the bottom of your sheet pan a tap on the countertop to even out the layer. Sprinkle the chocolate chips evenly over the cake batter. Bake the cake for 20-25 minutes. At 20 minutes, gently poke the edge of the cake with your finger: the cake should bounce back slightly and the center should no longer be jiggly. Leave the cake in the oven for an extra 3-5 minutes if it doesn't pass these tests.
Take the cake out of the oven and cool on a wire rack.
Peanut Butter Cup Buttercream
1 cup unsalted butter, at room temperature
1 cup chopped peanut butter cups
2-3 cups powdered sugar
Milk to thin
Using a stand mixer with a paddle attachment, beat the butter and peanut butter cups together until fully incorporated.
Add powdered sugar one cup at time.
Add until you get the consistency you desire.
Chocolate Ganache:
8 ounces semisweet chocolate chips
1 cup heavy cream
1 TBSP unsalted butter, at room temperature
Place chocolate in a medium heatproof bowl; set aside.
Place cream in a small saucepan over medium heat and bring to a simmer. Pour over chocolate and let stand until chocolate has softened, about 5 minutes.
Add butter and stir until smooth. Let cool slightly before using.
To assemble cake:
Cut cake into 12 equal rectangle pieces. You will use three pieces per cake making four cakes total.
Spread some of the buttercream onto the bottom layer and add some peanut butter cups and Oreo pieces. Top with a layer of cake. Then add more buttercream, peanut butter cups, and Oreo pieces. Then add the top piece. Add a thin layer of buttercream but no peanut buttercups or Oreo piece. Top with some ganache and then top with meringue ghosts.