These Triple Berry Filled Vanilla Bean Sugar Cookies has a vanilla bean sugar crusted shortbread cookie with a triple berry cream filling.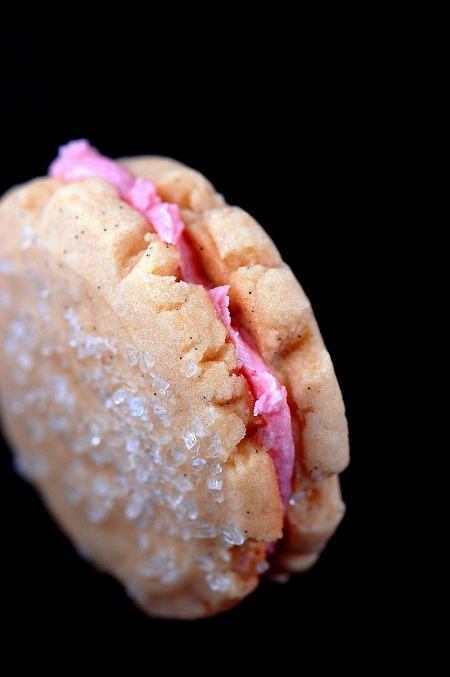 I love me some BBC America.
I'm a Top Gear junkie…though I could care less about cars.
And recently started watching a new show Jamie's American Road Trip which stars Jamie Oliver.
I can personally take or leave him but I like the Layover (Anthony Bourdain) and thought I would give it a go.
Wow, what a humbling night that lead to.
He had gone to NY but not in the way that normal shows go.
He wasn't highlighting restaurants for you to go to when you are in town, he was highlighting the food that influences the city by the people that live there, the immigrants.
Specifically he was looking for underground food, "restaurants" that were in people's homes that health code probably would crap bricks over.
He featured a man named George…and that's when my life looked a whole lot amazing and a whole lot selfish.
George, who was originally an illegal alien (no I'm not wanting to get political and discuss immigration) who eventually became an legal citizen of the US.
But for many years he struggled.
He works as a school bus driver.
Which let me tell you as someone who has worked for schools, doesn't pay all that much.
Here's the humbling part.
Every night when he is done working he comes home and cooks up a chicken and rice dish (it varies) from his native land and goes out and feeds the homeless.
EVERY night.
EVERY night at the same time.
He knows pretty much every person he feeds and they have come to depend on him.
I am in awe of his dedication and that he is willing to spend his own money to do this.
I don't know his religion but if he believes in heaven I'm pretty sure he has box seats up there.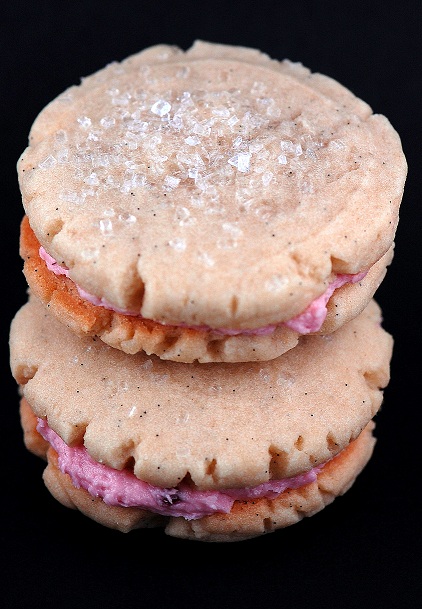 And while I pin pretty dresses I will never own and funny sayings, he is out helping his fellow man.
So perhaps instead of every one's New Year's Resolutions focusing on how you can get killer abs and drink lemon, chili powder, and vinegar as a cleanse.
Maybe, just maybe, we should start thinking about how we could be doing more for the fellow people we share this Earth with.
Now I'm  not saying give up every night of you life to feed the homeless.
But there probably is something you can do.
Even if you just took time out of your day to realize how pretty wonderful you have it.
For one moment instead of complaining that Starbucks screwed up  your order, maybe be thankful that you had the money for overpriced coffee in the first place.
Just a thought.
I have had it extra good lately in the happy department. We have had snow.
I love snow.
And as much as I love Western Washington, I often sometimes wonder if living back in a place with consistent snow isn't more my speed.
Of course I haven't had to drive anywhere in it.
I'm dressed in flannel pj's bottoms sipping peppermint hot chocolate, baking, running through the snow with the dog, watching hockey.
Not a very rough life…I got a good reminder of that last night.
One of the goodies baked during our little snow storm (which made the news in London) were these vanilla bean sugar cookies with a faux-reo triple berry filling.
I used my mom's homemade triple berry jam but you can use any flavor of jam/jelly you like.
Make them and give them to someone you love…or like…or don't even know. 🙂
P.S. It's a great day to buy my cookbook Holy Sweet!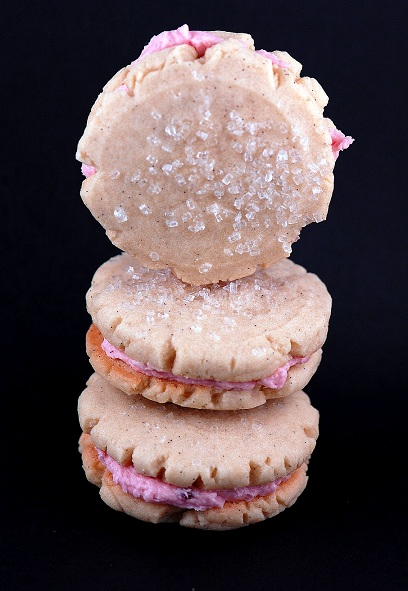 Want More Cookie Recipes?
Vanilla Bean Caramel Thumbprint Cookies
White Chocolate Dried Pineapple Salted Macadamia Nut Cookie
Caramel Cream Filled Snickerdoodles
White Chocolate Chip Creamsicle Cookies
Strawberry Cheesecake Chocolate Chip Cookies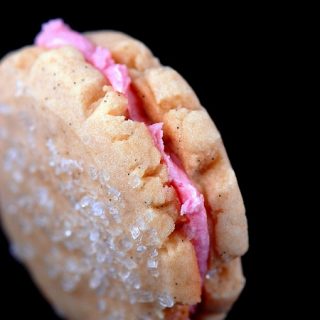 Triple Berry Filled Vanilla Bean Sugar Cookies
Ingredients
For the Vanilla Bean Sugar Cookies:
1¼ cups unsalted butter, at room temperature
1 ¼ cups granulated sugar
2 vanilla beans, split and seeds scraped out
½ tsp. vanilla extract
1 egg
3 tsp. corn starch
3 cups all-purpose flour
¼ tsp. salt
coarse sugar for decoration
For the Triple Berry Cream Filling:
1/4 cup unsalted butter, at room temperature
1/3cup vegetable shortening
½ cup triple berry jam (or jam of your choice)
2½ cups powdered sugar
Instructions
For the Cookies:
In an electric mixer fitted with a paddle attachment, cream together the butter and sugar until light and fluffy, about 3 minutes.
Add in the vanilla bean seeds and extract and beat for another 30 seconds.
Add in egg and beat until thoroughly incorporated. Scrape down the sides of the bowl and beat for another 30 seconds.
Sift together flour, cornstarch, and salt.
With the mixer on low speed, add the flour mixture to the butter mixture. Mix until incorporated.
Roll dough into 1-inch balls and place on greased cookie sheet.
Using the bottom of a drinking glass(you may want to grease it to avoid sticking) press down to make cookie flat.
Sprinkle with coarse sugar.
Bake at 350F for 9-10 minutes.
Let cool on pan for 5 minutes and them move to wire rack to completely cool.
For the Triple Berry Cream Filling:
Using a stand mixer cream the butter and shortening using the paddle attachments at medium speed, gradually beat in the jam.
Continue to beat until jam is fully incorporated, it might look a little curdled.
Add powdered sugar, 1 cup at a time, beating on medium high until fully incorporated.
To assemble:
Take a knife and spread about a teaspoon-size amount of filling into the center of one cookie.
Place another cookie, equal in size to the first, on top of the filling.
Lightly press, to work the filling evenly to the outsides of the cookie.
Continue process until all the cookies have been sandwiched with filling. I had more filling than cookies…so I just spread it on other stuff.