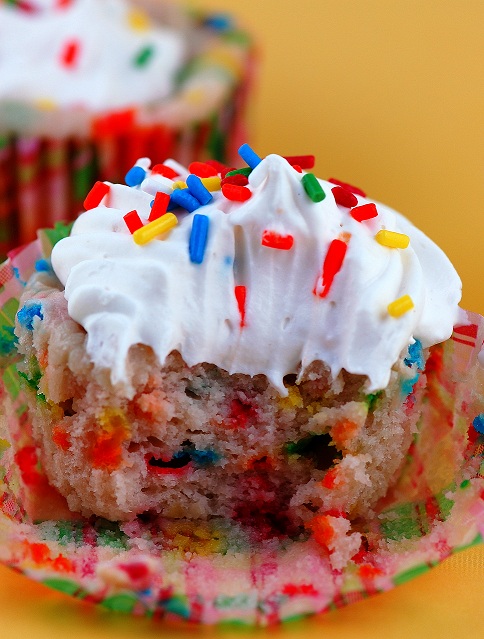 It was a hobby, something I started to fill the hours of my day six years ago and has since become something more than I ever thought. As of late it has been my therapy and support system (both emotionally and financially…thanks to all who do either as they are equally important!). It's been a way to vent my frustrations at stupid (well people who have yet to educate themselves…I'll be PC) or uptight people of the world who interact with me. My way to try new recipes and challenge myself and others. My way to annoy people (RSS feeds, Oreo's, Funfetti). My way to help my mom raise money for cancer (she's at it again if you want to help). My way to be a show mom with my dog. My way to learn how a camera works…yowza those first few years were harsh (and I still have a ton more to learn). My way to hopefully inspire people with my slightly off the beaten path recipes.
June 11th marks six years of attempting to come up with stuff that will keep people coming back to this blog. Some people tell me I make their day better. Some people tell me I make their day worse (FYI-why read this blog if that is true…find a life). Some people just want to see how much butter I go through in a month. For the record the answer to that question is about 12 pounds a month (for real)…though less in the summer months. I'm still amazed that people tell me while they like my food, they really like my writing. Could you all put that in a letter form and send it to my High School AP English teacher please, who would strongly disagree with that statement. 😛
This blog has gone through many changes over the years. When I started I had no direction (not that I do now 🙂 ). Then I got fancy and tried to make difficult desserts I learned in pastry school. I forced myself to blog three times a week. Then I got burned out and made hardly anything. More recently I switched to much easier things to make with easier ingredients to find (except for my UK and Australian readers…sorry guys), with a more complicated dessert from time to time. Some people really hated that ( I have even lost a few upper crust super-all natural food blogger friends who clearly weren't my friends). But you know what; I want people to make things from this blog. That's why I bother to write it (that and I am narcissistic 😀 ). And I noticed that when I make the easy stuff is what people actually make it. There are much prettier blogs than mine (most of them actually) and I love to look at them but never make a thing from them. For some people that's okay, just not for me.
So in thinking how to recognize my achievement of actually running a blog this long, I decided to do more of the new school me than the old school me. Combining two of my favorite things of all time, Funfetti and Cheesecake. These are a spinoff of the Circus Cookie Cheesecakes I made for my real birthday a few years back. I loved those so much, I thought why not. These are more cheesecake than cake, but they texture is different than that of a regular cheesecake. Either way, I love them. They were the right choice for the celebration that is for sure. I am also quite sure you can use any cake mix you want. Which makes me want to try this with carrot cake, since that goes so well with cream cheese….maybe next week.
I would just like to thank all of you who read my blog, the new readers and old (long term…not old 😛 )readers alike. So on this my lovely 6 years anniversary/blog birthday whatever you want to call it…what keeps you coming back to my blog?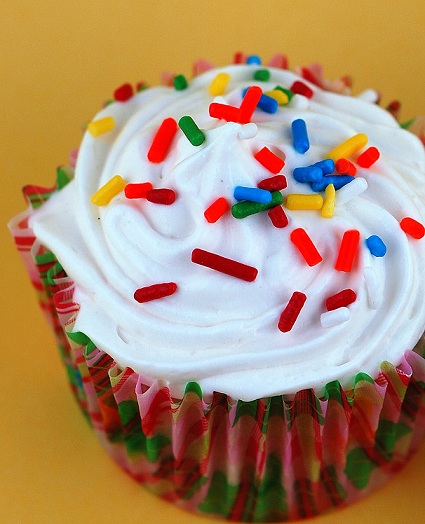 Funfetti Cheesecake-Cakes
8 ounces cream cheese, at room temperature
¼ cup granulated sugar
1 egg
¼ tsp. vanilla extract
¼ cup sour cream
1 cup Funfetti Cake Mix
Preheat oven to 275F.
Line muffin tins with cupcake liners.
Using a stand mixer, beat cream cheese and sugar on medium-high speed for about 5 minutes.
Add egg and beat.
Add vanilla, sour cream, and cake mix, beat until fully incorporated.
Pour into prepared cupcake liners.
Bake for 22 minutes, rotating half way through.
Remove from oven and let cool to room temperature. Chill in fridge in muffin tins for at least 4 hours or overnight.
Recipe makes about 8….I was going for self-control.
Top with whipped cream and more sprinkles if desired.
Adapted from Martha Stewart's Cupcakes by Martha Stewart