This Groundhog Day Hot Cocoa is a nutella based cocoa with a cute little cookie groundhog peeking out to see his shadow.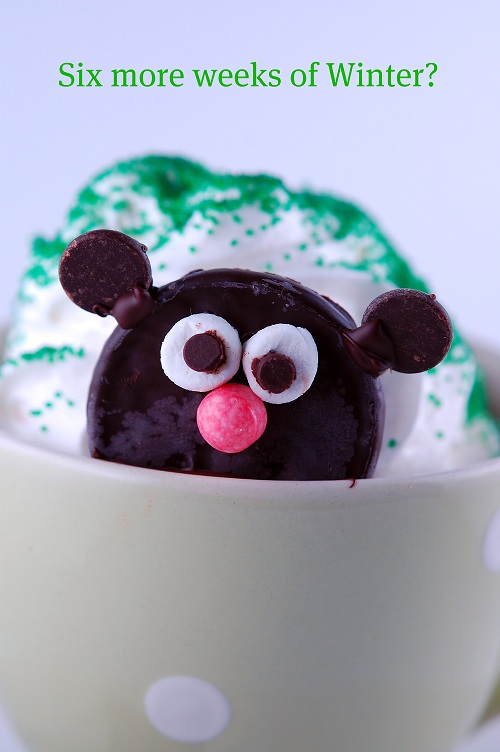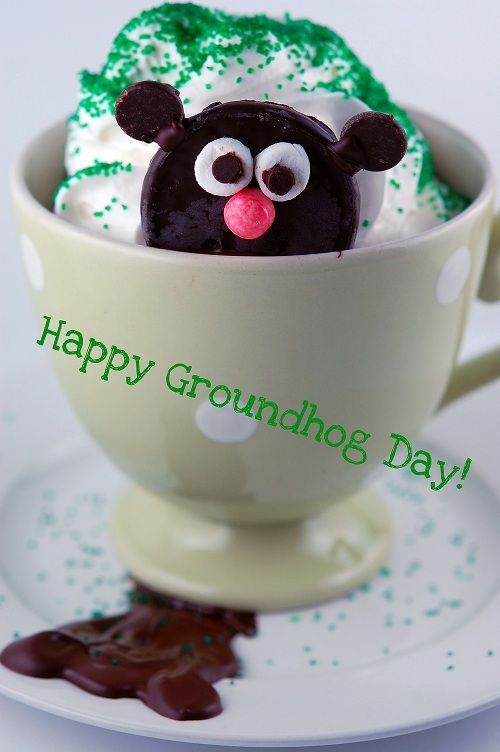 First off, Happy Groundhog Day!
As most of you know today is for real my favorite holiday.
And now onto more amusing topics:
As I shared with my Facebook followers, I received this little beauty of an email yesterday and really, it was too good not to share.
"Dear Peabody,
With the combo of your latest RSS Feed choice as well as the lack of quality of your blog lately I must unsubscribe from you.
A rice Krispie treat and Funfetti in the same week.
I'm expecting to see just a picture of an Oreo cookie the next time I click over the rate you are going."
Well, as you can see, though it is not an Oreo, it is a store bought cookie (store brand even).
And store bought whipped cream from a can.
So take that!
The decline is on the way!
This little cute groundhog is not my idea.
It comes from a site that has some really fun stuff, especially if you are a parent…Gourmet Mom on the Go.
She actually had a few Groundhog ideas and I was super giddy to see that.
There are lots of ideas for food and crafts to make with your kids.
I don't have kids, but act like one, I want to make a lot of the things on there…and do. 🙂
And if you are looking for more craft ideas to do for yourself or with your kids, check out Crafts by Amanda.
Cute, cute ideas.
Want More Hot Chocolate Recipes?
Circus Animal Cookie Hot Chocolate
Spiked Stroopwafel Hot Chocolate
Hot Fudge Sundae Hot Chocolate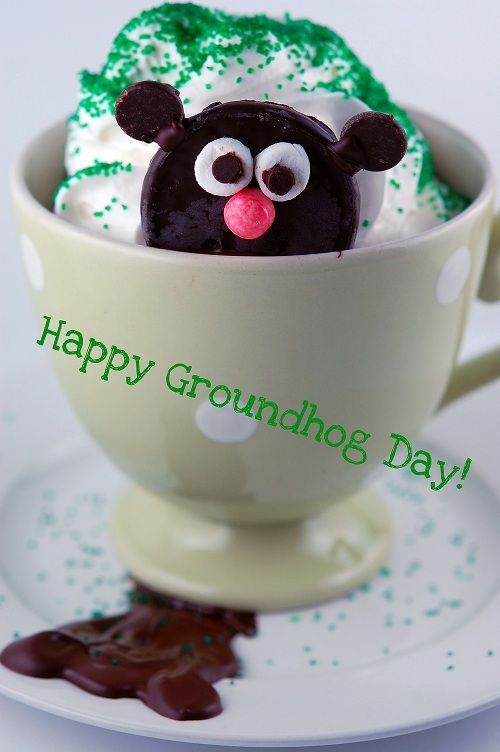 Groundhog Day Hot Cocoa
Ingredients
Cookie Groundhogs:
Chocolate covered cookies (grasshopper cookies or Girl Scout Thin Mints)
Edible Eyeballs
Chocolate Chips (for ears)
Large heart sprinkle (or mini M&M or any other candy, for nose)
Candy Melts or coating compound (such as Candi-Quik, found in the baking aisle)
For the Hot Cocoa:
2 cups whole milk
1 1/3 cups half and half
1/3 cup Nutella
3 ounces milk chocolate chips
½ tsp. vanilla extract
whipped cream for garnish
green sprinkles for garnish
Instructions
Melt about 4 oz. candi-quik in a microwave safe bowl at 30 second intervals, stirring after each interval. DO NOT USE chocolate chips, they will not set up hard enough to hold your groundhog to the cup. You can buy candy melts at Wal-Mart in the craft section or Candi-Quik at your local grocery store in the baking aisle.
Lay out your cookies on wax paper or parchment paper.
Dip a toothpick or pointed knife into the melted chocolate and make three dots on your cookie--two for the eyes and one for the nose.
Attach eyes and nose.
Dip two chocolate chips into melted chocolate and attach to sides of cookie for ears (see below).
Let your groundhogs set up, about 15 minutes.
Using a spoon, smear some melted chocolate on the side of a mug.
Press groundhog into chocolate and let set about 15 minutes.
While your groundhog is drying, smear a shadow shape of melted chocolate onto a saucer with a spoon.
For the Hot Cocoa:
In a medium saucepan over low-medium heat, whisk together all the ingredients until fully incorporated and melted.
When hot, pour into mugs. I suggest using a funnel.
Don't fill the mug up to the groundhog or else he is going for a cocoa bath quickly.
*Warning- the groundhog will heat up and sink. So I suggest removing him after you serve him to the kids. 🙂 Nothing worse than watching a drowning groundhog. Yikes.