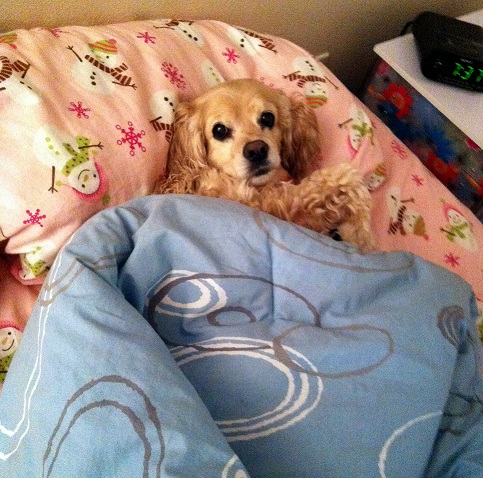 Some people have Wordless Wednesday, I think I might go to Fur Baby Fridays.
I got into a rather lengthy discussion on Mother's Day when I halfheartedly joked that my fur baby didn't even get me a card, let alone make me brunch. I was immediately jumped at and let known not to trivialize the role of mother by saying having a pet was the same thing. I didn't say that owing a pet was the same as being a parent, but consider this:
Just like a baby, my dog has no way of feeding herself. If I let out her bowl she would most likely just eat and eat until she exploded like a goldfish. But I would still have to get the food to her bowl.
When she pukes all over the side of the bed during the night and I start the morning accidently stepping in it, I'm the one cleaning it up.
She barks and I don't know what she wants…well, that's a lie. She wants food, but I don't know which she would prefer, chicken or bacon (bacon is my obvious choice).
When she is sick, I must take her to the doctor and get her better. If she needs medication, I must administer it. If she is feeling sad, she needs hugs and kisses to make it all better.
I don't have to change diapers, but I have to come behind her with a little green baggie and pick it up. And of course, there is potty training.
So just like a child, she depends on me for survival. When my dog is afraid of a 2# bunny, this is very evident that she wouldn't make it in the real world. 😛
What I don't have to do is worry about her coming home with tattoos on her knees…mostly because in order to leave the house she needs me and a long rope we call her leash. I don't have to worry about her staying out past curfew, because again, she needs me to get her to wherever she is going…and those Dog Park parties never last as long as people think they will. 🙂 I don't have to figure out how to pay for college for her. She will be a loaf living in my home for forever (though I know a lot of people in their late 20's still doing this), while this is a financial suck; I at least know where she is at all times. I can leave her alone at home…and even lock her in a large metal crate, with no visit from CPS in sight. I don't have to pony up money for the latest clothing trends; in fact my dog is a nudist, so that cuts down on laundry as well. 😉
Of course you miss out on some of the great stuff. Like having your kid make you a drawing of you and them in a park or at the zoo. The only thing my dog makes is a mess. 🙂 Though in some ways that might be good because I tend to look at 5 year old drawings of myself and wonder if that's how they really think they look. No watching her go to prom (though no worrying about her getting knocked up at prom either) or seeing her walked down the aisle. No graduations unless you take your fur baby to obedience school…which my fur baby would have never passed. 🙂
So mothers of human babies don't be hating on those of us with fur babies, it's all we've got. And to us, they are our babies. We enjoy their hugs and kisses just as much as you do from your kid