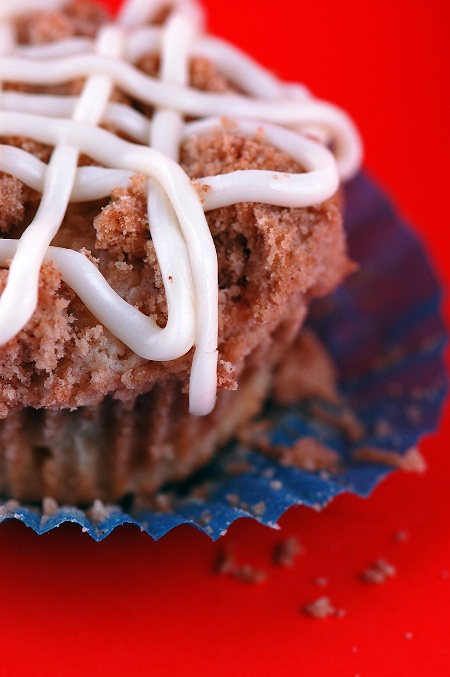 There was a quote on Twitter the other day, which I was an idiot and didn't favorite and now can't find (go me!), but it basically said that you keep a lot of friends by lying and lose a lot of friends by telling the truth. What good is that? What good is having a bunch of people in your life who won't tell you the truth or you can't be yourself around?
I often laugh at some people's Facebook pages because they have a ton of friends on there. That's not the funny part. The funny part is that they have collected all these people as friends I guess to prove to people they are popular. And yet when they post something maybe three or four people respond…and most of the time it's the same couple people over and over again. Now granted I have quite a few hockey an food blogger friends that I don't interact with all the time but I make sure I do at some point, otherwise I drop them. I'd much rather have 20 people as friends who actually interact with me or a ton of friends who don't. Now, my CCbP page is different that is more of an informative thing, I certainly don't drop people from not interacting. For some people it's how they know I posted something new.
I think one of the keys in life it being able to have friends you can truly be yourself around. My bff is awesome because he is not only okay with me eating ketchup with my tortilla chips, he now does it. He sings in the car with me to stupid 80's songs…and no drinking was involved. And better yet I don't spend the whole time worrying about my voice (which truly sounds like a cat being beat up). And who else will clap along with you and sing "here we go CCS (we use her real name), here we go" to the dog and be totally fine with it.
You need the kind of people who don't judge that you think Whoppers and bacon should be a separate food groups. That don't care when you are so sick and tired of blowing your nose that you just shove Kleenex up your nose and call it good. That as grown adults will sit and play Angry Birds and Shuffle Board with you at the bar. Someone who doesn't care that you are wearing an Optimus Prime t-shirt or one that says Cuddle Slut (which I am) out in public. Someone who doesn't care that you smell like hockey (which often even after you shower the smell lingers). Someone who doesn't judge that I like processed American cheese slices on my grilled cheese.
And you need someone who doesn't judge you deciding to up and make cupcakes at midnight because you feel like it. These are called a cupcake but I really feel like they are more muffing like, but they work all the same. If you call them muffins you can get away with eating them for breakfast. It's basically a crumb cake as a muffin, though I added some sautéed apples to the mix because I thought that sounded better.
Remember, friends you get to choose….family you are stuck with. So pick friends who are really worthy of your time.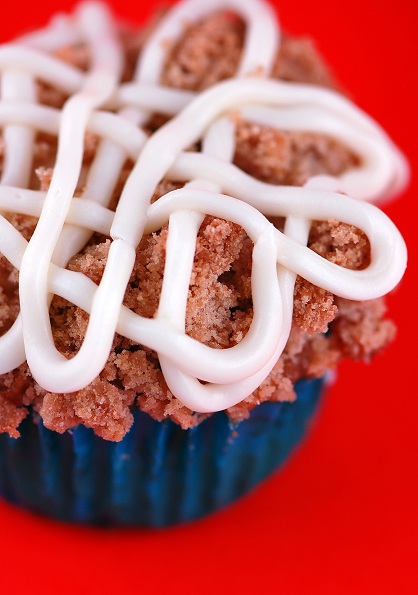 Apple Streusel Cupcakes
2 1/2 cup all-purpose flour
1/2 tsp. baking soda
1 1/4 tsp. baking powder
1/2 tsp. salt
1/2 c. + 2 TBSP (1 ¼ sticks) unsalted butter, at room temperature
1 cup granulated sugar
3 large eggs
1 ½ tsp. vanilla
1 ¼ cup sour cream
For the Apples:
2 apples, peeled, cored and diced small
½ tsp. ground cinnamon
1 TBSP granulated sugar
1 TBSP. unsalted butter
Streusel:
2 ¼ cups all-purpose flour
3/4 cup packed dark-brown sugar
2 ¼ tsp. ground cinnamon
3/4 tsp. coarse salt
1/2 cup + 2 TBSP (1 1/4 stick) unsalted butter, room temperature
FOR APPLES:
In a medium saucepan over medium-high heat melt butter. Add apples, cinnamon and sugar. Cook until apples turn soft. Let cool. Set aside.
Heat oven to 350°F and line tins with liners.
FOR STREUSEL:
Whisk together flour, brown sugar, cinnamon, and salt.
Cut in the butter using a pastry blender. Refrigerate 30 minutes before using.
Whisk together flour, baking soda, baking powder, and salt
FOR THE CUPCAKES:
Cream butter and sugar with an electric mixer until pale and fluffy.
Add eggs one at a time, beating until each is incorporated. Scrape down sides of bowl as needed.
Stir in vanilla by hand.
Add flour mixture and sour cream; stir until just combined.
Divide batter evenly among lined cups. Place 2 tsp. worth of apple into the cupcake and push down a little. Sprinkle half of the streusel topping over the cupcakes, gently pressing it into the batter. Sprinkle evenly with remaining topping.
Bake, rotating tins halfway through, until golden brown and a cake tester inserted in centers comes out clean (about 20 minutes). Transfer tins to wire racks to cool completely before removing cupcakes.
CREAM CHEESE GLAZE:
4 TBSP unsalted butter, at room temperature
4 ounces cream cheese, at room temperature
½ tsp. vanilla extract
1 ½ cups powdered sugar
Using a stand mixer, cream together butter and cream cheese, about 3 minutes. Add vanilla and powdered sugar, and beat until fully incorporated.
Pipe glaze over cupcakes.
Adapted from Martha Stewart's Cupcakes by Martha Stewart