So when we went to the BBQ on Monday someone had gone to either Safeway or Albertson's and picked up some little cookies that looked like open faced oreos dipped in chocolate. The King Authur's Flour Baker's Companion Cookbook has a recipe in there that I had looked at several times but never tried so since my husband thought the ones at the BBQ were good, I would give it a try. The dough is exptremely stiff and I got tired of rolling them into little balls and flattening them. I had this idea that I would pipe out the frosting onto the cookie, but it is MUCH too thick for that. So I had to roll that into a ball and flatten them out also. My chocolate was too thick(ran out of cream) so it had to be just gooped on. I am making them again on Monday so I will try again with a thinner sauce. All in all, though they were good I will probably just go buy oreos….at lot less trouble.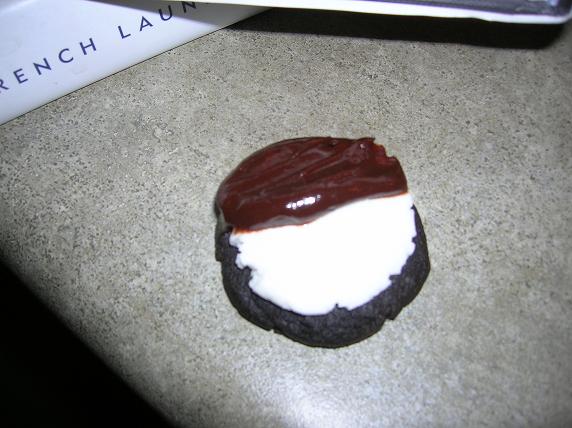 Faux-Reos
Adapted from the King Arthur's Baker's Companion
Cookies:
1 cup plus 2 tablespoons granulated sugar
3/4 cup unsalted butter
1/2 teaspoon of salt
1 large egg
1 tablespoon of water
1 teaspoon vanilla extract
1 1/2 cups unbleached all purpose flour
3/4 cup Dutch-process cocoa powder
Filling
1 teaspoon plus heaping 1/4 teaspoon unflavored gelatin
2 tablespoons cold water
1/2 cup shortening
1 teaspoon vanilla extract
2 1/2 cups confectioner's sugar
In a medium sized mixing bowl, cream together the sugar and butter. Add the salt, egg, water, and vanilla and beat until smooth. Beat in the flour and cocoa until well combined;the dough will be very stiff.
Roll the dough into balls about the size of a shelled chesnut or a shooter marble. Place the balls on parchment-lined or lightly greased cookie sheet and flatten each ball until it is 1/8 inch thick, using the bottom of a glass.
Place the baking sheets in the refrigerator to chill the dough for 30 minutes.
Preheat the oven to 325F. Bake the cookies for 18 minutes. Watch them closely so they don't burn. Remove the cookies from the baking pans and cool them completely on a wire rack.
To make the filling, soften the gelatin in a cup containing the 2 tablespoons of cold water, then place the cup in a larger dish of hot water and leave it there until the gelatin is completely dissolved and the liquid is transparent. Remove the gelatin from the hot water and let it cool until it's room temperature but hasn't begun to set.
In a medium sized mixing bowl, cream the shortening, then beat in the vanilla and the confectioners' sugar, a little at a time, beating until the mixture is light and creamy. Beat in the gelatin.
Sandwich the cookies, using about 1 1/2 teaspoons for a regular faux-reo or more for double stuffed.