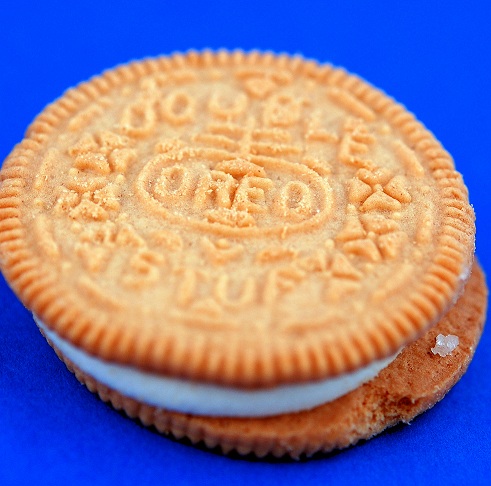 …and well, I'll take the low road. Sometimes it's necessary in life to take the high road. Bite your tongue. I know some people say you don't feel better telling someone off, I beg to differ. 😛 I loved telling the trainer off at the gym. I loved when Uncle Buck gave the principal a quarter and told her what to do with it. And I LOVE when Juno's step mom goes off on the ultrasound technician (for the record I am not in favor of 16 year olds being with child, but it's not my place to judge…and it was just a really good movie. 🙂 )
I considered not taking a photo of an Oreo. Ohhh, for about 3 seconds. I mean seriously, how could I not?
First off, just want to say thanks for the support. I've been getting lots of nice comments and email! I can assure you all that this is not upsetting me, just amusing me. You can't teach junior high for all those years and run a blog for 5 ½ years without having thick skin. Not saying that words can't hurt me, just saying that some random person from the Internet who I have never met in life certainly isn't going to be the one doing it. Besides, "No one can make you feel inferior without your consent." –Eleanor Roosevelt…and those ladies and gentlemen are words to live by!
And though I considered just posting directions on how to open the Oreo package and eat them, I decided to be nice and try and make something with them. Around the blog world there have been chocolate chip cookie covered Oreos as of late. Don't know you started them but they are making the rounds. So I thought, oh, brownie covered. Only to discover that someone had already done it, and not that long ago. So I figured this is the month of love, so why not bust out some Red Velvet. I didn't want to do cake, so I found a recipe for Red Velvet Brownies…perfect. I used the Vanilla Oreo because I prefer them…plus I like the color contrast as well.
This is a thicker batter than regular brownies, so they don't dip as well as one would like. You kind of have to really dip and spread the Oreo around. And please use Double Stuff (why do they even bother making regular stuffed anymore?). I was afraid that they might break, but luckily that did not happen.
On a super side note: DO NOT eat these fresh out of the oven. The filling in the Oreo gets super-hot and burns your tongue something horrible and there aren't enough swear words in the English language to cover that. I know. Live and learn. At least I am finding that out for you. See the pain I am willing to endure for you. 🙂

Red Velvet Brownie Dipped Vanilla Double Stuffed Oreos
½ cup unsalted butter
1 cup granulated sugar
1 tsp. vanilla extract
1/4 cup cocoa powder
Pinch salt
1 TBSP red food coloring
1 tsp. vinegar
2 eggs
3/4 cup all-purpose flour
About 16-18 Double Stuffed Vanilla Oreo Cookies (all depends on how much batter you put on yours)
Preheat oven to 350F. Place cupcake liners into two muffin pans (mine hold 12 each). You won't get 24 unless you are a way better dipper than me. Which you probably are. 🙂
In a saucepan on medium heat melt the butter.
Remove the butter to a large bowl and add the sugar, vanilla, cocoa powder, salt, food coloring, and vinegar, in that order, mixing between additions.
Whisk the eggs in a small bowl and stir it into the cocoa mix.
Fold in the flour until fully combined.
Dip the Oreo into the batter and do your best to completely coat it. Yep, you are going to get a little messy. Deal with it and move one. Place Oreo into cupcake liner. Do this with all of them. Eat any leftover Oreos, if anyone asks tell them they fell on the floor. 😛
Bake for 14-16 minutes.
Let cool, and then eat.
Red Velvet Brownie Recipe adapted from Foodnetwork.com