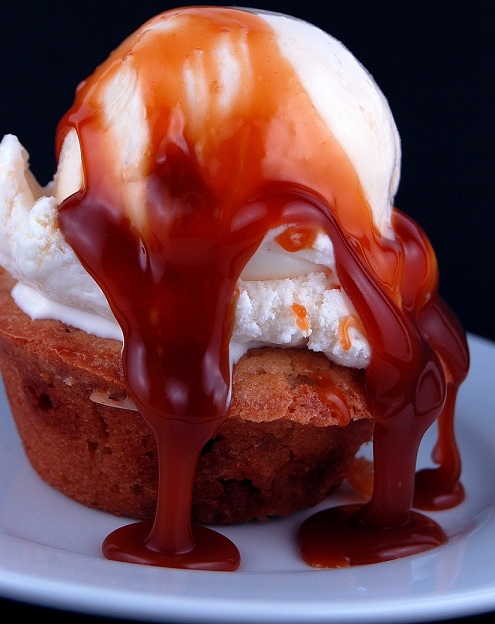 "Peabody,
I will have you know that you taking down your website RUINED my 7 year daughter's birthday party. My daughter had requested your Peanut Butter Chocolate Chip Cake which we served for my husband's birthday a couple of months ago. Imagine my surprise when I opened up my browser to see that your site is no longer running. How am I supposed to make this cake if you site is down? Why put up a website only to take it down? I waited all Saturday night and all Sunday morning for your site to work, I even went to my neighbors to see if it was my computer. I am beyond upset. I had to serve a store bought cake to my guest and daughter. She was crushed."
Oh goodie, let's add Child Birthday Ruiner to my resume shall we, right after ball buster and before dream crusher.
First off, I did not voluntarily take my site down. It crashed. My ex (aka webmaster) was out of town and could not see what was wrong as he was in the sticks with very little connection. It crashed because lots of people are stopping by, which is awesome, but the server I have now can't support t that. Which we are looking into a new server but we have to upgrade to WordPress 3.0. Which sounds easy, but when we do it, it messes with my blog design. So the blog design has to be fixed, which if you haven't guessed cost money. So does going to a larger server. So it's pay the utilities or upgrade my blog. Sorry, but the blog losses out. Feel free to help pay for it if you want. I do have a Pay Pal account…it's the same address as what is in my contact section…my gmail account.
I'm very sorry that the child's birthday was ruined and thanks for making me feel like crap. But perhaps if something is so important as your child's birthday, that next time maybe you will print out the recipe WAY ahead of time. I suggest this to everyone. I planned on making something off my site as well this weekend…and even I couldn't access it. Was my weekend RUINED? No, I made an alternative to what I was going to make. You, lovely reader, should have had an alternative cake for your child as well. Or hey, how about Google peanut butter chocolate chip cake. It might not have been mine, but it might have worked.
My alternative turned out pretty darn awesome if you ask me. These are Butterscotch-Toffee Blondies that are baked into muffin cups instead of the usually pan. Just mixing it up a little. I love the flavor of butterscotch with toffee, so these were pretty much a no brainer. Serious yum. Top with some vanilla ice cream and some salted caramel sauce left over from my sundaes and HELLO Yumville.
I would actually like to apologize for my site going down. These things happen. I try not for them to happen. Again, if you want to help, feel free. Things might get done faster that way. Or you could pay for a bag of flour. 🙂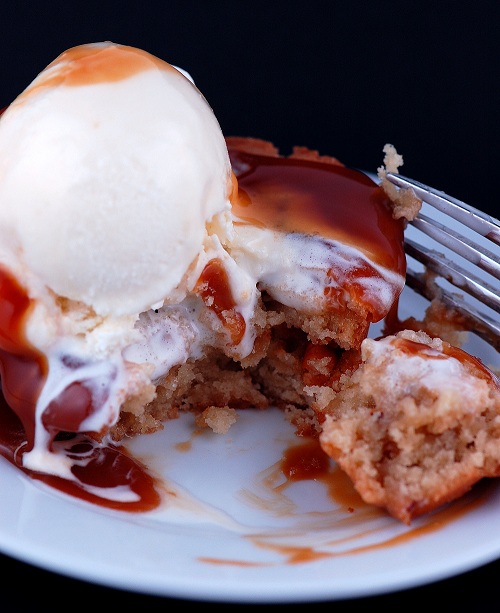 Butterscotch-Toffee Blondie "Muffins"
2 cups all-purpose flour
½ tsp. salt
3/4 cup unsalted butter, at room temperature
3/4 cup granulated sugar
3/4 cup dark brown sugar, lightly packed
3 large eggs, at room temperature
1 tsp.  Vanilla extract
¾ cup butterscotch chips
¾ cup toffee pieces
Preheat to 325 F.  Grease a regular sized muffin tin that holds 12 muffins.
Using a stand mixer with the paddle attachment cream the butter and sugars on medium speed.
Beat in the eggs, one at a time, making sure they are fully incorporated. Scrape down the sides and bottom of the bowl after each addition.  Stir in the vanilla.
Add flour and salt until well combined.
Fold in the butterscotch and toffee pieces, trying to disturb as evenly as possible. Good luck. 🙂
Using a regular size ice cream scoop, scoop one ice cream scoop per muffin tin. You should get exactly 12. If you did, you scooped too much. If you have left overs, you scooped too little.
Bake for 28-30 minutes, or until a wooden skewer inserted near the center comes out clean.  Set the pan on a wire rack to cool for 15 minutes.  Remove from pan. Serve with ice cream and salted caramel sauce.