Tiramisu lovers will go love these dessert inspired Tiramisu Sandwich Cookies. Espresso mascarpone cookies filled with mascarpone filling.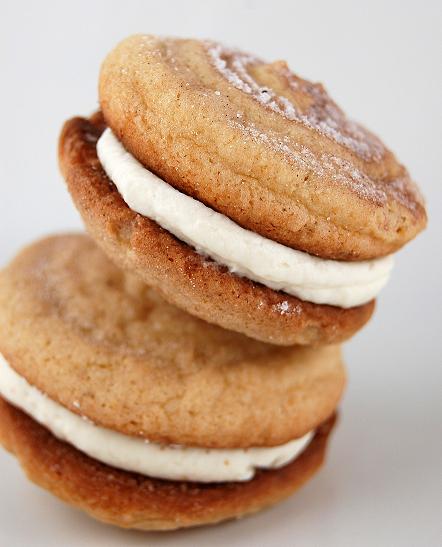 It is the ultimate sugar holiday coming up.
And as a love of all things sugar, I'm highlighting…sugar!
Domino Sugar to be exact.
While looking through their website last week I noticed Elegant Tiramisu Cookies.
Otherwise known as, cookies that had mascarpone cheese in them.
We all know how that I have an unnatural love for mascarpone cheese, so I was all over these!
And they did not disappoint.
I really love just the cookies themselves and don't think that you have to go the extra mile if you don't want and make them into sandwiches.
But of course, if you do, whenever you are adding more mascarpone cheese to anything, you are by definition making it better. 😉
There was a chocolate layer that I skipped.
Clearly there is something wrong with me…oh yeah, I'm lazy.
So, I went with just sprinkling powdered sugar and cocoa powder on the filling instead.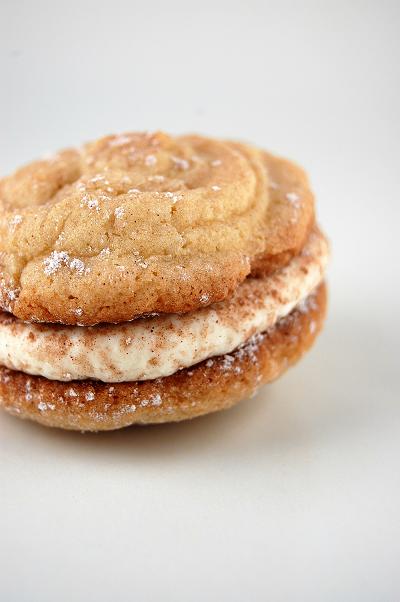 I am seriously considering making these be my cookies for holiday cookie exchange this year.
So yummy, and quite unique.
If you are not a tiramisu lover, there are several holiday cookie recipes (as well as a ton of recipes in general) over on the Domino site.
If they are all as good as these cookies were then I may be making everything off of that site!
Hope everyone had a nice American Thanksgiving.
I promise I will be around more in the coming weeks.
***Update*** This post is from 2009.
Sadly the recipe for the cookies is no longer on the Domino site.
Which makes me extra happy that I made them and have the recipe here to refer back to.
Not sure why they would ever take a cookie as good as these off but they did. 🙁
P.S. It's a great day to buy my cookbook Holy Sweet!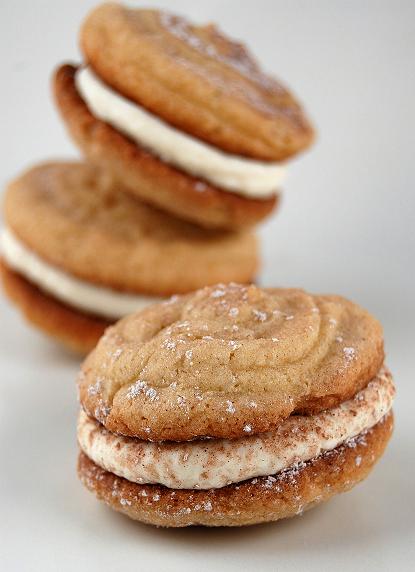 Want more recipes like this? Try these:
Coconut Mocha Tiramisu Cupcakes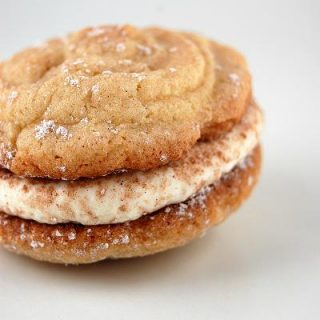 Tiramisu Sandwich Cookie
Ingredients
¾ cup plus 1 tablespoon *Domino® Granulated Sugar, divided
½ tsp unsweetened cocoa powder
4 oz mascarpone cheese, at room temperature
1 egg
½ tsp powdered espresso powder
2 tsp coffee liqueur
1 ¼ cups plus 2 TBSP all-purpose flour
1 tsp cream of tartar
½ tsp baking soda
¼ salt
Filling:
4 oz mascarpone cheese, at room temperature
3 oz cream cheese, at room temperature
1/3 cup *Domino® Granulated Sugar
1 tsp coffee liqueur
To sprinkle:
1/3 cup powdered sugar
1 tsp unsweetened cocoa powder
Instructions
Preheat oven to 375°F.
Combine 1 tablespoon sugar and cocoa in small bowl; set aside.
Beat cheese and remaining sugar until fluffy.
Add egg, espresso powder and coffee liqueur.
Stir together flour, cream of tartar, baking soda and salt in small bowl; gradually add to cheese mixture; beat until well mixed.
Drop by teaspoonfuls 2 inches apart on ungreased cookie sheets (I chose to pipe mine out for more consistency).
Sprinkle with sugar/cocoa topping.
Bake 10-12 (I only went 9 on mine) minutes until lightly browned.
Remove from cookie sheets while warm. Cool on wire rack.
For the filling:
Using a stand mixer, or a bowl and electric beaters, beat together the mascarpone and cream cheeses, about 3 minutes.
Add sugar and coffee liqueur, and beat for an additional 2 minutes.
In a small bowl, sift together powdered sugar and cocoa powder.
Spread cheese filling on bottom half of cookies (I used a piping bag).
Sprinkle with powdered sugar and cocoa powder mix.
Top with the remaining half of cookies and press together to make sandwiches. Store in refrigerator.
Makes about 2 dozen cookies
*Domino Sugar graciously gave me a $20 gift card to buy baking supplies to make a recipe from their website.