These Mini Gingerbread Men Cakes with Grand Marnier Chocolate Glaze have a moist gingerbread men shaped cake covered in glaze.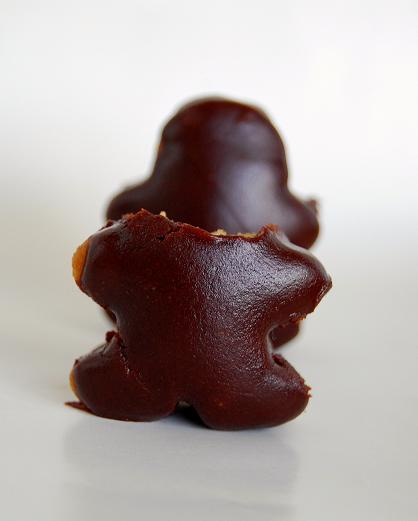 We are having what one might call a cold spell around these parts.
Which makes me fear most for our ever controversial bikini baristas. 😉
They have been in the news around here as of late. In my area (note as I type this my heart swells with pride) we had 5 baristas get arrested for offering a little more than coffee…let's just say extra whipped cream was an option. 😛
Then recently we had one open up in the uber-yuppie town of Bellevue near a park.
And oh the uproar that has caused.
But here's my beef. I have no actual beef with the baristas themselves.
It's a good marketing plan and they make lots of tips.
No, my beef is their actual name, Bikini Baristas.
As, I have never seen one in an actual bikini. All the girls they interview on TV all seem to be in lingerie.
No bikini.
So I am starting a movement to get them called Boudoir Baristas instead of Bikini Baristas.
I have a feeling it will catch on.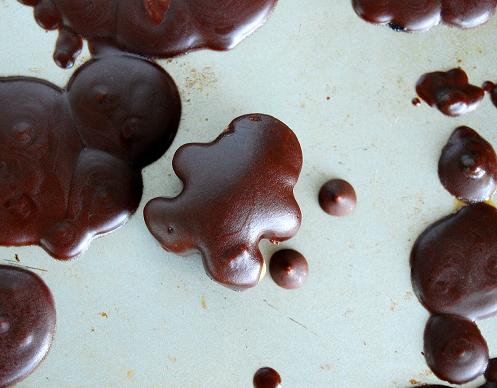 You may be asking yourself what this has to do with gingerbread?
Oddly enough, a lot.
I often joke with people that I am going to open up my own Boudoir Barista based coffee shack.
And I want the outside of the shack to look like a gingerbread house.
I won't tell you the name I have in mind…it's a little in the gutter. 😛
But I envisioned a little gingerbread girl in lingerie as our mascot of sorts.
Of course, instead of bikinis or lingerie, I would want the girls to wear cinnamon buns for tops.
Non-edible of course, as I feel if they were edible, a few health code violations might be in the works.
So I offer up what would surely appear on the menu of this fine coffee shack I would start.
They are little gingerbread men.
Mini Gingerbread Men Cakes with Grand Marnier Chocolate Glaze.
They don't really have a ton of ginger in them, just a hint.
I did that so you could taste the hint of the liqueur and the chocolate.
You can certainly ditch the Grand Marnier if you would like, but I think it adds a little something special to these.
If you don't have a mini gingerbread man pan (I bought mine at Target) then you can just use mini muffin pans.
Though clearly, not as festive.
Keep warm!
P.S. It's a great day to buy my cookbook Holy Sweet!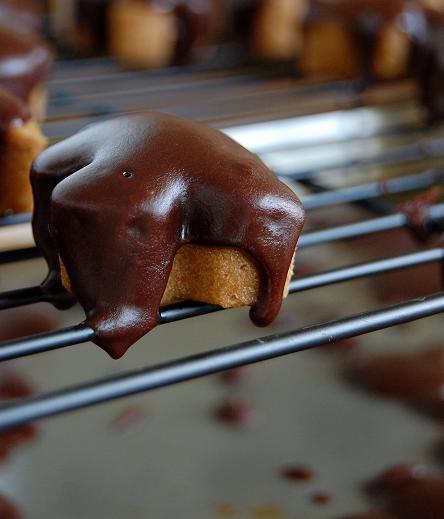 Want More Gingerbread Recipes?
Gingerbread Cheesecake Cheeseball
Clementine Upside Down Gingerbread Cake
Chocolate Dipped Gingerbread Cupcakes
Mini Gingerbread Men Sandwich Cookies
Chocolate Gingerbread Layer Cake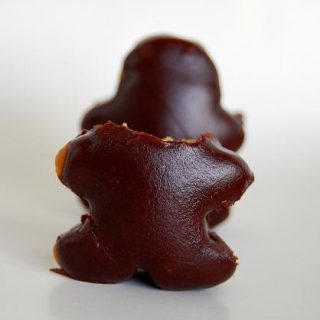 Mini Gingerbread Men Cakes with Grand Marnier Chocolate Glaze
Ingredients
For the Cakes:
2 cups all purpose flour
2 tsp ground ginger
½ tsp fresh ground nutmeg
1 tsp ground cinnamon
1 tsp baking powder
1/4 teaspoon salt
1 cup warm water
½ tsp baking soda
1 cup brown sugar
6 TBSP unsalted butter, melted
1/3 cup mild-flavored molasses
2 large eggs
1 tsp orange extract
For the Grand Marnier Chocolate Glaze:
5 TBSP clarified melted butter
8 ounces semisweet chocolate
2 TBSP Grand Marnier
¼ tsp ground ginger
¼ cup heavy whipping cream
Instructions
For the Cakes:
Preheat oven to 350°F.
Spray either mini gingerbread men pan or mini muffin pans (2).
Whisk first 6 ingredients in medium bowl to blend.
Mix warm water and baking soda in small bowl until baking soda dissolves.
Using electric mixer, beat sugar, butter, molasses, eggs, and orange extract in large bowl until well blended.
Add dry ingredients in 3 additions, alternating with water mixture in 2 additions, beating until just combined.
Pour batter into prepared pan.
Bake for 12-14 minutes depending on your oven and the type of pans you used.
For the Grand Marnier Chocolate Glaze:
Over a double boiler add chocolate and butter in a bowl over simmering water.
Melt until smooth.
Remove from double boiler and add liqueur, ground ginger, and whipping cream.
Whisk until fully incorporated.
Place cooled gingerbread men on a wire rack with a pan below to catch the chocolate.
Pour chocolate glaze over the gingerbread men.
Let glaze set up for an hour.