So yeah it's over kill. Yeah you are probably going into a diabetic coma just looking at the photos. Yes there are three peanut butter cups in that. 🙂
So you are probably saying how on earth do you have leftover peanut butter cups? I know right? I blame my mother. For real. She taught me that if you were having a dinner party for 10 plan for them to eat as much as 50 people. Every time we went to the store we bought a bag of candy for the last month and a half. We didn't get as many trick or treaters as we thought. Though we didn't get our pumpkins messed with as we are a very popular house to those that did visit….because we were like here take 12, 13, whatever. 😛
I still have a dead wasp on my floor by my computer for weeks now. I refuse to pick it up. Know why? Two words: Zombie Wasps. They are real. I know he is just waiting patiently on me to give in pick him up and then he will have me.
I have had a couple people get mad at me for still posting on my blog when the crisis is happening with Hurricane Sandy. First off what happened/happening to those people is dreadful and I cannot imagine, I do still have friends back east who have no power and /or water. No one was mad at me when I was posting and all the people in Haiti died, no it wasn't until it happened in our own backyard. Which always makes me extra sad that people don't care about things unless it's happening to/in the US. Tragic things happen every day all over the world. I'm still baking. I am sorry if that offends you.
Since it is November I decided that I would take time to say thanks to my favorite food and a couple non- bloggers out there. Since I am not posting every day I'll do about 4 at a time. Be sure to check out all their blogs.
Thankful for Blogger #1: Baker's Royale: I cannot tell you how much inspiration this blog brings to me. I enjoy when other bloggers like to make you as fat as I like to make you. 😛 And in creative ways with wonderful photography.
Thankful for Blogger #2: Closet Cooking: While I am allergic to half the ingredients Kevin normally uses (he likes the spice) I do love his blog. And Kevin in person is beyond awesome. He had to put up with me all weekend long at IFBC and let me tell you that is not an easy task. 🙂
Thankful for Blogger #3: Simply Recipes. Elise has been around for a long time (I think almost 10 years now!) and with good reason she runs a great blog. If you are ever in need of just like the title says a simple recipe this is the place to get it.
Thankful for Blogger #4: How Sweet it is. I fell in love with this blog when I discovered that Jessica and I share a love of all things cake batter and bacon.
And now back to this overload…which was made with my goalie in mind. He loves crème brulee and desserts like that so I thought of him when trying to use up my candy. What makes it even more overload is the fact that there is a full size peanut butter cup at the bottom of each one. Oh yeah.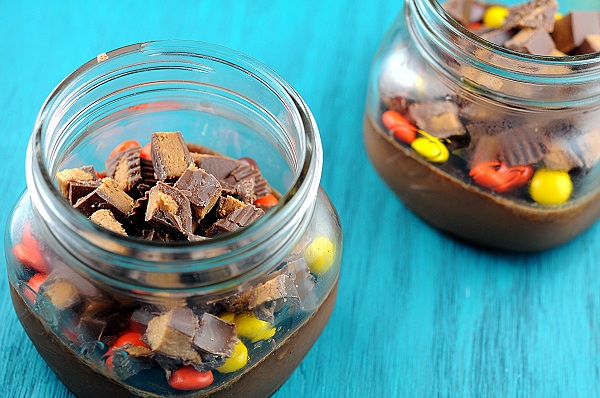 Peanut Butter Cup Pots de Crème
3 oz milk chocolate, coarsely chopped
1 1/3 cup plus 1 TBSP  heavy cream
3 TBSP peanut butter
1 TBSP granulated sugar
pinch of salt
4 large egg yolks
12 peanut butter cups, divided 4 whole and 8 chopped
8 fun sized packets Reeses Pieces
Have on hand 4 oven-proof cups that can hold 175mL (3/4 cup) each. Place a peanut butter cup at the bottom of each cup. Take a roasting pan big enough to hold all of them without touching and deep enough to hold water that comes up to 3/4 of the way up the sides of the cups and fill it halfway with water (the cups won't be in the pan at this stage).
Preheat the oven to 350F. Place than pan with water in the oven in the meantime.
In a heatproof bowl set over a saucepan of barely simmering water or in a microwaveable container in the microwave, melt the chocolate and remove from the heat.
In a small saucepan or in a microwaveable container in the microwave, combine the cream, peanut butter, sugar, and salt and bring to a boil. Pour it into the chocolate and whisk until blended.
Place the egg yolks in a mixing bowl and whisk until blended. While whisking madly, pour the cream-chocolate mixture in a small stream and whisk until blended. Pour this through a fine sieve into a container with a spout.
Divide this among the oven-proof cups. Take out the pan with water from the oven and place the cups in the pan carefully. If necessary, pour in more water into the roasting pan so it comes up 3/4 of the way up the sides of the cups.
Bake for 20-25 minutes or until the sides are set but the center is slightly jiggly. Remove from the oven and take the cups out of the water bath. Let cool and refrigerate. Top with two chopped peanut butter cups a piece and two fun sized packets of Reeses Pieces.
Adapted from Tartine