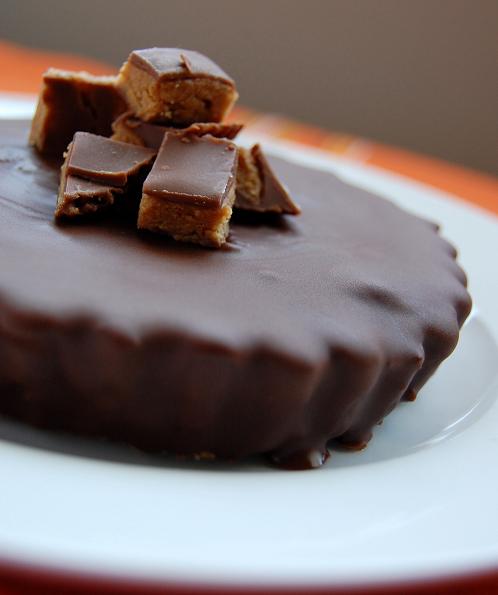 This fun cake comes from October 2007! Some days it's hard for me to believe that I had a blog that long ago or should I say still have a blog. I go through phases where I wonder if should keep doing it. And I always come back to continuing the blog.
Definitely been having writers block, and combine that with the fact that people only comment nowadays on controversially posts only makes it hard to want to keep on putting effort in. No worries though, whenever I think I am going to stop I keep going. I'm sure I will keep going just like I always do. I won't even threaten to take time off as every time I say that I rush out and do a bunch of posts. 🙂
The cake is an adaptation of this peanut butter chocolate chip cake I made a year or so ago, the difference being the use of the peanut butter chips. The other difference is the use of my mini(4-inch diameter) tart pans. I used those to give the cake a more peanut butter cup look. If you get too much rise on your cake you can always trim off the top with a bread knife(that's what I had to do). If you don't have little tart pans, you could simply bake it in the rectangular pan and then cut out circles with a cookie cutter. It won't have that cute peanut butter cup shape but will be tasty nonetheless.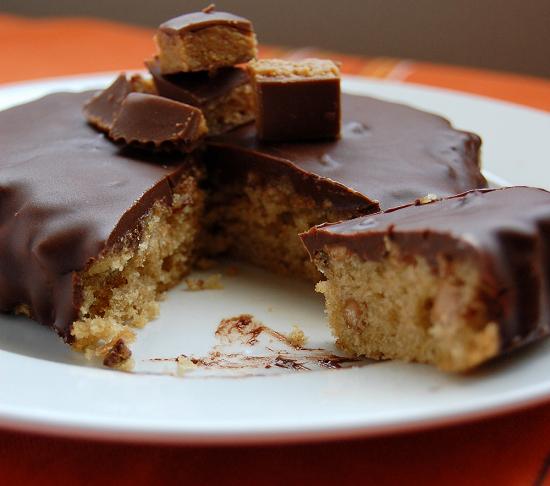 Peanut Butter Cup Cake
Peanut Butter Peanut Butter Chip Cakes(recipe follows)
Chocolate Glaze(recipe follows)
peanut butter cups, chopped, for garnish
Peanut Butter Peanut Butter Chip Cake
2 ounces unsalted butter
1 cup all purpose flour
1/4 tsp baking soda
1/4 tsp baking powder
1/4 tsp salt
1/2 cup tightly packed brown sugar
3 ounces creamy peanut butter
1 large egg
1 egg yolk
1/4 cup sour cream
1/4 cup hot water
1/2 tsp pure vanilla extract
1/2 cup peanut butter chips
Preheat oven to 325F.
Grease three 9 x 1 1/2 inch pans.(I personally used just one 9 x 13 pan). Line your bottoms with parchment. Set aside.
Combine flour, baking powder, baking soda, and salt.
Mix together brown sugar, peanut butter and butter for two minutes. Add egg and egg yolk and mix for another 2 minutes. Scrape down the sides and mix for another minute.
Add half of the flour mixture and mix until incorporated about 20 seconds. Then add the sour cream, mixing again for 20 seconds. Gradually add the remaining flour mixture. Add the hot water in a slow, steady stream and mix on low to combine, about 30 seconds. Add the vanilla and mix for another 10 seconds. Add the peanut butter chips and use a rubber spatula to finish mixing the ingredients until thoroughly combined.
Divide the cake batter into the prepared pans, spreading it evenly. Bake for about 22 minutes. If you have 4 inch diameter tart pans like I used, it takes the same amount of time to bake the cake, if not a few more minutes. Use a knife to see if it is done.
Source: Death by Chocolate Cake by Marcel Desaulniers
Chocolate Glaze
6 ounces semisweet chocolate
4 TBSP unsalted butter
Break chocolate into small pieces and place in a small stainless steel bowl over a pot of hot(not boiling)water. Melt the 4 TBSP butter in a small saucepan, and skim off the white foam that rises to the top. When chocolate is just melted, stir in the clarified butter(discard the white solids left behind). Set aside until chocolate is 86F.
To Assemble: Place cakes on a wire rack. Place rack on top of a cookie sheet so that the extra chocolate has a place to drip onto.Pour chocolate glaze over cake and using a narrow metal spatula, quickly pared it evenly over the top and sides of the cake. Allow chocolate to set to firm consistency before serving. Garnish with chopped peanut butter cup.