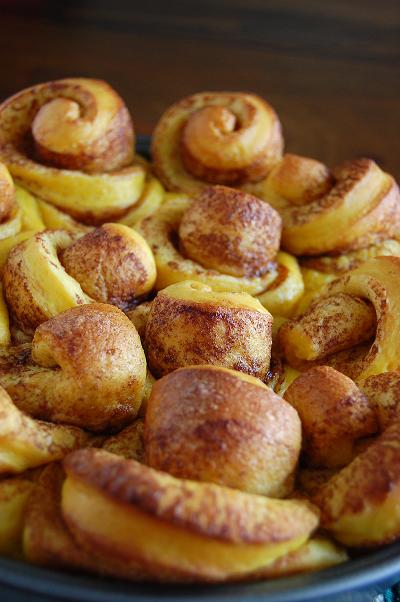 Busy, busy, busy.
The In Laws are here in town and we have been a busy bunch. I read Taste of the South magazine and a while back they had recipes using a product called Cheerwine. It's a cherry soda with a flavor that you can't really describe. It's like cherry cola, but then they took come of the cola out…it's unique. So I made a cake using that for my In Laws since they were nice enough to bring out a 12 pack from Alabama (since you can only get it in the South to my knowledge).
That got my Mother-In Law and me talking about baking. She was in awe that I made my own bread often. She asked me what I baked the most and I told her, and I followed up with "but brioche is my favorite."
"What's that?" was what came out of her mouth. Right away, I knew that she was not going to be leaving my house this time around without getting to try some brioche.
They have been staying at a Holiday Inn Express, which every morning has cinnamon rolls, which they love. I figured I would give them a little twist on the morning treat that they have been eating all week.
There are two versions here. First just a plain old cinnamon sugar filled ones. The second uses Maple Butter (which is basically thickened up maple syrup), Dried Cranberries, and Pecans. Both are good. You don't taste the pumpkin in the actual brioche, it just makes it a nice orange color and moist. So in order to taste a little of the pumpkin, I added it to the cream cheese frosting. Mmm, good.
The good news is that my Mother-In Law is now a fan of brioche. But then again, how can you not be. 😉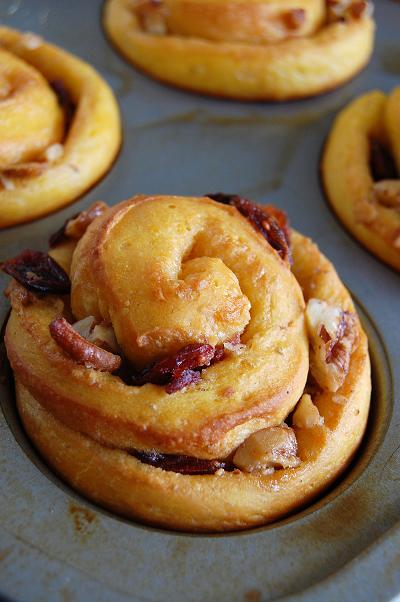 Fall is Coming Pumpkin Brioche Snails with Pumpkin Cream Cheese Frosting
½ recipe Pumpkin Brioche (see below)
1 cup chopped pecans
1 cup dried, unsweetened cranberries
3 TBSP Maple Butter (if you can not find this use 2 TBSP maple syrup)
¼ cup unsalted butter, at room temperature
1 recipe Pumpkin Cream Cheese Frosting (see below)
Or just Cinnamon Filled
½ recipe Pumpkin Brioche
½ cup cinnamon sugar
¼ cup unsalted butter, at room temperature
On a flour dusted surface, roll the dough into a rectangle about 12 inches wide and 16 inches long, with a short end toward you.
In a small bowl, mash together the maple butter (or maple syrup) and butter together. Stir until combined. If you are making just the plain cinnamon sugar kind, skip this step.
Spread the maple/butter across the dough, leaving 1-inch strip bare on the side farthest from you. Scatter the  nuts, cranberries over the maple butter. If you are making the cinnamon sugar kind, spread the butter across the dough, and sprinkle cinnamon sugar over the butter.
Starting wit the side nearest you, roll the dough into a cylinder, keeping the roll as tight as you can. Place on a baking sheet and put into the freezer for about 10 minutes, this will make it easier for you to cut.
With a chef¢â¬â"¢s knife(I use a bread knife), using a gentle sawing motion, trim just a tiny bit from the ends if they¢â¬â"¢re ragged or not well filled, then cut the log into rounds a scant 1 inch thick. Put the snails inside the individual muffin holes. You may also use a round 8-inch cake pan (this recipe will use two). If using rounds, leave enough space for them to puff.
Lightly cover the snails with wax paper and set the baking sheet(s) in a warm place until the snails have doubles in volume, about 45 minutes.
Preheat oven to 400F. Bake for 10 minutes at 400F. Turn oven down to 350F. Rotate the pans 180 degrees, and bake another 10-12 minutes.
Remove from oven. Let cool for 15 minutes and frost with Pumpkin Cream Cheese Frosting.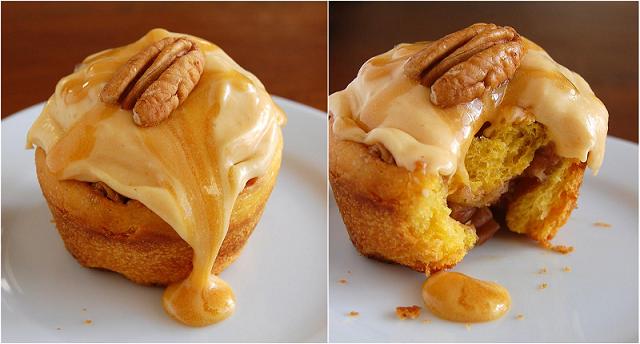 Pumpkin Brioche
For the Sponge:
¼ cup whole milk, at room temperature
2 ½ tsp active dry yeast
1 cup pumpkin puree
1/3 cup sugar
1 cup bread flour
Combine the milk and yeast in the bowl of a standing mixer fitted with a paddle attachment ans whisk until the yeast is dissolved. Let stand for 5 minutes, then stir in the pumpkin puree, sugar, and flour, forming a thick batter. Cover with plastic film and let rest in a warm environment until bubbles form, 30-40 minutes.
For the Dough:
5 cups bread flour
2 tsp salt
6 large eggs, lightly beaten
½ lb(2 sticks) unsalted butter, softened
1.Add the flour ans salt to the sponge, then add the eggs. Mix on low speed for 2 minutes, or until the eggs are absorbed. Increase speed to medium and knead the dough for 5 minutes. The dough will begin to slap around. Hold on to the mixer when necessary.
2.2. On medium-low speed, add the butter, 2 TBSP at a time. Stop the mixer and scrape down the sides of the bowl occasionally.(Recipe did not say to, but I switched to the dough hook at this point). Knead until the dough is shiny ans smooth, about 5 minutes. Scrape out the dough, wash and dry the bowl, and coat it lightly with oil.
3.Place dough in the oiled bowl and turn it so that the top is coated with oil. Cover with plastic film and let rise at room temperature until doubled in volume, about 2 hours.
4.After the dough has doubled in volume, press down to deflate, folding one half into the other. Cover with plastic film and refrigerate for at least 4 hours or overnight. This is the second rise.
Pumpkin Brioche from The Secrets of Baking by Sherry Yard
Pumpkin Cream Cheese Frosting
1/4 cup unsalted butter, at room temperature
8 ounces cream cheese, at room temperature
1/3 cup pumpkin puree
1/4 tsp cinnamon
1/4 tsp fresh ground nutmeg
4-5 cups powdered sugar
milk to thin
Using a stand mixer with a paddle attachment on medium speed, beat together the cream cheese and butter for 3 minutes.
Add pumpkin puree and spices. Beat until fully incorporated.
One cup at a time, on low speed, add powdered sugar. Increase speed to medium after powdered sugar starts to incorporate and wont fly all over you. 😉
Add powdered sugar until you reach desired consistancy.
Thin with milk if frosting is too thick.