These Chocolate Souffles for Two with Kahlua and Cinnamon are perfect for date night when you only need two desserts.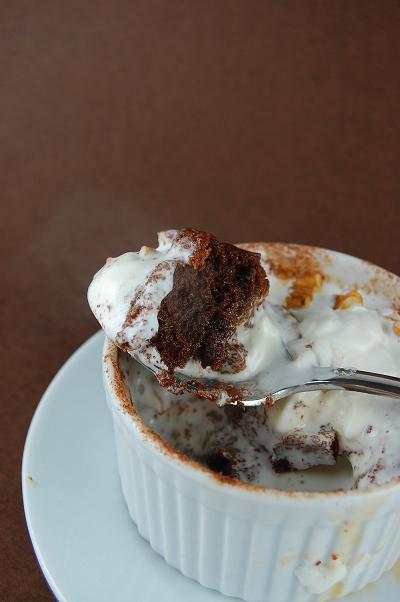 I like to watch the Biggest Loser.
I find it inspiring.
Though maybe not that inspiring since I am usually eating ice cream while watching it. 😉
And while I do like the show, it has a lot of things I hate about it.
The number one thing being all the product placement.
Ugh.
Between them and Top Chef I am not sure who is worse.
And the thing that the pimp the most is gum.
I wont say which kind because I feel they get enough advertisement.
But I will say this…in no way will a stick of tropical fruit gum stop my craving for a chocolate souffle.
And anyone who truly believes that a stick of fruit gum will kill their craving for chocolate needs to visit the head doctor.
I'm not sure there is a cure for a chocolate craving, except, well chocolate.
It's like the people who love to say, "nothing tastes as good as thin feels".
Clearly these people just aren't eating the right things.
Because there is a TON of food that tastes better than being thin.
Not all foods mind you.
But there are definitely ones out there.
My croissant bread pudding would be a great example of that.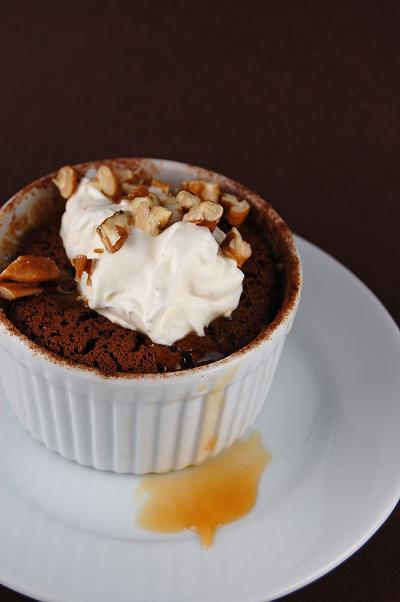 The dreaded Valentine's Day is coming up.
I had been searching for a recipe for just two people.
Fully admit I get fed up sometimes with making a giant recipe when it is just the two of us.
I found this gem in the back of the Cuisine for Two special publication.
It was put out by my favorite magazine, Cuisine at Home.
A lot of people asked me after I went on my rant about Bon Appetit which magazine did I like.
Cuisine at Home is always my answer.
These deflated before I could even get them over to the table to photograph.
Partially my fault as they had to sit around while I turned off the smoke alarm (it was set off by something else…a sauce for dinner that I forgot about…whoops!).
So if that happens to you, I would invert it on to a plate and serve it as a souffle cake.
No one will care.
I served these with a caramel sauce and on the souffle cake I added some chocolate glaze as well.
You make one.
Then eat it.
Then an hour later, have a stick of gum.
Let me know which one you like better.
P.S. It's a great day to buy my cookbook Holy Sweet!
Want More Chocolate Recipes?
Raspberry Chocolate Truffle Cupcakes
Chocolate Salted Caramel Popcorn Cake
Chocolate Root Beer Float Cupcakes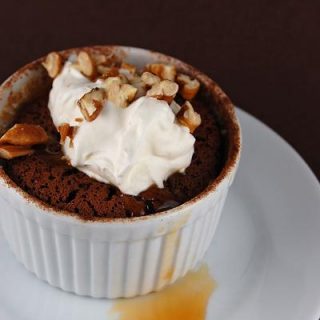 Chocolate Souffles for Two with Kahlua and Cinnamon
Ingredients
unsalted butter and cinnamon sugar (for ramekins)
For the Souffles:
1/3 cup semisweet chocolate
2 TBSP milk
1 ½ tsp Vanilla Kahlua
½ tsp instant espresso powder
½ tsp cornstarch
2 tsp granulated sugar, divided
pinch of ground cinnamon
1 egg, separated
1/8 tsp vanilla extract
pinch of salt
pinch of cream of tartar
Instructions
Preheat oven to 400F.
Coat two 6-inch souffle cups with butter and sprinkle with cinnamon sugar.
Chill cups on a baking sheet while preparing batter.
Melt chocolate chips with milk, Kahlua, espresso powder, cornstarch, ½ tsp granulated sugar, and cinnamon in a saucepan over medium heat, whisking until smooth.
Combine yolk and vanilla, then whisk into chocolate mixture.
Cook 2 minutes, remove from heat and cool to room temperature.
Using and electric mixer, beat the egg white with cream of tartar and salt on high speed until soft peaks form.
Gradually add remaining 1 ½ tsp sugar; continue beating until stiff peaks form.Using a whisk, blend whites into chocolate mixture until there are no streaks.
Fill prepared cups with batter.
Bake on the baking sheet until souffles puff, about 20 minutes. Test for doneness by inserting a skewer into the center of the souffle.
Souffle is done when skewer comes out clean or slightly moist.
To serve, cut a small slit in top of each souffle.
Pour sauce of your choice into souffles.
Garnish with whipped cream and chopped pecans.