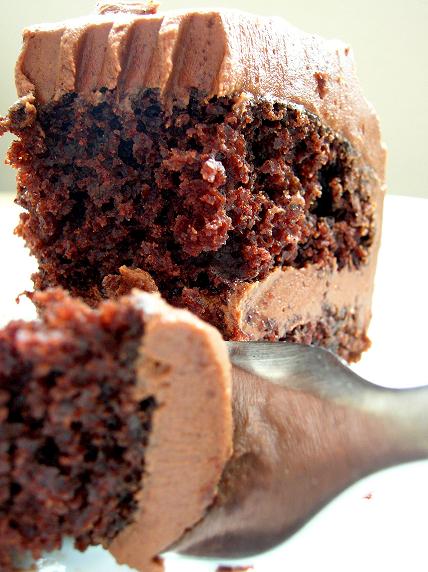 So I must admit that I am not a chocolate cake lover(flourless being the exception to this), in fact I will usually pass on it.
However, back when I was 9 years old we went back to visit my grandmother and grandfather.
My grandmother was a horrible cook and luckily for us, rarely did cook.
My grandfather loved to trap us in the car and go for drives in the car that lasted for hours. For a 9 year old nothing is worse.
One afternoon we made a stop….thank God, we usually didn't get to stop.
We stopped at my aunt's mothers house and she invited us in for cake. I was very excited….released from the car AND cake.
Then I saw it, chocolate cake. Ugh.
I had already said that I wanted cake before I knew what it was, so I knew I had to be polite and eat it or my mother would have killed me.
So there it sat in front of me. It was a homely cake, the frosting all uneven, but piled up nice and high.
It sat there with my big glass of milk.
And sat there.
Until finally, my mother broke down and gave me the evil eye.
In I popped a piece of cake to my mouth.
Oh my God, this is good. Really, really good. It was like no other chocolate cake that I have ever had.
It could just be that it was the taste of freedom (from the 5 hour ride in the back of the Oldsmobile) but I'm pretty sure it was the cake.
My aunt's mother has long since passed and no one seems to remember that cake….except me, so it was up to me to recreate it.
I was inspired by Lis and her quest for finding a good chocolate cake recipe….well Lis, here it is.
It comes from Tish Boyle's Cake book (you should buy this people). I chose to find a non-fancy cake since my aunt's mother didn't seem like the fancy type of lady. This recipe had ingredients I am quite sure were around in those days. I'm not positive this is the exact cake but close and the frosting is it for sure!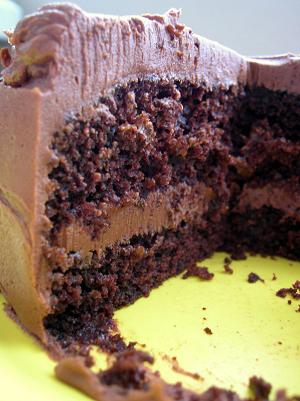 Deeply Dark Devil's Food Cake
1 1/2 cups all-purpose flour
2 tsp baking powder
3/4 tsp baking soda
3/4 tsp salt
11 TBSP unsalted butter, softened
1 1/2 cups granulated sugar
2/3 cup Dutch-processed cocoa powder
2 large eggs
1 tsp vanilla
1 1/3 cups warm water
1. Preheat oven to 325F. Grease two 9 inch cake rounds and dust with flour.
2. Sift together the flour, baking soda, baking powder, and salt in a medium bowl. Mix to incorporate.
3. Beat the butter at medium speed until creamy. Gradually add the sugar and beat on high speed for about 3 minutes. Add the cocoa powder and beat for 1 minute. Scrape down the sides with a spatula. Beat in the eggs one at a time. Beat in the vanilla. On low speed, add the flour mixture in three additons alternating with the warm water in two additions. Scrape down the sides of the bowl and mix at low speed for 30 seconds. Pour batter into prepared pans.
4. Bake cake for 45-55 mintues. Cool cake for 20 minutes after baking.
5. Remove cake from pan and let cool completely before frosting.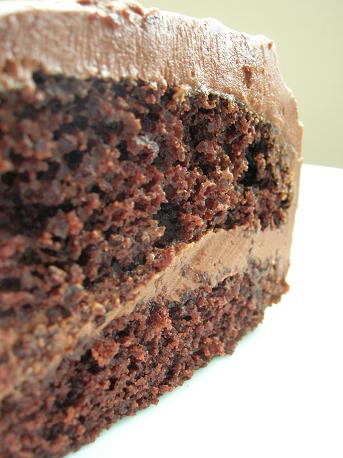 Fudgy Chocolate Frosting
3 ounces unsweetended chocolate, coarsely chopped
3 ounces bittersweet chocolate, coarsely chopped
1 cup unsalted butter
2 cups powdered sugar
1 TBSP vanilla extract
1. Put both chocolates in a stainless steel bowl and place bowl over a pot of barely simmering water. Heat, stirring frequently, until the chocoalte is completely melted. Remove the bowl from the pot and set the chocolate aside to cool.
2. In the bowl of an electric mixer, using the paddle attachment, beat the butter on medium until creamy, about 30 seconds. Gradually add the powdered sugar and beat at high speed untl light and creamy, about 2 minutes. Beat in the vanilla. Add the cooled chocolate at low speed, mixing until blended and scraping down the sides of the bowl as necessary. Increase the speed to high and beat until slightly aerated, about 1 minute.
Source: Both recipes are from The Cake Book by Tish Boyle(recipes were slightly changed in the instruction part)