These Sugar Crusted Brownie Sundaes with Whiskey-Pecan Caramel Sauce have a decadent brownie base, vanilla ice cream, and rich caramel sauce.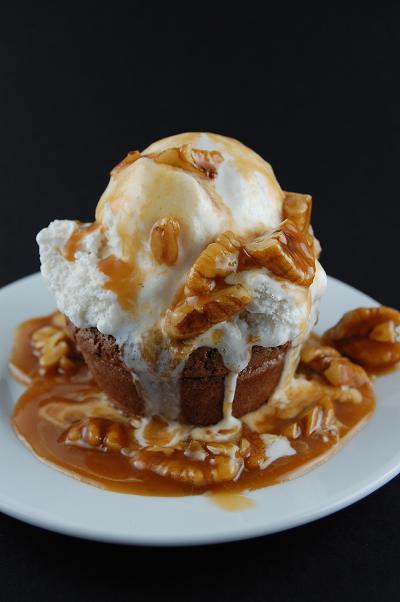 "Hey, you should do that" was what I was told.
They were in reference to the Pioneer Woman's website.
I just laughed hysterical at them (if you have never seen it you really should).
First off I told them she has like 5 sections to her website.
I don't know 5 things.
I was trying to think of 5 sections I could even have.
Baking/Cooking.
Okay, I already do that.
Photography.
I just fumble my way through that so I wouldn't really be of help to anyone else.
Plus I don't have neat stuff like Photoshop or anything.
So scratch that.
They are remodeling a beautiful lodge that is pretty much to die for.
I live in a 1 year old home that doesn't need renovating and I don't even have pictures on the walls (exception of 2 rooms), nor do we have any walls painted.
So scratch that.
She has a confessions section where she shares her life.
I already kind of do that in my posts.
So if I had a separate page for that my primary page would suck even more.
Plus her confessionals are interesting.
If I had to confess stuff it would be boring crap like, I didn't get out of my pajamas until 3pm today.
Or I hid the last cookie from my husband.
Or the ultra controversial, I was too lazy today to separate out the laundry and just did whites and colors together (ala college days).
Yes, people would be flocking to read that.
Her husband has an interesting career.
I mean he is a cowboy.
A cowboy.
And she used to be a city girl.
I was a suburb girl.
And now I am a suburb girl. Whoo.
My husband is a computer programmer (which is interesting to him, but they don't make calendars of computer programmers with their shirts off).
She takes cool pictures of her husband in his chaps roping cows and stuff.
I could post photos of my husband from different angles of him on the computer.
He's not wearing chaps but t-shirts from some geek conference he went to.
So scratch that.
She has huge giveaways.
I mean she just gave away a laptop.
She gives away Kitchen Aids.
Ree gives away Photoshop.
Hmm, I've got some used Kleenex I could send your way.
See, again, not offering much of what the people want.
I guess I could have a section on training your dog to be a ninja, though that is going poorly.
Though after seeing Kung Fu Panda I have renewed hope. 🙂
I could have a section for confused bunnies who have identity crisis.
Or how to train your bunny to clean it's own cage.
That is also going poorly.
I could have a section on how to spend money you don't have. 😉 . 
And then I can offer tips on how to gain weight.
So basically, I am sticking with what I know and not branching out.
Much to my friends dismay I will not be the next PW empire.
Sorry C.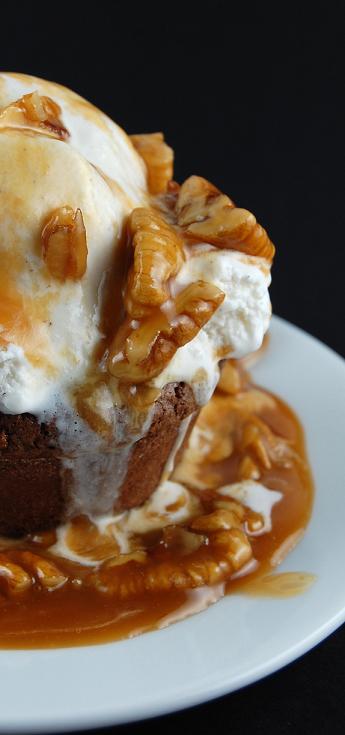 I will just stick with things like these Sugar Crusted Brownie Sundaes with Whiskey-Pecan Caramel Sauce that use a pound of butter (take that new years resolutioners)!
Now I will confess that I only made a half batch of these as I did not need 22 brownie sundaes for 2 people.
I might have wanted 22, but didn't need. 😉
This recipe halves nicely so there is no problems there.
The sauce that comes with it calls for ½ cup of whiskey.
Oh my.
I so did not use that much, I used 1 TBSP (which if you are making the whole recipe you would use 2 TBSP).
With just the small amount I used you can taste the whiskey so I can't even imagine what ½ cup tastes like.
Holy knock me out Batman.
It also called for walnuts but I only had pecans.
I think any nut would be fine.
These taste pretty much how they look.
Soft warm brownie that has a crispy sugar crust, topped with vanilla ice cream (I was lazy and just bought some vanilla bean at the store) and then topped with gooey caramel and pecans.
And yes, my husband ate these. I knew he would, that is why we had them for New Year's Eve.
For those of you counting I believe this is 412 Weight Watcher points..for 3 bites.
Last but not least…it's a great time to order my cookbook. 😀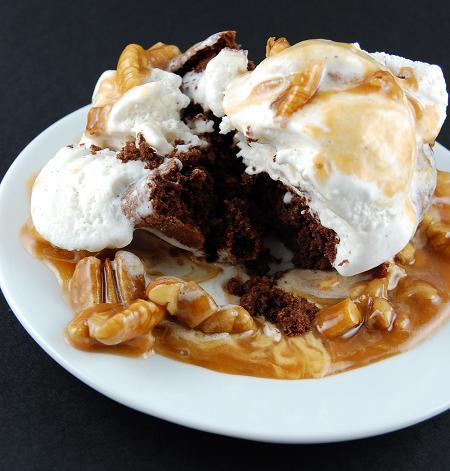 Want More Brownie Recipes?
Marshmallow Crunch Brownie Bars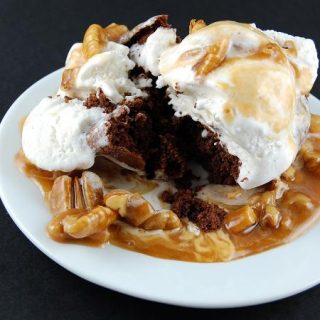 Sugar Crusted Brownie Sundaes with Whiskey-Pecan Caramel Sauce
Ingredients
For the Brownies:
1 pound (4 sticks) unsalted butter, plus extra for the muffin tins
2 cups sugar, plus extra for the muffin tins
12 ounces semisweet chocolate, chopped finely
6 ounces unsweetened chocolate, chopped
6 large eggs
2 TBSP vanilla extract
1 cup unbleached all-purpose flour
2 tsp baking powder
1 tsp salt
Whiskey Pecan Caramel Sauce:
About 1 ½ quarts vanilla ice cream
2 cups granulated sugar
½ cup of water minus 2 TBSP
2 TBSP whiskey (the original recipe calls for ½ cup of whiskey but that is too much whiskey flavor for me!)
1 tsp fresh lemon juice
2 cups heavy cream
½ tsp salt
1 TBSP vanilla extract
1 cup chopped pecans (or any nut of your choice)
Instructions
For the Brownies:
Brush all but two of the cups of two standard 12-cup muffin tins with melted butter.
Spoon about 1 TBSP of sugar into greased cups and shake and tap around to cover the bottom and the sides of the cups completely with a thick coat of sugar.
Tap out any excess sugar.
Position a rack in the middle of the oven and preheat to 350F.
Combine the butter and chocolates in a microwave-safe bowl and microwave on high for 2 minutes.
Remove from the microwave and stir until completely melted. If the chocolate is not completely melted, continue to microwave for 30 second intervals and stir smooth.
In a large bowl, gently whisk together the eggs, 2 cups sugar, and vanilla just until combined.
Stir in the chocolate mixture just until combined.
Sift the flour, baking powder, and salt over the chocolate mixture and fold in just until combined.
Spoon about ¼ cup of the batter into each of the prepared cups. (If you run out of batter before you fill all the cups, make sure to wipe out the butter and sugar of any empty cups before baking the brownies, as otherwise they will melt and burn and, in general, make a huge mess.)
Bake until the tops of the brownies are firm and a toothpick inserted in the center of a brownie cup comes out with a few moist crumbs clinging to it, 20-25 minutes. Be careful not to over bake.
Transfer to a wire rack and let cool.
When pans are cool enough to handle, run a thing, sharp knife around the edge of the one brownie, then carefully tip it out and catch in your hand.
Place the brownie on the wire rack to finish cooling.
Continue releasing the brownies, on at a time, form the pans.Serve slightly warm with ice cream and Whiskey Pecan Caramel Sauce.
For the Caramel Sauce:
Combine the sugar, water, whiskey, and lemon juice in a heavy bottomed saucepan over medium heat.
Cook, gently swirling the pan occasionally, until the sugar dissolves and start to turn color.
Increase the heat to thigh and boil until the syrup turns a deep amber color, 4 to 5 minutes.
Watch carefully, as it can burn quickly.Immediately remove the pan from the heat and pour in the cream and salt.
Use a long-handled wooden spoon to carefully stir in the cream, as caramel has a tendency to hiss and splash as the cold cream hits it.
Place the pan over low heat and cook, stirring constantly, until the caramel thickens, 5 to 7 minutes.
The mixture should be the consistency of very thick cream. Remove from heat and stir in the vanilla and pecans.Let boiling sauce cool until it is just warm before serving.
To store, cover and refrigerate for up to 1 week. To reheat the sauce, microwave, uncovered, for about 1 minutes on high. Stir until smooth.