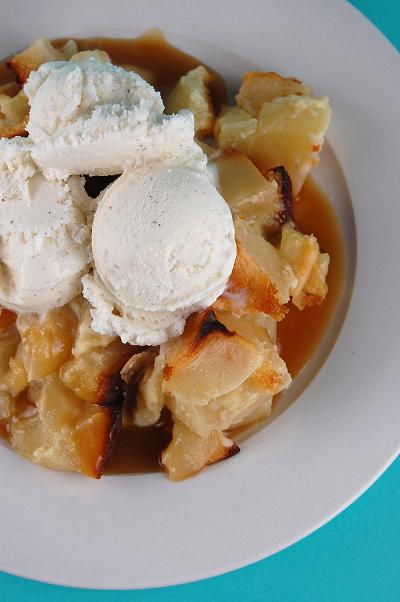 I was trotting along on the elliptical today doing my best to zone out and to trick my body to not thinking it's legs are just going around and around and not actually going anywhere(which how in the heck do those Biggest Loser people do this crap for 8 hours a day?), when in they came again. Teenagers. Apparently our local high school must not have a gym. Well, I think they have a gym, I don't think they have a weight room. So they bus them to the gym, always at the time I am working out. They don't come everyday and to be honest I can't figure out their schedule to save my life. I have learned to show up a couple minutes early or there will be no machine available.
A woman walks around with a clipboard. The minute she is gone (the gym has an upstairs and a downstairs) they go back to doing nothing. They just stand on the equipment texting away. The girls usually pretend to be doing cardio and the guys pretend to be doing weights. Except this kid who comes out in his street clothes every time and walks on the treadmill. The girls of course all hover together. I have stopped listening to my Ipod at this point because I can not get it loud enough to drowned out their fine conversation. Which usually consists of some form of this:
"Oh no she didn't. Oh no she didn't. Oh, that bitch." This goes on in many variations for quite some time. They do this loudly and then get pissed when you glance over. If you don't want me to hear you conversation ladies, don't have it in front of me.
Then there is the classic ones where the story starts with "We were so drunk…" or ends with "I can't believe how drunk we were."
Can I say how much I weep for the future. Ugh. If these kids I see a couple times a week are any indication we are all screwed. Royally.
I would gladly give up the gym, but then I would have to give up sweets, and well, I can't have that now can I?
It's not often that I can say that I find a dessert that I have not tried. Heck, just look at my survey of the 100 desserts…I've eaten a lot of dessert. So when I got my one and only cookbook for Christmas this year, Cooking by Hand, I was delighted to see a recipe that I had never heard of….Warm Yeasted Apple Pudding. It's like nothing I had ever tasted and if you are an apple lover, this is almost all apple. I will say it is a strange dessert. You definitely get the taste of the yeast, and with only 2 TBSP of flour it's not quite like the German pancake I thought I would be getting.
But I through on some toffee sauce (it seemed like it would need something) and I made some Vanilla Bean Crème Fraiche Ice Cream to accompany it. This book has a lot of interesting recipes, especially desserts, that I can't wait to explore.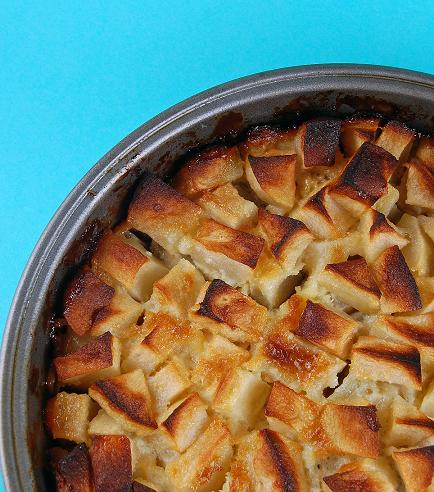 Warm Yeasted Apple Pudding
3 pounds apples (I used a variety of Granny Smith, Gala and Fuji)
½ cup whole milk
1 ¼ tsp dry yeast
5 TBSP melted butter
2 TBSP all-purpose flour
1 whole egg
1/3 cup granulated sugar
1/8 tsp salt
Butter a 9-inch round baking pan.
Peel, halve, and core the apples. Cut apples into a rough dice (the original recipe has you slice them using and mandoline but I was lazy because of my hand).
Pour milk into a small saucepan and simmer until it is lukewarm temperature. Remove from heat source and sprinkle the yeast over the milk. Allow to proof, about 5 minutes.
When the yeast is proofed, whisk the melted butter, flour, egg, sugar, and the salt into the milk. The mixture will resemble a thin batter.
Pour this batter over the apple pieces and mix thoroughly, turning the apple pieces so that the are covered in the batter. Turn the apples into the prepared pan and smooth the top with a spatula.
Set the pudding aside to rise at warm room temperature for 1 hour, or until you notice that the batter has swelled slightly and appears puffy.
Preheat oven to 375F.
Bake the pudding on the middle rack of the oven for 1 hour and 10 minutes, or until it is tender when proved in the middle and deeply browned all over it's top surface.
Allow the pudding to cool for at least 20 minutes before serving.
Serve warm with sauce and ice cream.
Adapted from Cooking by Hand by Paul Bertolli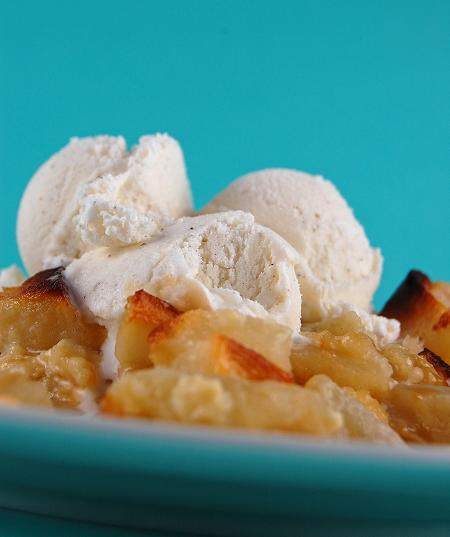 Vanilla Bean Creme Fraiche Ice Cream
2 cups creme fraiche
¾  cup half-and-half
¼ cup buttermilk
2 vanilla bean pods, scraped, save pods
1 cup granulated sugar
1 tsp vanilla extract
6 egg yolks
Place half-and-half in a small saucepan. Place vanilla beans and their pods into the half-and-half. Bring to a boil and immediately take off of heat. Let sit for 20 minutes. Remove vanilla bean pods.
Combine creme fraiche, vanilla bean infused half-and-half, buttermilk, vanilla extract and sugar, and warm the mixture over medium heat, stirring occasionally, until the sugar has dissolved, 3 to 5 minutes.
In a medium bowl, whisk the egg yolks just until blended, then temper the eggs by whisking in about one-quarter of the warm half-and-half mixture. Return the yolk mixture to the saucepan and cook over medium heat, stirring constantly, until the custard coats the spoon, about 10 minutes.
Strain the ice cream custard into a medium bowl to remove any lumps and let cool to room temperature, then refrigerate until fully chilled, at least 3 hours.
Pour the mixture into an ice-cream maker and freeze according to the manufacturer¢â¬â"¢s instructions. Transfer the ice cream to an airtight container and freeze until set, at least 2 hours.