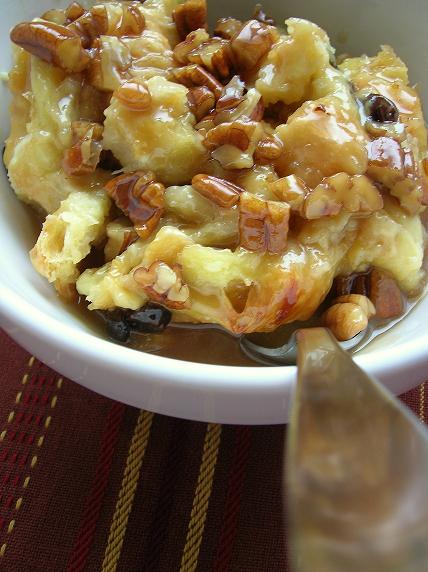 Grilled Cheese and Tomato Soup. Stoffers Macaroni and Cheese that has been cooked a little too long so that the edges are all crispy. Cold Stone Creamery Cake Batter ice cream with Heath mix in. And bread pudding. These are my go to foods when the world is treating me less than kind. Of all of those, bread pudding is my favorite, but the one I make the least(I tend to eat the whole pan).
I didn't start off a fan of bread pudding. Growing up I was allergic to milk and so the few times I ate pudding, I had adverse reactions to it. One night while out to eat with my parents my mother insisted that I try a piece of her dessert, it was bread pudding. Being smart she did not tell me it's name and therefore I tried it. Sneaky woman. It was so wonderful. It was warm, soft and sweet and I swore it felt like some one was wrapping me with a blanket and telling me it was all okay. Bread pudding has that power over me.
Since that day it became my quest to find the best bread pudding. If it is on the menu at a restaurant, I try it. I have probably eaten or made darn close to every variety out there….it's a tough job, but somebody has to do it. In all of my research and baking I have discovered that my favorite bread pudding is made with croissants. I mean if you are going to ingest all those calories, why not really go for it? 😛 My bread pudding is a little more custardy than some, mostly because I bake mine in a water bath. I feel that it just makes it that more creamy and soft texture.
The sauce is the next important thing to me. If you have a bad sauce you have ruined your bread pudding and that would just be sad. I prefer the "toffee" sauce…your brown sugar, cream and butter based, the only exception being when I make chocolate chip or chocolate bread pudding…then ganache is that best.
Whoever said, "nothing tastes as good as thin feels" obviously never had my bread pudding.
Crossiant Bread Puddingwith Pecan Toffee Sauce
4 large croissants or 6 small ones
1 pint heavy cream
4 egg yolks
½ cup of sugar
1 teaspoon nutmeg
1 cup raisins
Preheat oven to 350F.
1.Tear croissants into pieces and place int o baking dish. Sprinkle bread with the raisins.
2.Mix the egg yolks, sugar and nutmeg together in a bowl. Then stir in the heavy cream.
3.Pour the custard over the bread. Press down the bread pieces until the bread is soaked with the custard. You will most likely have extra custard depending on how stale your crossiants are. Don't feel like you have to use all the custard.
4.Place pan into another pan that will hold a water bath. Bake the bread pudding for 45 minutes until golden on top. Cool 10 minutes and serve warm.
Pecan Toffee Sauce
3/4 cup packed brown sugar
1/3 cup unsalted butter
1/3 cup whipping cream
1 TBSP Amaretto
1/2 cup chopped pecans, toasted
1.Stir brown sugar and butter in heavy medium saucepan over medium heat until melted and smooth, about 2 minutes.
2. Add cream and Amaretto and bring to a simmer. Simmer for about 5 minutes and then add pecans.