Raspberry Chocolate Truffle Cupcakes are Devil's food with raspberry jam buttercream and topped with a chocolate filled raspberry truffle.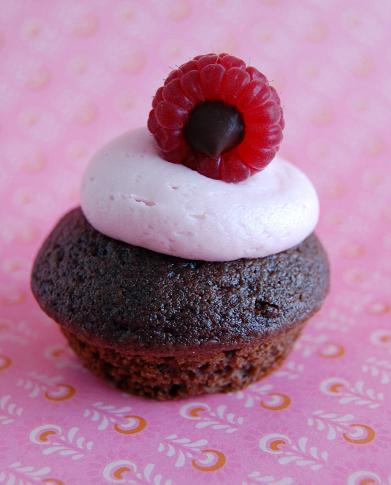 I cringed having to write that but I must admit that once again(don't let it go to your head mom) my mother was right.
As you get older your body rebels against you, but you feel the same on the inside as you did when you were 16.
Though hopefully at little more educated and street smart then that 16 year old.
I'll never forget the first time one of my friends turned 40 (no, I'm not there yet but now I am closer to 40 than 30).
It just seemed so odd.
For J is not old to me at all and yet here I was going to the birthday party of a forty year old.
A forty year old.
Surreal.
I can still remember my mother's 40th birthday.
It involved a penis cake (which she blushed galore…12 year old me did as well).
And my mother getting so drunk that she promised me a pony (I'm still waiting).
Certainly if I can remember my mother's 40th birthday so clearly, no friend of mine could be turning 40, let alone me in a few years.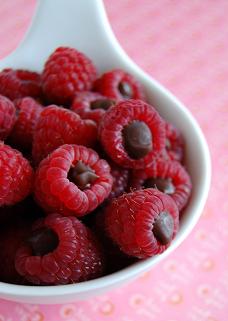 I'm not a panicker.
I had a friend who when she turned 35 literally had to be sedated (she did that at 30 as well).
She kept freaking out that her best years were over.
Subsequently, she pretty much lives like the best years of her life are over…rather sad.
I know I am older, but then again so is everyone else.
No one I know can afford Botox so we are all growing old together. ๐Ÿ˜‰
I guess I feel the best years of my life are the ones I am currently living.
Making the best of what you got and not worrying about how you used to look can make your life a lot more happier.
Holding on to that pair of pants you had when you were a size 6 helps no one, only hurts.
Plus, if you ever do fit back into those babies…they will be out of style…toss them.
If your life is so bad that all you can do is reminisce about the old days, YOU do have the power to fix it.
Enjoy the now, enjoy the you in the now.
Well, I said I wasn't going to bake a birthday cake and then out of nowhere the sky opened up and started to dump rain.
And dump rain.
And thunder.
In doing that the temperature this morning was 57! Hello oven!
These Raspberry Chocolate Truffle Cupcakes are simply just devil's food cupcakes with some buttercream frosting that has a little raspberry jam in it.
Topped with a little chocolate raspberry jam ganache filled raspberry to make it a little more birthday special.
Thanks to all of you who wished me a happy birthday…it was a happy one indeed.
P.S. It's a great day to buy my cookbook Holy Sweet!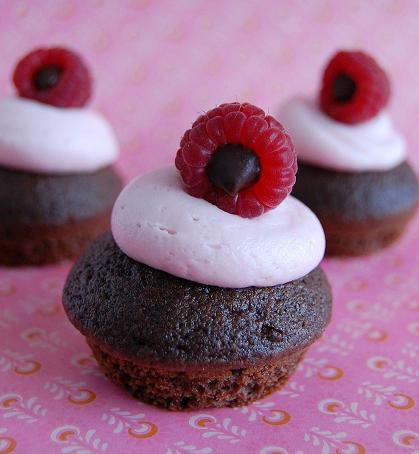 Want More Cupcake Recipes?
Dark Chocolate Butterfinger Cupcakes
Strawberry Buttercream Neapolitan Cupcakes
Key Lime Toasted Coconut Cupcakes
Strawberry Malted Milk Cupcakes
Chocolate Glazed Rocky Road Cupcakes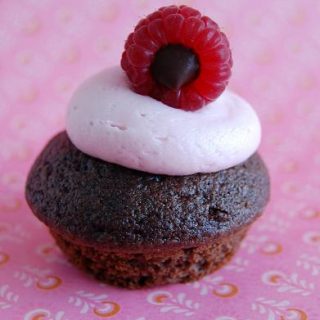 Raspberry Chocolate Truffle Cupcakes
Ingredients
For the Raspberry Truffles:
2 pints fresh raspberries, cleaned and dried
5 ounce semisweet chocolate
1/3 cup heavy cream
ยผ cup seedless raspberry jam
For the Devilรขโ'ฌโ"ขs Food Cake:
1 1/2 cups all-purpose flour
2 tsp baking powder
3/4 tsp baking soda
3/4 tsp salt
11 TBSP unsalted butter, softened
1 1/2 cups granulated sugar
2/3 cup Dutch-processed cocoa powder
2 large eggs
1 tsp vanilla
1 1/3 cups warm water
For the Raspberry Jam Buttercream:
1 cup unsalted butter, at room temperature
6-8 cups powdered sugar
ยฝ cup seedless raspberry jam
Instructions
For the Raspberry Truffles:
Place chocolate and raspberry jam in a heat proof bowl.
Bring cream to a boil.
Pour cream over chocolate and jam and let sit for about 3 minutes.
Whisk together chocolate mixture. If it is still a little lumpy, put in microwave for a few seconds and whisk again.
Put ganache into a piping bag fitted or even an plastic bag(with a tiny hole cut out).
Pipe chocolate ganache into fresh raspberries.
Let sit in fridge for about 15 minutes. Leave in fridge until ready to use for cupcakes.
For the Cupcakes:
Preheat oven to 325F.
Grease and flour mini cupcake pans.
Sift together the flour, baking soda, baking powder, and salt in a medium bowl.
Mix to incorporate.
Beat the butter at medium speed until creamy.
Gradually add the sugar and beat on high speed for about 3 minutes.
Add the cocoa powder and beat for 1 minute.
Scrape down the sides with a spatula.
Beat in the eggs one at a time.
Beat in the vanilla.
On low speed, add the flour mixture in three additions alternating with the warm water in two additions.
Scrape down the sides of the bowl and mix at low speed for 30 seconds.
Pour batter into prepared pans.
Bake cupcakes for 13-15 minutes.
Let cool for 5 minutes in pan and remove cupcakes from pan.
Let cool on wire rack.
When cool, frost with Raspberry Jam Buttercream and top with a raspberry truffle.
For the Raspberry Jam Buttercream:
Place butter and jam in a mixing bowl of an electric mixer fitted with a paddle attachment.
Cream butter and jam until well incorporated, about 2 minutes.
Add powdered sugar, one cup at a time until you reach desired consistency.
If frosting gets too thick you can add a little milk to thin it out.