Snickery Squares: Rich shortbread cookie topped with Dulce de Leche and salted peanuts all topped with a chocolate glaze.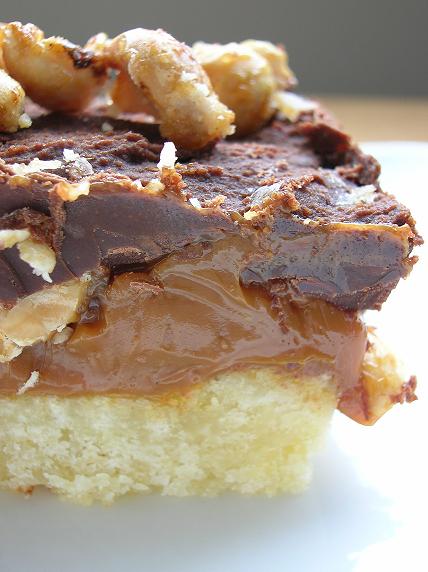 I pretty sure at this point if Dorie Greenspan wanted to start her own cult she could.
The followers are definitely out there.
Brilynn has a shrine in her basement at this point and I highly suspect some sort of statue of Dorie made out of puff pastry (I kid Brylinn).
But seriously, what makes the food blogging world love her so much and with good reason.
Simple, it's the way she writes.
Her recipes are always so simple to follow.
Since I teach people how to cook as my job, I am always recommending her books to people.
Especially her latest Baking:From My Home to Yours.
Because I know that even my most baking phobic client can have success with Dorie…you know…"Hooked On Dorie worked for me!"
Sure there are more complicated dishes but I really feel she walks you through them nicely in her descriptions.
She is very good at breaking down recipes step by step.
Not once have I had to go back and re-read thinking to myself, what on earth does she mean by that?
You may be laughing, but as a gal with over 300 cookbooks there are a lot of recipes I have to go back and say that to.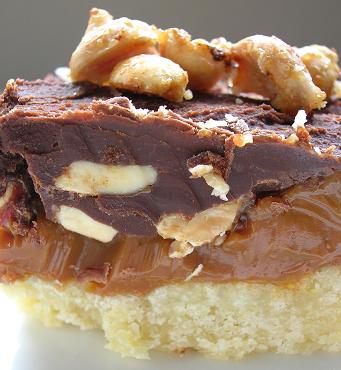 So when looking for a weekend snack for my hubby I remember passing a recipe in the Dorie baking bible that was called Snickery Squares.
Now my hubby is a super Snickers fan so I thought I would give these a try.
Think Snickers candy bar on shortbread cookies.
I did have to make a special trip to the grocery store to find store-bought dulce de leche, which I found in the Hispanic food aisle.
I would probably chill each layer before adding the next since spreading it was not the easiest of tasks.
So mine are far less pretty as hers.
But just as tasty I am sure.
Since I am sick I have no taste buds so the Snickers fan was the judge.
He said it was good but didn't really taste like a Snickers bar due to the shortbread bottom.
But I'm sure it can easily become a Dorie cult classic.
P.S. It's a great day to buy my cookbook Holy Sweet!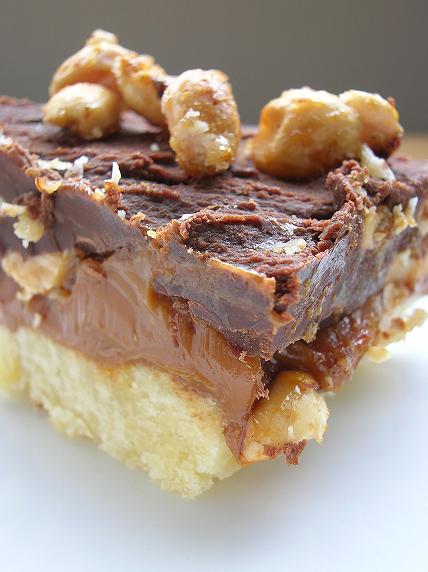 If you like this recipe you might enjoy these:
Peanut Butter Chocolate Chip Overload Bars
Peanut Butter Captain Crunch Marshmallow Brownie Bars
Coke and Salted Peanut No Churn Ice Cream
Peanut, Pretzel, Chocolate Chip Cookies
Butterscotch Salted Peanut Bars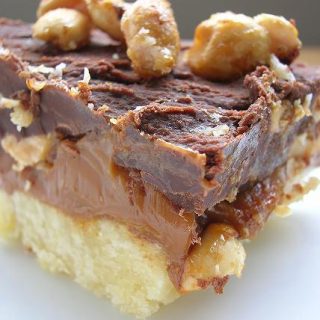 Snickery Squares
Ingredients
For the Crust:
1 cup all-purpose flour
¼ cup sugar
2 TBSP powdered sugar
¼ tsp salt
1 stick unsalted butter, cut into small pieces and chilled
1 large egg yolk, lightly beaten
For the Filling:
½ cup sugar
3 TBSP water
1 ½ cups salted peanuts
About 1 ½ cups store-bought dulce de leche
For the Topping:
7 ounces bittersweet(I used semi since hubby doesn't like bittersweet), coarsely chopped
½ stick unsalted butter, cut into 8 pieces, at room temperature
Instructions
To Make the Crust:
Toss the flour, sugar, powdered sugar and salt into a food processor and pulse a few times to combine.
Toss in the pieces of cold butter and pulse about 12 times, until the mixture looks like coarse meal.
Pour the yolk over the ingredients and pulse until the dough forms clumps and curds-stop before the dough comes together in a ball.
Turn the dough into the buttered pan and gently press it evenly across the bottom of the pan. Prick the dough with a fork and slide the sheet into the oven.
Bake the crust for 15-20 minutes, or until it takes on just a little color around the edges.
Transfer the pan to a rack and cool to room temperature before filling.
To Make the Filling:
Have a parchment or silicone mat-lined baking sheet at the ready, as well as a long-handled wooden spoon and a medium heavy bottomed saucepan.
Put the sugar and water in the saucepan and cook over medium-high heat, stirring, until the sugar dissolves.
Keeping the heat fairly high, continue to cook the sugar, without stirring, until it just starts to color.
Toss the peanuts and immediately start stirring.
Keep stirring, to coat the peanuts with sugar.
Within a few minutes, they will be covered with sugar and turn white.
Keep stirring until the sugar turns back into caramel. When the peanuts are coated with a nice deep amber caramel, remove the pan from the heat and turn the nuts out onto the baking sheet., using the wooden spoon to spread them out as best you can.
Cool the nuts to room temperature.
When they are cool enough to handle, separate the nuts or break them into small pieces.
Divide the nuts in half. Keep half of the nuts whole or in biggish pieces for the filling, and finely chop the other half for the topping (I kept mine whole).
Spread the dulce de leche over the shortbread base and sprinkle over the whole candied nuts.
To Make the Topping:
Melt the chocolate in a heatproof bowl set over a saucepan of barely simmering water. Remove chocolate from the heat and gently stir in the butter, stirring until it is fully blended into the chocolate.
Pour the chocolate over the dulce de leche, smoothing it with a long metal icing spatula, then sprinkle over the rest of the peanuts.
Slide the pan into the fridge to set the topping, about 20 minutes; if you'd like to serve the squares cold, keep them refrigerated for at least 3 hours before cutting.
Cut into 16 bars.