Double Caramel Cake: Southern caramel cake…yellow cake with a boiled caramel frosting that will indeed break your will or your diet.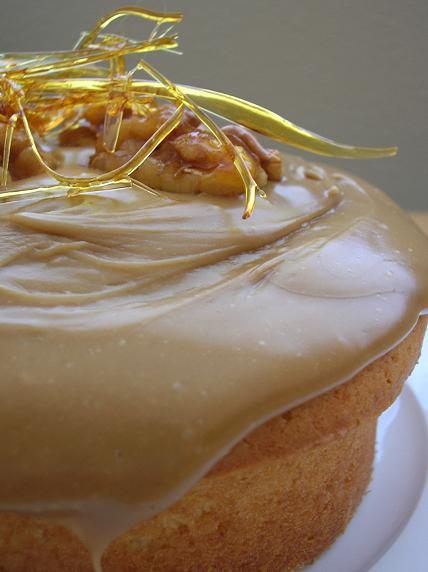 So in a comment on my last post, Lis, asked if I knew of a recipe for caramel cake.
Not yellow cake with caramel frosting, but caramel cake.
Indeed, I happened to have one.
I told her in the email that I had not made it but I got to sitting and thought, how dumb to give her a recipe I haven't tried, so I just went ahead and made it today.
Have to say that this smelled so good that I had to break down and take a bite(just one) of this cake.
It was SUPER yummy.
There is definitely more caramel flavor in the frosting than the cake but the cake does have a distinct flavor of caramel and all the extra sugar gives it a nice crispy(yet soft…doesn't make sense I know) top.
It's also a nice moist cake, which I love.
This cake does have quite a few steps.
It is important for the cake that you make sure that your caramel for the cake cool or else the minute it hits the batter it will harden up.
If this does happen, don't fret, put your mixer on high speed and blend for 3 minutes.
You wont get all the chunks out but it will be kind of like toffee chips in your cake and there is nothing wrong with that.
If your cake is beyond crack repair, chop it up into little squares.
Place a scoop of  vanilla or better yet Haagen Dazs Caramel Cone on top of it.
Make a caramel sauce and drizzle over.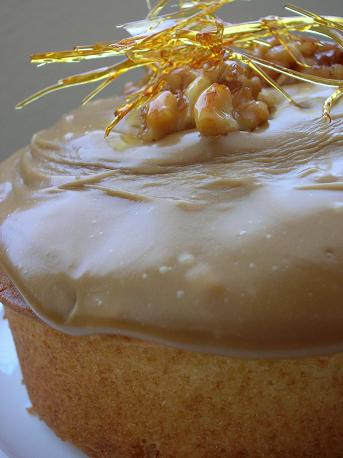 Double Caramel Cake
For the cake:
⅓ cup plus 1-1/4 cups granulated sugar, divided use
¼ cup boiling water
12 TBSP (3/4 cup) unsalted butter or margarine
3 eggs
1 cup milk
1 tsp. vanilla extract
3 cups sifted cake flour
3½ tsp. baking powder
3/4 tsp.  salt
For the frosting:
3 cups (light) brown sugar, firmly packed
1 cup plus 2 tablespoons half and half
½ stick (4 tablespoons) butter
1 teaspoon vanilla extract
Instructions:
For the cake:
Melt the one-third cup sugar in a heavy skillet, stirring constantly until deep-brown syrup is formed – a process called caramelization.
Remove from heat and slowly stir in boiling water, being careful that steam does not burn your hand.
Set syrup aside to cool.
Preheat oven to 375 degrees.
Grease two 9-inch cake pans, place parchment paper in the bottoms, then grease and flour the bottoms and sides.
Cream butter in bowl of electric mixer.
Add 1 1/4 cups sugar and continue to beat until light and fluffy.
Then add eggs one at a time, beating until each is well-incorporated.
Stir in 4 tablespoons of the reserved syrup.
Sift together the cake flour, baking powder and salt.
Combine milk and vanilla.
Add flour mixture to the batter alternately with the milk mixture, beginning and ending with the flour mixture.
Beat until smooth.
Divide batter evenly among the two prepared pans and bake 25 minutes, or until wooden toothpick inserted in the center comes out clean.
Remove pans from oven and let stand about 10 minutes, then turn out cakes onto wire rack, peel off paper and cool completely.
For the frosting:
Mix sugar and half and half in a heavy saucepan and cook, stirring over low heat until syrup reaches the soft-ball stage, 235 degrees on a candy thermometer.
If lacking a thermometer, check doneness by dropping a tiny bit of syrup into a cup of cold water.
When the syrup can be gathered up in fingers and will almost hold its shape, it has reached the soft-ball stage.
Remove pan from heat.
Stir in butter, then let syrup cool.
Add vanilla and beat until frosting reaches spreading consistency.
A little cream (or half-and-half) may be added is mixture is too thick.