Originally I was not going to participate in this go around of HHDD. I'm just not a fritter girl. I mean I eat them, the apple ones that are all gooped up with icing and such from the bakery but I wasn't sure I wanted to make them. I was uninspired until I ran across a recipe in a cookbook I bought last week, Kathy Casey's Northwest Table. She is a local chef(but you can buy the book anywhere) and I think she is very inventive. I have two of her cookbooks now and I love them both, if you are a more advanced chef I highly recommed you go out and buy her cookbooks. Anyway, I ran across a recipe for Chanterelle Fritters. The only problem was that these were the kind of fritter where you dip the item(in this case a mushroom) in a batter and fry it….and well, I don't like that kind of fritter. So again I thought I would skip this round. I was running out of time but circumstances changed(it is raining big time…and we were suppose to go to the pumpkin patch) and time opened up. Knowing that I didn't want to just dip the mushroom in batter and fry it, I messed with the recipe and came up with something that is more of what I think a fritter should be. I also made a saffron aioli to go with it.
Mushroom Medley Fritters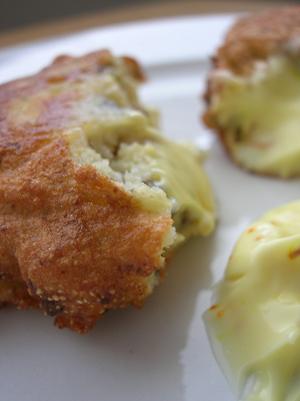 1/4 pound chanteralle mushrooms
1/4 pound crimini mushrooms
1/4 pound of button mushrooms
2 eggs
3/4 cup buttermilk
1/2 cup semolina
1/2 cup flour
1/4 cup cornmeal
1 1/2 tsp salt
1/4 tsp black pepper
1/4 tsp cayenne pepper
1 tsp finely chopped fresh thyme
vegetable oil for frying
Wipe of brush the mushrooms of any dirt. Chop the mushrooms into a 1 inch dice. Mix the mushroom varieties together and set aside.
In a deep fryer or Dutch Oven, heat 4 inches of oil to 350F.
In a bowl mix together the remaining ingredients, adding the buttermilk last. Depending on your preference you may or may not want to use the whole 3/4 cup of buttermilk. So slowly add the buttermilk until you get the consistancy you want. I wanted mine to be like pancake batter. Add chopped mushrooms to batter and mix until incorporated.
Working in small batches, scoop out the batter(I used a 1/4 cup measuring cup) and place into the hot oil. Do not over-crowd the fryer. Move the fritters around with a spoon or thongs and turn as needed to get even cooking. Fry until golden and very crispy. Drain on paper towels and serve immediately.
Source: Recipe inspired by Kathy Casey's Chanterelle Fritters from her book Kathy Casey's Northwest Table
Saffron Aioli
1/4 cup red wine vinegar
1 tablespoon honey
Large pinch of saffron threads
1 cup mayonnaise
2 garlic cloves, minced
Whisk vinegar, honey, and saffron threads in heavy small saucepan over medium-high heat. Bring to boil. Remove from heat. Cool completely. Mix mayonnaise and garlic in medium bowl to blend. Mix in cooled vinegar mixture. Season aioli to taste with salt and pepper. (Can be made 1 day ahead. Cover and refrigerate.)
Bon Appĩtit
July 2000
Bobby Flay