Dark Chocolate Orange Salted Caramel Layer Cake: Dense orange butter cake is double frosted with one layer of salted caramel frosting and a thick, rich layer of chocolate orange frosting.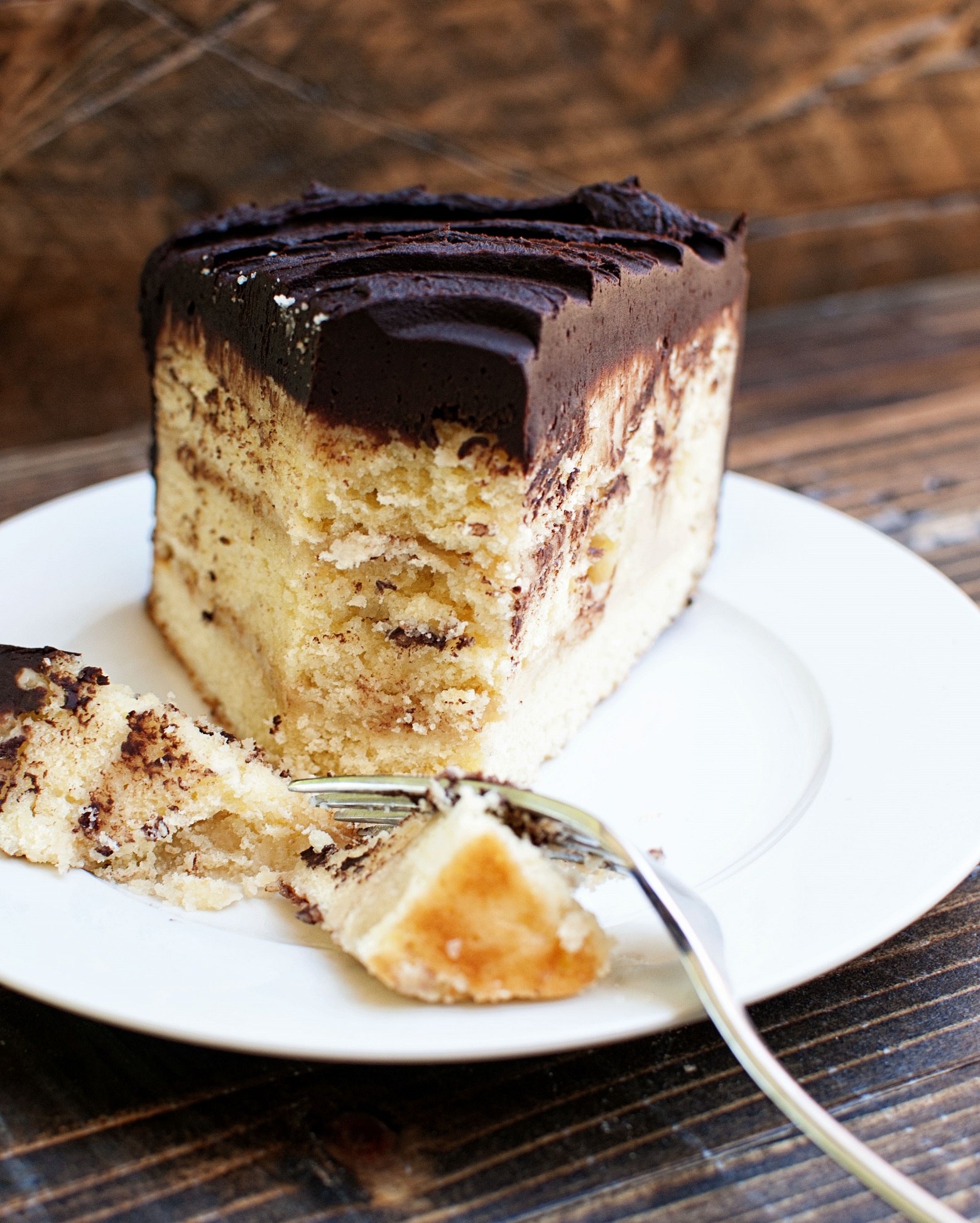 It's hard to believe this blog has now been out there in the Internet universe for twelve years.
Those who have been here since the beginning know that this all started because my ex-husband was a picky eater and a computer programmer. I wanted to share my love of cooking with others since all the picky eater would eat was Sloppy Joes and Meat Spaghetti. And since he was a programmer he knew how to set it all up.
Back then there were so few food bloggers (hard to believe I know). I only had two choices for my blog template that were food related: watermelon or coffee cup. If you are a long time reader then you know I chose the watermelon.
While the look of the blog has changed (as well as the name!) you can always find it somewhere on my blog. These days it's in the logo but also at the bottom of my page.
The blog started off for fun, as a hobby. Then once I divorced I had to monetize it. And with that, I lost my passion for it. Funny how when you have to do something it's not quite as fun. 🙂 That's when I changed my name I started anew as a hobby blogger again.
I mean I make some money from the blog still. I run ads simply to pay for the cost of running the blog. From time to time I have a sponsored post to help cover the cost of the health care of the pups (did you know I have five special needs pups now?). But in essence, I'm back to doing it simply because I want to share recipes, plain and simple.
Last weekend there was a little get-together for a friend that was moving to Portland. I brought this cake.
For the first time in I can't remember how long I brought a whole cake.
You may be saying to yourself how is that odd? Well, when you are a food blogger many a person gets the whole cake…with one piece missing. The piece I usually photograph that gets smashed up (or eaten 😀 ).
Since there were only six of us at the gathering I rolled the dice that there would hopefully be a piece leftover. Luckily there was. Though I was happy that someone went back for seconds…taking a really large second piece. I love to feed people like that.
This cake is based off a recipe from Sprinkle Bakes. Her cake is beautiful…mine is realistic (well for those like me who lack the decorating gene).
I was intrigued by the double frosting which with the salted caramel and dark chocolate it does not make it extra sweet…just extra tasty. I added a hint of orange to mine mostly because I had a lot of oranges sitting around. But it adds a nice dimension of flavor.
Thanks to all of you who read my blog…whether it's been for 1 day or the last 12 years! I'd love to know in the comments how long you've been reading me?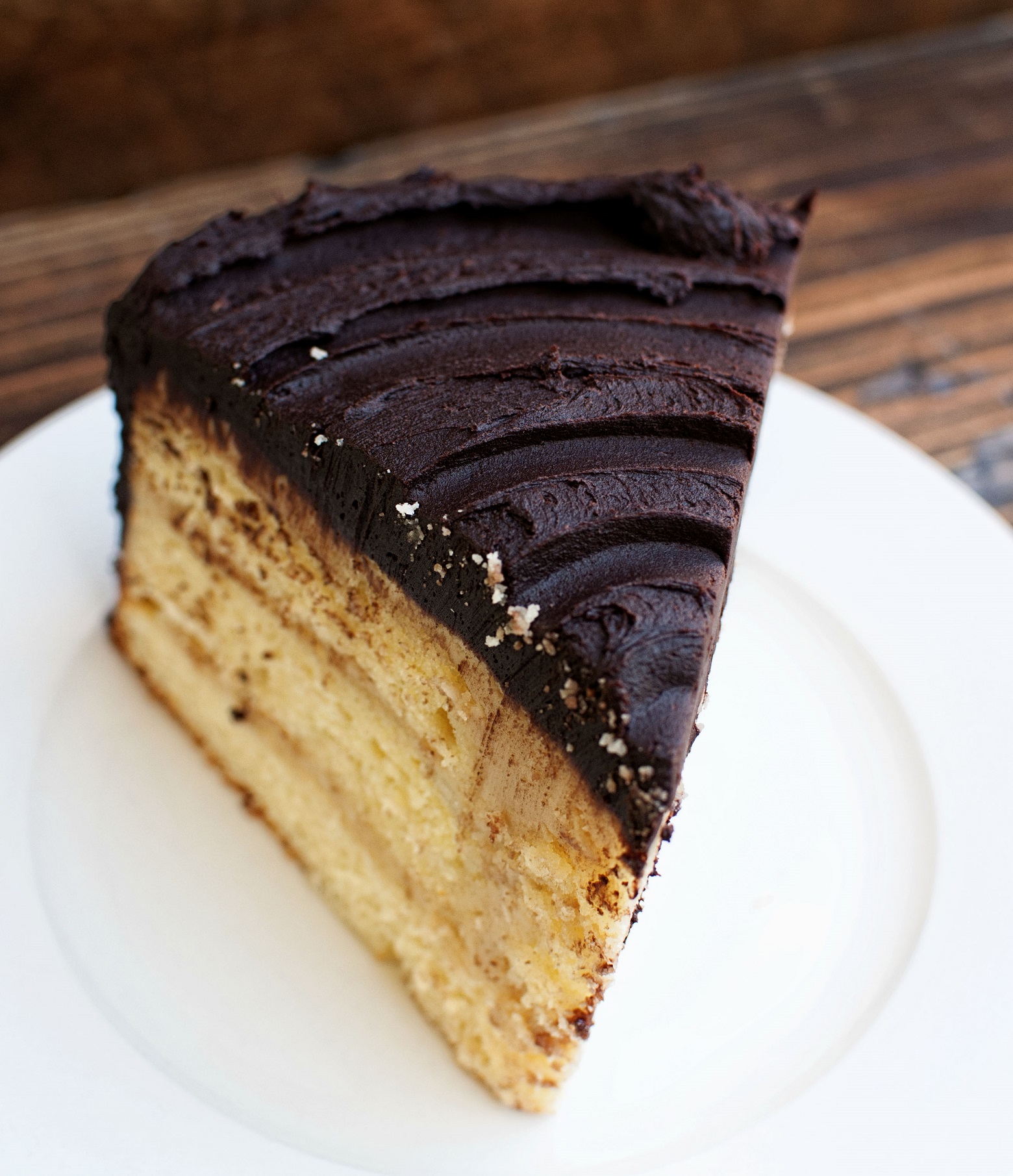 Dark Chocolate Orange Salted Caramel Layer Cake
Recipe Type
:
Dessert, Cake
Author:
Ingredients
Orange Butter Cake:
1 1/2 cups unsalted butter, at room temperature
2 1/2 cups granulated sugar
Zest of 1 large orange
5 eggs, at room temperature
1 tsp. vanilla extract
3 cups all-purpose flour
1 tsp. baking powder
1/4 tsp. salt
3/4 cup whole milk, at room temperature
¼ cup orange juice
Salted Caramel Frosting:
1 cup unsalted butter
2 cups packed brown sugar
1/2 cup whole milk
1/2 tsp. fine grain sea salt
1 tsp. vanilla extract
4 cups powdered sugar, sifted
Chocolate Orange Frosting:
1 cup unsalted butter, softened
3 cups powdered sugar, sifted
1 cup unsweet cocoa powder, sifted
2 TBSP. orange juice (more if needed to thin frosting)
1 tsp. vanilla extract
Instructions
Make the orange butter cake:
Preheat the oven to 350°F.
Grease three 8-inch (or 9-inch) cake pans with cooking spray and line the bottoms with parchment rounds. Don't skip the parchment step…you will get cake stuck to your pans. Speaking from experience. 😀
Using a stand mixer fitted with the paddle attachment, cream the butter and sugar until lightened in color and fluffy, about 3 minutes.
Add the eggs, one at a time, mixing well after each addition.
Mix in the vanilla extract and orange zest.
Sift together the flour, baking powder, and salt.
Pour the milk and OJ together.
Add the flour mixture to the butter mixture in 3 additions, alternating with the milk/OJ, begin and end with the flour mixture, and beat after each addition until well combined.
Beat until the batter is smooth and thoroughly combined.
Bake for 25-30 minutes or until a skewer inserted into the centers of the cakes comes out clean.
Cool for 10 minutes in the pan.
Loosen the sides with a small, thin offset spatula.
Invert the cake layers, remove the parchment rounds, and transfer the cakes to cooling racks.
Cool completely.
Level the tops of the cakes with a serrated knife or just have a lumpy cake if you don't. 🙂
Make the caramel frosting:
Melt the butter in a saucepan over medium-low heat.
Add the brown sugar and milk and increase the heat to medium-high.
Bring the mixture to a boil and stir until the sugar is completely dissolved.
Remove from heat and stir in the salt and vanilla extract.
Let the mixture cool until just warm.
Pour the mixture into the bowl of an electric mixer and add the powdered sugar; beat until well combined.
Immediately fill 2 cake layers each with 1/2 cup caramel frosting and stack them.
Frost the remaining cake.
When the cake is covered, gently pat the frosting with your fingers until a smooth surface is achieved. The caramel will begin to firm and should not stick to your fingers.
This layer of frosting doesn't have to be perfect; you just want to get a relatively even layer of caramel covering the cake. Refrigerate the cake while you prepare the chocolate orange frosting.
Make the chocolate frosting:
Cream the butter in an electric mixer fitted with the whisk attachment.
Add the powdered sugar and cocoa powder.
Mix on low speed until the mixture begins to come together.
Add the orange juice and vanilla extract.
Mix on medium speed for 1 minute, then increase to high speed and beat until light and fluffy.
Scrape the bowl down and beat again until all the ingredients are well incorporated.
If too thick, add more orange juice.
Remove the caramel-covered cake from the refrigerator and frost the top and sides with the chocolate orange icing using an offset spatula.
Refrigerate the cake until firm.
Allow the cake to come to room temperature before serving.
Recipe adapted from Sprinkle Bakes