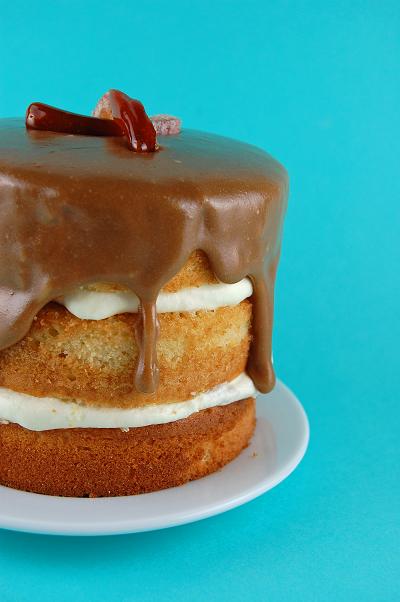 Now before you go and say it's a gimmick…it's not. I assure you that I have lost 7 pounds in just two and a half days! How you ask? Just wake up with an abscessed tooth and you too can lose up to 7 pounds in no time.
I felt kind of icky all day on Thursday and my tooth hurt a little but I have dental pain from time to time so I ignored it. I got a little feverish around 5 pm and laid down to sleep it off. I woke up 45 minutes later with a horrific amount of tooth pain and a lump about the size of a tangerine sticking out the side of my mouth. I call my dentist but they closed at 2:30 on Thursdays. And are not open on Fridays. And since I am a new patient (I go to sedation dentists because I am a wimp with dental phobia) they will not see me for emergencies (can I tell you just how lame this is). (Insert really bad language here).
So up I get on Friday morning to head to Urgent Care to get some antibiotics as this tooth is so not waiting until Monday, in hopes of getting in to the dentist. They make me sign a wavier saying that my insurance may not cover it, whatever, just get me some antibiotics people!!!
I get in, the Physician assistant tells me he wont give out any pain killers for dental needs, just Ibuprofen. I told him I would pass on that since I had 800mg Ibuprofen at home. He told me that should work fine. Um, what the hell do you think I have already been taking and NOT working. So I got antibiotics and NO pain killers.
It has been a craptastic weekend let me tell you. The only sleep I get is when my body passes out from sheer exhaustion/pain. I pretty much can eat nothing. I have survived on extra  mushy Stove Top stuffing Chicken flavor (move over Jared and the Subway diet, here comes Peabody and the Stove Top diet)!
Yesterday in trying to distract myself I decided to tweak a recipe I already had on here. I combined a double caramel cake and added some orange to it and this time added orange mascarpone mousse in between the layers. Even though it is multi step it sadly didn't distract me in the least…but at least I got some cake out of the deal. Which of course I couldn't really eat…but I did get down some of the mousse.
Wish me luck in getting into the dentist tomorrow!!! UPDATE: Got in today. My dentist was really annoyed that the Urgent Care guy wouldn't give me anything for the pain…that makes two of us! So now I have pain meds. Hopefully I can get some sleep now.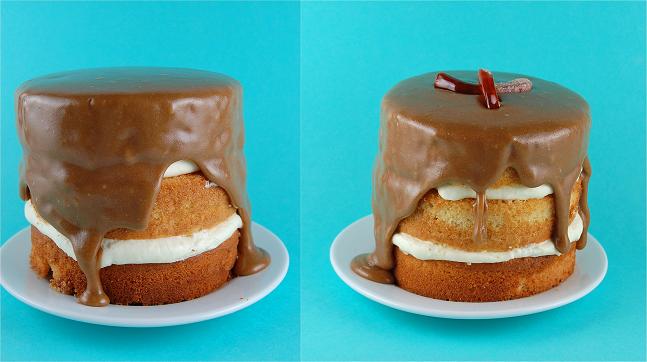 Orange Caramel Cake with Orange Mascaprone Mousse and Caramel Icing
Orange Caramel Cake
1/3 cup plus 1 ¼  cups granulated sugar, divided
¼  cup boiling water
¾  cup unsalted butter
3 eggs
3 cups sifted cake flour
3 ½  tsp baking powder
zest and juice of one small navel orange
1 tsp salt
1 cup whole milk
1 tsp vanilla extract
Orange Mascarpone Mousse (recipe below)
Caramel Frosting (recipe below)
Melt the 1/3  cup sugar in a heavy skillet, stirring constantly until deep-brown syrup is formed – a process called caramelization. Remove from heat and slowly stir in boiling water, being careful that steam does not burn your hand. Set syrup aside to cool.
Preheat oven to 375F. Grease two 9-inch cake pans, place parchment paper in the bottoms, then grease and flour the bottoms and sides. I used four 4 ½ -inch diameter spring form pans.
Cream butter in bowl of electric mixer. Add 1 ¼  cups sugar and continue to beat until light and fluffy. Add eggs one at a time, beating until each is well-incorporated. Stir in 4 TBSP of the reserved syrup.
Sift together the cake flour, baking powder and salt. Combine milk, juice, zest, and vanilla.
Add flour mixture to the batter alternately with the milk mixture, beginning and ending with the flour mixture. Beat until smooth.
Divide batter evenly among the two prepared pans and bake 25 minutes, or until wooden toothpick inserted in the center comes out clean. It is about the same cooking time for both the larger and the smaller pans. Just watch if you are using the smaller pans.
Remove pans from oven and let stand about 10 minutes, then turn out cakes onto wire rack, peel off paper and cool completely.
To assemble cake:
Cut each round horizontally in half (if using the 9-inch rounds, if using the smaller leave alone). Stack one layer on top a cake round or plate. Spread mousse onto layer (about ¾  cup just depends on how much you like, you will have plenty of mousse to work with). Stack another layer on top of mousse. Again, cover that layer with mousse. Stack with top layer. Apply caramel icing to top of cake. Allow it to creep down the sides. Keep applying until icing is used up.
You will have an extra layer (if you didn't mess up like I often do), mousse left over and maybe icing. Just top your layer with mousse and icing and eat it before anyone knows there was extra. 😉
Caramel Icing
3 cups (light) brown sugar, firmly packed
1 cup plus 2 TBSP heavy whipping cream
½  stick (4 TBSP) butter
1 tsp vanilla extract
Mix sugar and half and half in a heavy saucepan and cook, stirring over low heat until syrup reaches the soft-ball stage, 235 degrees on a candy thermometer. If lacking a thermometer, check doneness by dropping a tiny bit of syrup into a cup of cold water.
When the syrup can be gathered up in fingers and will almost hold its shape, it has reached the soft-ball stage.
Remove pan from heat. Stir in butter, then let syrup cool.
Add vanilla and beat until icing reaches spreading consistency.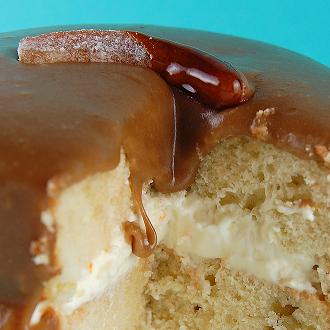 Orange Mascarpone Mousse
2 eggs, separated
4 TB sugar
4 oz mascarpone cheese, at room temperature
5 ounces heavy cream
2 tsp. powdered gelatin + 2 TBS water
zest and juice of one medium navel orange
Sprinkle the gelatin over the water, stir and let sit to bloom.
In a large mixing bowl, whisk the mascarpone with the sugar, add egg yolks and whisk until well incorporated.
Heat the gelatin for about 10 seconds in the microwave and quickly whisk it in the mascarpone batter. Add the orange juice and zest.
Whip the egg whites until stiff, fold into the mascarpone mixture.
Whip the heavy cream to medium stiff peaks, and fold into the mascarpone.
Mousse recipe adapted from Tartelette