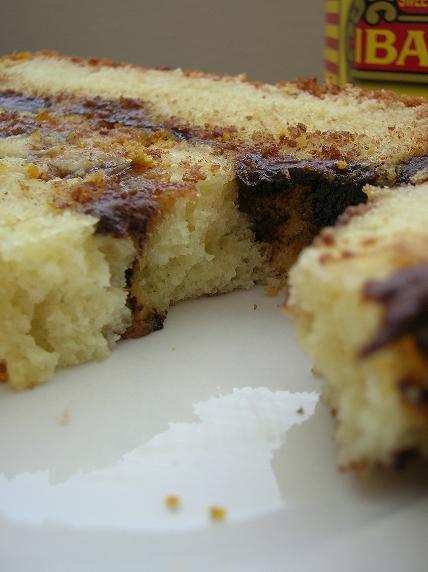 People love to give me things that they have bought and have no idea what to do with. I almost always never have to buy saffron because someone almost always seems to buy it, not know what to do with it, and then gives it to me. So my friend bought some Mexican chocolate and she wasn't sure what to do with it, and well, neither was I. Ibarra Chocolate is primarily made for making hot chocolate I found out but that seemed a little too boring for me. It has a weird texture, almost like a Crunch bar and has a super strong cinnamon taste to it. I decided to experiment and try to come up with something to compliment it. I chose to make a quick bread/coffeecake type concoction. I also half way through decided that I should take one third of the batter and add 1/3 cup of pumpkin to it and drop the pumpkin randomly throughout. Oddly enough, most of the pumpkin coloring faded away in the cooking process. I think next time I will make it with an all pumpkin batter.
On a side note, many of my friends made comments on how happy there were to read my last post with the suggestion on what to do if your cheesecake cracked and so I plan on trying to come up with something for each recipe from now on that could go wrong and how you could possible fix it. I'm sure there will be many repeat ideas and somethings will simply be un-fixable, but I will do my best to come up with solutions to your food problems.
As it would have it I made two loaves, one large, one small. The large one turned out beautifully but the smaller one after a night of sitting out sank in the middle. This got me to thinking what would I do. I would slice it into pieces and let it sit out and get a little stale. Then I would make a bread pudding egg mixture and dunk the bread into that. Bake them off and top them with a nice chocolate sauce that was maybe spiked with cinnamon schnapps and some whipped cream with some pumpkin spice in it.
Cinnamon Chocolate Pumpkin Whatever Bread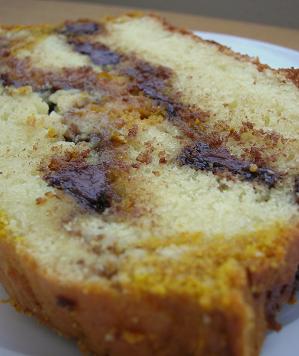 4 oz semisweet chocolate
4oz Ibarra Mexican Chocolate, grated with either microplane or regular grater
1/2 cup packed brown sugar
1 TBSP vanilla
3 cups all purpose flour
2 tsp baking powder
1 tsp baking soda
1/2 tsp salt
4 oz unsalted butter
1 cup sugar
4 eggs
2 cups sour cream
1/3 cup pumpkin
1. Preheat oven to 350F.
2. Combine the chocolate chips and grated Ibarra chocolate in a food processor. Chop medium fine. Add the brown sugar and 1tsp of vanilla. Process until just combined.
3. Combine the flour, baking powder, baking soda, and salt in a bowl.
4. Cream together the butter, sugar and remaining 2 tsp of vanilla until they are smooth and creamy, about 2 minutes. Add in the eggs, on at a time, blending after each addition.
5. Add in a third of the flour mixture with one cup of sour cream. Mix to blend. Repeat with a third mroe of the flour and the last cup of sour cream. Lastly, mix in the remaining thrid of the flour mixture. Mix until you have a smooth batter. Take 1/3 of the batter and put it into a seperate bowl. Add the 1/3 cup of pumpkin and blend together.
6. Grease a loaf pan. Spread one third of the plain batter into the pan(it might be sticky). Drop a couple TBSP of the pumpkin batter. Sprinkle 1/3  of the chocolate mixture. Repeat making 2 more layers using up the reamining ingredients.
7. Bake for 50-55 minutes, or until a wooden pick inserted in center comes out clean. Cool for 20 minutes. Remove from pan.
All text and images on this site have ALL RIGHTS RESERVED Copyright (c) 2006 by Peabody Rudd.