This Salted Caramel Cashew Tart is a buttery sweet tart shell filled with rich caramel and salted cashews for the ultimate salty sweet combo.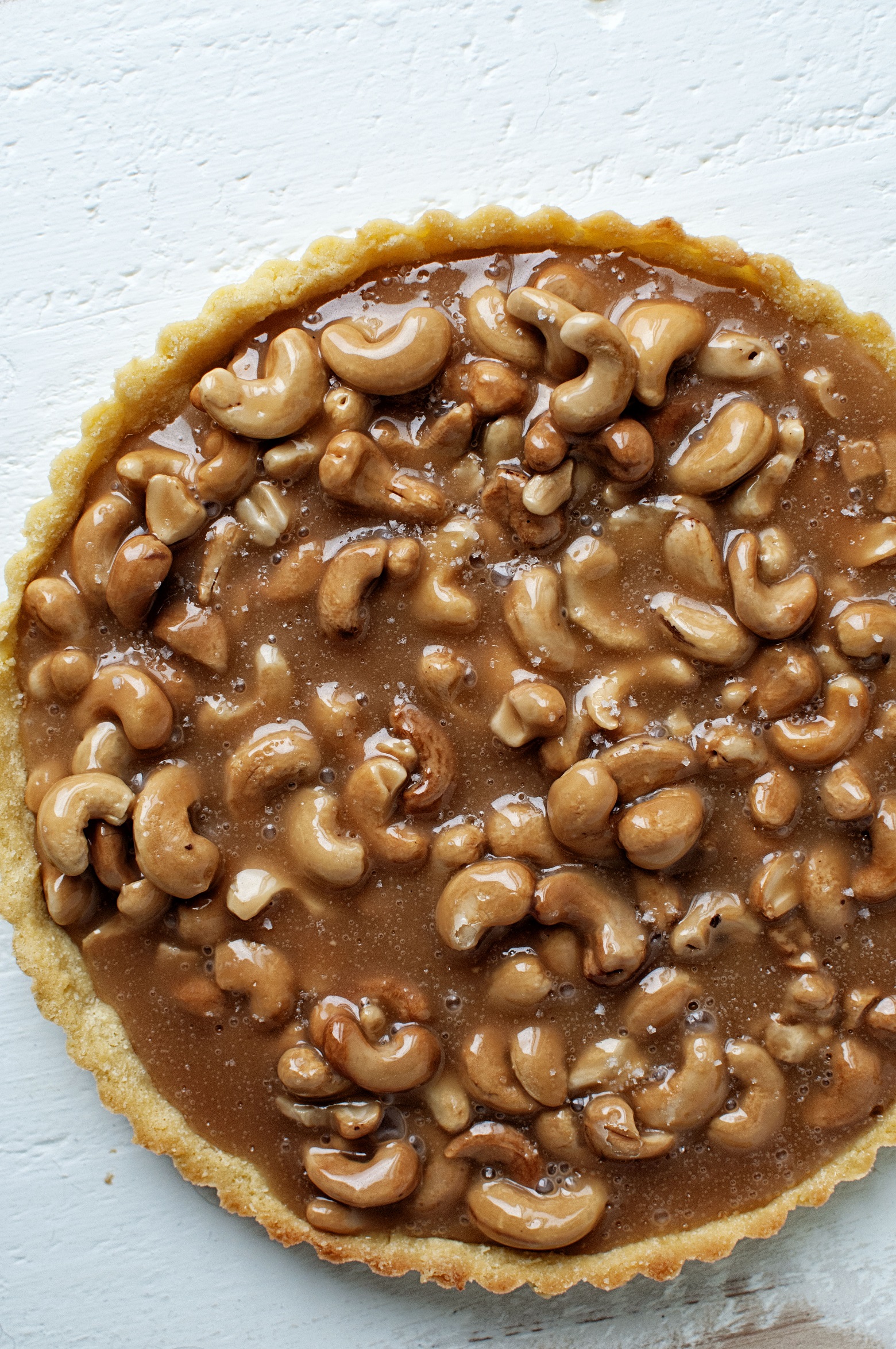 Last night was interesting.
The American people voted and picked Hillary via the popular vote.
The American political system picked Trump via the Electoral College.
I have said on here before that I was for neither candidate…though I will say I am strongly concerned about the loss of some of our civil liberties that could be coming.
Because of that I got up today and bought random strangers coffee to remind myself I don't care if they who those people voted for…that at the end of the day we are all part of the human race.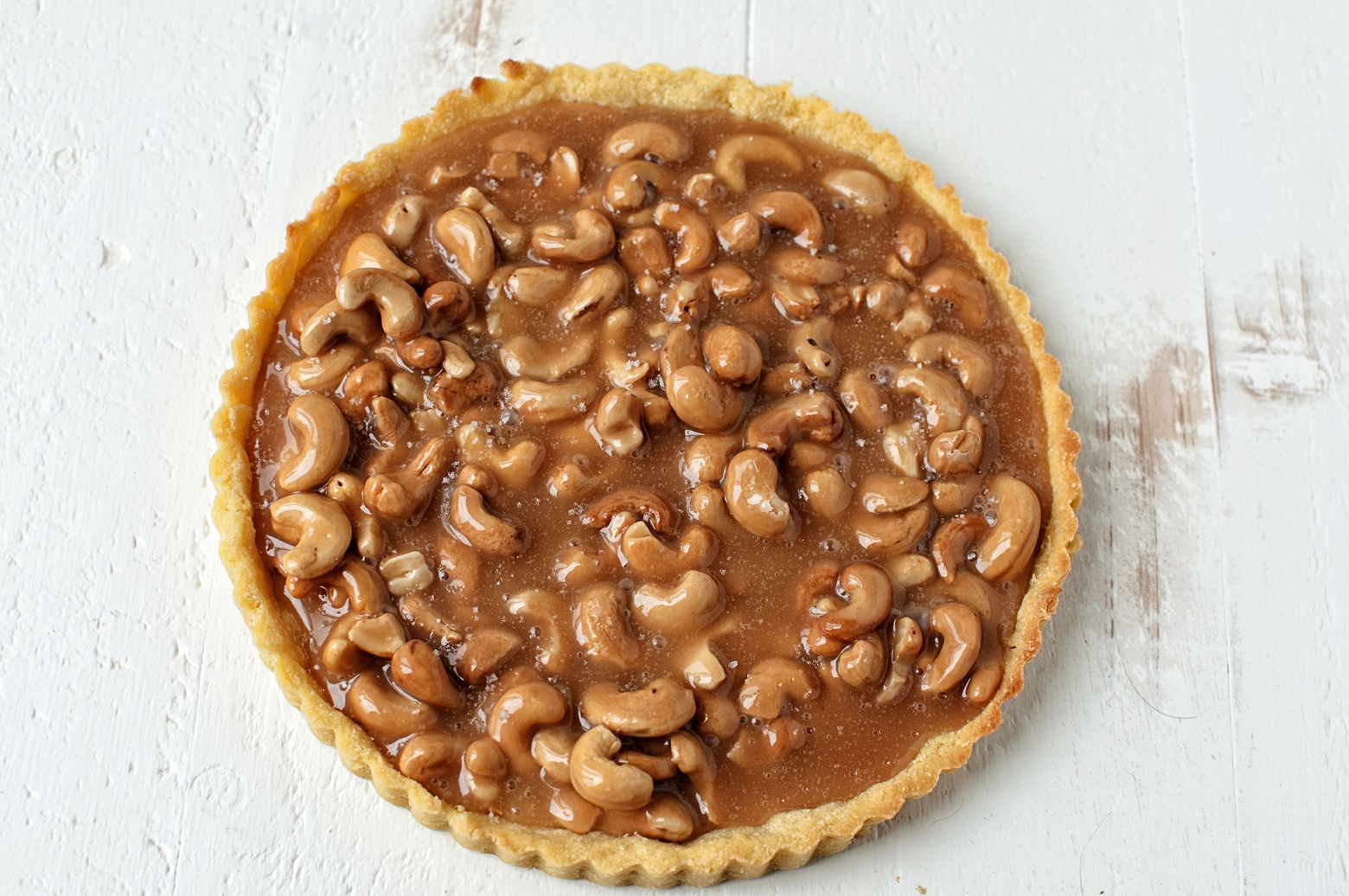 And we all need caffeine to function. 🙂
I then donated to the causes that are near and dear to my heart.
Then I donated to the causes that I'm concerned we may lose with our new president elect.
Here's a link for those who might want to donate to certain causes.
Just as President Obama and Hillary Clinton said, I am wishing our new President the best.
I'm really not interested in seeing the country I live in fail.
That being said I won't just roll over and agree with all that is happening if I feel injustice is happening.
There you go…that's as political as I'm going to get.
Now on to this tart.
It's easy to make.
This Salted Caramel Cashew Tart has the consistency of a Snickers bar on top of shortbread…minus the chocolate and with cashews of course.
It's not a runny caramel so you can cut off a wedge of the tart and carry it in your hands…I know because I did it. 🙂
It's the great combo of salty and sweet and it's highly addicting.
It's a great day to order my cookbook.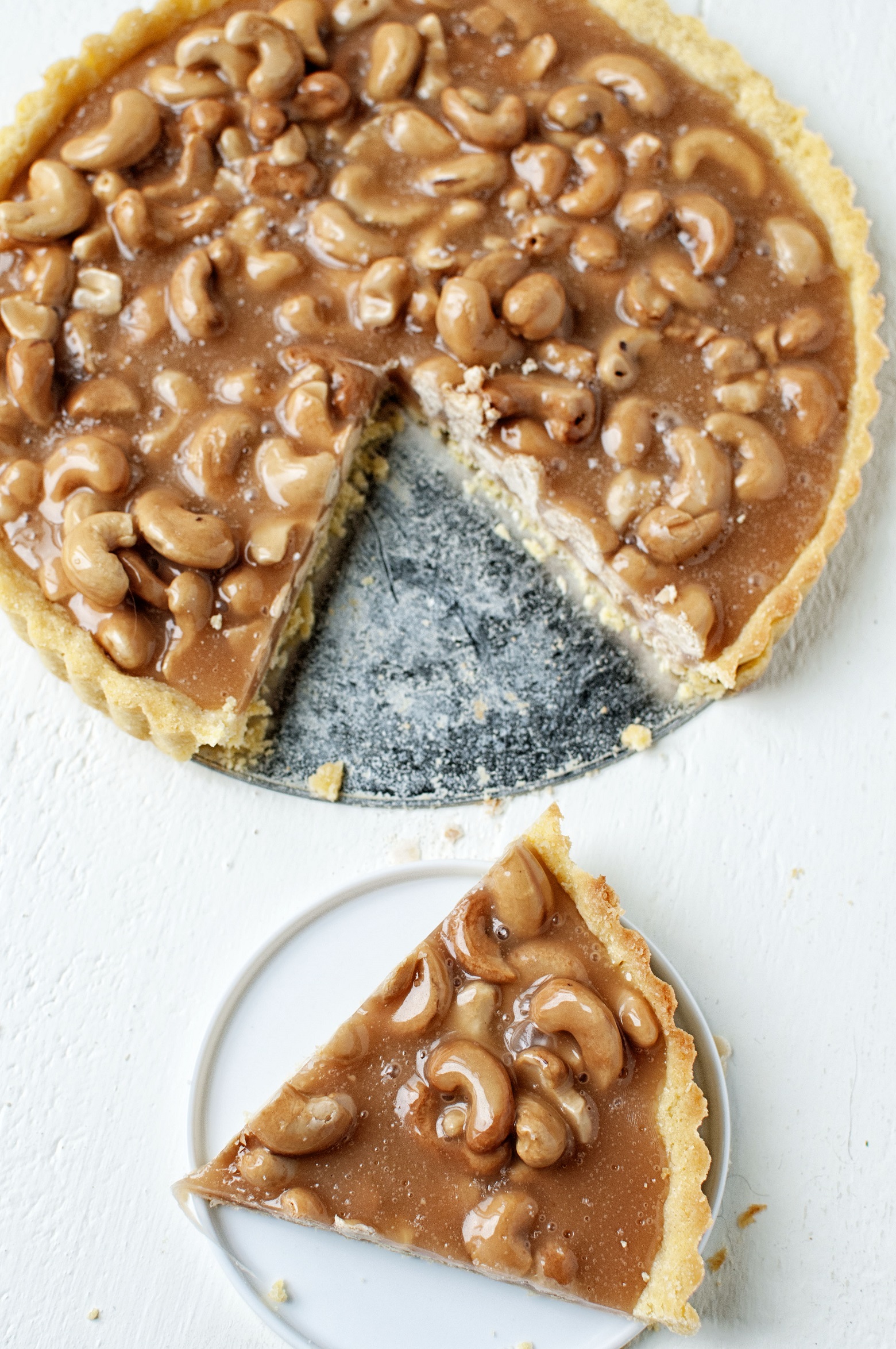 Want More Tart Recipes?
Mini Bailey's Irish Cream Mocha Tarts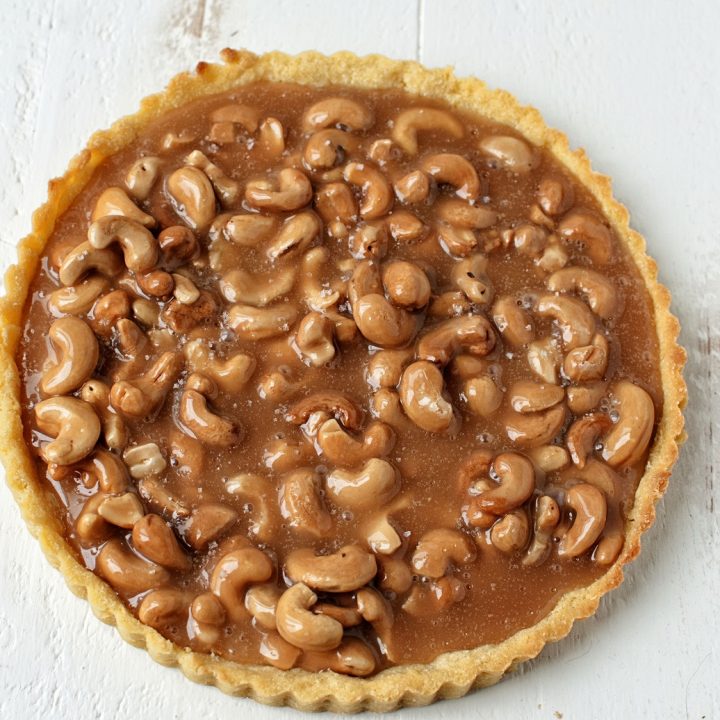 Salted Caramel Cashew Tart
Ingredients
For the tart shell:
1 cup all-purpose flour
4 TBSP granulated sugar
½ cup butter unsalted butter, cut into small pieces
4 egg yolks
pinch of table salt
For the filling:
1 cup granulated sugar
4 TBSP water
¼ cup heavy cream
4 TBSP light corn syrup
1 1⁄2 cups roasted salted cashews
4 TBSP unsalted butter
Coarse sea salt
Instructions
Preheat oven to 375°.
For the Tart Shell:
Whisk together flour, sugar, and the table salt in a small bowl (or use food processor)Add the butter.
Using a pastry blender, cut butter into flour mixture until mixture resembles coarse meal.
You can also use a food processor and pulse.
Add egg yolks.Knead lightly until dough comes together or use the pulse setting.
On a well-floured surface, roll into a 10-inch circle.
Place circle of dough into a tart pan with a removable bottom.
Press dough against sides of the pan.Trim away and discard excess dough.
Chill shells until firm, 15 minutes.
Bake pastry shell 15-20 minutes; cool.
For the Filling:
Place sugar, water, and corn syrup in a small skillet over medium heat.
Swirl pan lightly to mix.
Simmer mixture until it turns the color of iced tea, about 5 minutes.
Remove caramel from heat; stir in the butter.
Add cream; stir until caramel is smooth.
Add cashews; pour caramel filling evenly into baked tart shells.
Sprinkle with extra sea salt if desired.
Allow tart to cool completely.
It's going to have a candy bar texture.
You can cut it easily but the caramel will not run…will be more like the inside of a Snickers bar.