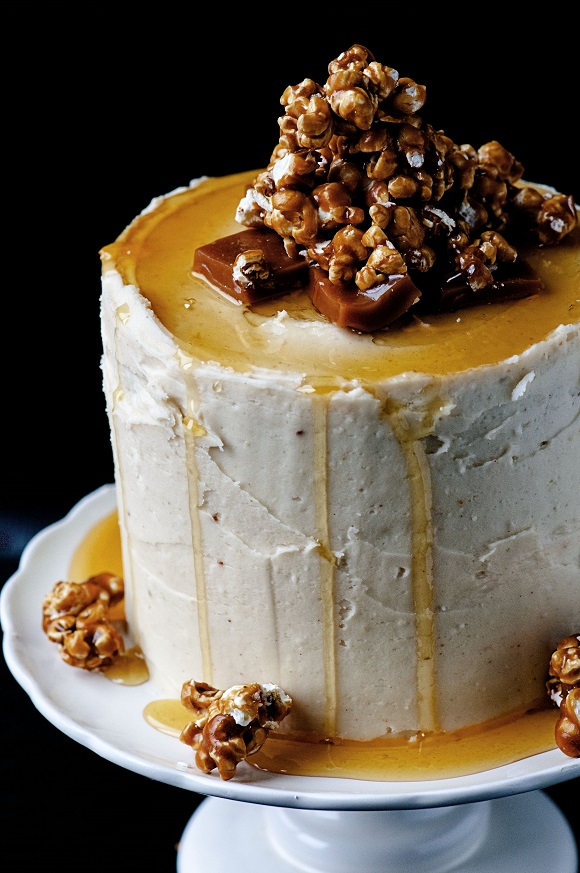 People don't really know what to say to people when someone or some-fur-one has died. I don't really know what to say to that person either as each person grieves in their own way and so that makes it extra hard to figure out what to say. Most people are pretty safe with sorry about your loss. It's when you venture into inserting your own opinion that gets you in trouble…case in point.
While I have had many wonderful condolences I have had just as many "If it were me…." And that's the thing…it's NOT you, it's me. I mostly get this in person when they see me and I'm not bawling my eyes out. I get "wow you are doing so good, if I were you I'd be a wreck" and all other forms of that sentence. I get it even more so when I mention that MDP and I are looking for another dog. I have had many a person tell me that again, if it were THEM, they couldn't do that right away. They like to tell me I'm not ready…and when I ask why they say it's too soon. For them maybe, not for me.
Sadly CCS had been sick for a long time and I've known her time was coming for probably the last year. I've cried a whole lot over the last year, especially the last 6 weeks before she died. Every fiber of my being knew she was leaving me and so I grieved. I cried. I don't feel anger, she lived a great 15 years. I didn't plead for one more day as she just couldn't be here any longer. I don't want my next dog to be like her, only CCS and all her quirks could make up CCS and no other dog will be that. So while you may not be ready for another dog, I am. I'm ready to open my heart to another or two for that matter. CCS would want me to help other dogs get a loving family, and we are a loving family. I had someone tell me I couldn't get a dog until I stopped grieving CCS…if I did that I would never get a dog again. I will grieve her the rest of my life is my guess. I still cry randomly now and will probably do so when things remind me of her…though I tend to smile more when I think of her than cry.
The other thing I want to address I had several emails telling me that it was in truly poor taste to put a picture of me and CCS up in her last moments on Earth on Instagram. I respectfully disagree. So many bloggers are obsessed with making their life look a certain way, the prefect life, I have never been one of those bloggers. I show you my dirty laundry piles that have been there for days. The food I messed up on. I have pictures where I have a double chin or my arm looks huge at that angle. That's real life. I felt silly asking MDP to take the picture at the time, and yet I'm so glad I did as that picture puts me at peace. So many of you had followed the journey of CCS through her illnesses over the past year, and well I felt the need to share the end of her journey on Earth (because I believe she is still on a journey just not here). If I offended you I am sorry.
Well enough of that…if I were YOU…I'd make this cake. 😛 Haha. Okay. But seriously. This cake. Oh this cake. I love me a good old fashion Southern Caramel Cake. This is not traditional by any means but still reminds me of the classic cake. The caramel cake recipe comes from the new King Arthur Flour magazine called Sift. It really shouldn't be called a magazine, it's more like a glossy mini cookbook. People seemed upset that it cost almost $13 but to me it's worth it. I really like it. It also has no ads in it and like I said is more like a mini cookbook.
The brown butter frosting in this cake is a must, it really helps cut down the sweetness that you get from having caramel corn with it. It also taste freaking amazing. Plus I think the cake is visually stunning!
Thank you all again for the kind comments and emails about CCS as well as the donations to the climb we did. She is forever with me in my heart and there she will always stay.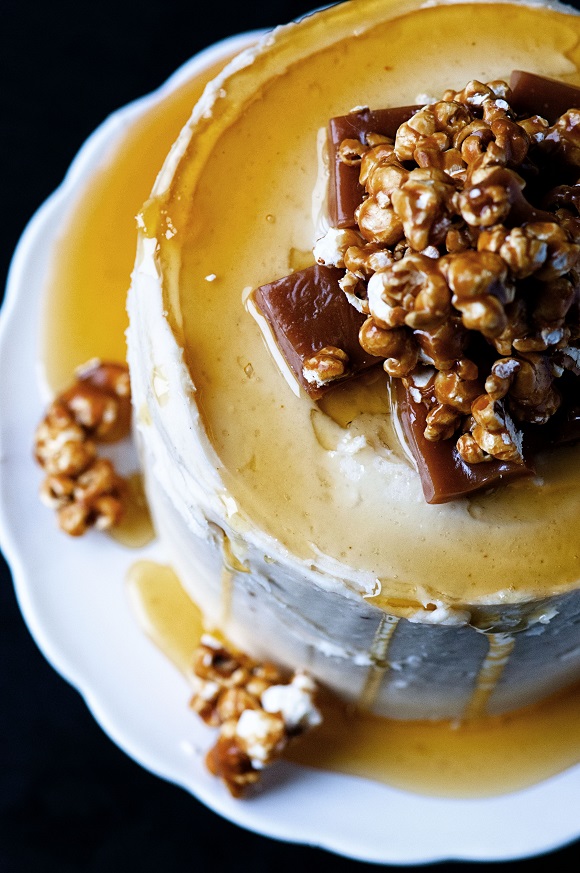 Caramel Corn Caramel Layer Cake
For the Caramel Syrup:
1½ cups granulated sugar
1/3 cup water
¾ cup additional water
For the Cake:
¾ cup additional water
1¼ cups granulated sugar
3 cups all-purpose flour
2½ tsp. baking powder
1 tsp. salt
¾ cup unsalted butter (I used Plugra)
1 cup sour cream
4 large eggs
½ cup caramel syrup
1 tsp. vanilla extract (I used Rodelle)
For the Brown Butter Caramel Corn Frosting:
¾ cup unsalted butter (I used Plugra)
¼ cup caramel syrup
2 tsp. vanilla extract (I used Rodelle)
¼ tsp. salt
4 cups powdered sugar
¼ cup caramel corn infused cream (see here for instructions)
Caramel Corn Caramels (garnish)
Caramel Corn (garnish)
For the syrup:
In a small, heavy saucepan, combine the sugar with 1/3 cup water.
Cook over medium heat until the sugar melts and the syrup starts to turn color.
When you reach a medium amber color remove the pan from the heat and slowly pour in the ¾ cup of water. Be careful it will splatter up.
Once the water is added, place back on low heat and stir until the sugar melts and you have a smooth liquid.
Remove from heat and cool to room temperature.
For the Cake:
Preheat oven to 350F.
Prepare either two 9-inch cake pans or two 6-inch pan (the size I used) with baking spray and parchment paper (if you skip the parchment your cake will stick most likely).
Using a stand mixer with a paddle attachment, mix together the flour, sugar, baking powder, and salt.
Add the butter and beat on low until the mixture looks sandy.
Add the caramel syrup, vanilla, and sour cream and mix until fully incorporated, scraping down the sides and bottom of mixing bowl. Then mix another 30 seconds.
Add in eggs one at a time, scraping down the sides and bottom of mixing bowl after each addition.
Divide the batter evenly between prepared pans.
For 9-inch bake for 25-27 minutes. For 6-inch bake for 45-55 minutes or until cake is light to touch and center springs back and cake begins to pull slightly from the sides.
Remove from oven and let cool on a wire rack.
For the frosting:
Place the butter in a 2-quart heavy bottom saucepan and melt over medium low heat, cooking until butter foams.
The butter will begin to caramelize and give off a nutty aroma, when that happens remove from heat and pour into a clean mixing bowl to cool to room temperature.
Add the powdered sugar and mix on low until fully incorporated, it will be a little stiff until you add the caramel corn cream.
Add the caramel corn cream and the frosting with smooth out. If it's not smooth enough add a little more cream. To runny? Add a little more powdered sugar.
To assemble:
Place one layer on a serving plate (making sure you have trimmed the top even.
Spread 2/3 cup frosting over the first layer.
Place the second layer on top.
Cover the top and sides of the cake with remaining frosting.
Drizzle about 1/3 cup remaining caramel syrup around the edges of the cake first and then the center to fill out the top.
Add a few caramel corn caramels around the center and top caramel corn on top of those for garnish.
Cake slightly adapted from King Arthur Flour Sift Magazine Spring 2015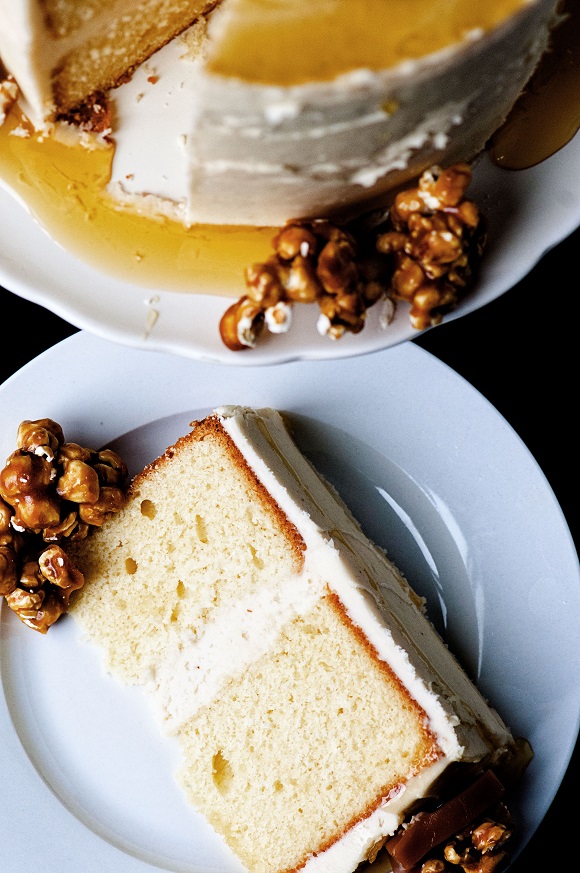 If you are interested in using a 6 inch pan I use Wilton Excelle Elite 6 x 2-3/4 Inch Springform Pan
. I make almost all of my cakes on the blog using the 6 inch.

*this post contains an Amazon Affiliate link. Which if you follow the link and purchase the item OR any item on Amazon after following that link this blog gets a percentage of that sale…thus keeping this blog alive.