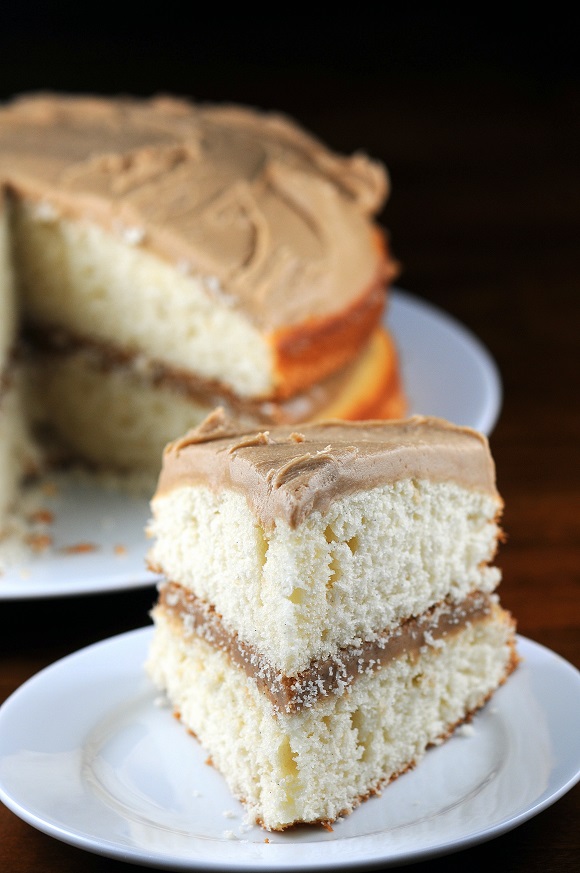 I've been reading lately how "rustic" cakes are what is in for weddings as of late. Thank goodness. I even saw a few blog post showing how to frost a cake to make it look rustic. Ummm….mine always look rustic. Even when I try not to make them look rustic. So I'm lucking out that rustic is the in thing.
As most of you know I plan on making own cake for the wedding reception. Just a small one. More of one just to have one to cut than the kind for everyone to eat. And for the cake topper that a reader was nice enough to make for me. I also have little Lego Bride and Hockey Playing Groom that will go on a cupcake tower (cupcakes I can handle). Nonetheless, this does mean I am search of cake flavor that I want to serve. Most likely it will be a funfetti style with sprinkles…but that means I need to find a base vanilla cake (I used Rodelle vanilla) that works for me. I turned to Heather (Sprinkle Bakes) to find a good cake recipe. She adapted hers from Wedding Cakes You Can Make: Designing, Baking, and Decorating the Perfect Wedding Cake
which I ended up buying. I did not use simple syrup as the caramel middle layer kind of soaked in but I will use a simple syrup for the wedding most likely.
As for this cake it's way good. I love me a boiled caramel frosting. It takes a while but to me it's worth it. You can frost this cake with whatever you like but I vote for the caramel frosting! And be sure to frost it rustically. 😛
Speaking of the wedding reception, it's getting close enough that I'm having wedding nightmares. The kind where I show up and nothing is done. Or people are there but I realize I didn't send any of the invites (and they are all in my hand for some reason). And oh yeah I'm not in a dress….my friends later put me into my dress (which was never altered) which doesn't fit right, so we safety pin it and my friend gives me her sweater to wear over it. 🙂 And then I realize I don't have my hair done or make up. Then Those kind of fun ones.
But one thing is for sure, regardless of the outcome of the reception…I still get to spend my life with my best friend (yes we realize we are obnoxiously happy and cute)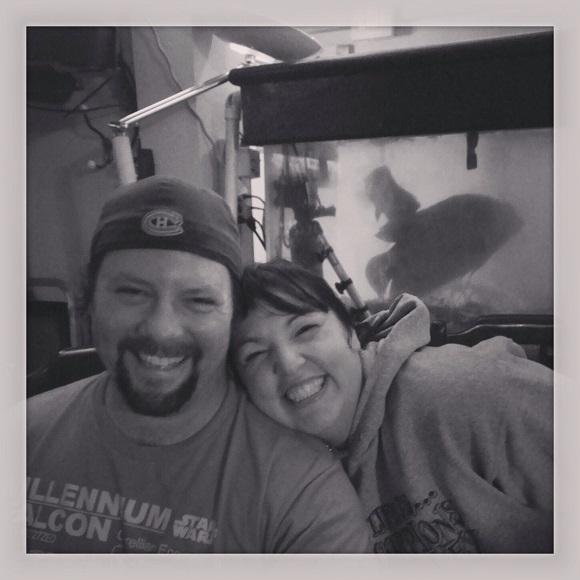 Vanilla Bean and Caramel Cake
Ingredients
3 1/2 cups cake flour (such as Swan's down, do not substitute homemade cake flour)
1 Tbsp. plus 1 tsp. baking powder
1/2 tsp. salt
4 large egg whites, at room temperature
2 egg yolks, at room temperature
1 1/2 cups whole milk, room temp
1 cup unsalted butter, softened
1 1/2 cups sugar
1 tsp. vanilla extract (I used Rodelle)
1 vanilla bean, seeds scraped out and pod discarded (I used Rodelle)
Caramel Icing
3 cups (light) brown sugar, firmly packed
1 cup plus 2 TBSP heavy whipping cream
4 TBSP unsalted butter
1 tsp. vanilla extract (I used Rodelle)
1 cup powdered sugar
Instructions
For the cake:
Line the pans with parchment circles. This will prevent your cake from sticking to the bottom. Because spray doesn't always work.
Preheat oven to 350 degrees. Grease two 9-inch round pans and line with parchment.
Sift together flour, baking powder, and salt; set aside. Whisk together egg whites and yolks and milk in a separate bowl; set aside.
Using a stand mixer, cream butter using the paddle attachment until soft and creamy, about 3 minutes. Add sugar gradually and beat until light and fluffy. Scrape down the bowl as needed. Beat in vanilla extract and seeds.
Add flour mixture alternately with the egg white/milk mixture. Begin and end with flour mixture and beat until smooth on medium-low speed after each addition.
Divide batter between pans.
Bake at 350 for about 35 minutes.
Remove from the oven and let cool on a wire rack.
After 10 minutes, remove cakes from pans and let continue to cool on the wire rack.
Frost when cool.
For the Icing:
Mix sugar and heavy cream in a heavy saucepan and cook, stirring over low heat until syrup reaches the soft-ball stage, 235 degrees on a candy thermometer. If lacking a thermometer, check doneness by dropping a tiny bit of syrup into a cup of cold water.
When the syrup can be gathered up in fingers and will almost hold its shape, it has reached the soft-ball stage.
Remove pan from heat. Stir in butter, then let syrup cool.
Add vanilla and beat until icing reaches spreading consistency.
Frost the bottom layer of the cake with ½ of the caramel icing, leaving the remaining half in the bowl.
Place the second layer on top of the frosted bottom layer.
Add 1 cup powdered sugar to the remaining icing. This will make it thicker and more frosting like. Frost the top layer with the new frosting.
Serve with milk or ice cream.
Adapted from Wedding Cakes You Can Make by Dede Wilson
https://www.sweetrecipeas.com/2013/11/06/vanilla-bean-and-caramel-cake/