These Texas Big Hairs Lemon-Lime Meringue Tarts are a fun and tart take on lemon meringue pie. Made with a lemon lime curd and a ton of meringue.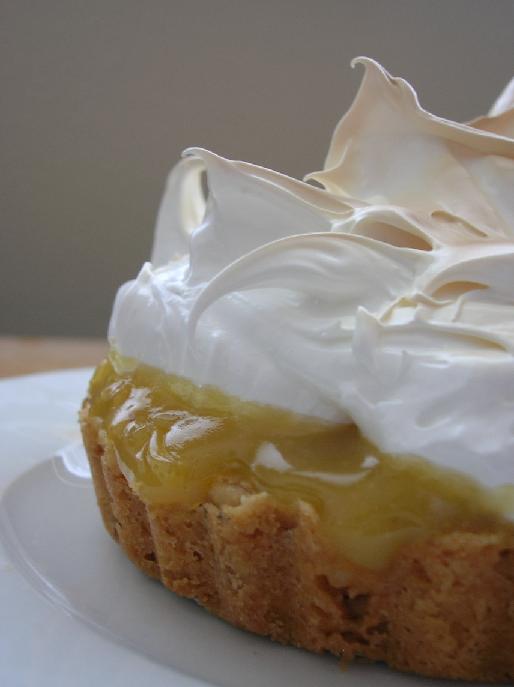 So the other day I asked some non-food blogging friends what they would enjoy seeing on my blog.
One of them said a Lemon Meringue Pie.
I hadn't made one in a long time so that sounded good.
I then remembered when I made Triple Chocolate Cookies that the cookbook(the Pastry Queen) had the most cool looking lemon-lime meringue tarts on the front cover.
So off I went to make Texas Big Hairs Lemon-Lime Meringue Tarts.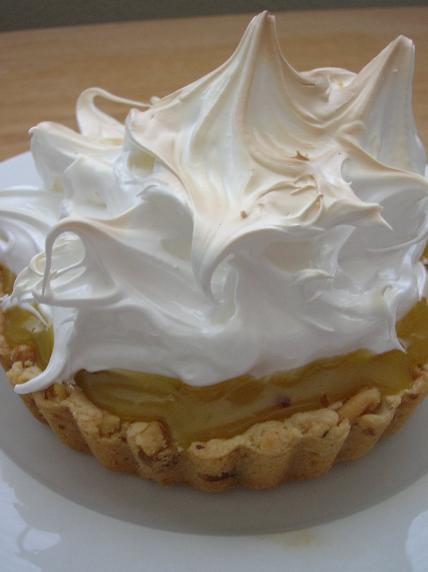 Little did I know it would suck away an entire day.
Oh my…and I still haven't cleaned the kitchen!
What intrigued me most about these were the fact that the meringue was everywhere.
They call them Texas Big Hairs because they resemble the big hair do's that they love so much in Texas.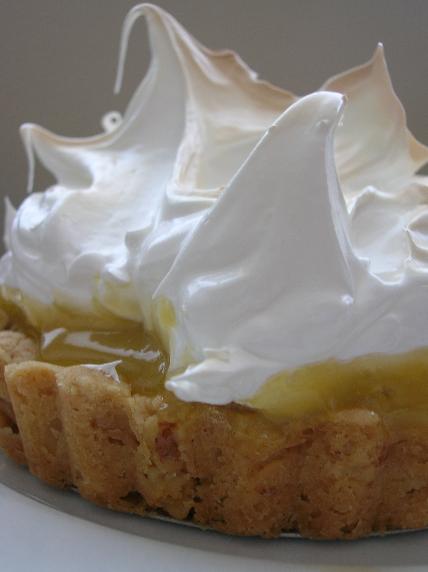 Now, mine did not turn out nearly as good as theirs, but I did not use as much meringue either.
I mean I like meringue but this was over kill.
It is fun making them since you have to play with the meringue with your hands (fingers).
Mine were pretty tart because I chose to make mine with key limes instead of regular limes because I wanted them to have a little more punch.
I will say they are time consuming, but I had the time today so why not?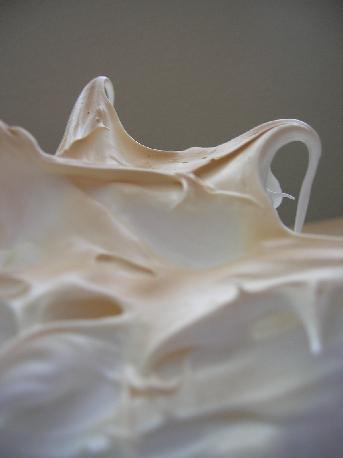 I chose to make four mini tarts instead of one large one as I was having people over for dinner.
There were four of us.
And individual tarts seemed like a good idea.
P.S. It's a great day to buy my cookbook Holy Sweet!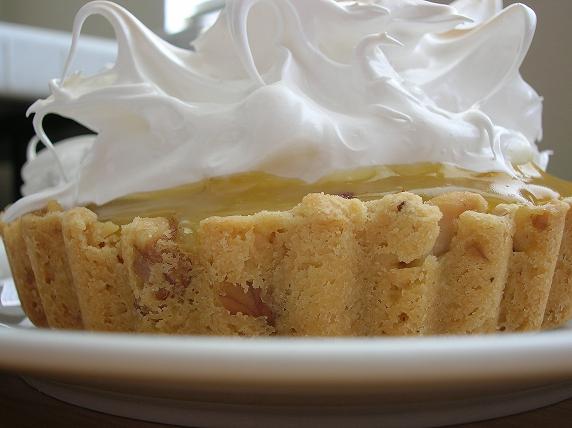 Want more Lemon recipes?
Lemon Meringue Pie Jell-O Salad
Cranberry Lemon Poppyseed Loaf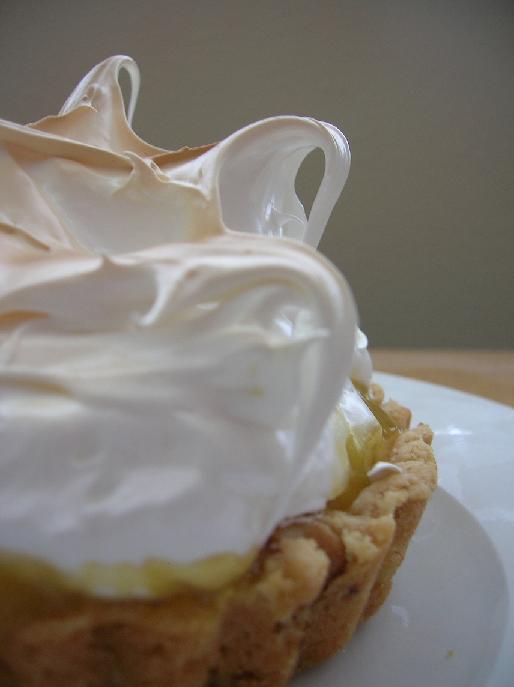 Want more Lime recipes?
Peabody's Camping Key Lime Pie with Coconut-Pecan Graham Cracker Crust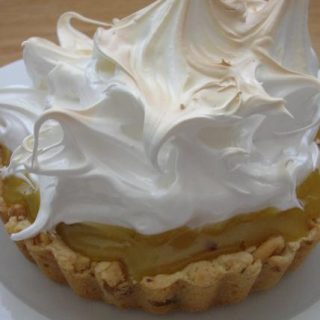 Texas Big Hairs Lemon-Lime Meringue Tarts
Ingredients
Crust:
1 ½ cups pecans or sliced almonds(I used walnuts because that is what I had)
1 cup unsalted butter
1 cup powdered sugar
2 tsp vanilla extract
1 ½ cups all purpose flour
¼ tsp salt
Lemon-Lime Curd:
10 extra-large egg yolks(reserve the egg whites for the meringue)
1 ½ cups sugar
½ cup freshly squeezed lemon juice
½ cup freshly squeezed lime juice
Zest of 2 lemons
2 TBSP unsalted butter
Meringue:
10 extra-large egg whites, at room temperature
3 cups sugar
Instructions
To make the crust:Preheat the oven to 350F.
Arrange the pecans on a baking sheet in a single layer and toast them in the oven for 7-9 minutes, until golden brown and aromatic.(If using almond slices, toast for 5-7 minutes).
Coarsely chop your nuts.
With your fingers, butter eight 4 3/8 inch, 1 cup capacity disposable foil tartlet pans(I used real ones, using about 2TBSP softened unsalted butter total.
Using a mixer fitted with a paddle attachment, cream the butter and sugar in a large bowl on medium-high speed until fluffy.
Add the vanilla, then gradually add the flour and salt and combine on low speed until incorporated.
Add the nuts and mix on low speed just until they are incorporated.
Form the dough into a ball-it will be sticky(mine was not at all)-and cover it with plastic wrap.
Refrigerate at least 30 minutes.
Preheat the oven to 350F. Remove the dough from the refrigerator, divide into 8 equal portions and press into the prepared pans, making sure it comes up to the top edge of the pans.
If the dough sticks to your hands, dust them with flour as often as necessary.
Bake the crust about 20 minutes, until golden brown(mine took 23 minutes).
Remove from the oven and cool for at least 30 minutes before filling with lemon-lime curd.
To make the curd:
Whisk the egg yolks, sugar, lemon juice, lime juice and zest in the top of a double boiler.
Add the butter to the egg yolk mixture and whisk until melted and smooth.
Cook about 40 minutes, stirring about every 15 minutes.
The curd should be thick, resembling the consistency of loose custard.
Transfer the warm mixture to a bowl and cover it with plastic wrap, pressing the wrap onto the surface of the curd, sealing it and leaving no air between the wrap and the curd.
Refrigerate the curd for at least 4 hours and up to 3 days.
For express cooling, freeze it for at least 1 hour.
Making the meringue:
Set a large, perfectly clean metal bowl over a pot of simmering water.
Pour in the egg white and sugar.
Heat the egg whites and sugar while whisking constantly until the sugar melts and there are no visible grains in the meringue.
Take a little meringue mixture and rub it between your fingers to make sure all sugar grains have melted.
Remove the meringue from over the simmering water and whip it with a mixer fitted with a whisk attachment on low speed for 5 minutes; increase the speed to high and beat 5 minutes longer, until the meringue is stiff and shiny.
Position an oven rack in the center of the oven and preheat the broiler.
To assemble the tarts, spoon the chilled lemon-lime curd into the crusts, filling them about three-quarters of the way to the top.
Pile the meringue on top of the curd.
Style the meringue with your fingers by plucking at it to tease the meringue into jagged spikes.
Set the tarts on the middle rack of the oven and broil until the meringue topping turns golden brown, about 1 minute. Watch the tarts closely, as they can turn from browned to burnt in a matter of seconds.