Key Lime Pie Moon Pies: Homemade key lime marshmallow sandwiched between two homemade honey graham crackers dipped in white chocolate and sprinkled with more graham cracker.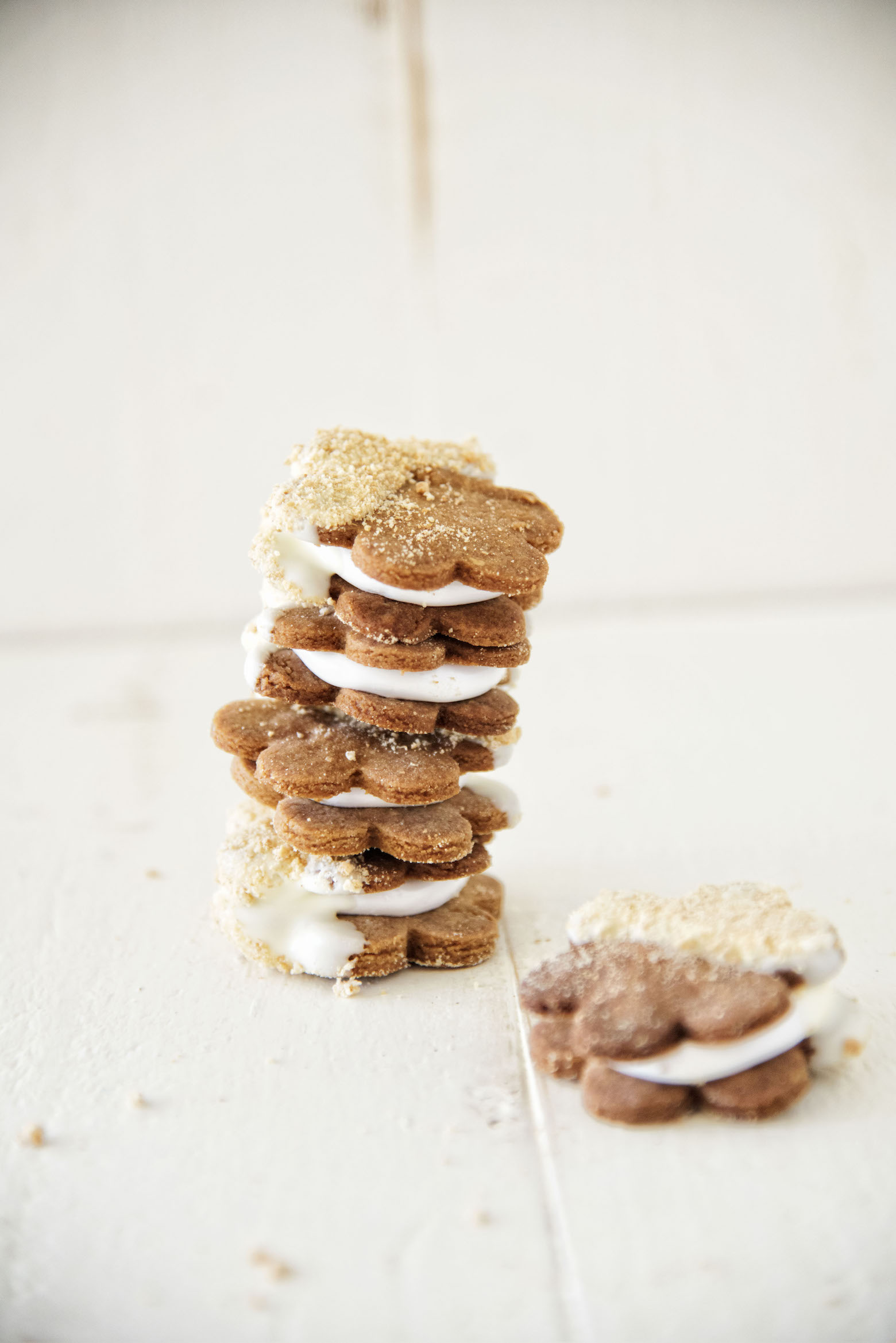 For quite some time now people have been asking me and asking me if I watch The British Bake Off.
That answer was no.
I became less and less into cooking competition shows just because I hate their "surprise" crap they pull or their unrealistic time requirements.
You know the crap they pull…like oh I know you are making chocolate cakes but now we have decided to take all the chocolate away.
So now figure out how to make a chocolate cake with no chocolate and do it all in 15 minutes.
Then a judge will come tell you that your cake doesn't taste chocolatey and your cake is underbaked.
Yeah. I wasn't a fan of that kind of stuff.
So when I ran out of things to watch this summer…Netflix suggested The British Bake Off.
I wasn't expecting much.
Only to have it be my binge show.
I love how they actually have time to bake.
They get to go home and practice baking therefore getting to show what kind of bakers they really are.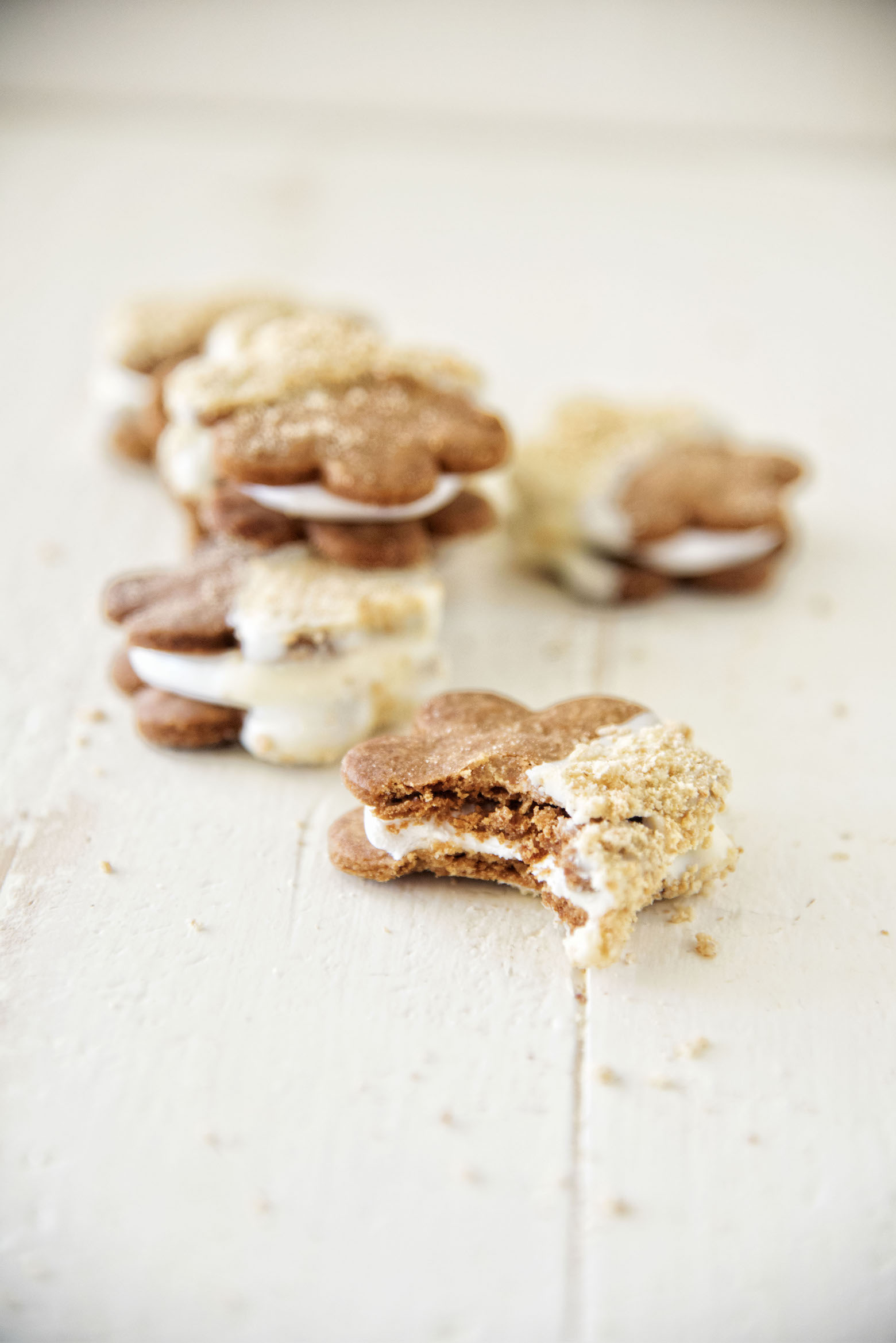 I do need to teach them all how to properly swear though. 🙂
"Oh, bother" really does not do it for me when you cake just fell on the ground. 😛
I am super bummed I have now gone through all the seasons that Netflix has.
Bummed as I may be now, I found the show to be super inspiring.
Perhaps, a tad too inspiring.
I'm not going to lie, this recipe is going to take some time. 🙂
I suggest making the graham crackers one day and then the rest of the recipe the following day.
Because you have to roll out and cut the graham crackers and it sounds fun until you are about 5 crackers in and then are like, ugh, why did I decide to do this?
The marshmallow will make more than you need for the moon pies and so I have instructions on how to make the rest into just regular marshmallows.
Separately the crackers are good on their own. The marshmallows are good on their own.
But I do rather like them together.
I went with white chocolate because I like that better with lime but there are some that like it with dark or milk chocolate.
If that is you, feel free to give that a try instead of white chocolate.
As always its a great day to buy my cookbook.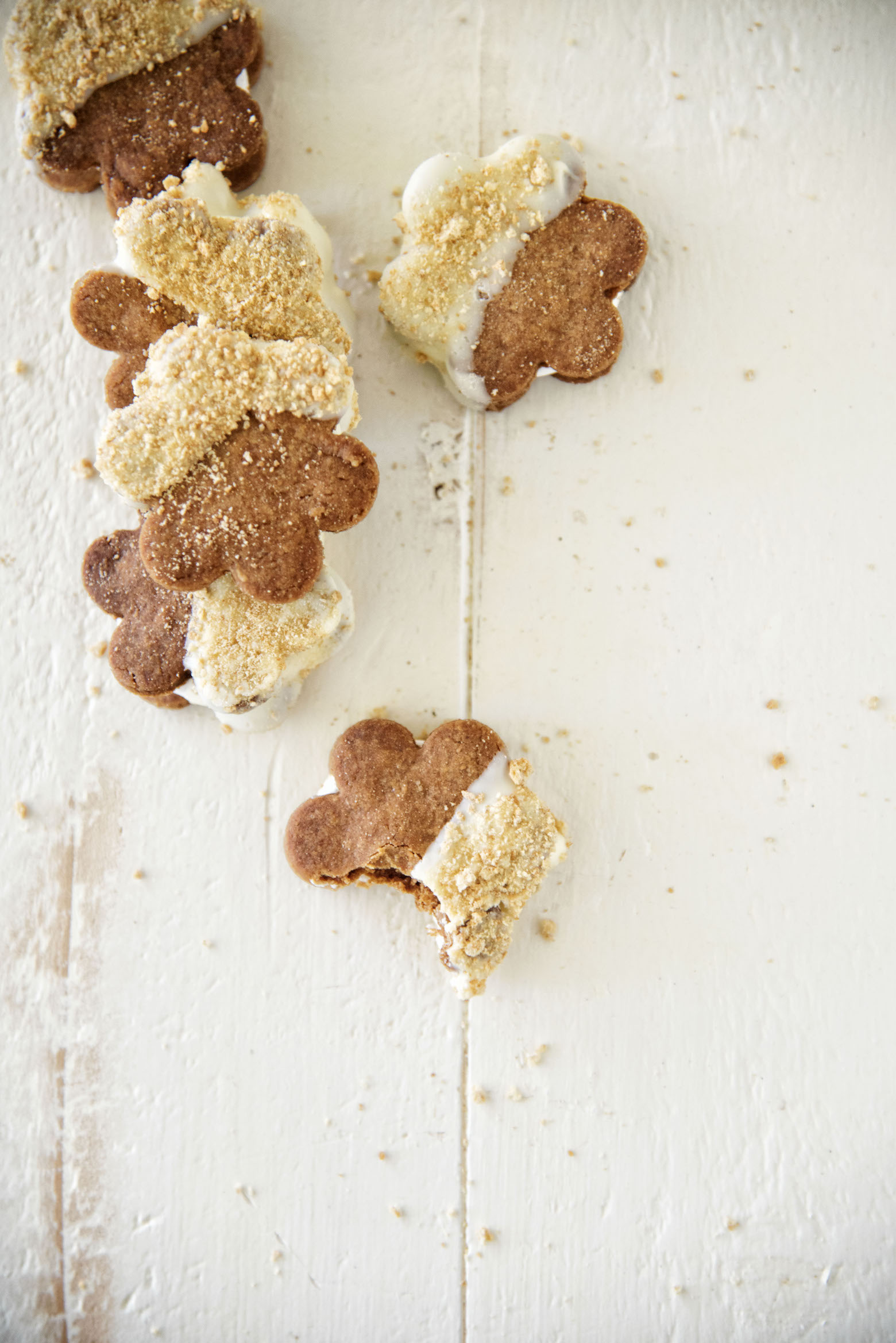 Want More Key Lime Desserts?
Key Lime Toasted Coconut Cupcakes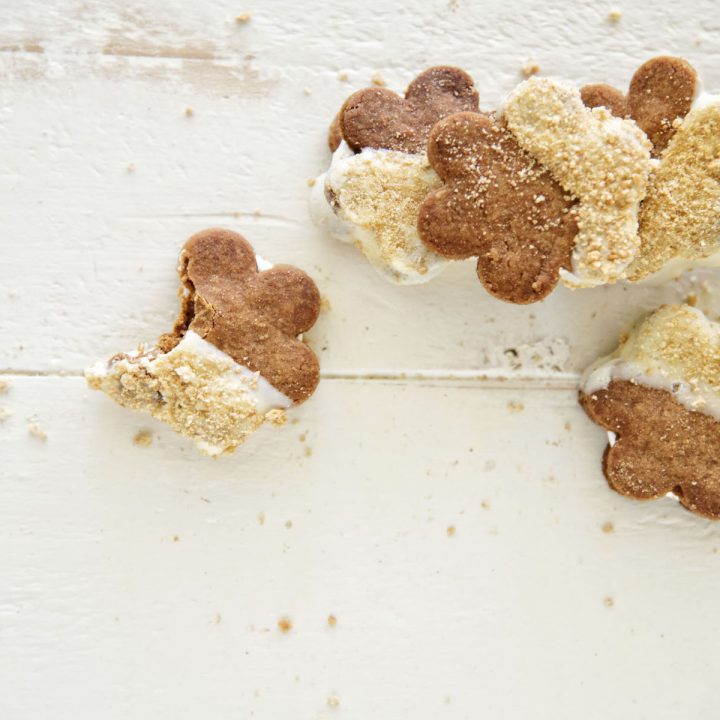 Key Lime Pie Moon Pies
Ingredients
Key Lime Pie Moon Pies:
Honey Graham Crackers
Key Lime Marshmallow
White Chocolate Coating
Crushed Graham Crackers
Honey Graham Crackers:
1½ cups all-purpose flour
1⅓ cups graham flour
1 tsp. baking soda
½ tsp. salt
1 cup unsalted butter, at room temperature
2/3 cup dark brown sugar
4 TBSP honey
For the Key Lime Marshmallows:
3 (2 1/2 tsp per pack) packages unflavored gelatin
1/2 cup ice cold water
12 ounces granulated sugar
1/2 cup cold key lime juice
1 cup light corn syrup
1/4 tsp. salt
1/2-3/4 tsp. key lime extract1/4 cup powdered sugar
1/4 cup cornstarch
1/4 cup graham cracker crumbs
For the White Chocolate Coating:
12 oz. white chocolate chips
3 TBSP vegetable oil
Instructions
Honey Graham Cracker Instructions:
Using a stand mixer with a paddle attachment, cream the butter, brown sugar and honey, and beat at medium-high speed until light and fluffy, about 3 minutes.Scrape down the bottom and sides of the bowl.Add the flours, baking soda, and salt and mix on low speed just until blended and the dough comes together, about 30 seconds.
Transfer the dough onto a piece of plastic wrap, press into square or rectangle, and wrap tightly.
Refrigerate for at least 2 hours or overnight.
Preheat the oven to 350F.Line two baking sheets with parchment paper.
On a lightly floured surface, roll out the dough to a 1/8-inch thickness and cut into desired shape. I originally planned on making these round only to not be able to find my round cutters.You want the shape to be bite sized as you will be eating two of them at a time.
Transfer to the baking sheet.These do not spread when baking so you can have them fairly close to each other.
Bake 10 minutes and then rotate the baking sheet.
Bake for another 6 to 8 minutes, or until the cookies are dark golden brown and just firm to the touch.
Let cool for a minute on the baking sheets, then transfer to a cooling rack.Let cool completely (they will crisp up as they cool).
For the Key Lime Marshmallow:
Combine the gelatin with 1/2 cup of the cold water in the bowl of a stand mixer.
Have the whisk attachment standing by.
Combine the 1/2 cup key lime juice, the granulated sugar, corn syrup and salt in a 2-quart saucepan.
Place over medium high heat, cover and allow to cook for 3 to 4 minutes.
Uncover, clip a candy thermometer onto the side of the pan and continue to cook until the mixture reaches 240 degrees F, approximately 7 to 8 minutes.
When the mixture reaches this temperature, immediately remove from the heat.
Turn the mixer fitted with the whisk attachment to low speed and, while running, slowly pour the sugar syrup down the side of the bowl into the gelatin mixture.
Once you have added all of the syrup, increase the speed to high.
Continue to whip until the mixture becomes very thick and is lukewarm, approximately 12 to 15 minutes.
Add the key lime extract during the last minute of whipping.
Leftover Marshmallow:
You will have leftover marshmallow.
Don't let it go to waste.
Combine powdered sugar, cornstarch, and graham cracker crumbs in a small bowl.
Lightly spray a 8-x-8-inch metal baking pan with nonstick cooking spray.
Add the sugar/cracker/cornstarch mixture and move around to completely coat the bottom and sides of the pan.
Return the remaining mixture to the bowl for later use.
When ready, pour the mixture into the prepared pan, using a lightly oiled spatula for spreading evenly into the pan.
Dust the top with enough of the remaining sugar/cracker/cornstarch mixture to lightly cover.
Reserve the rest for later.Allow the marshmallows to sit uncovered for at least 4 hours and up to overnight.
Turn the marshmallows out onto a cutting board and cut into 1-inch squares using a pizza wheel or knife dusted with the sugar/cracker/cornstarch mixture.
Once cut, lightly dust all sides of each marshmallow with the remaining mixture, using additional if necessary.
Store in an airtight container for up to 3 weeks.
White Chocolate Coating Instructions:
Combine chocolate and oil in a medium heat-proof bowl set over a medium saucepan of barely simmering water; stir until melted and smooth.
Transfer to a small bowl, and let cool about 15 minutes.
To Make the Moon Pies:
Line two baking sheet with parchment or wax paper.
Lay out half of the graham crackers.
Pipe the marshmallow onto the crackers dead center.
You want about a TBSP of marshmallow per cracker.
Place another graham cracker on top of the marshmallow to form a sandwich.
Do you best to align the shapes if using something other than a round.
Let cookies sit for four hours for marshmallow to firm up.
Make the white chocolate coating and dip half the sandwich cookie into the white chocolate.Immediately sprinkle graham cracker crumbs on to both sides of the sandwich cookie and place on wax paper.Let set for 30 minutes.
Keep in an air
tight container for about 3 days.