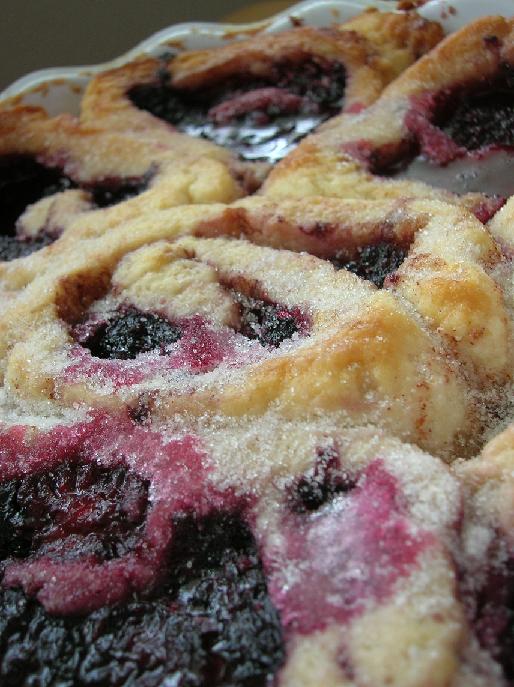 I feel like a prisoner in my apartment. They have been resurfacing our apartment complex and yesterday and today I have been cooped up. Sure I can go drive somewhere but we had to park sooooo far away that I would need to pack a lunch just to make it there. And let's be honest, I am too lazy to walk down there today. So when stuck at home, break out the apron and get your bake on.
So another non-food blogger suggested making a blackberry cobbler. Spending most of my cooking years in Arizona there are not farmer's markets, no one is bringing you squash from their gardens or hazelnuts from their trees. So to move here to Washington and have all this wonderful fresh produce is so truly amazing you can not even imagine.
I wanted to make something slightly different than your regular cobbler and boy did I find it. When I read the comments that people made about the recipe I must concure that they all said it would be messy and they were right. What I found most interesting about this recipe was the fact that they were rolled up like cinnamon rolls and cut and then placed into a pool of melted butter. Then completely immersed in simple syrup. When I put it into the oven I was extremely skeptical. It did not look good at all and I just kept thinking, there went some perfectly good blackberries. But when the hour was up….behold it all worked out. Now mine was a little more juicy than I would have liked and the next time I will throw a tad bit of cornstarch in the mix. It is an unusual biscut/cinnamon roll type crust that is melt in your mouth good. I fully intend on making other fruit cobblers with this recipe. I would have loved this with some vanilla ice cream like the recipe suggest but all we had was whipped cream so it will just have to do….after all it is too much of a hike for me to go get ice cream(it will have melted by the time I got home).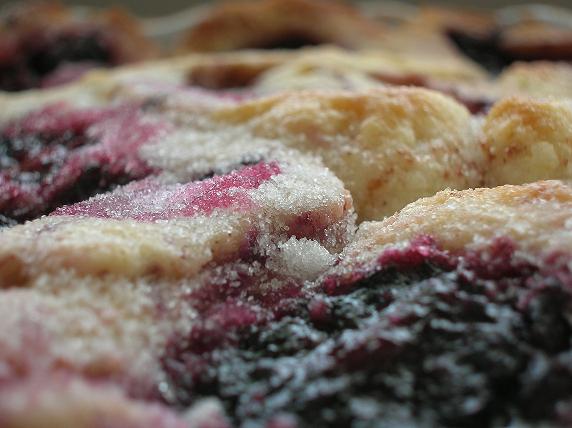 1 stick (1/2 cup) unsalted butter, 1/2 stick cut into bits and chilled
1 cup water
1 cup plus 2 tablespoons sugar
1 1/2 cups self-rising cake flour
1/3 cup milk
1/2 teaspoon cinnamon
3 cups fresh or thawed frozen blackberries (about 1 pound)
Accompaniment if desired: vanilla ice cream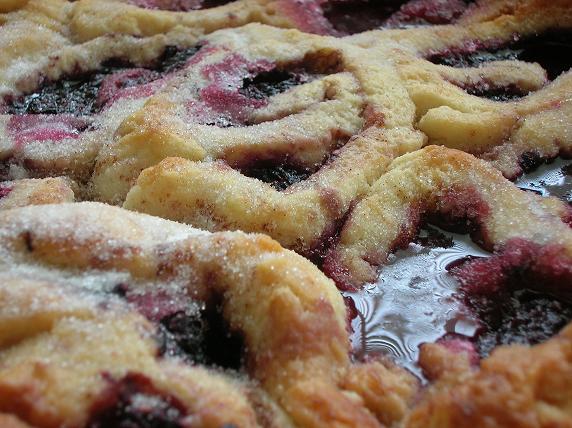 Preheat oven to 350°F.
In a 10-inch glass pie plate or baking dish melt 1/2 stick uncut butter in oven.
In a small saucepan combine water and 1 cup sugar and heat over moderate heat, stirring occasionally, until sugar is completely dissolved.
In a food processor pulse together flour and remaining 1/2 stick cut-up butter until mixture resembles fine meal. Add milk and pulse just until a dough forms. Turn dough out onto a lightly floured surface and with a floured rolling pin roll into an 11- by 9-inch rectangle. Sprinkle dough with cinnamon and scatter blackberries evenly over top. Beginning with a long side roll up dough jelly-roll fashion and cut into 1 1/2-inch thick slices. (Slices will come apart and be messy). Arrange slices, cut sides up, on melted butter in pie plate or baking dish. Pour sugar syrup over slices, soaking dough, and bake «cobbler» in middle of oven 45 minutes. Sprinkle remaining 2 tablespoons sugar over cobbler and bake 15 minutes more, or until golden.
Serve cobbler warm with ice cream.
Serves 6.
Source: Gourmet
June 1996
Denise Maguire: Saint Petersburg, Florida