Since I made something that my husband wouldn't eat(peaches-n-cream) I had to find something to make him so that he would be happy too. I pulled out my the Pastry Queen cookbook since there was chocolate cookie recipe that was interesting to me since it used hardly any flour. Though it says it is a cookie, which it is, it really is more of a hybrid of a cookie and a brownie and let me just say….well done.
I did deviate slightly from the recipe. We only had walnuts so I used 1 1/2 cups of those and used 1/2 cup of flour instead of 1/3 cup. I also substituted semisweet for the bittersweet and I chose to use the milk chocolate chips.
These babies are extreme chocolate overload but well worth your 30 minutes on the treadmill.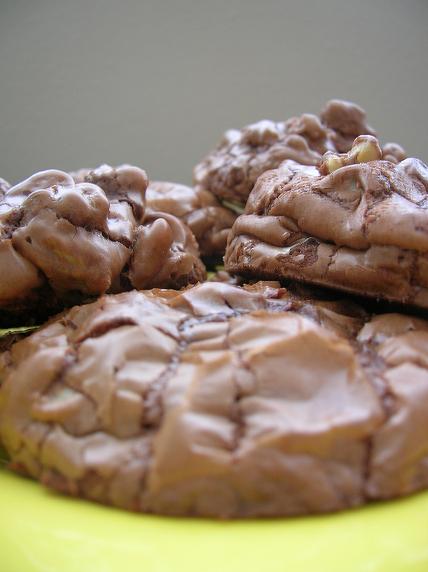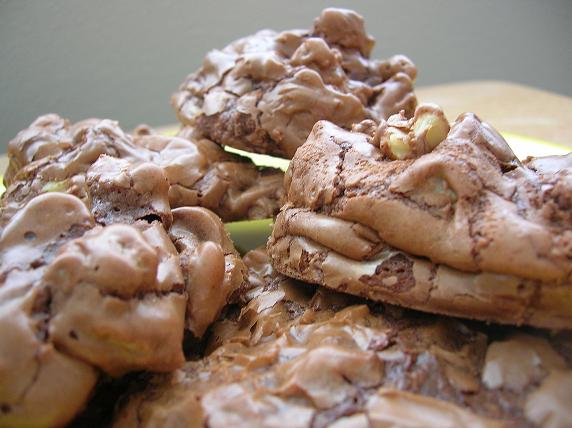 Triple-Threat Chocolate Chip Cookies
1 cup chopped pecans
1 cup chopped walnuts
6 TBSP unsalted butter
8 ounces bittersweet chocolate, coarsely chopped
3 ounces unsweetened chocolate, coarsely chopped
3 large eggs
1 cup sugar
1 TBSP vanilla extract
1/3 cup all purpose flour
¼ tsp baking powder
¼ tsp salt
1 ½ cups semisweet or milk chocolate chips
Preheat the oven to 350F. Arrange the pecans and walnuts on a baking sheet in a single layer and toast for 7 to 9 minutes until golden brown. Cool the nuts completely.
Grease baking pan generously with butter or cooking spray.
Melt the butter, bittersweet chocolate, and unsweetened chocolate in a small saucepan set over low heat. Stir occasionally, watching carefully to make sure the chocolate does not burn. Remove the pan from the heat to cool.
Using a mixer fitted with a paddle attachment, beat the eggs and sugar in a large bowl on medium speed for about 3 minutes, until fluffy. Add the vanilla and melted chocolate. Beat on medium speed about 2 minutes, until the dough is thick and glossy. Add the flour, baking powder, and salt to the chocolate mixture, stirring just until incorporated. Stir in the nuts and chocolate chips. Let the dough rest for 20 minutes, which makes it easier to scoop.
Use a 1 ¾ inch diameter scoop to drop spoonfuls of dough on the prepared baking sheets, spacing them at least 1 ½ inches apart. Wet your fingertips lightly with water and gently flatten the cookie dough(no need to press hard, just press out the hump) Bake for 10-12 minutes, until the tops begin to crack and look glossy. Cool the cookies for 10 minutes before removing them from the baking sheets.
Source: The Pastry Queen by Rebecca Rather