This Monster Mash Cereal Cheesecake has a strawberry and chocolate malt swirl cheesecake in the crust of Monster Cereal Marshmallow Treats.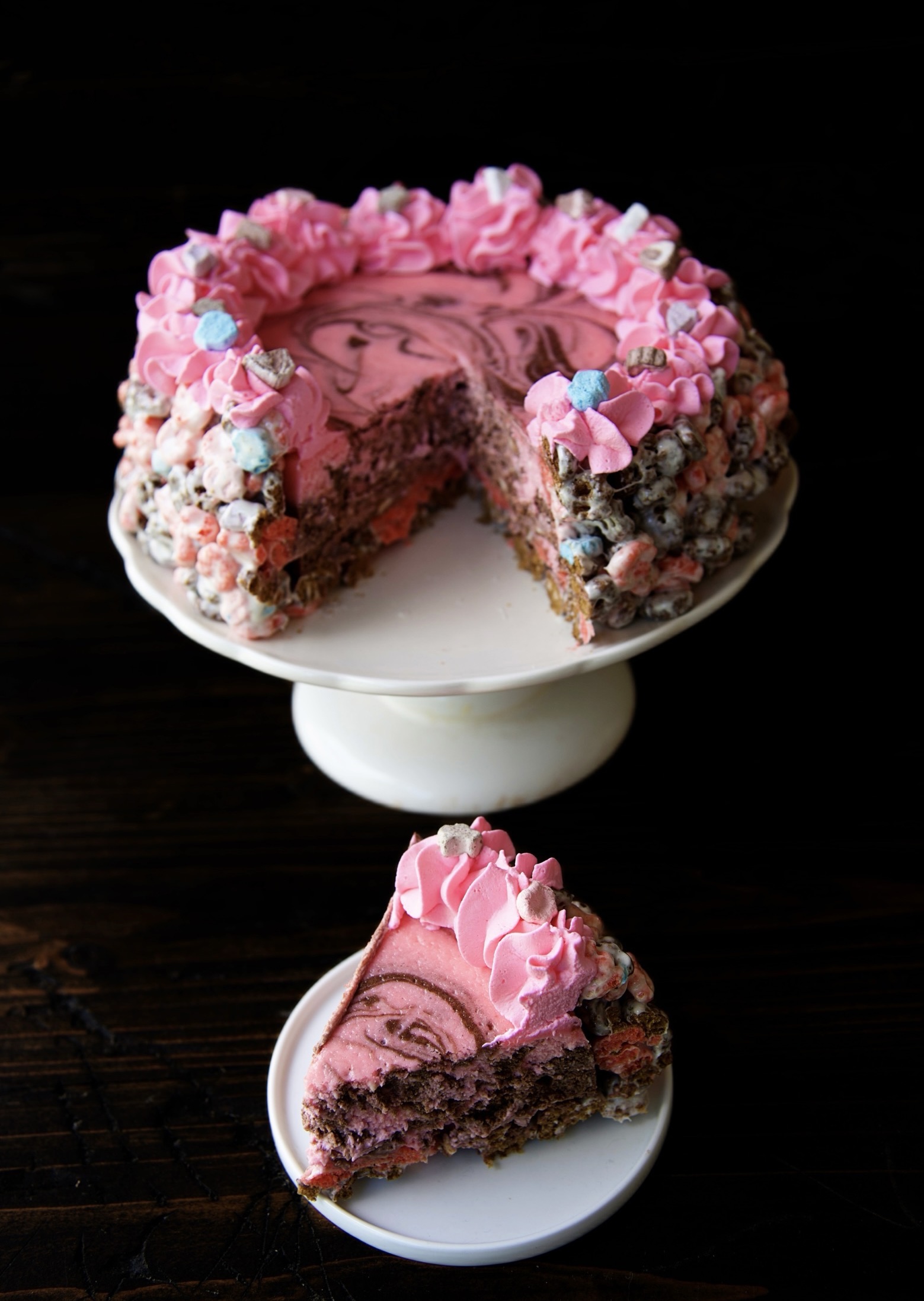 My Monster Mash Cereal Cheesecake is the cheesecake that 10 year old me always wanted but it didn't exist.
And now it does, and the world is a better place.
Once again, it's Halloween Treats Week!
This is the 6th year.
It's not a sponsored event, just a bunch of bloggers who want to make Halloween stuff.
For me, years ago, I signed up because I wanted to force myself to do Halloween content.
Now I do it because it's fun.
And even though they only require two recipes, I do the entire week.
Six recipes.
Halloween is not my favorite.
I don't like anything scary.
The one thing I always loved about Halloween though was Count Chocula cereal.
It's been my favorite since I was a kid.
And so I always include one of the Monster Cereals in one of my Halloween Treats Week recipes.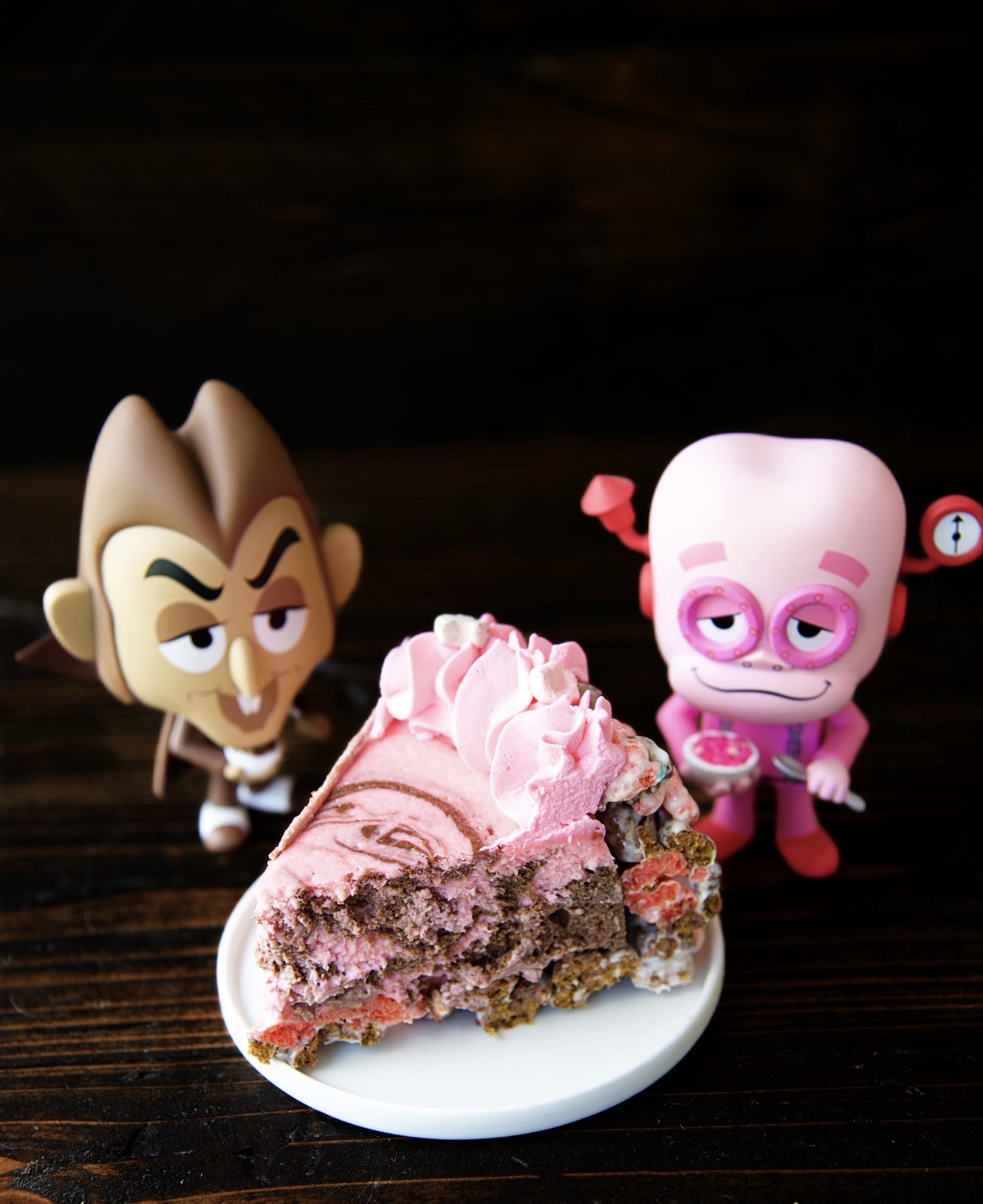 This cheesecake is the combo of my two favorite of the Monster Cereals: Count Chocula and Franken Berry.
Back in 2019 I made a layer cake using the two flavors.
I've used Franken Berry to make Franken Berry Hand Pies, and Franken Berry Jello Shots.
And I've used Count Chocula to make Count Chocula Hot Chocolate, Count Chocula Pudding Shots, and a Count Chocula Cream Pie.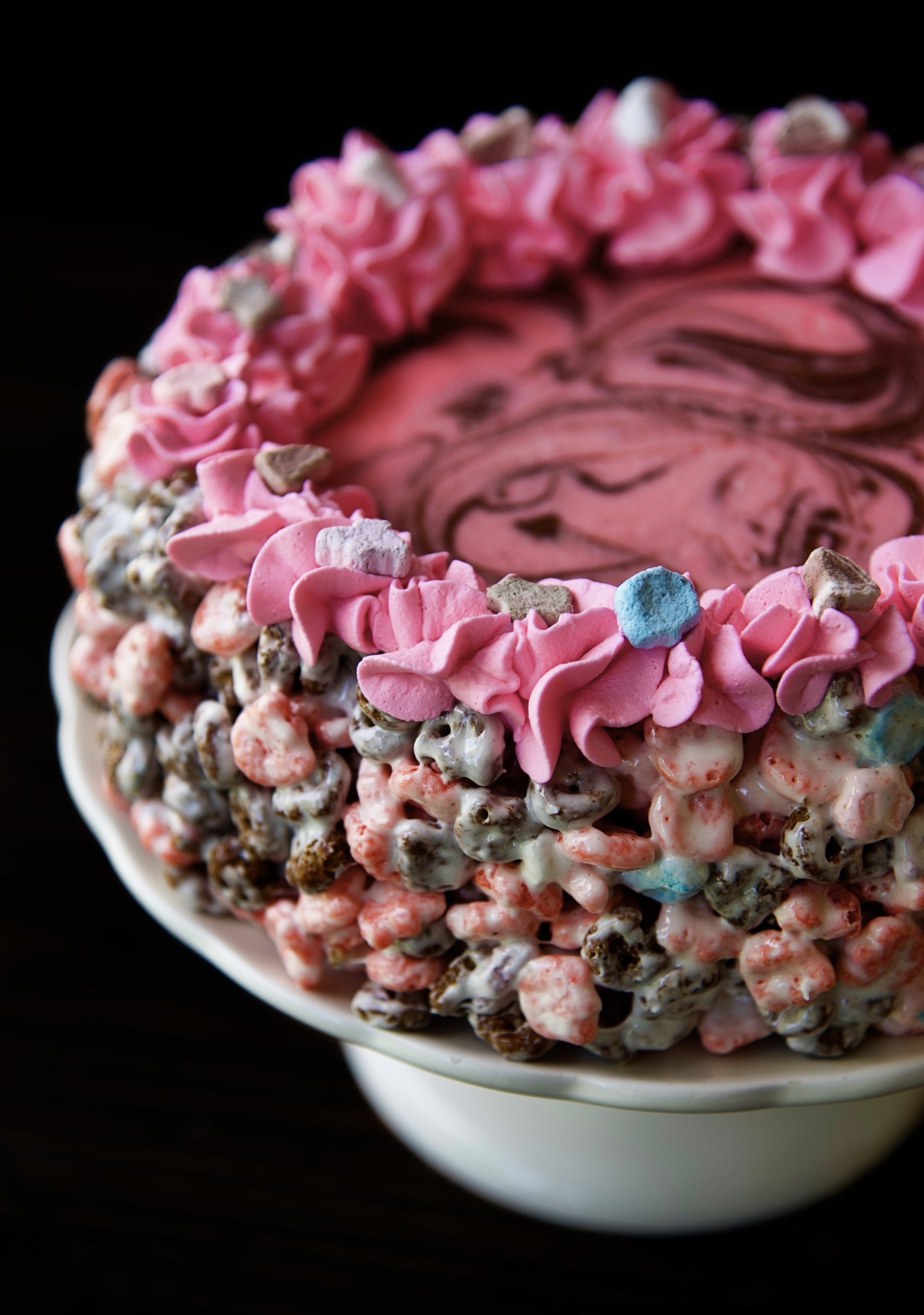 The crust inspiration comes from my Toasted Marshmallow No Bake Cheesecake where I use Rice Krispie Treats to make a crust.
That cheesecake was no bake though and you poured it right into the crust.
But I had a lot of people on my Facebook page ask me to make a baked cheesecake in one.
But you can't of course because the crust would melt and burn in the time the cheesecake takes to bake.
So I had to bake a crustless cheesecake and flip it (invert it) into the prepared cereal treat crust.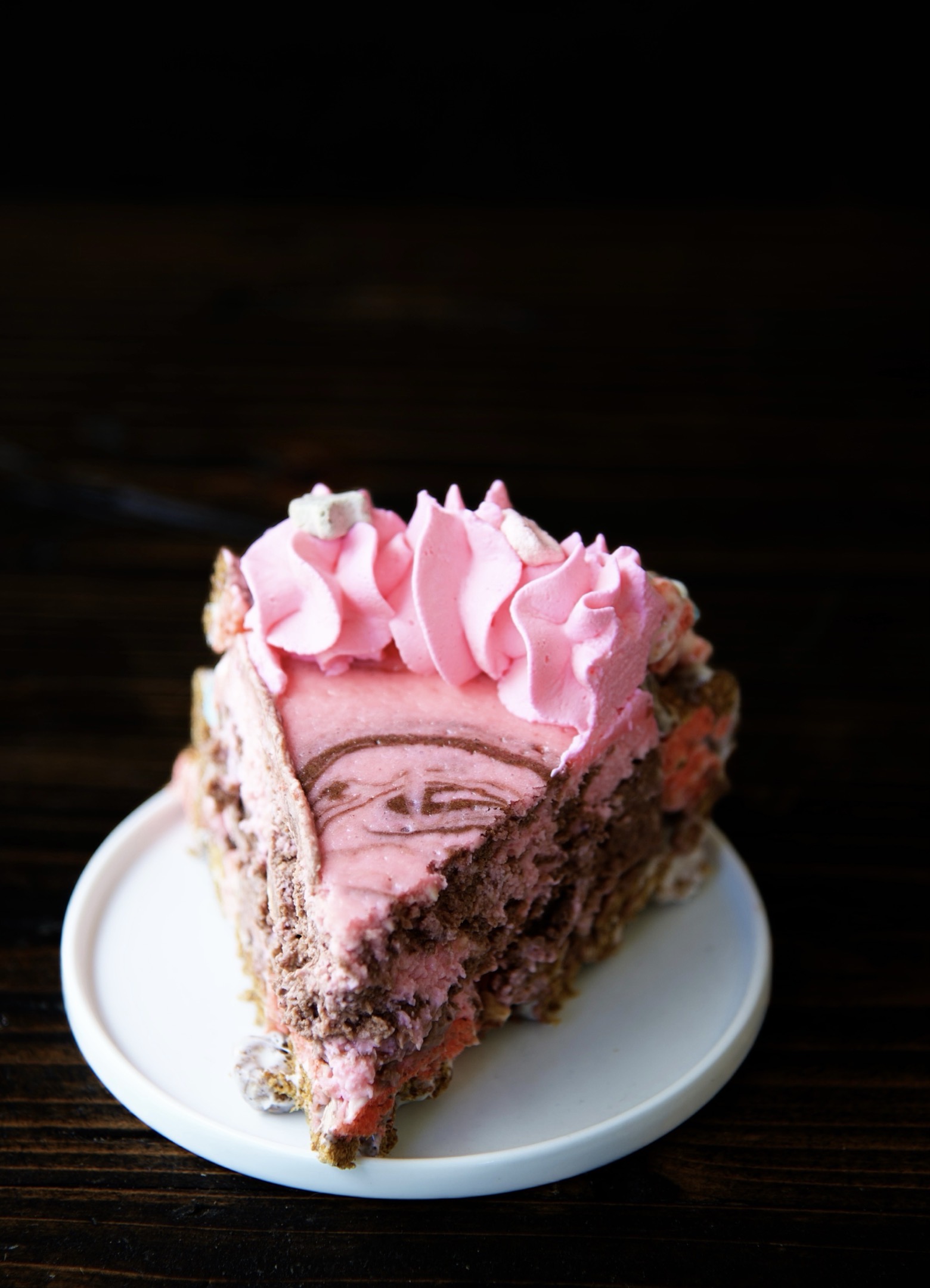 Ingredient Highlights:
As always, the full recipe with measurements & directions can be found at the bottom of this post.
Count Chocula Cereal– the not so spooky chocolate malt cereal with the vampire on the box.
Chocolate Malted Milk Powder–I use Nestle Carnation Chocolate Malted Milk. Ovaltine can work as well. If you can't find chocolate malted milk you can use regular malted milk and add another teaspoon of unsweetened cocoa powder to the tablespoon already being used in the recipe.
Franken Berry Cereal – the not so spooky strawberry malt cereal with the frankenstein on the box.
Strawberry Quik Powder– Strawberry Quik comes in powder, liquid, and premade. You want the powder. The other two will mess with the texture of your cheesecake.
Marshmallows – make sure you use the mini marshmallows. While you can use the bigger ones the mini ones melt quicker
Cream Cheese – Use full fat cream cheese and make sure it has come to room temperature.
Eggs – Use large eggs at room temperature.
Sour Cream – Use full fat sour cream, at room temperature.
Heavy Cream – Use full fat heavy cream, at room temperature.
Vanilla extract – Use real vanilla extract for best results.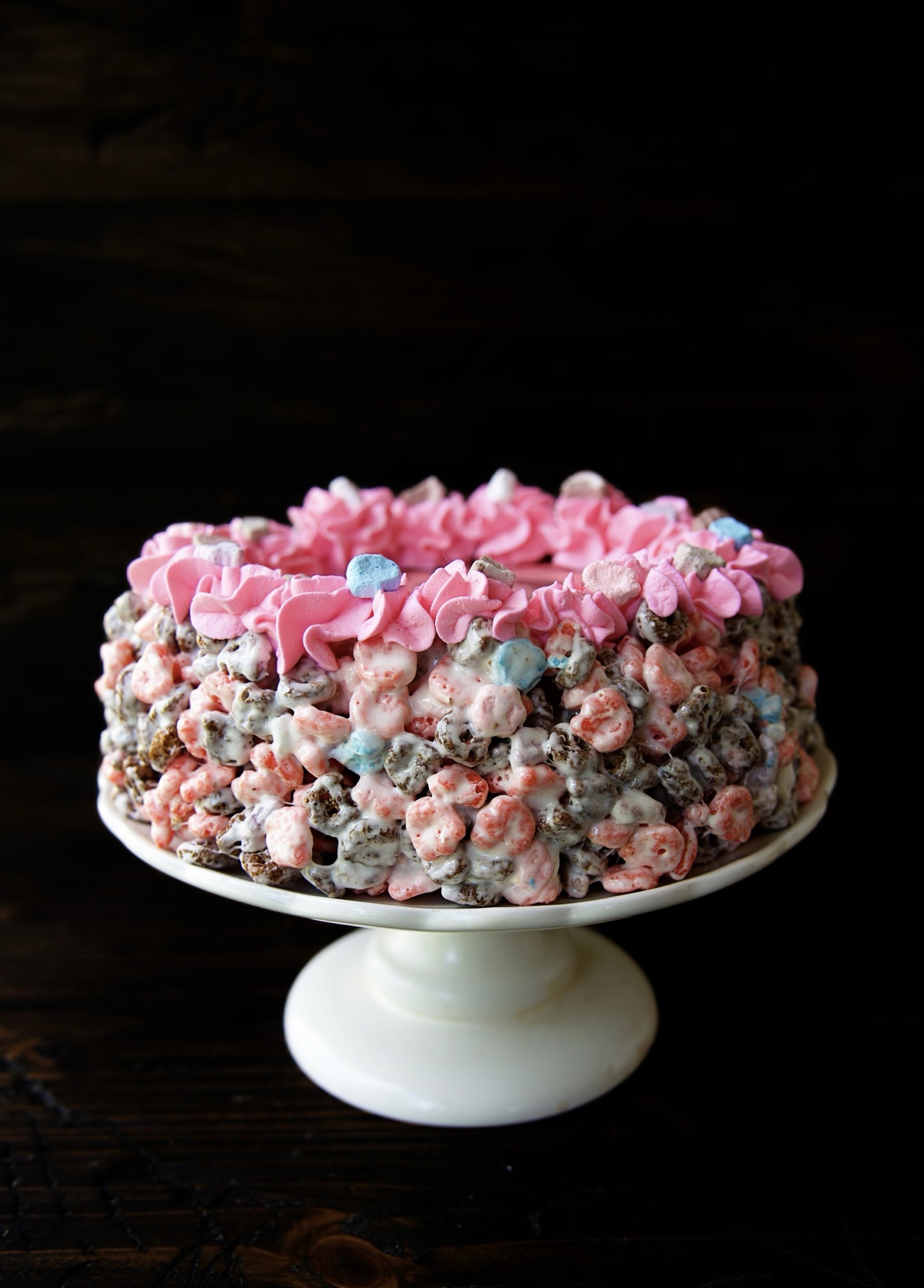 Tips for a Successful Cheesecake:
Oven Thermometer – An oven thermometer will tell you if your oven is actually running at the temperature you set it to. Your oven may not be accurate. I have to calibrate my oven about 5 times a year. Now, granted, I use my oven more than most people but if you have not done it in awhile you should check it.
Room Temperature Ingredients – It is imperative that you let your cold ingredients come to room temperature. Cold ingredients will create a lumpy batter.
Don't Over Mix – Over mixing the cheesecake batter when you're adding the eggs can cause the cheesecake to buckle a little bit in the oven. It will still taste great, but won't look as pretty.
Don't Over Bake – Follow the doneness cues given in the recipe card below to avoid over baking the cheesecake. Don't panic if it browns the slightest bit on top – that can happen without it being overbaked.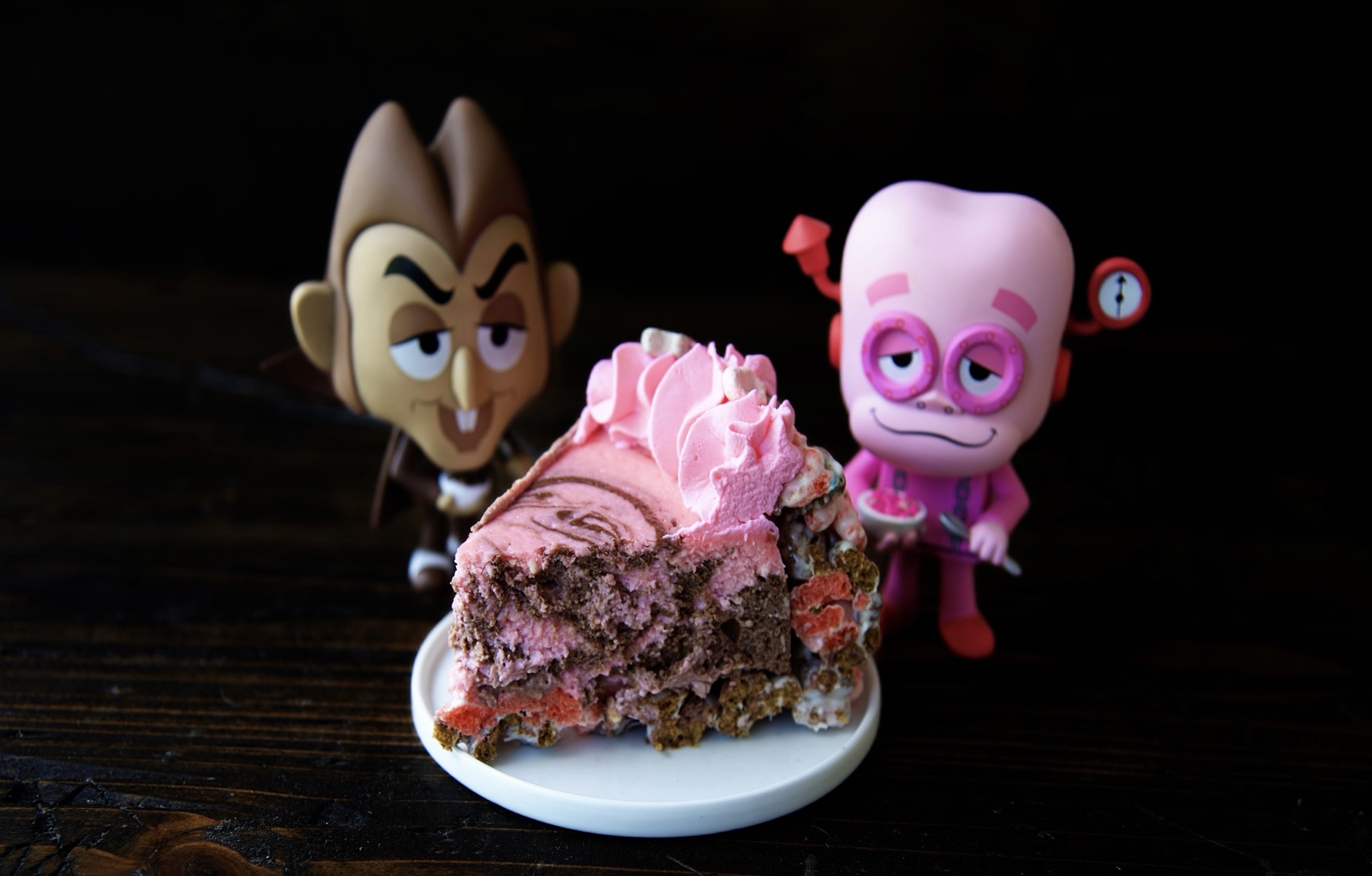 Do I really have to chill the cheesecake for so long?
Yes! That's the nature of cheesecake.
Allow the cheesecake to come to room temp after it's baked, and then transfer to the fridge to chill at least 6 hours or up to 1 day before serving.
What if I don't want to swirl the batters?
If you don't swirl them then you will have the two flavors separate.
Which if that's what you want to do it's fine.
I just prefer to get a bite of chocolate malt and strawberry malt in the same bite.
Do you have to use a bain marie (water bath)?
Technically no.
However, if you want a creamy cheesecake then, yes.
If you want to minimize the chance for cracks in your cheesecake then, yes.
The water bath does a wonderful job of keeping an even temperature for the cheesecake to bake in.
You will need to wrap your pan in foil so water doesn't leak into your springform pan.
Better yet, use one of the silicone wraps.
I like those way better.
You can buy it HERE (it is an Amazon affiliate).
Last but not least…It's a great time to buy my cookbook.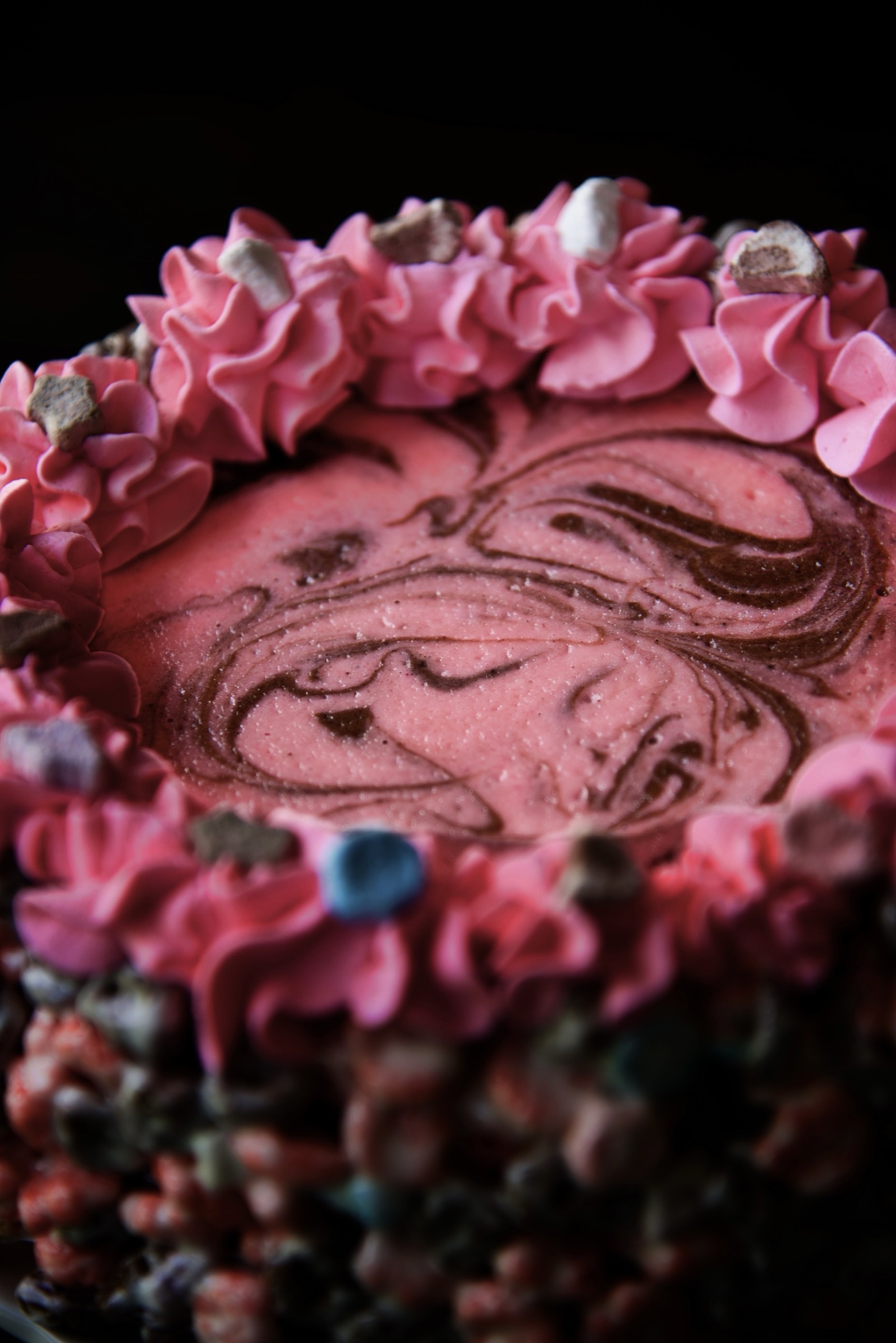 HAPPY HALLOWEEN!!!
Welcome to 2023's #HalloweenTreatsWeek event!
If you're new here, Welcome! If you're a returning haunt, welcome back!
#HalloweenTreatsWeek is a yearly Halloween blogging event that is hosted by Angie from Big Bear's Wife . You'll find that this fun and spooky event is an online, week-long event that is filled with some frightfully fun Halloween treats and recipes from some fantastic Halloween loving bloggers!
For this years 6th annual #HalloweenTreatsWeek event we have 18 hauntingly talented bloggers that are sharing their favorite Halloween recipes throughout the week! You can following the hashtag #HalloweenTreatsWeek on social media to collect all of these frightful recipes to use at your own Halloween parties and events!
Make Sure to check out all of the fun Halloween recipes that we're sharing this week!
Today's Halloween Offerings: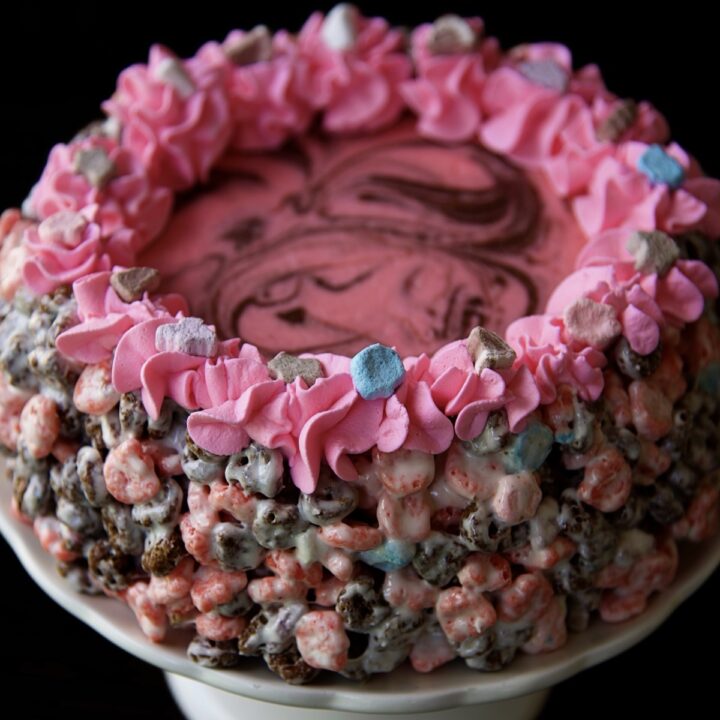 Monster Mash Cereal Cheesecake
Ingredients
For the Cheesecake:
16 oz cream cheese, at room temperature
½ cup granulated sugar
¼ cup sour cream, at room temperature
⅛ cup heavy cream
1 tsp vanilla extract
3 Large eggs room temperature
pinch of salt
1/4 cup chocolate malted milk powder
1 TBSP unsweetened cocoa powder
1/4 cup strawberry Quik powder
For the Crust:
3 TBSP unsalted butter
10 oz. mini marshmallows
4 cups Count Chocolate cereal
4 cups Franken Berry cereal
Garnish:
Pink Colored Whipped Cream
Franken Berry and Count Chocolate Cereal Pieces
Instructions
Grease a 7-inch springform. I used this ONE.
Please note that you are baking this without a crust.
Using a stand mixer with the paddle attachment, beat the cream cheese on high speed for 1 minute.
Add in the sugar and beat again for 1 minute. Scrape the bowl using a rubber spatula.
Add in the sour cream, heavy cream, and vanilla. Beat on medium until creamy.
Add in the eggs one at a time on low speed, being careful not to put too much air into the cheesecake mixture.
Divide mixture between two bowls.
Mix one with the chocolate malt powder and the unsweetened cocoa powder.
Mix the other cheesecake batter with the Strawberry Quik powder.
Make sure that both batters are smooth and the powders are fully incorporated.
Using an ice cream scoop, alternate scooping one chocolate malt scoop and one strawberry scoop until all the cheesecake batter is into the prepared pan.
Using a butterknife, swirl the two batters together.
You will need to wrap your pan in foil so water doesn't leak into your springform pan.
Better yet, use one of the silicone wraps. I like those way better. I linked the one I use in the blog post.
Bake the cheesecake for 55-65 minutes until the edges are set and the middle has a slight jiggle.
Turn off the oven, crack open the door, and let it sit for 30 minutes to slowly cool.
Transfer the pan to a cooling rack and cool completely.
Cover with foil and chill overnight or at least 6 hours.
For the Crust:
Spray a 8 or 9-inch springform pan with baking spray. If you choose the 8-inch pan you will have a thinner crust. I wanted a thicker crust so I went 9-inch.Set aside.
Melt the butter over low heat in a large heavy bottom pot, I used my Le Creuset.
Add marshmallows and stir until completely melted.
Mix until incorporated.
Add the cereal and mix until well coated.
Form the monster cereal treats into the springform pan, starting with the bottom and then the sides.
Let the crust firm up completely.
You will have a little left over…just eat it.
To Assemble:
Remove cheesecake from fridge.
Release the sides of the springform pan.
Flip the cheesecake onto a flat cake plate.
Remove the Monster Cereal crust.
Line up the cheesecake and the crust and flip the cheesecake from the plate into the crust.
Let the crust warm up a little (room temp) and mold it a little more around the cheesecake.
Place it back in the fridge for at least 30 minutes.
Top with pink colored whipped cream if desired. Add Count Chocula and Franken Berry cereal as garnish if desired.
Did you make this recipe? Snap a photo and leave a comment!
Be sure to follow bakerpeabody on instagram and tag #bakerpeabody with your photo! You can also post a photo of your recipe to the Sweet ReciPEAs Facebook page. I'd love to see what you make!