This Oatmeal Cookie Pumpkin Pie is made with pumpkin and cream cheese topped with mile high a brown sugar oatmeal cookie whipped cream.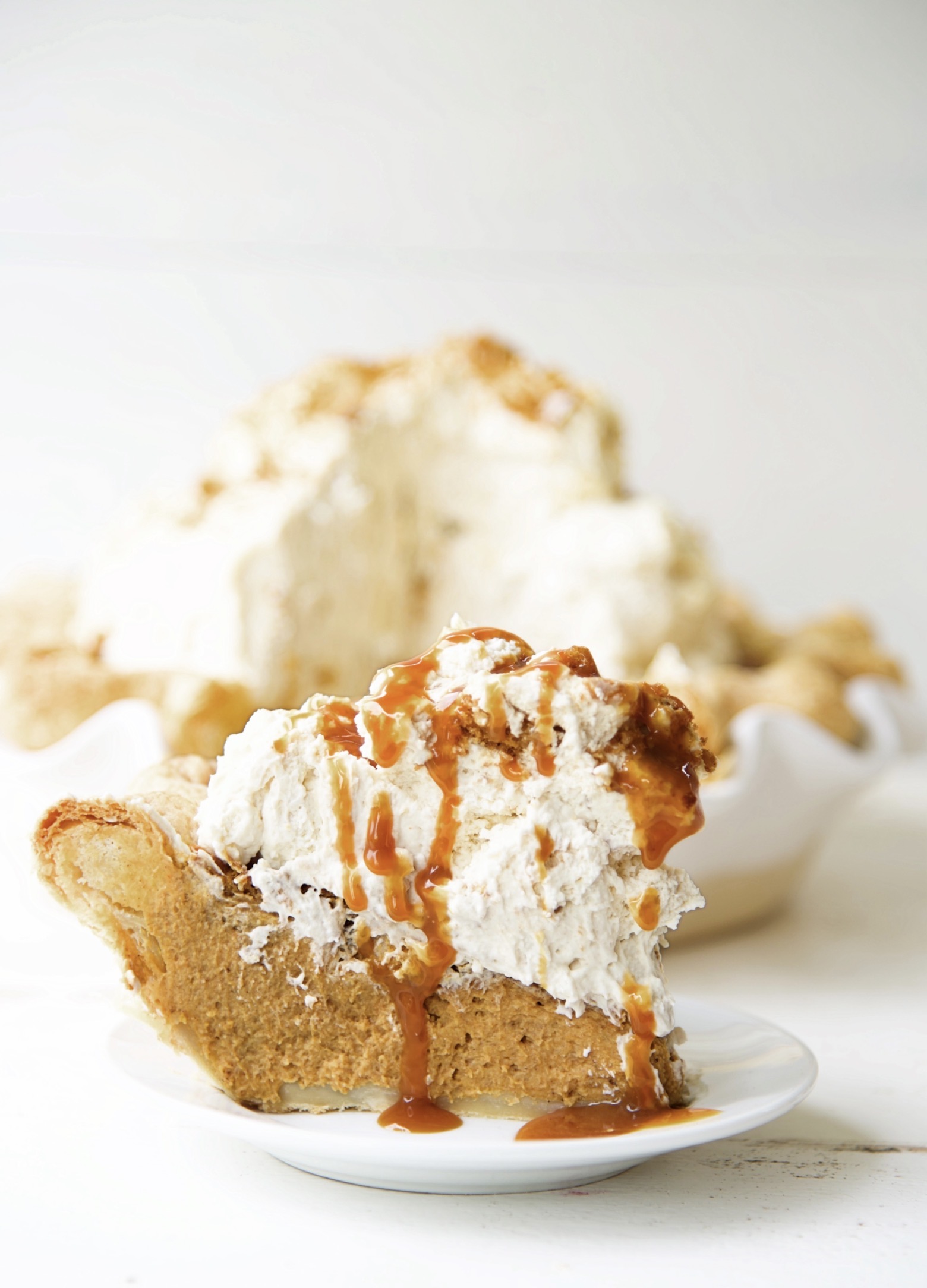 This Oatmeal Cookie Pumpkin Pie is one of the many pies I'll be making during the holidays.
Each year, I always make at least one pumpkin pie this way, with cream cheese instead of evaporated milk.
This year I made mine using rough puff pastry crust.
Everytime I make a pie with rough puff, I forget how much I love rough puff as pie dough.
So buttery and flaky.
If oatmeal cookies aren't your thing, I have made this pie using Oreos, Gingersnaps, and Snickerdoodles.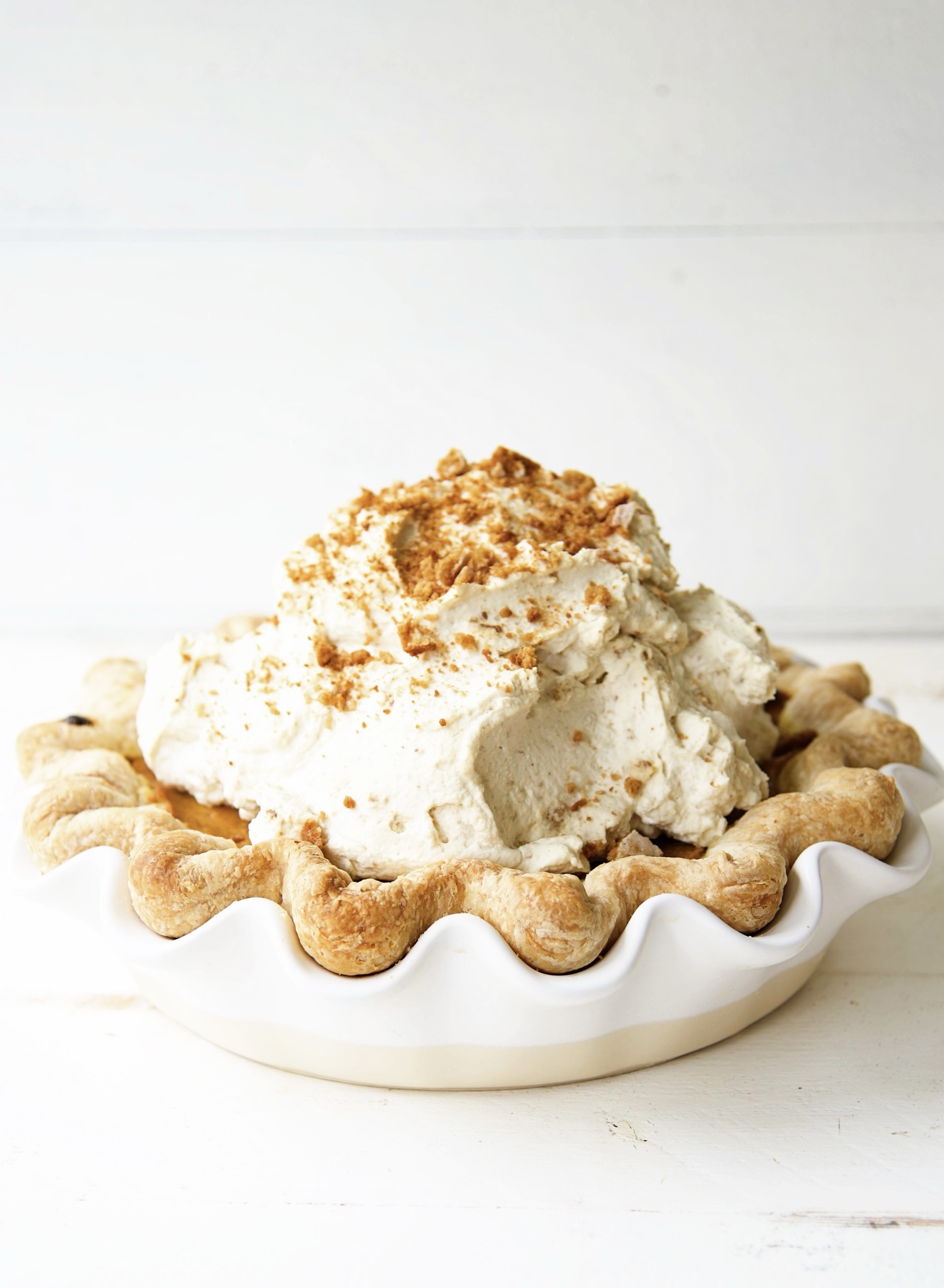 MAIN INGREDIENTS IN THIS RECIPE:
Rough Puff Pie Crust — while you can use store-bought pie crust, I cannot suggest enough to make the rough puff pastry crust I used. Rough Puff is cheater puff pastry and makes for a very flaky pie dough. While you only use 1/3 of the rough puff pastry for the crust, it freezes beautifully and is always good to have on hand.
Unsalted Butter— When making rough puff pastry you want a good quality butter. I usually use Plugra or another European butter brand…it has a higher butterfat content.
Brown sugar — I like the caramelized flavor that brown sugar provides.
Oatmeal Cookies — I used the crispy iced oatmeal cookies. I use the Mother's Brand of them. You want crispy ones so that they will hold a little bit of their shape during baking. The softer oatmeal cookies completely disintegrate.
Pumpkin Pie Spice — I use the already made pumpkin spice. I use King Arthur's but I know McCormick makes it as well.
Pumpkin purée — be sure to purchase 100% pure pumpkin purée and not pumpkin pie filling. While similar, pumpkin pie filling comes flavored and pre-sweetened compared to pumpkin purée, which is pure pumpkin.
Cream Cheese — while traditional pumpkin pie uses evaporated milk, my recipe uses cream cheese instead. Be sure to use full fat cream cheese or else the texture of the pie will be off.
Eggs — eggs help bind the pie filling together and create a custard-like texture.
Heavy Whipping Cream — to get the best outcome you need to use a heavy whipping cream with the most butterfat. If it doesn't say on the carton what percentage of butterfat it has…it's probably not that high. Shoot for at least 36% butterfat. The one I use from a local dairy is 40%.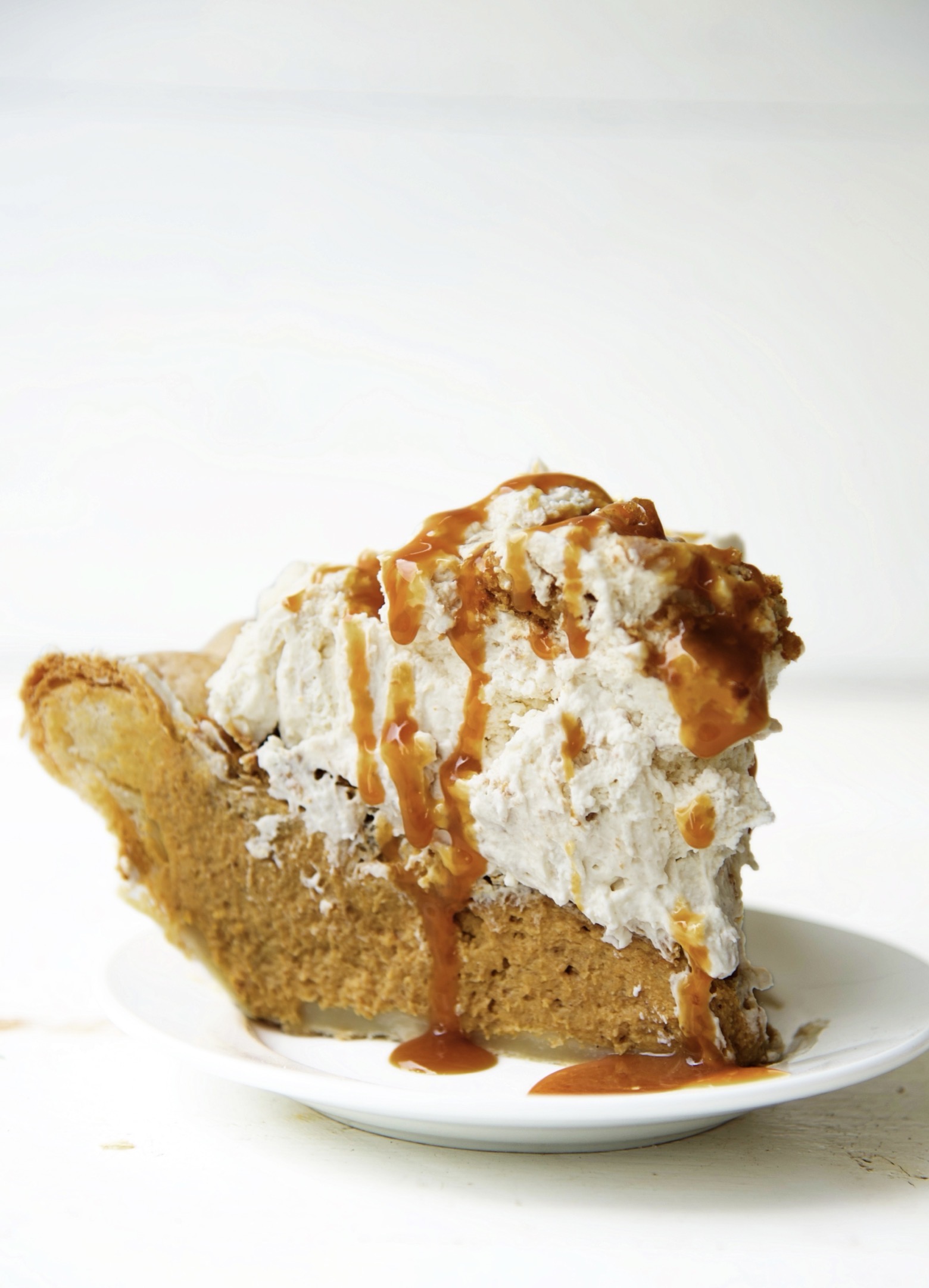 FREQUENTLY ASKED QUESTIONS
How do you tell when the pie is done?
While you can insert a knife to check for doneness, it will leave a knife mark. Instead, you can give the pie a jiggle. If done, the center of the pie will wobble just a bit. The center will finish setting up as the pie cools to room temperature.
How do I store this pie?
Loosely cover the pie with plastic and refrigerate for up to 2 days.
How do I keep the pie from cracking?
Careful not to overbake the pumpkin pie as it'll cause cracks to form on top. Also, allow the pie to cool to room temperature naturally before refrigerating.
What if I get a crack in my pie?
If that happens, no worries. You are going to top this pie with A LOT of whipped cream. 🙂
Can I freeze this?
This pumpkin pie recipe can be frozen but not with the whipped cream. To freeze wrap it tightly with plastic, and place it in a large freezer-safe bag. When ready to enjoy, thaw the pie by placing it in the refrigerator overnight. Then top with the whipped cream when ready to serve.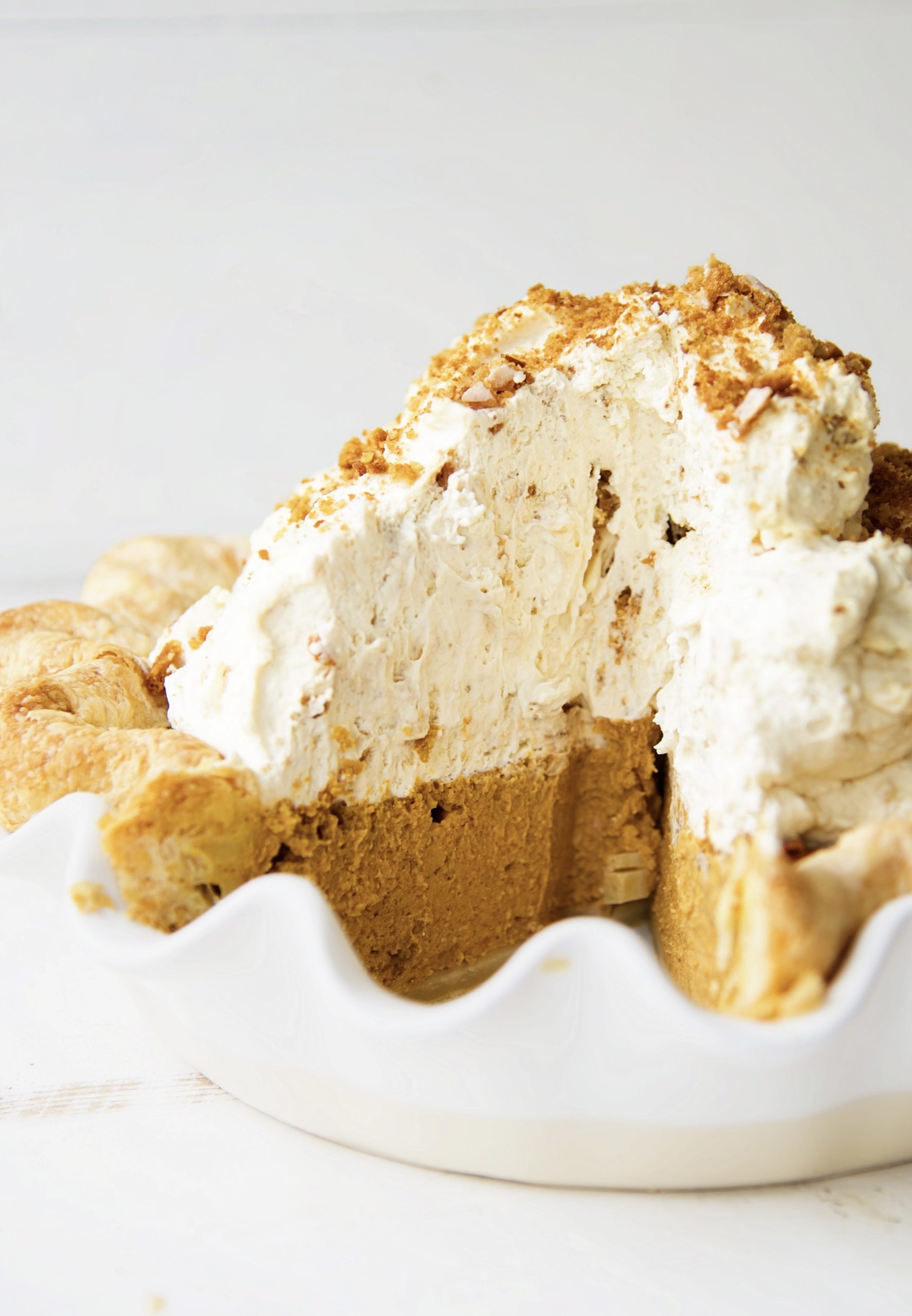 TIPS FOR MAKING THIS RECIPE
Not all canned pumpkin is the same. A lot of the organic pumpkin puree out there is runnier and therefore will change the outcome. I like to use Libby because it's thicker. Or roast your own.
The egg should be at room temperature to ensure they incorporate into your pie filling evenly. If you forgot to take your eggs out of the fridge ahead of time, you can quickly bring them to room temperature by placing them in a large bowl and covering it with warm tap water for 5 minutes.
This pumpkin pie recipe makes enough filling to fill a standard deep-dish (1.5-2" deep) pie.
When making the rough puff pastry do not panic. It's going to look shaggy and dreadful at first. And you will wonder how it will ever actually form a dough. It does, be patient.
When making the crust be sure to use VERY cold water. I often make mine like a cocktail and use the cocktail shaker to combine ice and water for the ultimate in cold water.
You are going to see big chunks of butter in your rough puff pastry. That's okay. You want that. Visible butter is your friend and makes for some good flaky crust.
P.S. It's a great day to order my cookbook.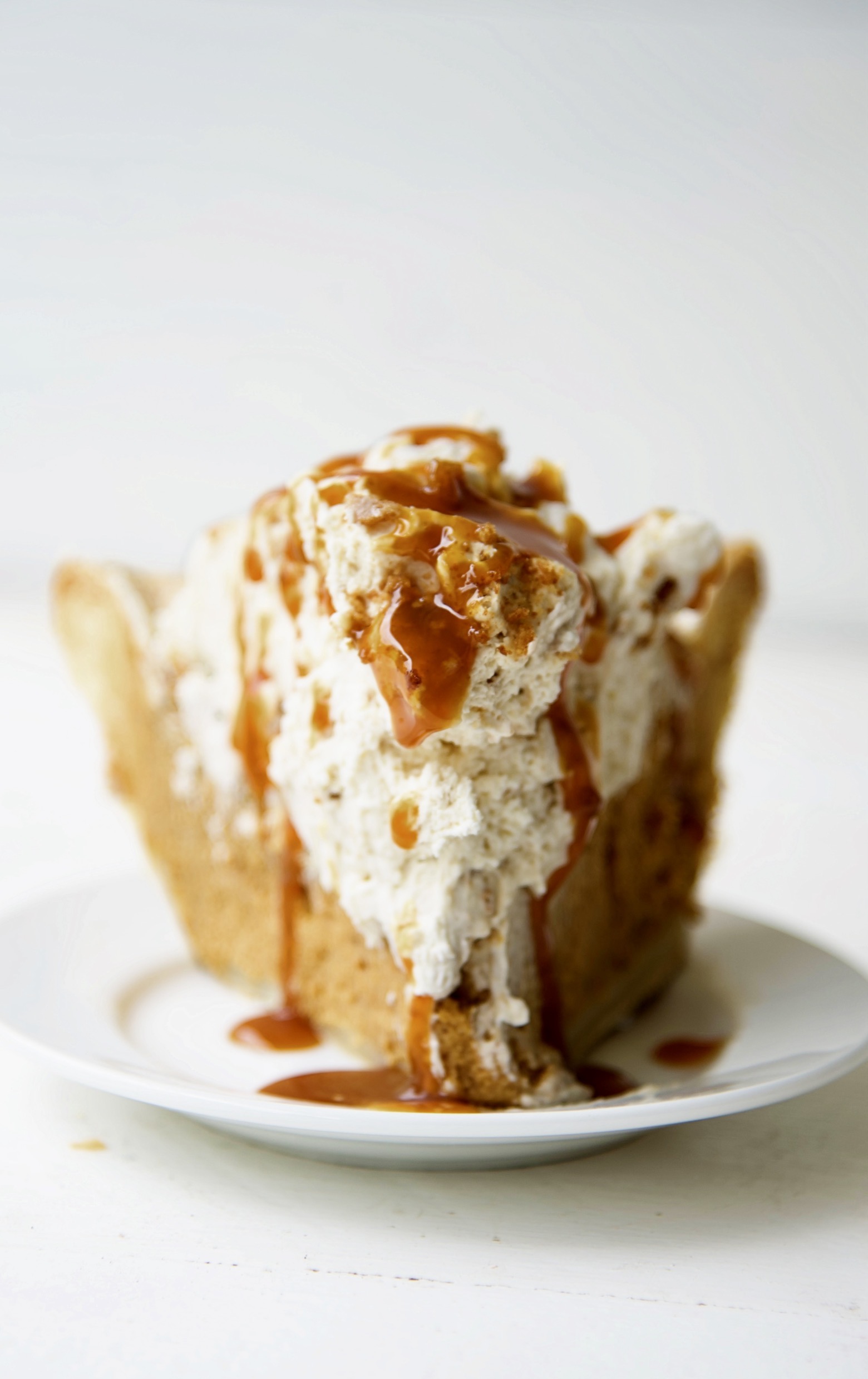 Want More Pie Recipes?
Cinnamon Toast Crunch Apple Slice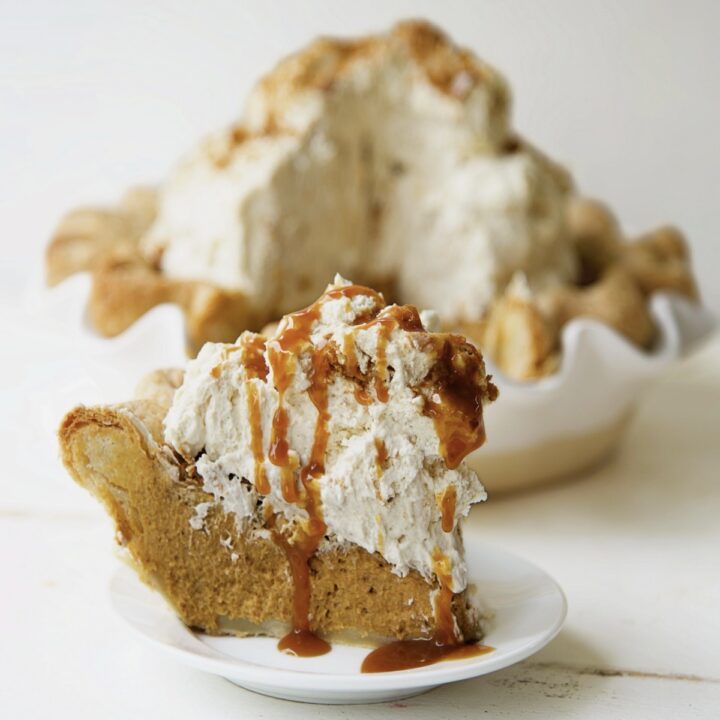 Oatmeal Cookie Pumpkin Pie
Ingredients
For the Crust (you will only use 1/3 of the crust recipe but it freezes wonderfully and great to have on hand)
3 1/3 cup all-purpose flour
2 cups unsalted butter, cold and cut into chunks (I used Plugra)
1/2 cup plus 1/8 cup ice cold water
1/4 tsp. salt
For the Pie Filling:
1 cup brown sugar
3 TBSP all-purpose flour
11 oz cream cheese, at room temperature
1 TBSP pumpkin pie spice
3 eggs
1 can (15 oz) pumpkin puree (not pumpkin pie mix)
10 crispy oatmeal cookies (no raisins), crushed
For the Brown Sugar Oatmeal Cookie Whipped Cream:
2 cups heavy cream
1/3 cup brown sugar
1 cup crispy oatmeal cookies (no raisins), crushed
caramel sauce for garnish
Instructions
For the Crust:
In a large bowl, combine the flour and salt.
Stir with your hands to distribute the salt.
Add the butter and massage the butter into the flour with the tips of your fingers until the butter pieces are a bit smaller, about the size of a dime.
Add the water and smoosh everything around with your hands, coating the mixture with water (this gets terribly messy and sticky).
Gently knead until the whole mess looks like it's just barely holding together.
Dump the dough out onto a lightly flour surface and form it into a loose square.
Cover the dough with plastic wrap and let it rest for 10 minutes on the counter, where the flour will continue to absorb moisture from the water and butter.
Roll the dough into a rough 12 x 20″ rectangle.
Make a single fold by bringing one short edge of the dough to the midline of the rectangle, then fold the other side over on top of the first fold- just like folding a letter.
Turn the dough 90 degrees, roll out the dough again to the same size rectangle, and make another letter fold.
Do this twice more, to make 4 folds and turns total.
Bits are going to fall off and you are going to panic. Don't worry. Just be patient.
Place the globs of dough back into the whole and just keep going, it comes together in the end I promise.
Cover the dough with plastic wrap and allow to rest in the fridge for at least 20 minutes or freeze for months.
Remove from fridge and preheat oven to 350F.
Roll out the dough and use it to line a 9-inch pie plate.
Dock (aka stab with a fork in several spots) and freeze it for 20 minutes.
Remove from fridge and preheat oven to 350F.
Roll out the dough and use it to line a 9-inch pie plate.
Dock (aka stab with a fork in several spots) and freeze it for 20 minutes.
Line the crust with parchment paper and fill it with pie weights.
Bake 10 minutes.
Remove from oven and set aside to cool while making the filling.
For the Pie Filling:
Using a stand mixer with a paddle attachment beat together the sugar, flour and cream cheese on low speed until smooth.
Add the pumpkin pie spice, egg, and pumpkin puree to cream cheese mixture.
Beat on medium speed, scraping bowl constantly, until smooth.
Add the crushed oatmeal cookies and mix until fully combined.
Pour mixture into the prepared pie crust.
Cover edge of crust with 2- to 3-inch strip of foil to prevent excessive browning; remove foil for last 15 minutes of baking.
Bake 40-50 minutes or until knife inserted in center comes out clean.
Cool 30 minutes.
Cover loosely and refrigerate at least 4 hours before serving.
For the Brown Sugar Oatmeal Cookie Whipped Cream:
Place the sugar into a mixing bowl and add the whipping cream.
Whisk just until the cream reaches stiff peaks.
Add the crushed oatmeal cookies and whip until fully combined.
Place whipped cream on top of cream pie and add some salted caramel for garnish if desired.
Did you make this recipe? Snap a photo and leave a comment!
Be sure to follow bakerpeabody on instagram and tag #bakerpeabody with your photo! You can also post a photo of your recipe to the Sweet ReciPEAs Facebook page. I'd love to see what you make!