This Count Chocula Cream Pie features one of my all time favorite cereals in creamy chocolate cream pie form.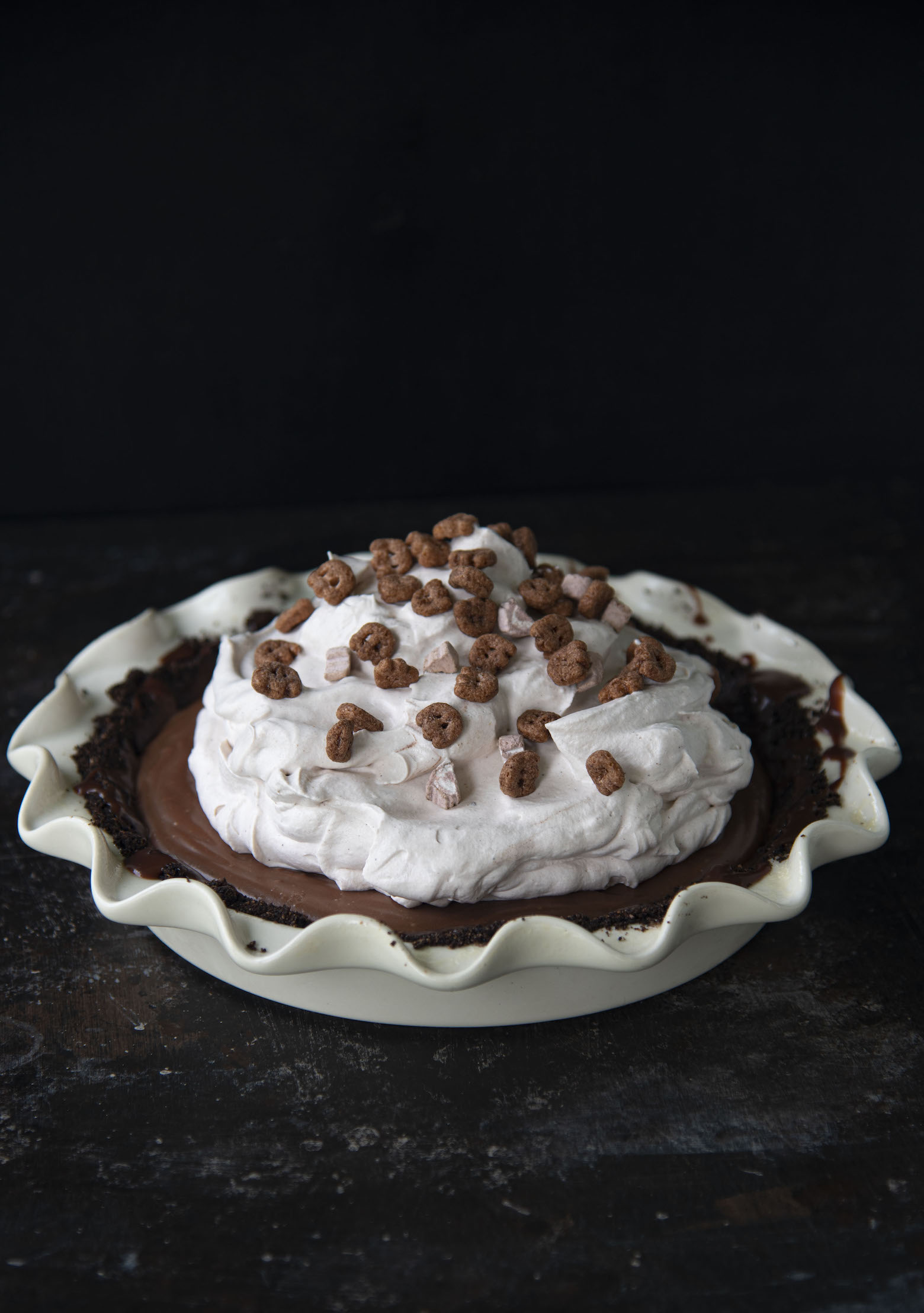 "This post and recipe was created for #HalloweenTreatsWeek!
I was sent samples by some of the sponsor companies but as always opinions are 100% mine."
It's the last day of Halloween Treats Week.
I hope you have enjoyed all the recipes this week.
If you didn't see them all, I participated in all 6 days.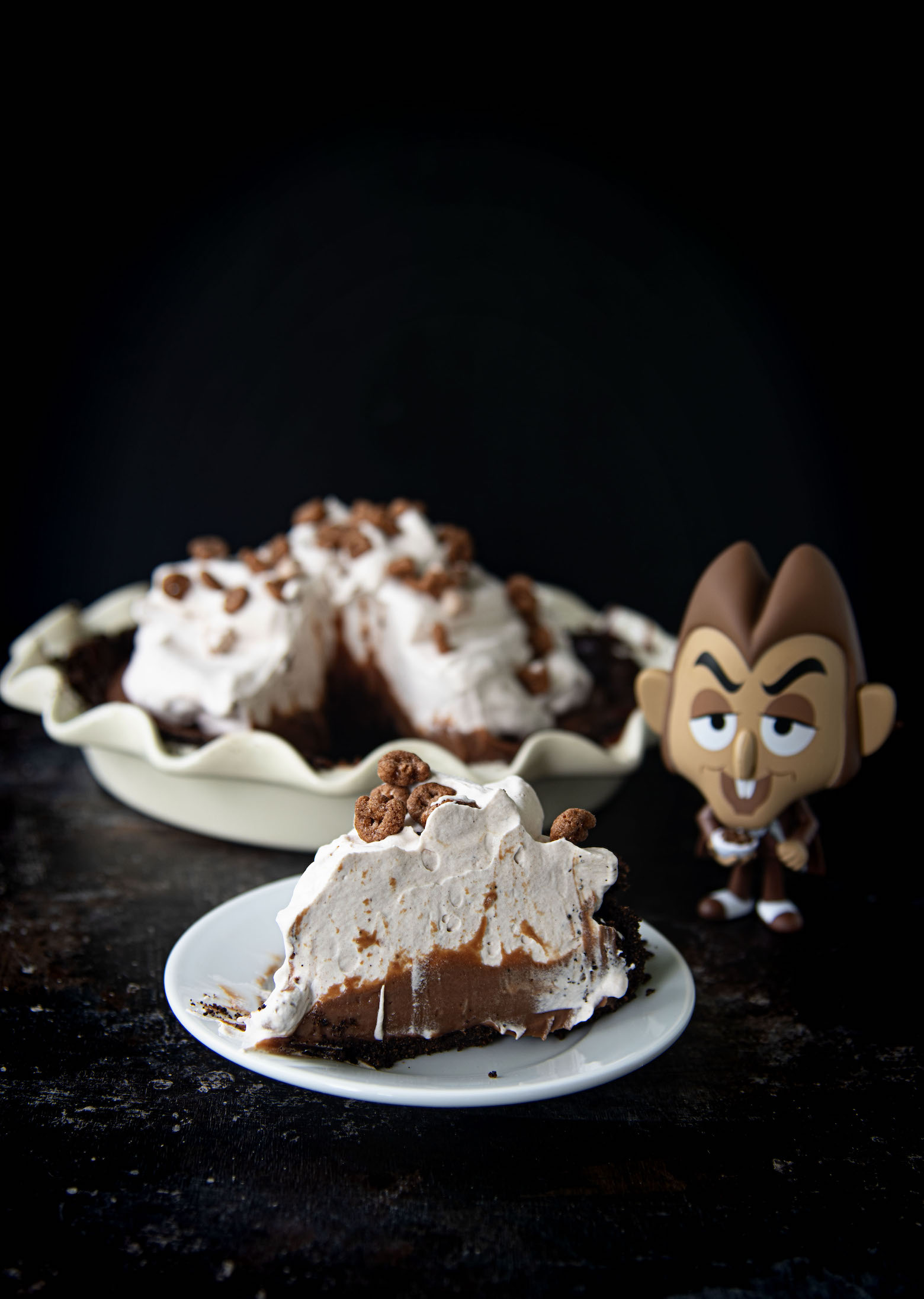 I already made something with Franken Berry cereal but Count Chocula is my preferred of the monster cereals.
Last year I made a layer cake using both of them.
This year it's pie.
And not just any pie but cream pie.
Count Chocula Cream Pie.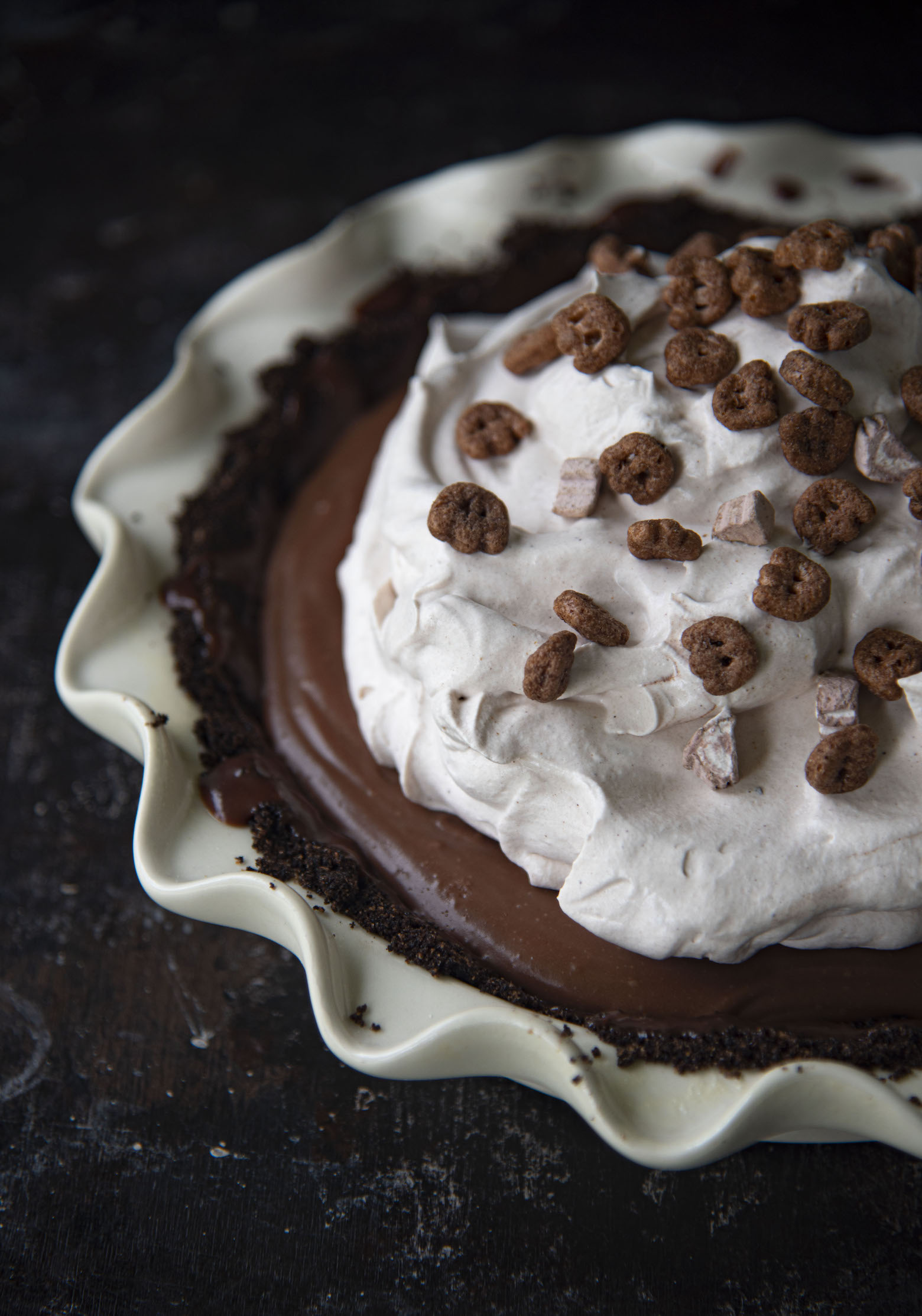 There are some that thing chocolate pudding in a pie is a chocolate cream pie.
I am not one of those people.
I'm one of those that makes cream pies with pastry cream.
This pastry cream base uses milk that has been infused with Count Chocula cereal.
Then it's mixed with a chocolate ganache.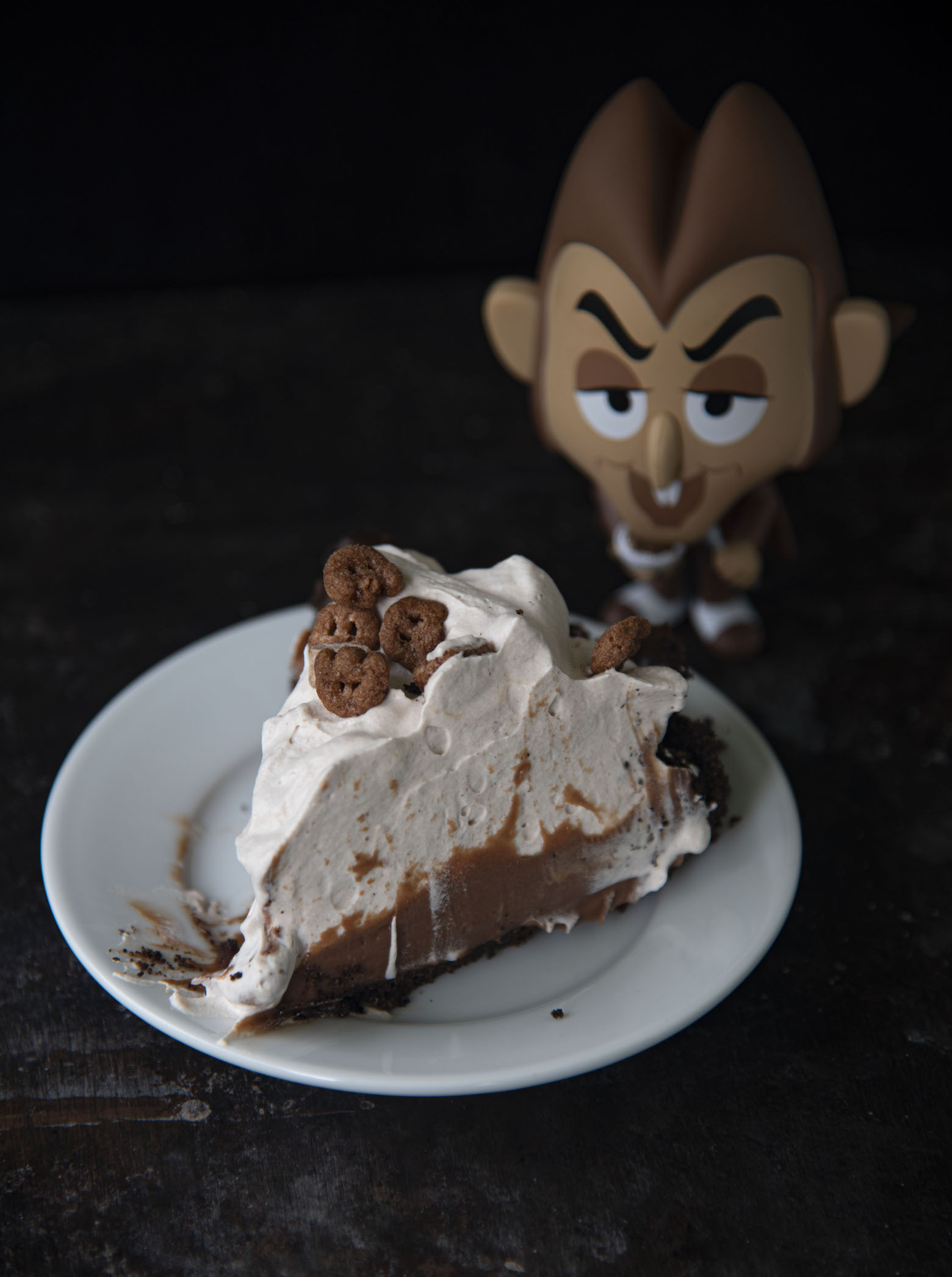 Then it's topped with a chocolate malted whipped cream.
I piled mine nice and high. Leslie Knope amount of whipped cream.
In the recipe I didn't have you make that much.
But if you like whipped cream as much as I do then double the recipe.
If you want to make it even easier you can just buy an Oreo cookie crust.
You won't get the Count Chocula in there but it does save a little time and energy.
Don't forget it's a great day to buy my cookbook.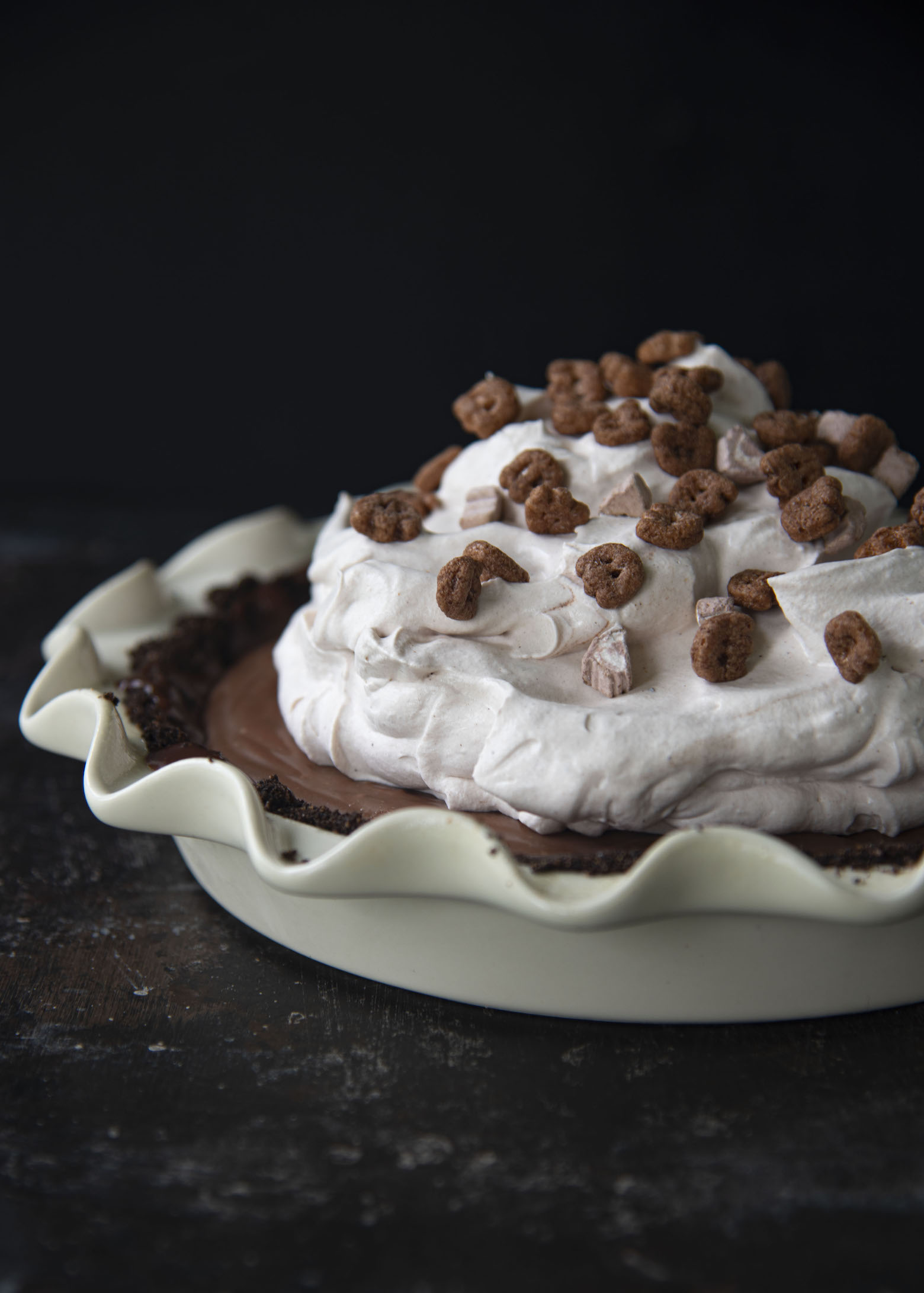 Take a look more spooky Halloween recipes from our #HalloweenTreatsWeek Bloggers today:
Halloween Cookies & Bars:
Halloween Breakfast:
Halloween Pies:
Sweet Halloween Treats: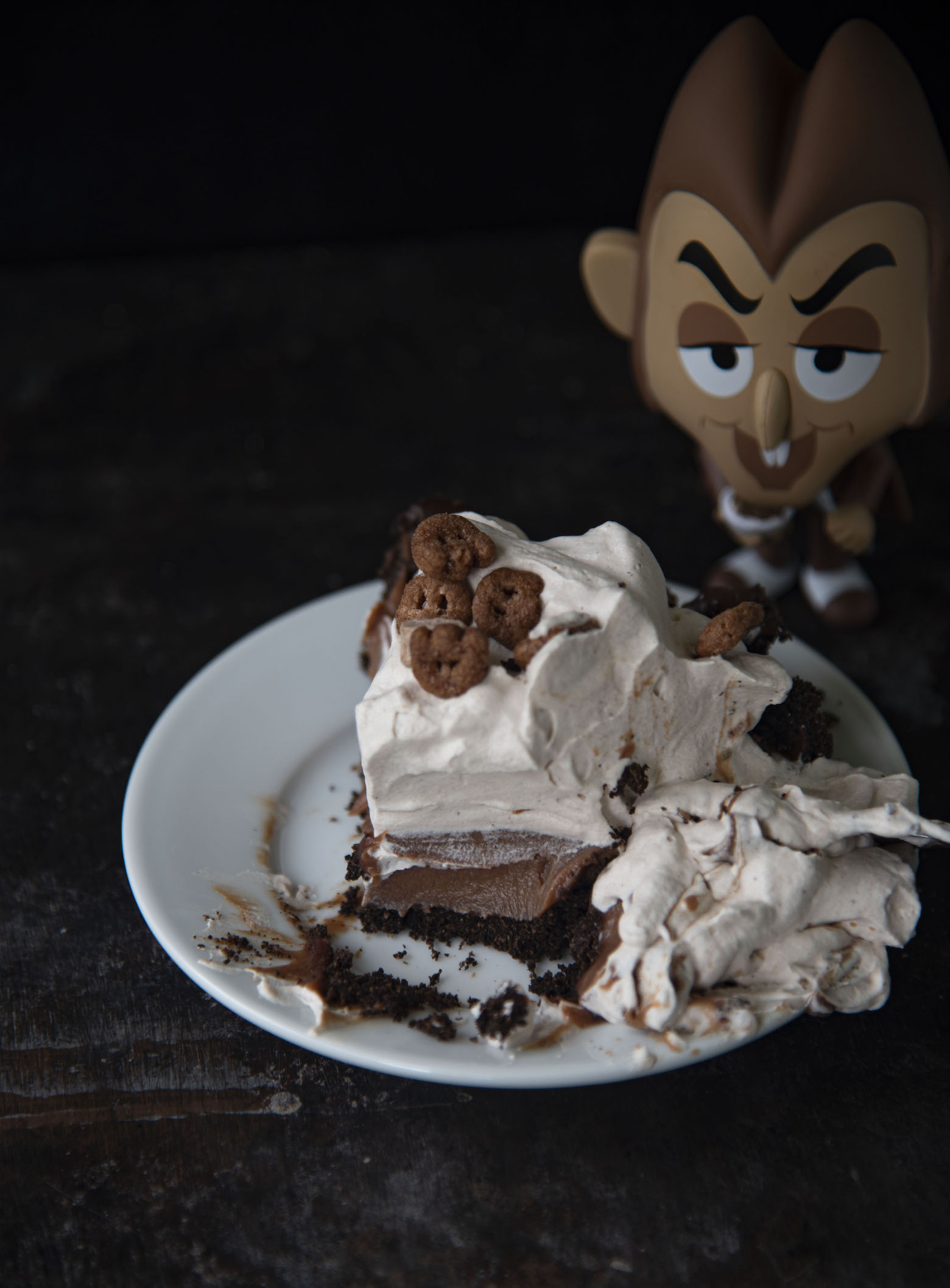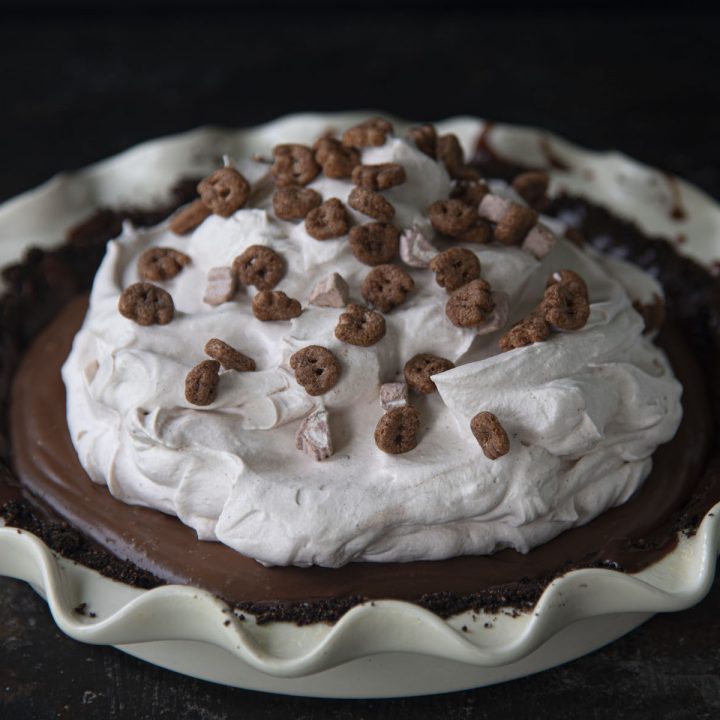 Count Chocula Cream Pie
Ingredients
For the Crust:
2 cups Oreo Cookies
1/2 cup Count Chocula Cereal
4 TBSP unsalted butter
For the Pastry Cream:
1 cup Count Chocula
1 cup whole milk
1/2 cup heavy cream
3 egg yolks
1/4 cup granulated sugar
1/8 cup corn starch
Pinch of salt
For the Chocolate Ganache:
8 oz milk chocolate chips
¾ cup heavy cream
2 TBSP unsalted butter
1 TBSP corn syrup
pinch of salt
For the Chocolate Malt Whipped Cream:
1 cup heavy cream
2 TBSP granulated sugar
1 TBSP unsweetened cocoa powder
1 TBSP malted milk powder
Instructions
For the Crust:
Add the Oreos and cereal to a food processor or blender and grind into fine crumbs.
Add the Oreo/cereal crumbs to a bowl and combined with the melted butter.
Pour the mixture into your greased pie pan and press into an even layer on the bottom and up the sides.
Refrigerate it for 30 minutes before adding your filling.
For the pastry cream:
Place 1 cup Count Chocula in 1 cup whole milk. Let sit overnight in fridge.
Remove the cereal from the milk.
Measure out 1/2 cup of the Count Chocula milk.
In a saucepan, combine 1/2 cup Count Chocula milk and heavy cream. Bring to a simmer.
In the bowl of a stand mixer fit with the whisk attachment, combine the egg yolks, sugar, corn starch, and salt. Whisk on high until light and fluffy.
Turn the mixer speed to medium and carefully pour the hot milk/cream mixture down the sides of the bowl into the egg yolk mixture. Whisk until fully combined.
Transfer the custard back to the saucepan, scraping the sides of the bowl to get all the cornstarch into the saucepan. Whisk over medium/low heat until the mixture thickens, to the consistency of mayo.
Transfer to a large bowl. Cover with plastic wrap, making sure that the wrap touches the surface of the cream to keep a skin from forming. Refrigerate until cold, about 2 hours.
To make the Chocolate Ganache:
Place the milk chocolate and pinch of salt in a medium sized heat safe bowl and set aside.
Combine the butter, corn syrup, and cream in a saucepan over medium-high heat and bring the mixture to a simmer.
Pour the cream mixture over the chocolate and allow to sit for about a minute.
Whisk until the mixture is smooth.
Cover with plastic wrap and have it come to room temperature.
To assemble the pie:
Spoon ¼ cup of the Chocolate Ganache into the crust and spread it evenly along the bottom and sides of the pie crust.
Chill in freezer for 15 minutes.
Stir 1 cup Chocolate Ganache into the pastry cream and whisk until mixture is smooth.
Pour into the prepared ganache lined pie shell and spread it into an even layer.
Chill the pie until it is set, about 2 hours.
For the Chocolate Malt Whipped Cream:
Place the sugar into a mixing bowl and add the whipping cream.
Whisk just until the cream reaches stiff peaks.
Add the unsweetened cocoa powder and the malted milk powder and whip until fully combined.
Place whipped cream on top of cream pie and add extra Count Chocula for garnish if desired.