This Count Chocula Hot Chocolate is made using chocolate milk that has been soaked in Count Chocula cereal as well as some added chocolate.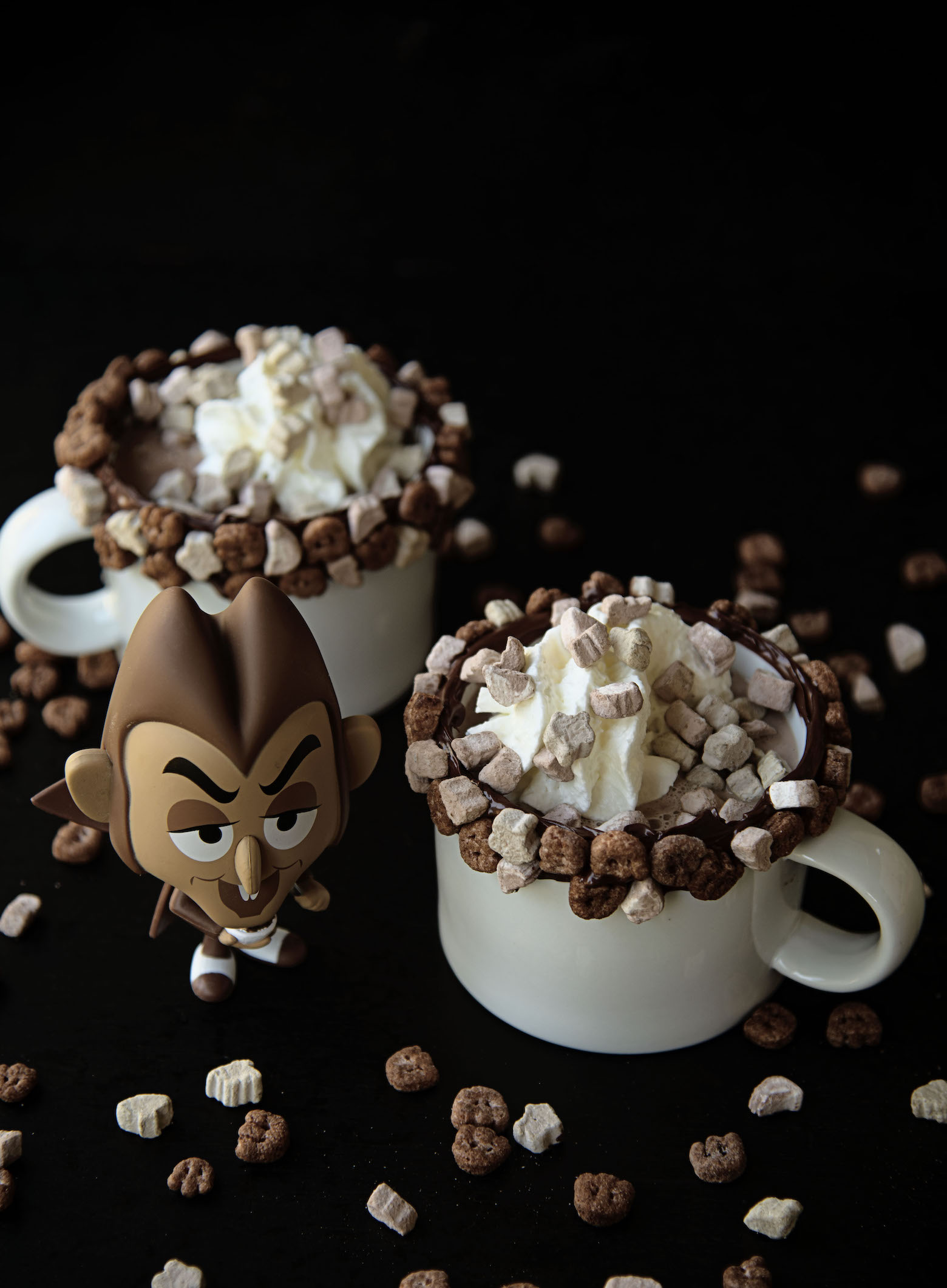 This Count Chocula Hot Chocolate combines two of my favorite things in to one yummy hot beverage.
Every year for Halloween Treats Week I make sure to include a recipe using one of the monster cereals…usually either Count Chocula or Franken Berry.
Growing up I loved Count Chocula and it was basically my favorite part of Halloween…well, that and free candy.
I decided I should make it into hot chocolate so I did.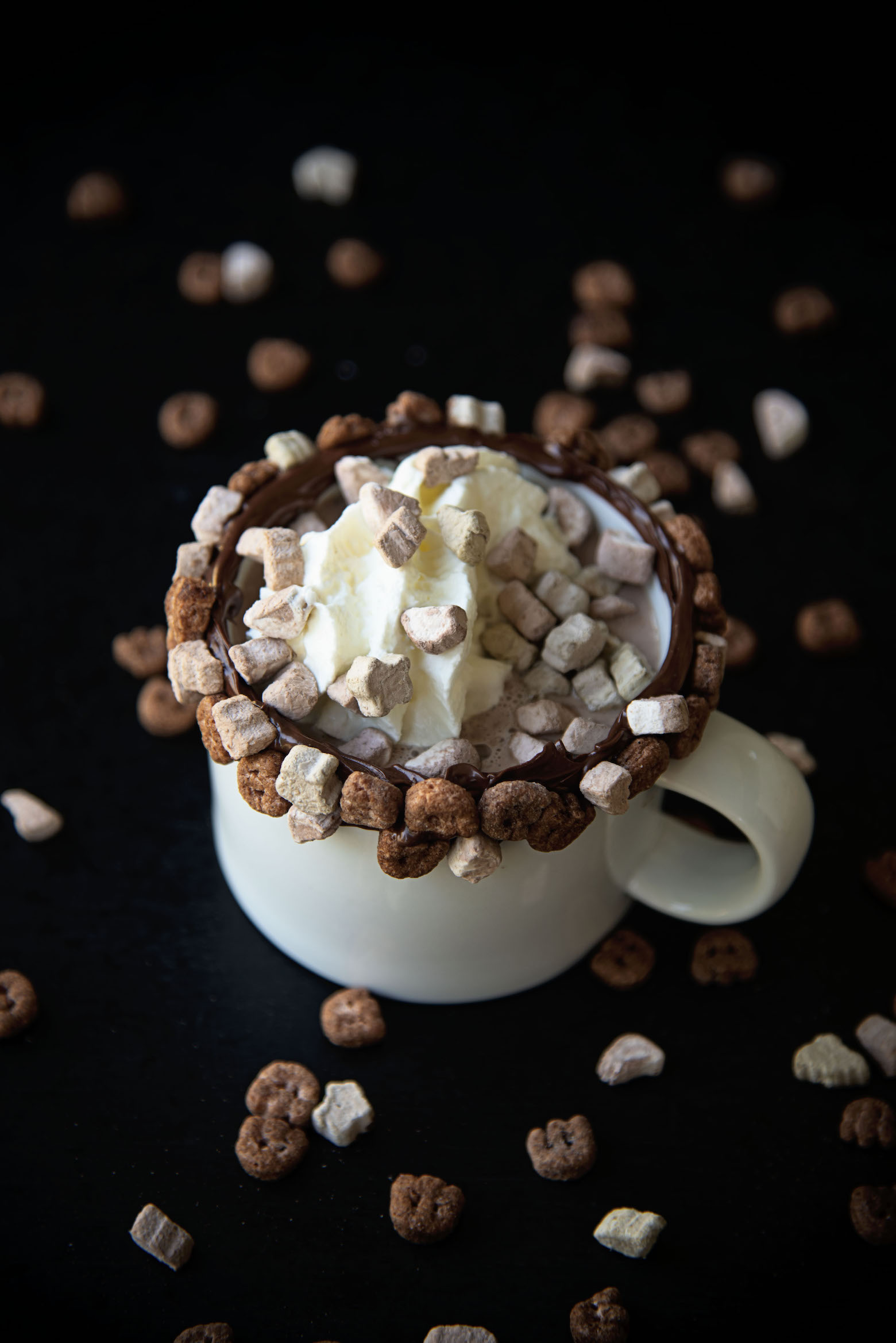 You just need four ingredients:
Chocolate Milk
Count Chocula Cereal
Milk Chocolate
Vanilla Extract
Can I just use cocoa mix?
If you want to make things even easier you can use hot chocolate mix.
You would simply make the chocolate cereal milk and then replace that for the water the packet of cocoa calls for.
Do I have to use chocolate milk?
You do not.
However, this helps give the hot chocolate even more chocolate flavor.
You can use regular milk.
If you do I would add another 4 oz of finely chopped milk chocolate to the mix.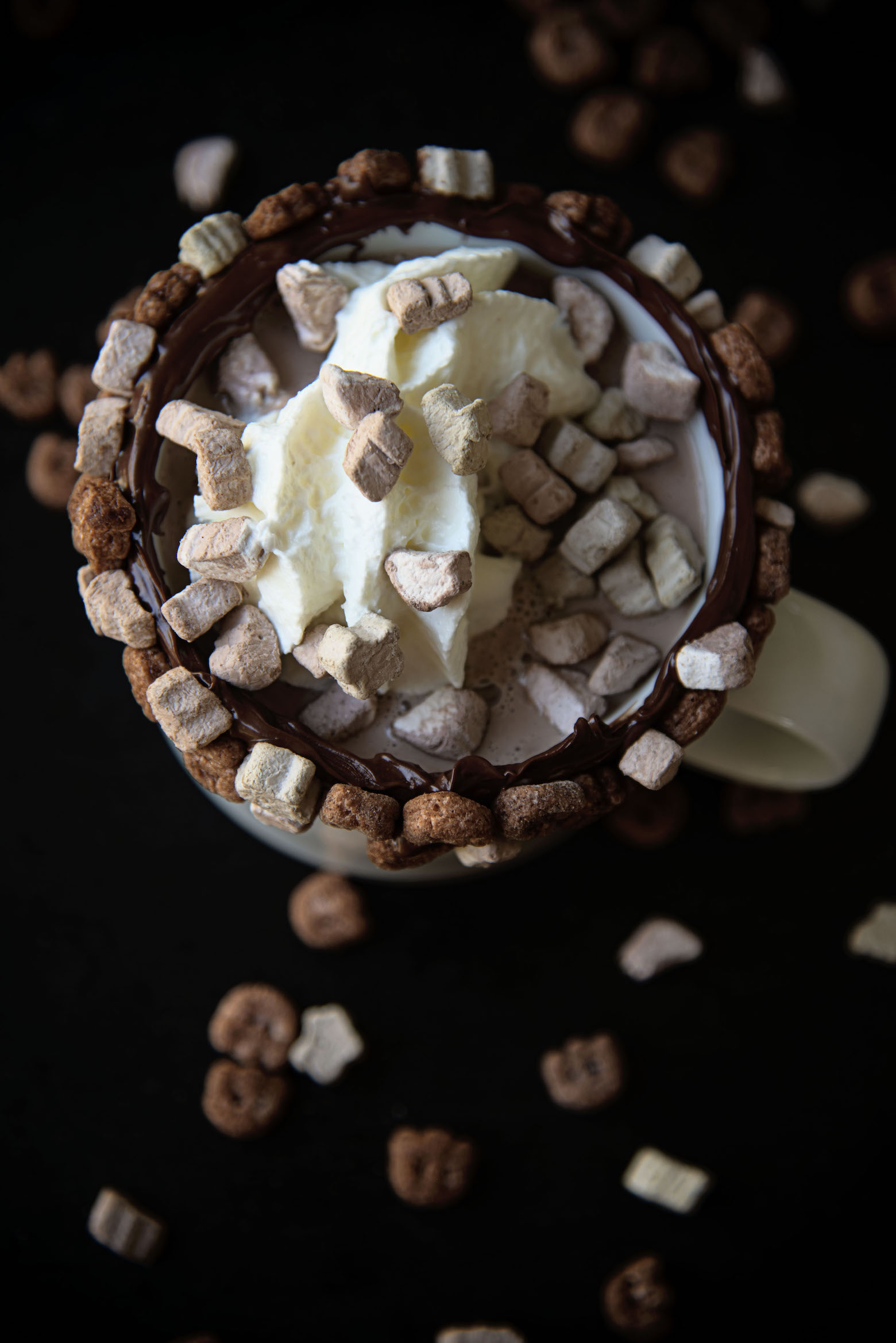 If you want to have your mugs look like mine simply melt some chocolate and spread it around the outer rim with a butter knife.
Then adhere pieces of cereal to the outside.
Add some whipped cream.
And throw on some extra Count Chocula marshmallows.
Enjoy!
P.S. It's a great day to buy my cookbook.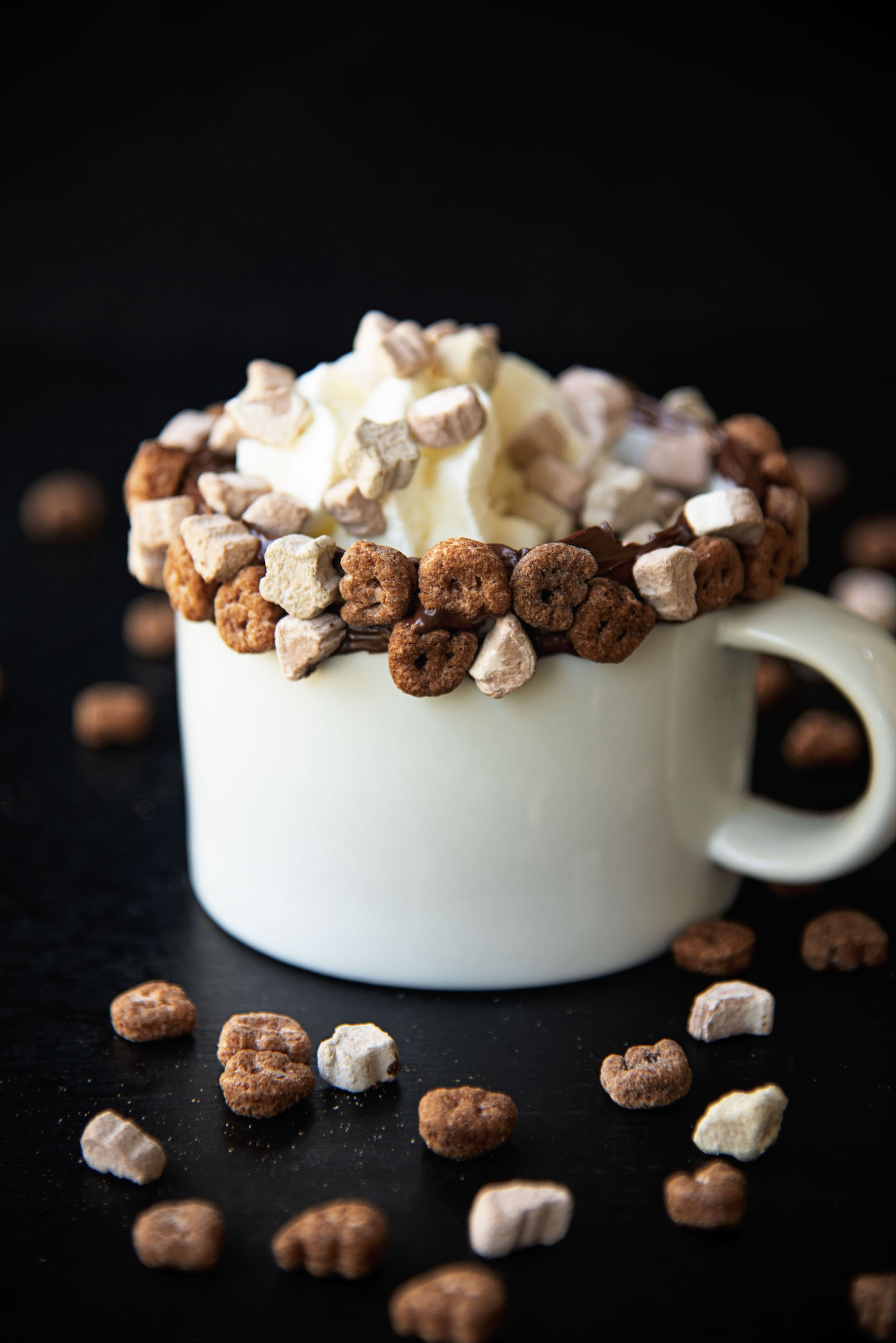 Want More Hot Chocolate Recipes?
Circus Animal Cookie Hot Chocolate
Spiked Stroopwafel Hot Chocolate
Hot Fudge Sundae Hot Chocolate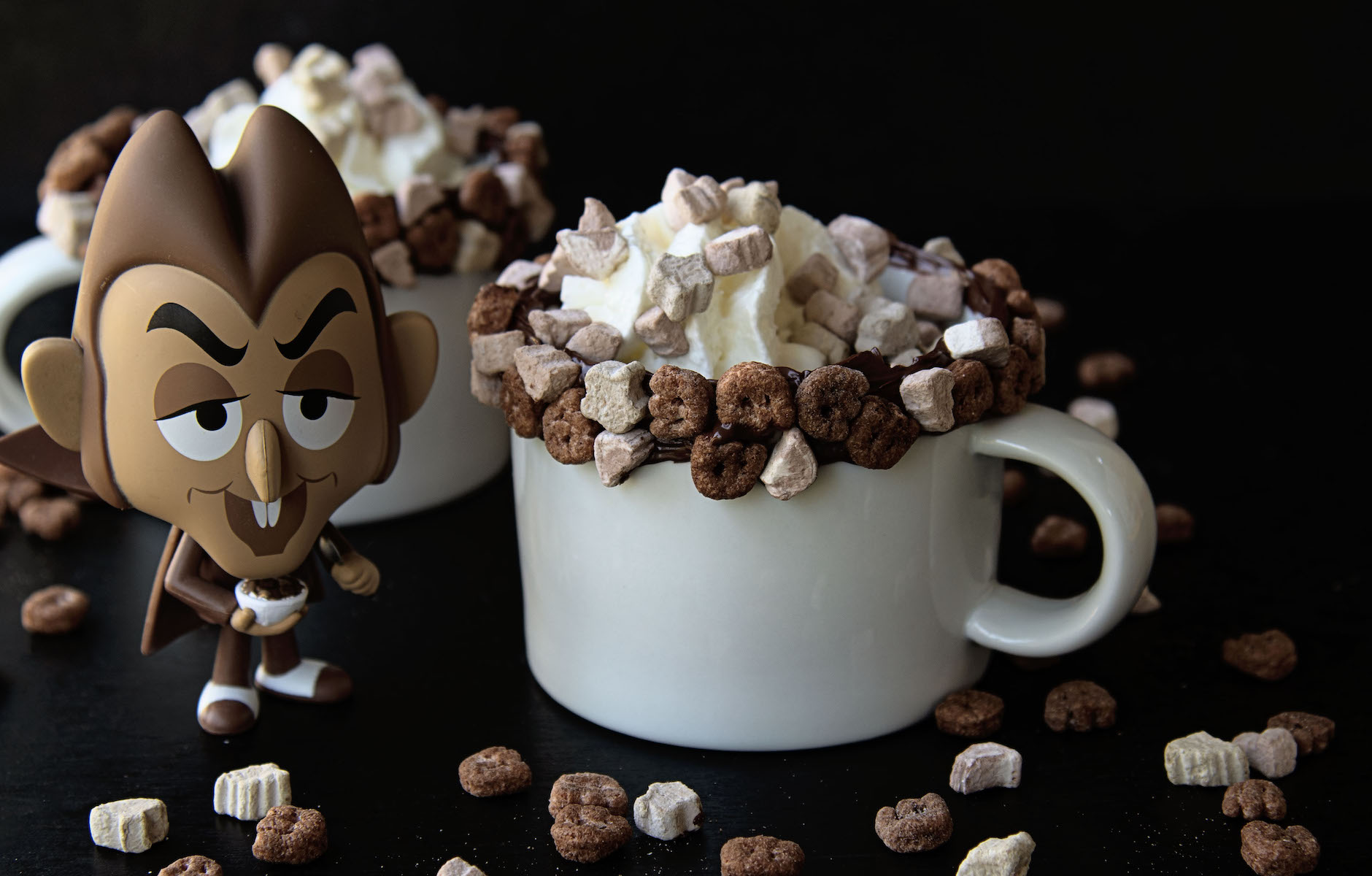 Count Chocula Hot Chocolate
Ingredients
For the Cereal Milk:
5 cups chocolate milk, full fat preferable
2 1/2 cups Count Chocula Cereal
For the Hot Chocolate:
4 cups Count Chocula Chocolate Milk
½ tsp. vanilla extract
8 oz. milk chocolate, finely chopped
whipped cream for garnish
Instructions
To make the Count Chocula Cereal Chocolate Milk:
Pour chocolate milk into a large saucepan.
Add cereal to milk.
Heat milk until it just starts to boil.
Remove from heat.
Steep the cereal for 25 to 35 minutes.
Strain the milk into a bowl.
Press on the cereal in the strainer with a large wooden spoon to squeeze out the milk from the cereal.
For the hot chocolate:
In a medium sauce pan over medium low heat, add Count Chocula chocolate milk, vanilla and chopped milk chocolate.
Cook hot chocolate stirring occasionally, until the hot chocolate comes to a simmer but not a boil.
Remove from heat and serve immediately and whisk to make sure the chocolate is fully incorporated into the cereal milk. If it's not put it back on the stovetop and heat some more.
Top with whipped cream and cereal if desired.

HAPPY HALLOWEEN!!!
Welcome to 2022's #HalloweenTreatsWeek event!
#HalloweenTreatsWeek is a yearly Halloween blogging event that is hosted by Angie from Big Bear's Wife . This event is an online, week-long event that is filled with some amazingly wicked Halloween treats and recipes from some fantastic Halloween loving bloggers!
For this years 5th annual #HalloweenTreatsWeek event we have 20 hauntingly talented bloggers that are sharing their favorite Halloween recipes throughout the week! You can following the hashtag #HalloweenTreatsWeek on social media to collect all of these frightful recipes to use at your own Halloween parties and events!
Check out all of these great #HalloweenTreatsWeek recipes for today