These Candy Corn Pudding Shots are made with vanilla instant pudding, candy corn infused milk, Cool Whip, and vanilla vodka.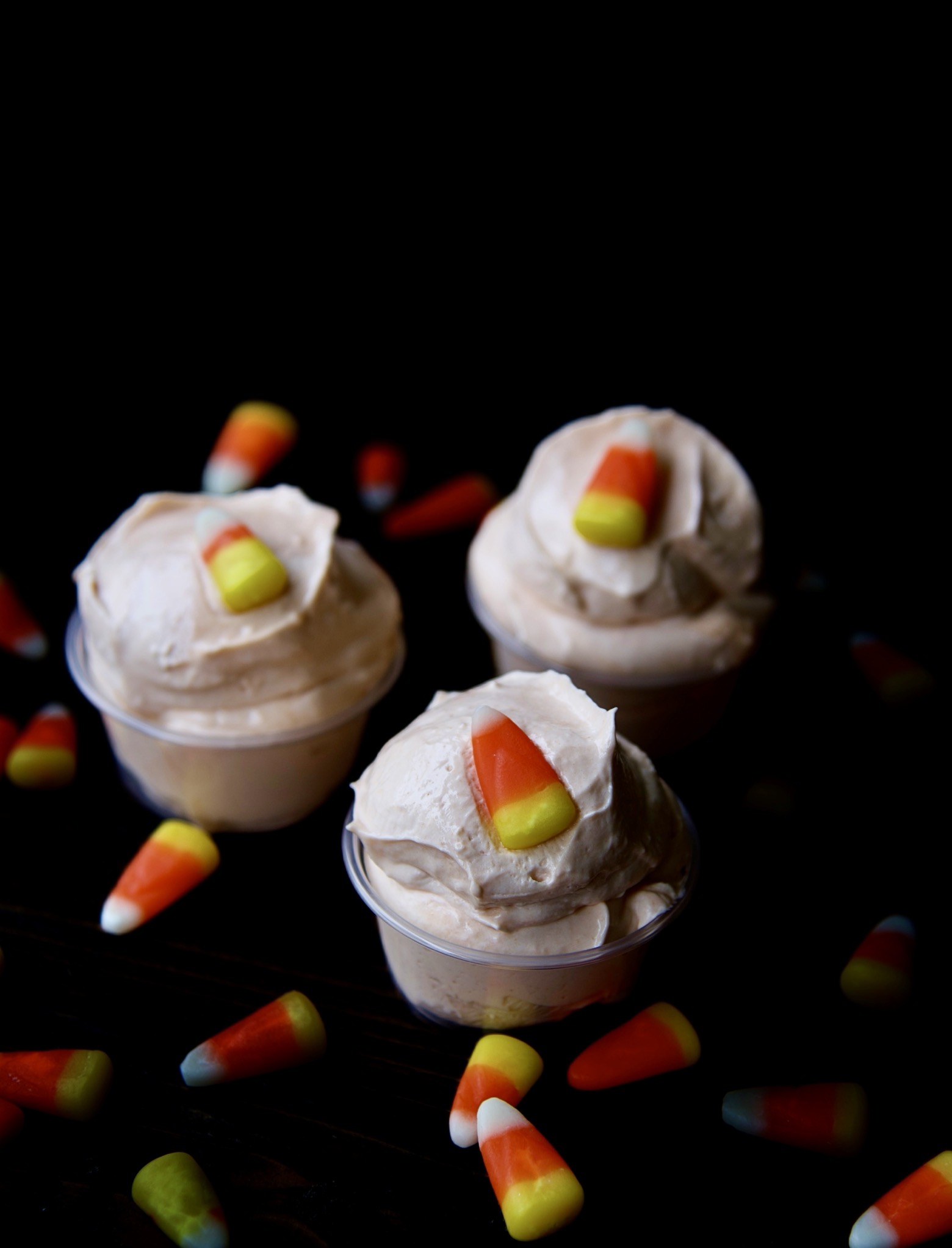 If you love candy corn you will love my Candy Corn Pudding Shots.
What makes them extra good is that you get the flavor of candy corn but it's not overwhelming.
You know what I'm talking about.
Candy corn, as much as I love it, can be a little too sweet.
Which is why I love infusing it into baked goods or cocktails or ice cream.
You get all the flavor and none of the over-sweetness.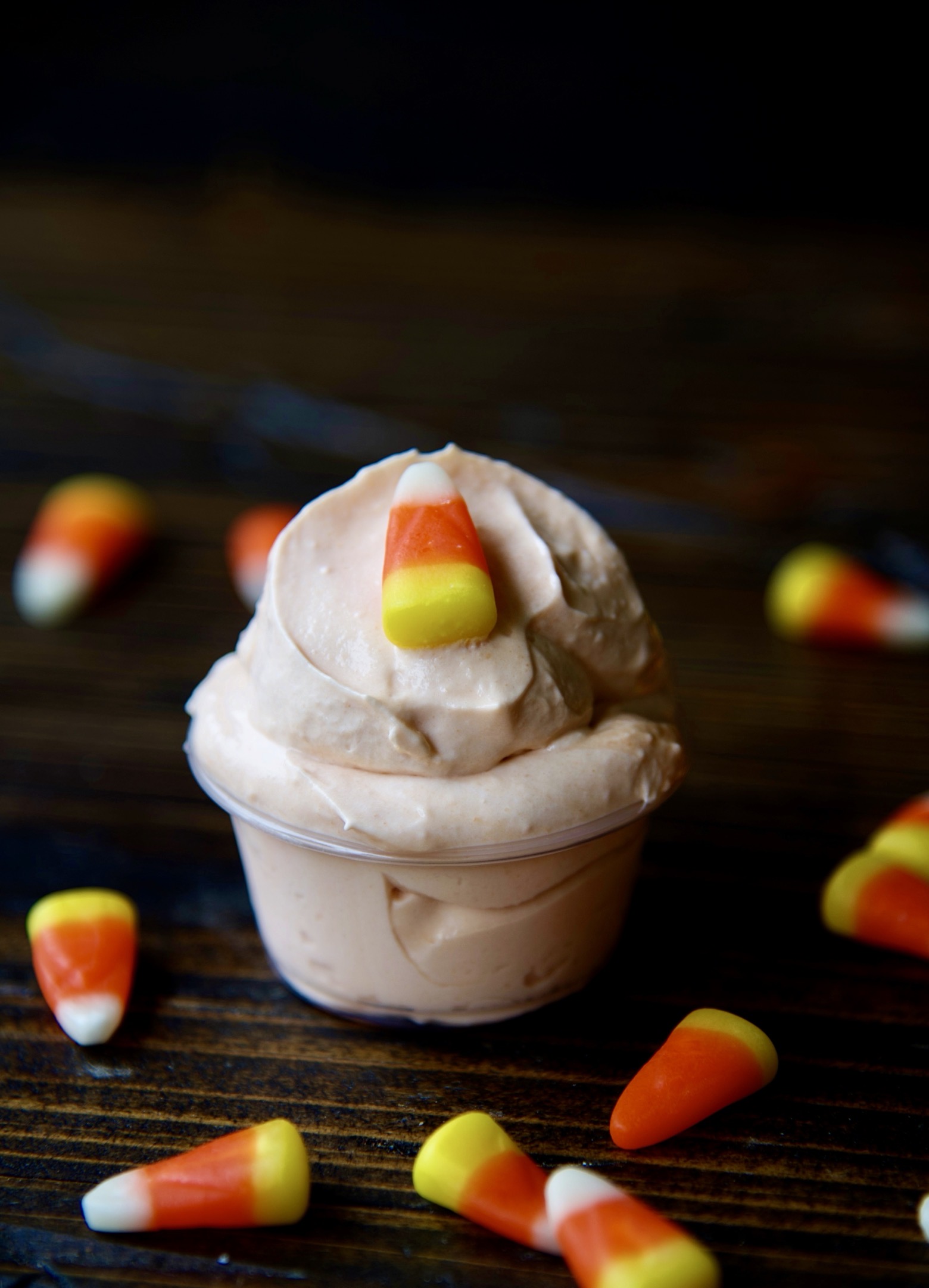 Ingredient Highlights:
Sonic Vanilla Shake Instant Pudding: Can you use just plain vanilla pudding? Technically, yes. But the vanilla shake pudding that they make is just perfect for this.
Candy Corn: If you are here for the recipe, I'm assuming you or someone you know likes candy corn. What is great about infusing milk with candy corn is that you get the flavor of candy corn but without the sickly sweet candy.
Milk: You need to use whole milk for this recipe. The pudding needs to be extra creamy and skim or 2% just won't do it.
Vanilla Vodka: Any vanilla vodka will do. I wouldn't use the good stuff for pudding shots. But that's up to you. If you want you can use a whipped cream flavored vodka or plain vodka as well.
Cool Whip: People groan at this usually. But Cool Whip is what works best. I have tried making pudding shots with real whipped cream and they just don't work out.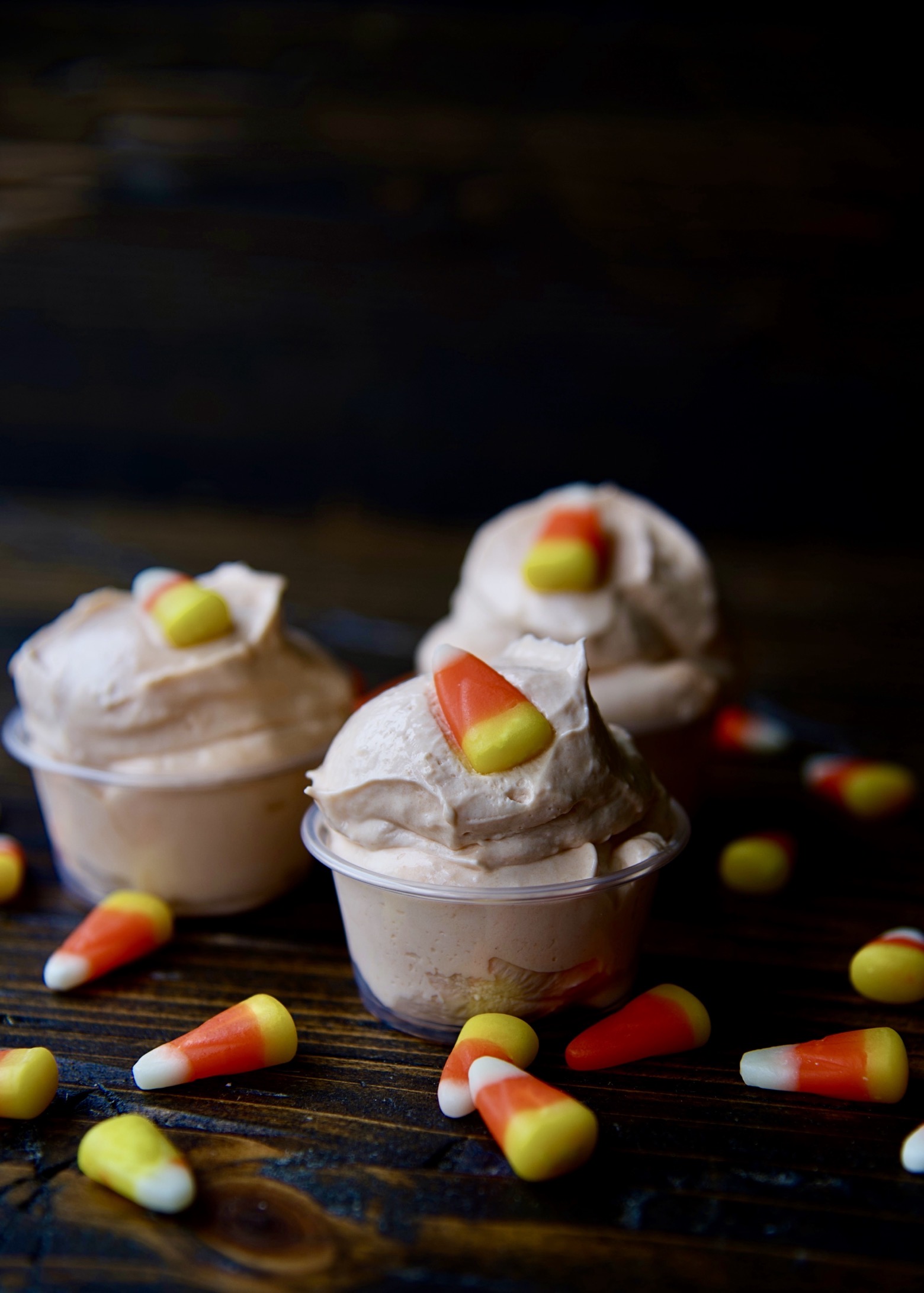 Tips For Making Pudding Shots:
Remember when using any alcohol that is more than 80 proof can make your pudding shots runny. Most vodkas run at 80 proof and that is usually the highest alcohol content booze I use so you should be fine. But always good to check.
Don't skip the Cool Whip.
Many people ask can they use whipped cream instead.
Yes, you can.
However, make sure that you do not use the kind out of a can. That will not hold up.
I've always made mine with Cool Whip just because I feel it holds it shape better in pudding shots.
Be sure to chill them for at least 30 minutes.
While I say to chill them for at least 30 minutes I usually end up chilling them for much longer.
Often I make up the pudding the night before and place it into an airtight container and then scoop the day of the party.
Saves time on the day of the party.

P.S. It's a great day to buy my cookbook Holy Sweet!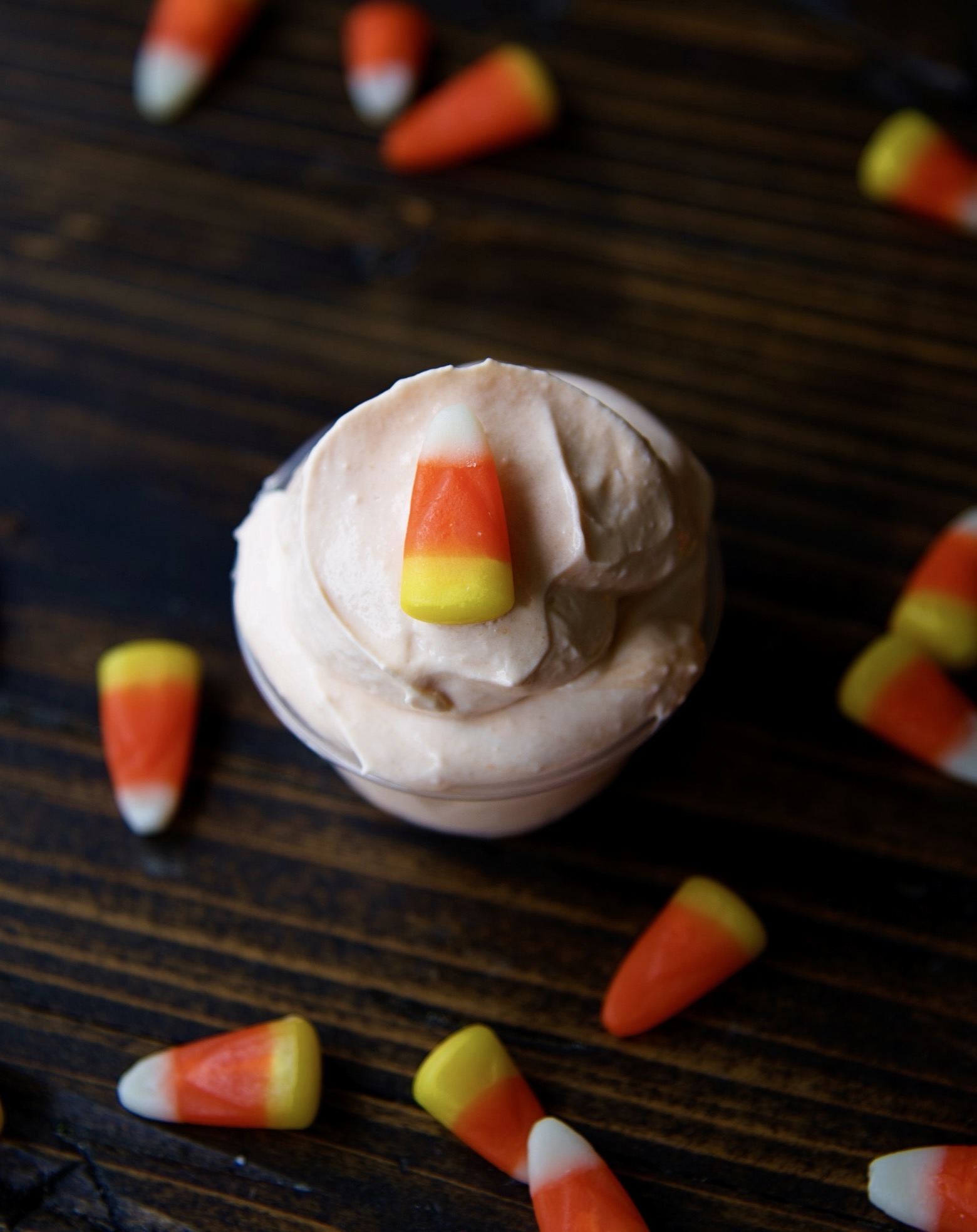 HAPPY HALLOWEEN!!!
Welcome to 2023's #HalloweenTreatsWeek event!
If you're new here, Welcome! If you're a returning haunt, welcome back!
#HalloweenTreatsWeek is a yearly Halloween blogging event that is hosted by Angie from Big Bear's Wife . You'll find that this fun and spooky event is an online, week-long event that is filled with some frightfully fun Halloween treats and recipes from some fantastic Halloween loving bloggers!
For this years 6th annual #HalloweenTreatsWeek event we have 18 hauntingly talented bloggers that are sharing their favorite Halloween recipes throughout the week! You can following the hashtag #HalloweenTreatsWeek on social media to collect all of these frightful recipes to use at your own Halloween parties and events!
Make Sure to check out all of the fun Halloween recipes that we're sharing this week!
Today's Halloween Offerings: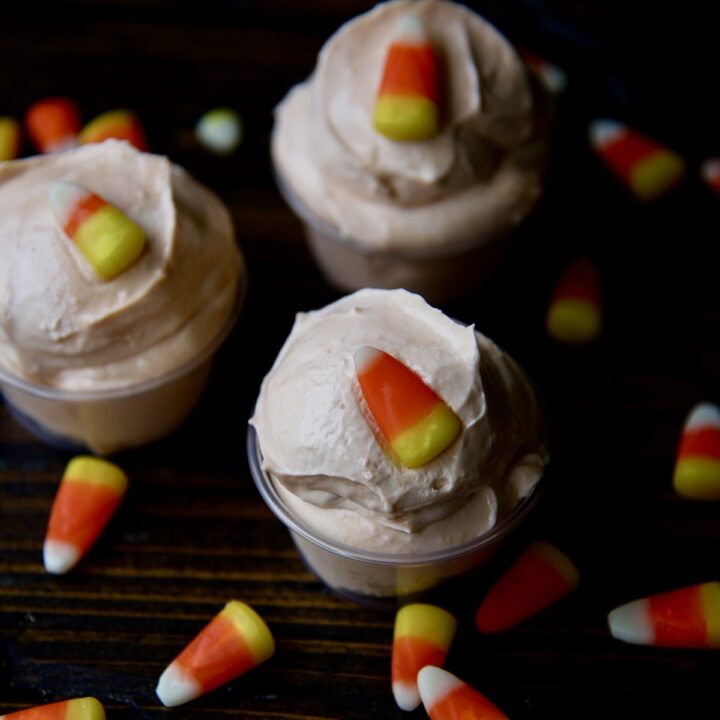 Candy Corn Pudding Shots
Ingredients
For the Candy Corn Infused Milk:
2 cups whole milk
2 cups candy corn
For the Pudding Shots:
3.4 oz Sonic Instant Vanilla Shake Pudding
1 1/2 cups candy corn infused whole milk
1/2 cup vanilla vodka
8 oz Cool Whip (thawed)
candy corn for garnish
Instructions
For the Infused Candy Corn Milk:
Using a medium saucepan heat the milk and the candy corn together.
Bring to a boil and then take off of heat.
The candy corn should dissolve.
If the candy corn does not dissolve place over heat and stir until it does. Set aside.
Place in fridge to chill for at least 3 hours.
For the Pudding Shots:
In a large mixing bowl, whisk together the pudding mix, candy corn infused milk, and vodka.
Whisk together until it starts to get thick, about 3 minutes.
Fold in the thawed Cool Whip.
Then whisk until smooth.
Cover the bowl with plastic wrap and place in fridge for at least 30 minutes.
Evenly divide the pudding between shot cups.
Scoop two small ice cream scoops into the shot cups.
Top with candy corn for garnish.