Toasted Marshmallow No Bake Cheesecake: Genius creation involving a crust made of Rice Krispie Treats that is filled with a vanilla bean toasted marshmallow no bake cheesecake.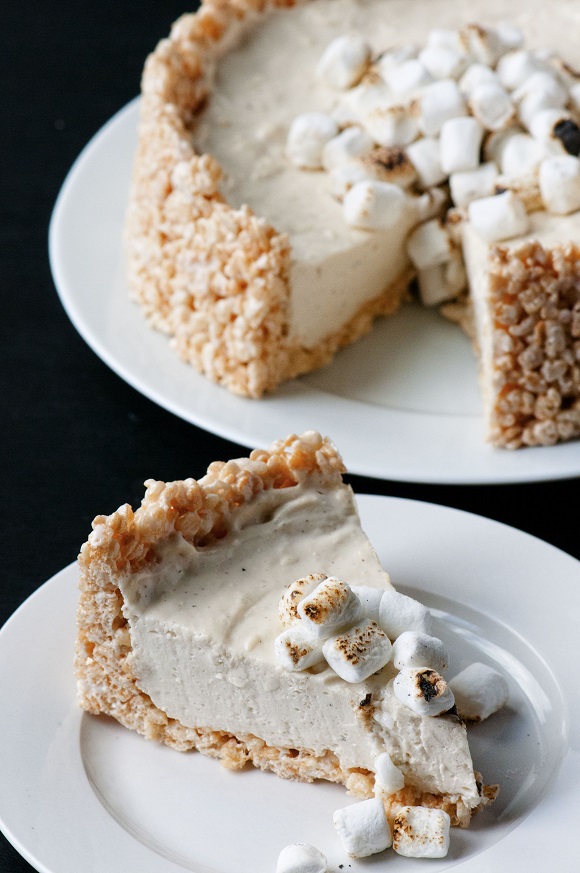 Yes that is Rice Krispie Treats as a crust for cheesecake which you totally need in your life.
You are correct in saying I am evil and awesome all at the same time.
I've been pretty creative as of late.
One thing that sucks about being creative though is that I think of these recipes and then Google them.
Hoping someone has as warped a mind as me so I don't have to type out the recipe but sadly I am left to figure it all out.
Blogger confession time: I hate typing out the recipe.
I would probably blog ten times more I kid you not if I didn't have to type out the recipe. #lazy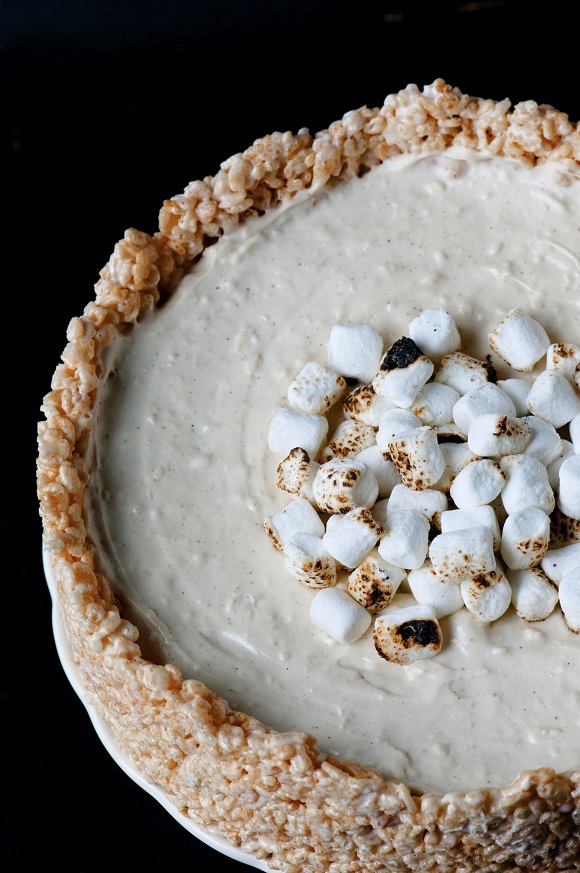 I've been wanting to make this for quite a while.
Not totally sure why I haven't…oh yeah, that lazy thing.
This is a great dessert for when you don't want to turn on the oven.
And it's fairly easy to make.
The hardest part is just forming the crust and that's not really that hard.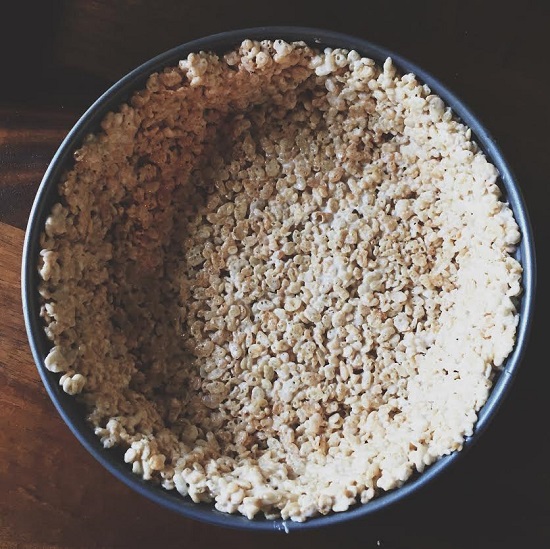 I wanted to do a giveaway of all things Rodelle vanilla and decided this would be the recipe to highlight some of the ways to use the different forms of vanilla.
As most of you know I have been a Rodelle ambassador for quite some time.
It's not something I am paid for (well I do get product when needed) but I gladly promote because I love their products.
I first learned of them when I discovered they were the ones at Christmas time at my Costco selling vanilla beans, which I would stock up and hoard because it was such a good deal.
Today you have a chance to get your hands on a few of the Rodelle vanilla products yourself to get your Spring baking on.
All you need to do is leave a comment telling me what your favorite vanilla dessert is.
Only one entry per person.
You must live in the US. You have until April 23rd 2015 8pm PST to enter.
Please note giveaway has ended.
It's a great day to order my cookbook.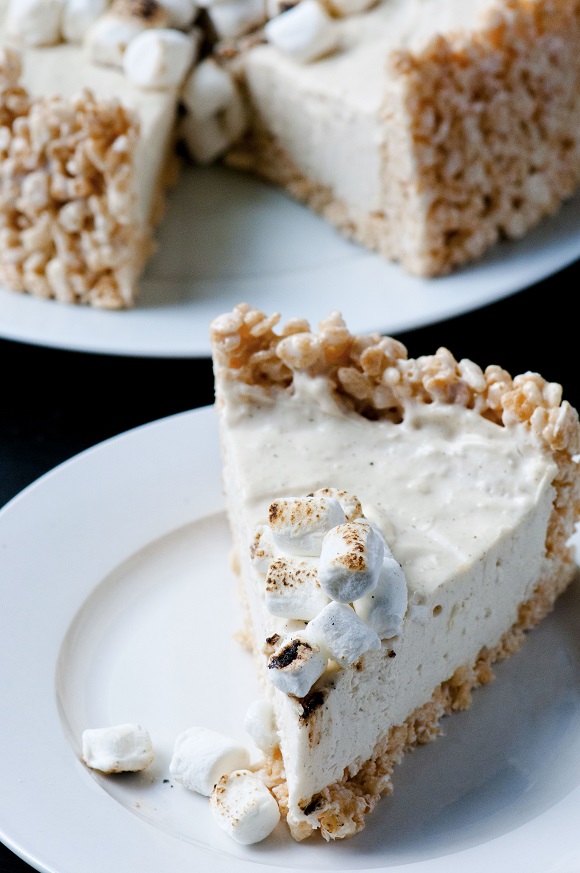 Want more recipes like this?
Fireball Sour Cream Topped Brown Sugar Cheesecake
Vanilla Bean Rice Krispie Treat Cupcake
Strawberry Malted Milk No Bake Cheesecake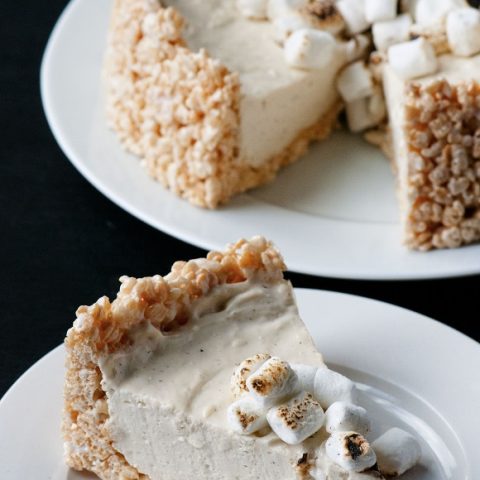 Toasted Marshmallow No Bake Cheesecake
Ingredients
Rice Krispie Treat Crust:
3 TBSP unsalted butter
½ tsp. vanilla extract (I used Rodelle)
6 cups Rice Krispies Cereal
10 oz. mini marshmallows
Vanilla Bean Toasted Marshmallow Cheesecake:
1 envelope unflavored gelatin
¼ cup granulated sugar
1 cup boiling water
16 oz. cream cheese, at room temperature
3 oz. marshmallow fluff
4 oz. mini marshmallows, toasted
1 vanilla bean (I used Rodelle), cut, seeds removed, pod discarded
½ tsp. vanilla bean paste or extract (I used Rodelle)
Instructions
For the Rice Krispie Crust:
Spray a 10-inch spring form pan with baking spray. Set aside.
Melt the butter over low heat in a large heavy bottom pot, I used my Le Creuset.
Add marshmallows and stir until completely melted.
Remove from heat and add vanilla and mix until incorporated.
Add the cereal and mix until well coated.
Form the rice krispie treats into the spring form pan, starting with the bottom and then the sides. You might have a little left over…just eat it.
For the cheesecake:
Mix the sugar and gelatin in a small bowl.
Add boiling water and let sit for 5 minutes while gelatin dissolves.
Using a stand mixer with a paddle attachment beat the cream cheese, vanilla bean, and vanilla bean paste until soft and creamy.
Add the marshmallow fluff and the toasted marshmallows and beat until fully incorporated. You will have lumps from the toasted marshmallows, that's okay.
Gradually add the gelatin mixture. It's going to look like soup at the end…don't panic.
When all the gelatin is fully incorporated transfer mixture in the bowl to the fridge and let chill for 45 minutes.
Remove from fridge and mix vigorously to get smooth again. It should have thickened up.
Pour into prepared Rice Krispie Treat Crust and smooth evenly with spatula. You can top with more toasted marshmallows for garnish if you want.
Put back in fridge for at least 4 hours to fully set up.