These Franken Berry Jelly Shots are made with a Franken Berry infused vodka, strawberry gelatin, malted milk powder, and some cream soda.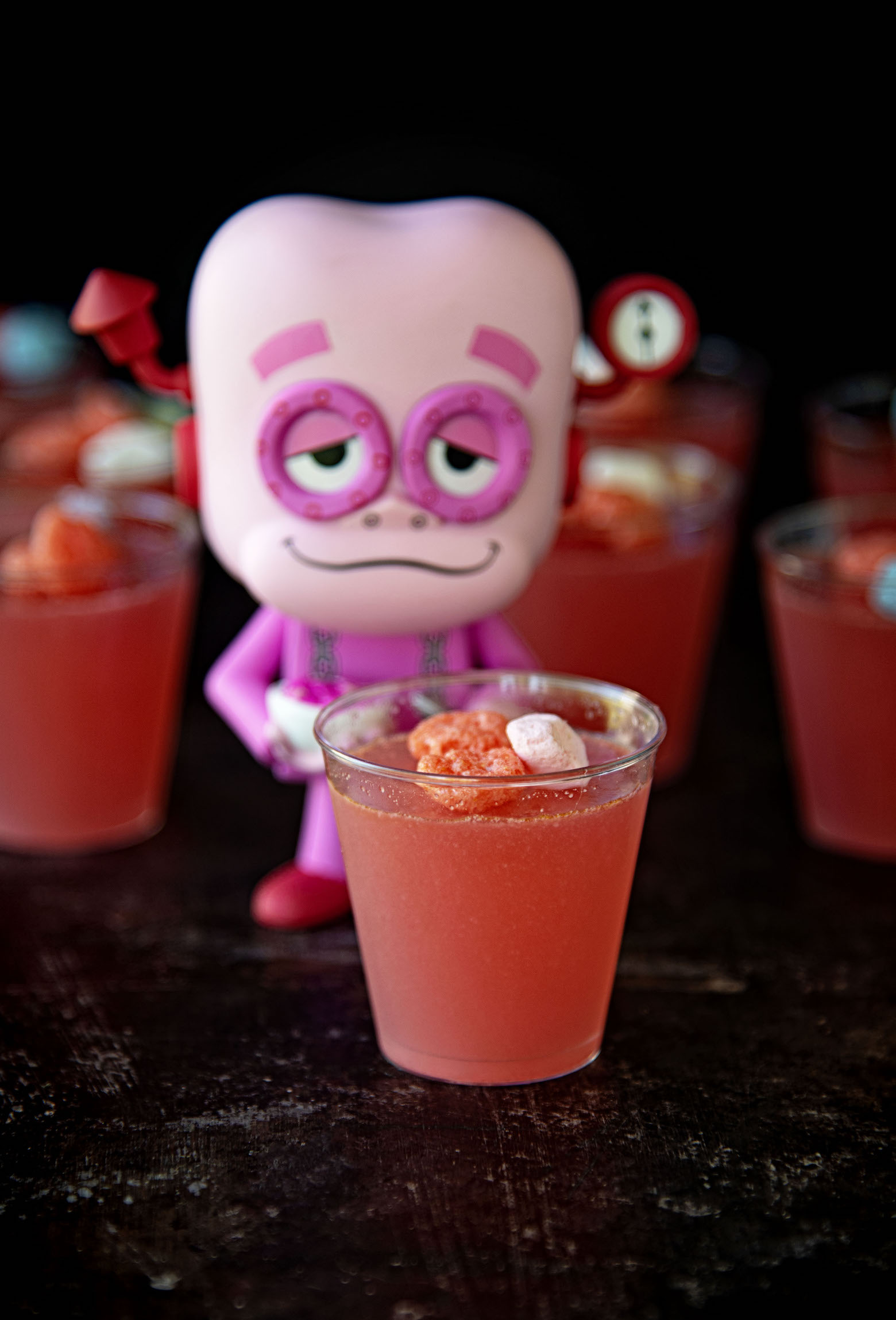 This post is not endorsed or sponsored by Franken Berry Cereal or General Mills in any way.
"This post and recipe was created for #HalloweenTreatsWeek!
I was sent samples by some of the sponsor companies but as always opinions are 100% mine."
This recipe is for adults 21 and older and does contain alcohol.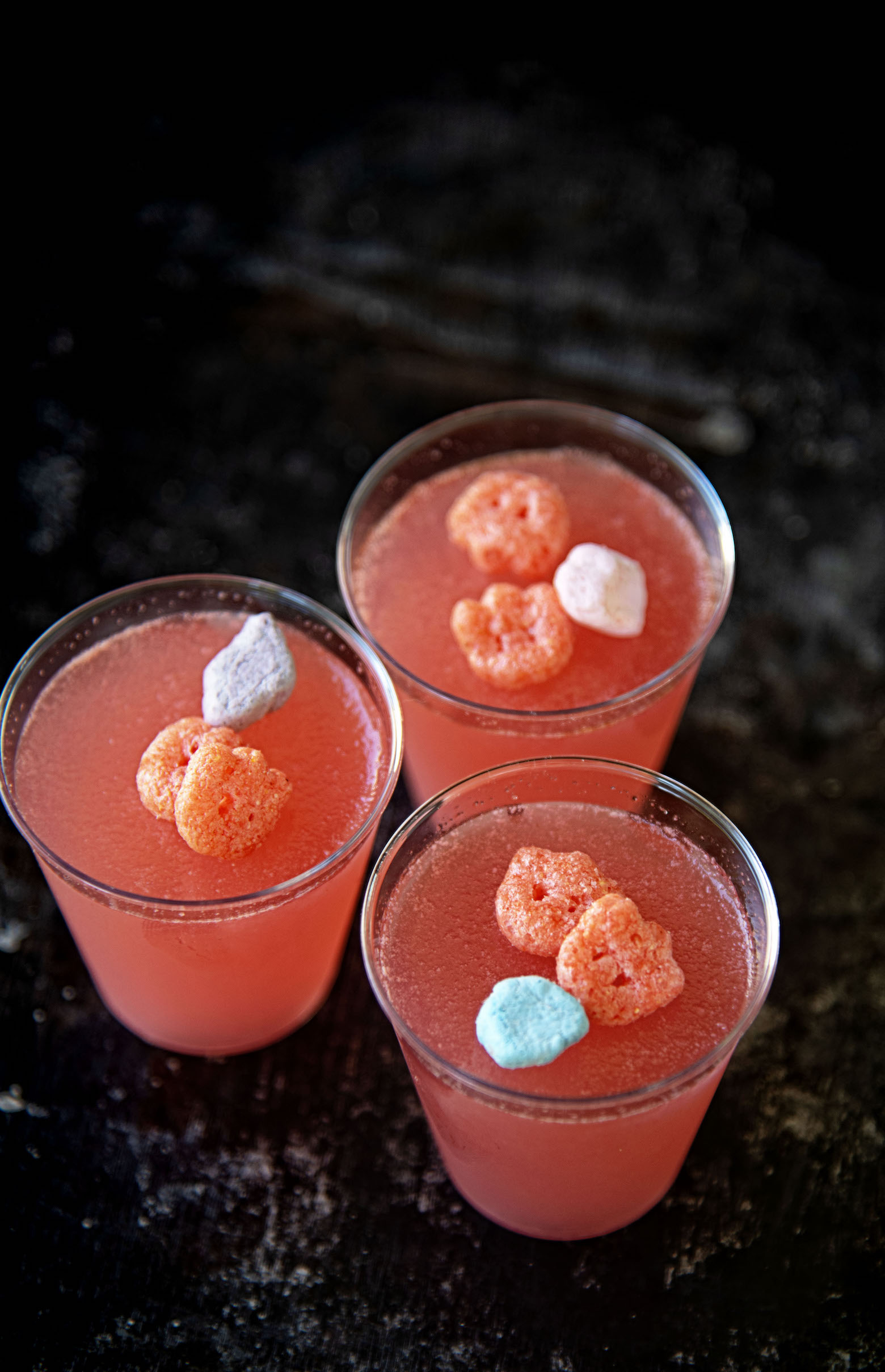 It's Tipsy Tuesday but it's also Halloween Treats Week.
So I did what any normal person would do.
I made Jelly Shots out of children's cereal. 😀
While I am more a Count Chocula girl that doesn't make for that great of a Jelly Shot.
Though it makes for a nice pie…that recipe will be coming on Saturday to round out Halloween Treats Week.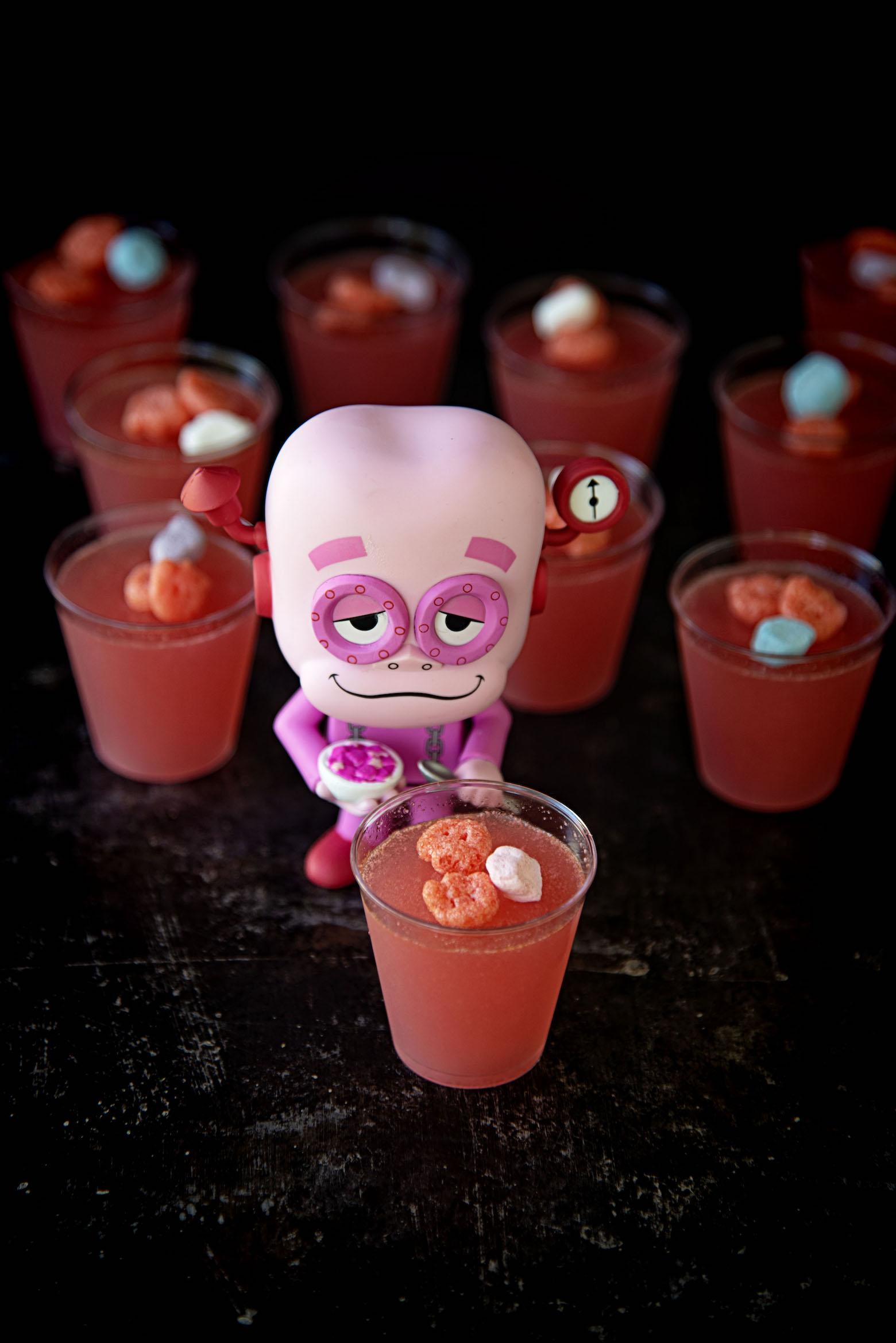 That left me with Boo Berry or Franken Berry.
If you have been to my site during Halloween Treats Week previously then you know I prefer Franken Berry big time.
Also, you can clearly see that from the photos. 🙂 Last year I made Franken Berry Hand Pies.
And I made a cake using both Franken Berry and Count Chocula.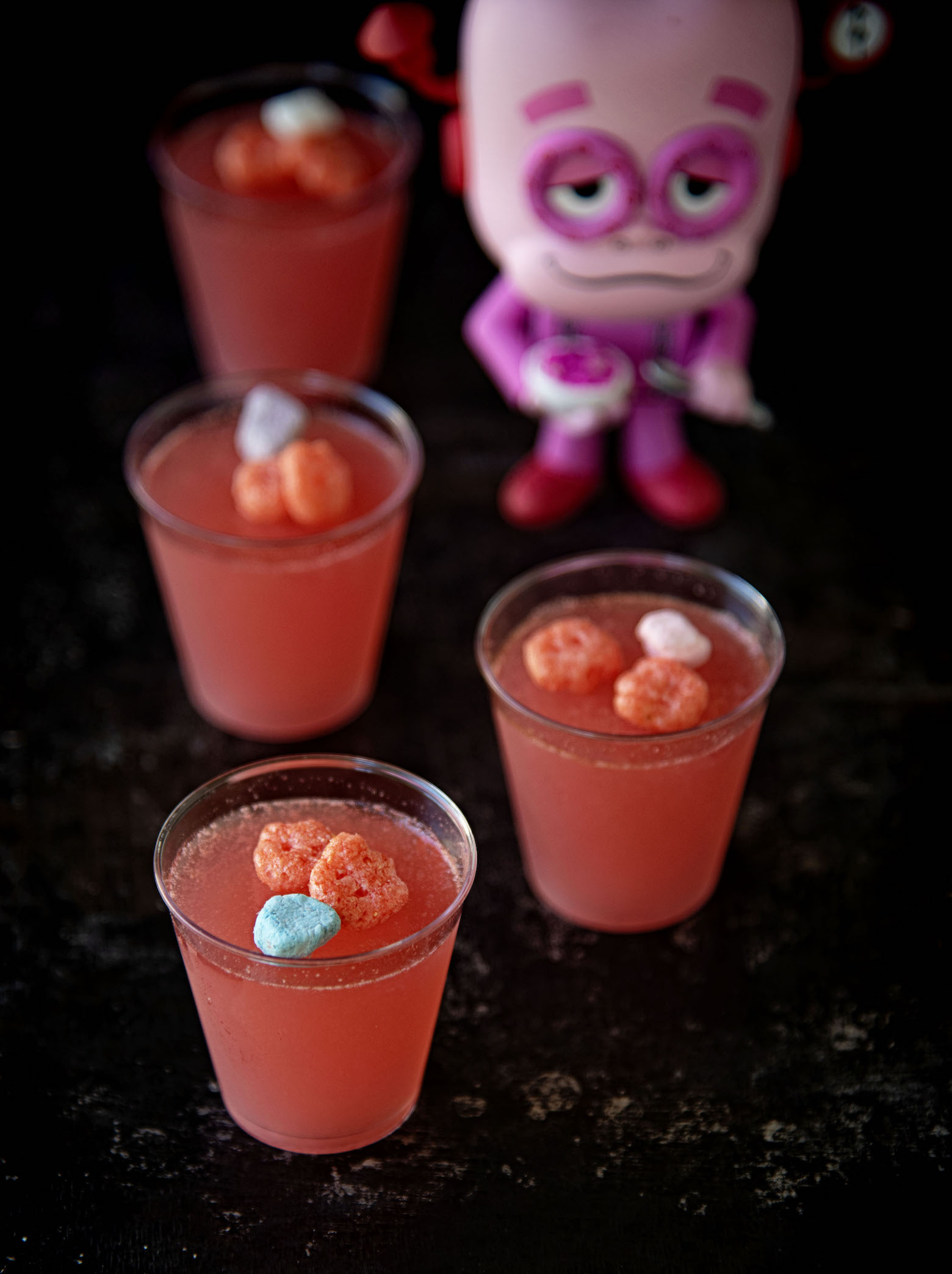 These Franken Berry Jelly Shots require you to infuse the vodka with the Franken Berry Cereal.
Ideally you want to do that for at least 24 hours.
Since we can't heat the vodka to infuse the cereal we have to do it this way.
I added malted milk powder to the mix because I feel the cereal has a malted flavor but if you don't like it you don't have to add it.
Strawberry is the main flavor and you can use strawberry gelatin but I prefer the Starburst Pink Gelatin (which is strawberry).
So go make these and then enjoy them for breakfast. 😛
Things to remember when making Jello Shots.
When throwing a party, you'll probably want to prepare 4-6 Jello Shots for each guest.
This batch uses 6 ounces of gelatin and so you will get around 18-20 Jello shots.
If doing a half recipe and only using 3 ounces of gelatin you will only get 8-10 Jelly Shots depending on how you pour.
If using a garnish, don't place the garnish on the jello shot until just ready to serve.
And as always it's a great day to order my cookbook.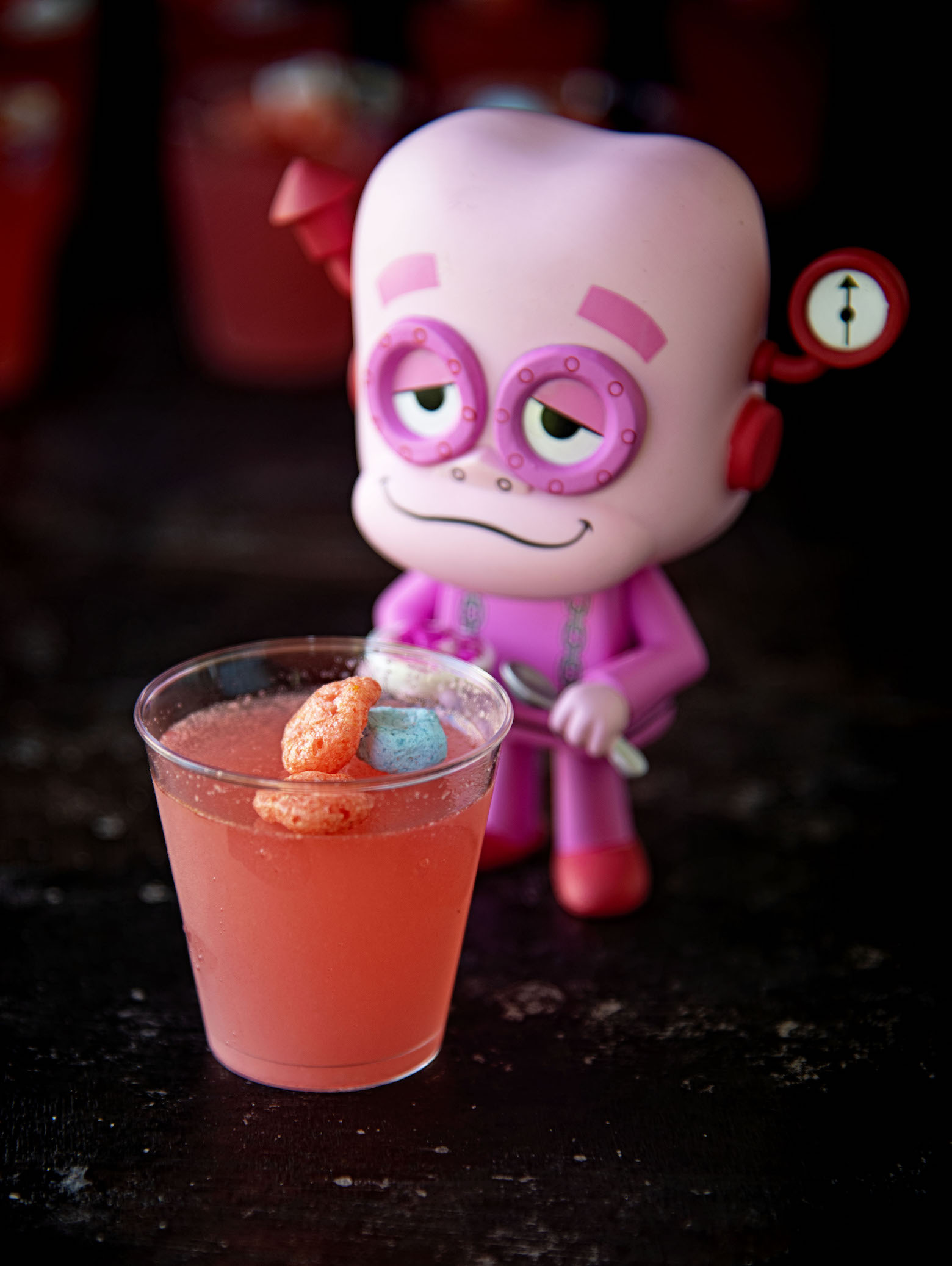 Take a look more spooky Halloween recipes from our #HalloweenTreatsWeek Bloggers today:
Halloween Cookies & Bars:
Halloween Cakes & Cupcakes:
Halloween Pies & Tarts:
Halloween Breakfast:
Chilled Halloween Treats:
Halloween Snack Mix and Candy:
No Bake Halloween Desserts: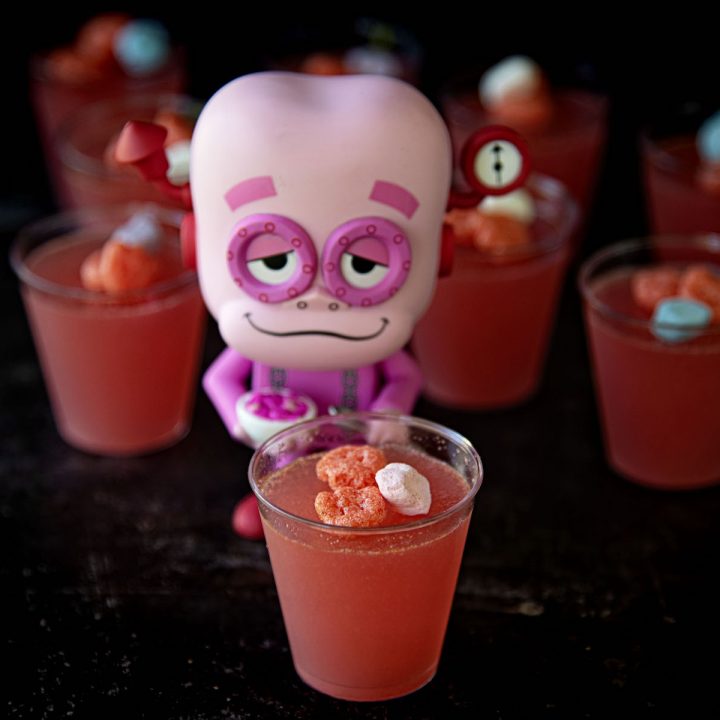 Franken Berry Jelly Shots
Ingredients
2 cups Franken Berry Cereal
1 1/2 cups vodka
2 1/2 cups cream soda, divided
2 (3 oz) packages Starburst Pink Gelatin (Strawberry)
2 TBSP malted milk powder
Instructions
In a sealable container combine the Franken Berry Cereal and the vodka.
Seal up the container and place in fridge for about 24 hours.
Shake it when you can remember to do so.
Strain out the cereal and pour vodka into a measuring cup to make sure you still have 1 1/2 cups of vodka.
Bring 2 cups of cream soda to a boil.
Empty powdered gelatin and malted milk into a large mixing bowl and add the boiling cola.
Let sit for 3 minutes.
Stir until all the gelatin and malted milk dissolves.
Add the remaining cream soda and Franken Berry infused vodka.
Stir until mixed and pour into 2 oz. cups filled 3/4 of the way full.
Top with Franken Berry cereal if desired.
Happy Halloween! Spooky Season is here and it is time for 2020's #HalloweenTreatsWeek event! #HalloweenTreatsWeek is a yearly Halloween blogging event that is hosted by Angie from Big Bear's Wife & its a creepy and haunting week-long event is filled with some amazingly wicked Halloween treats, recipes and some frightfully fun giveaways.
"When witches go riding, and black cats are seen, the moon laughs and whispers 'tis near Halloween."