This Easy Sloppy Joe Soup has all the flavors of a Sloppy Joe topped with coleslaw and yummy hamburger bun croutons.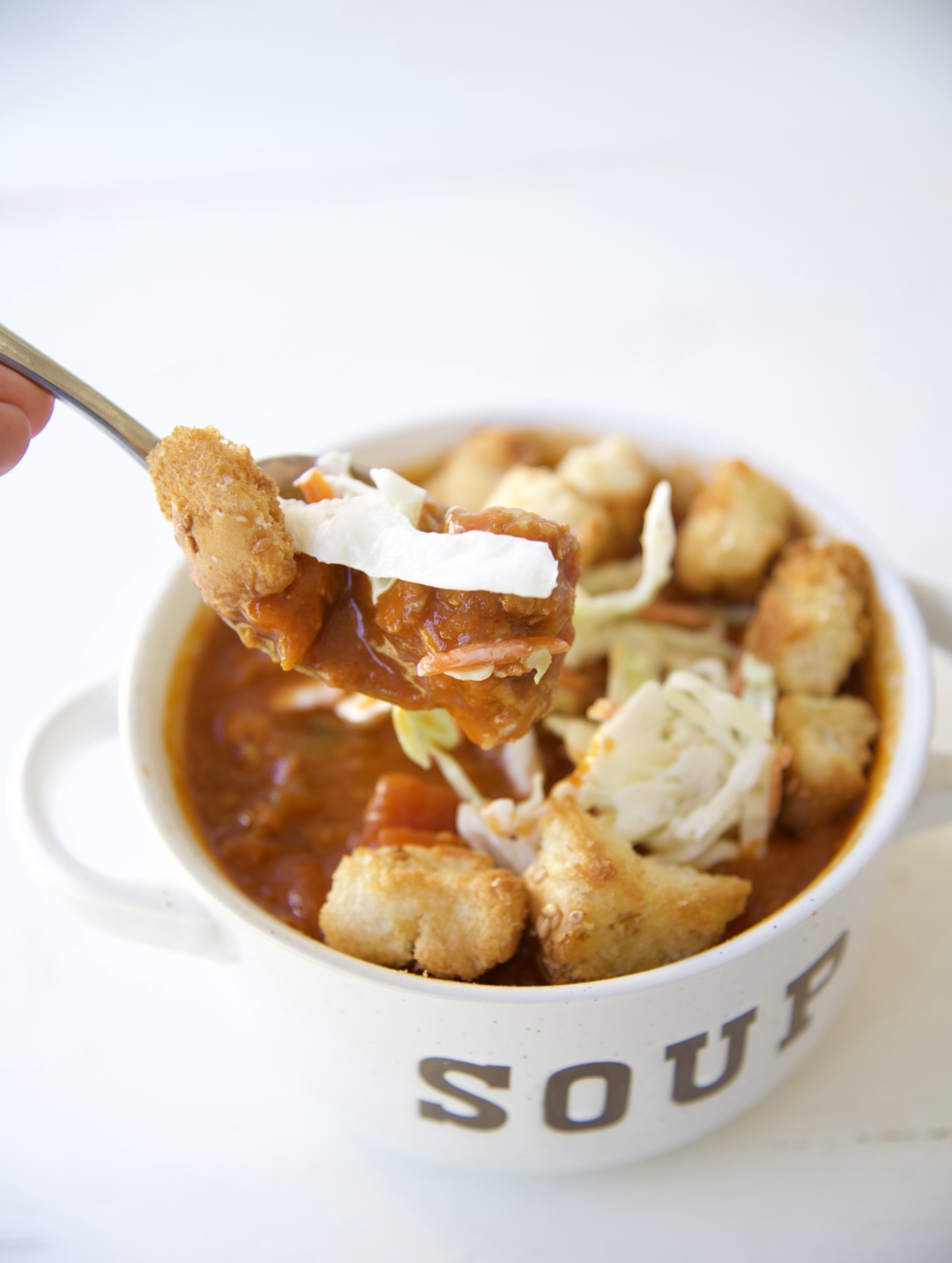 This easy Sloppy Joe Soup is based on the sloppy joes I grew up on in soup form.
Our Sloppy Joes weren't very fancy.
Now, I know you are saying since when are Sloppy Joes fancy?
They aren't really.
But there is the kind you make from scratch and they you have the kind you doctor up the mix.
My mom was a doctor up the mix kind of Sloppy Joe maker.
And therefore, that's what I do.
Both taste excellent.
But nostalgia wins out for me.
So when making the soup I just wanted to use the mix to give it that flavor I grew up on.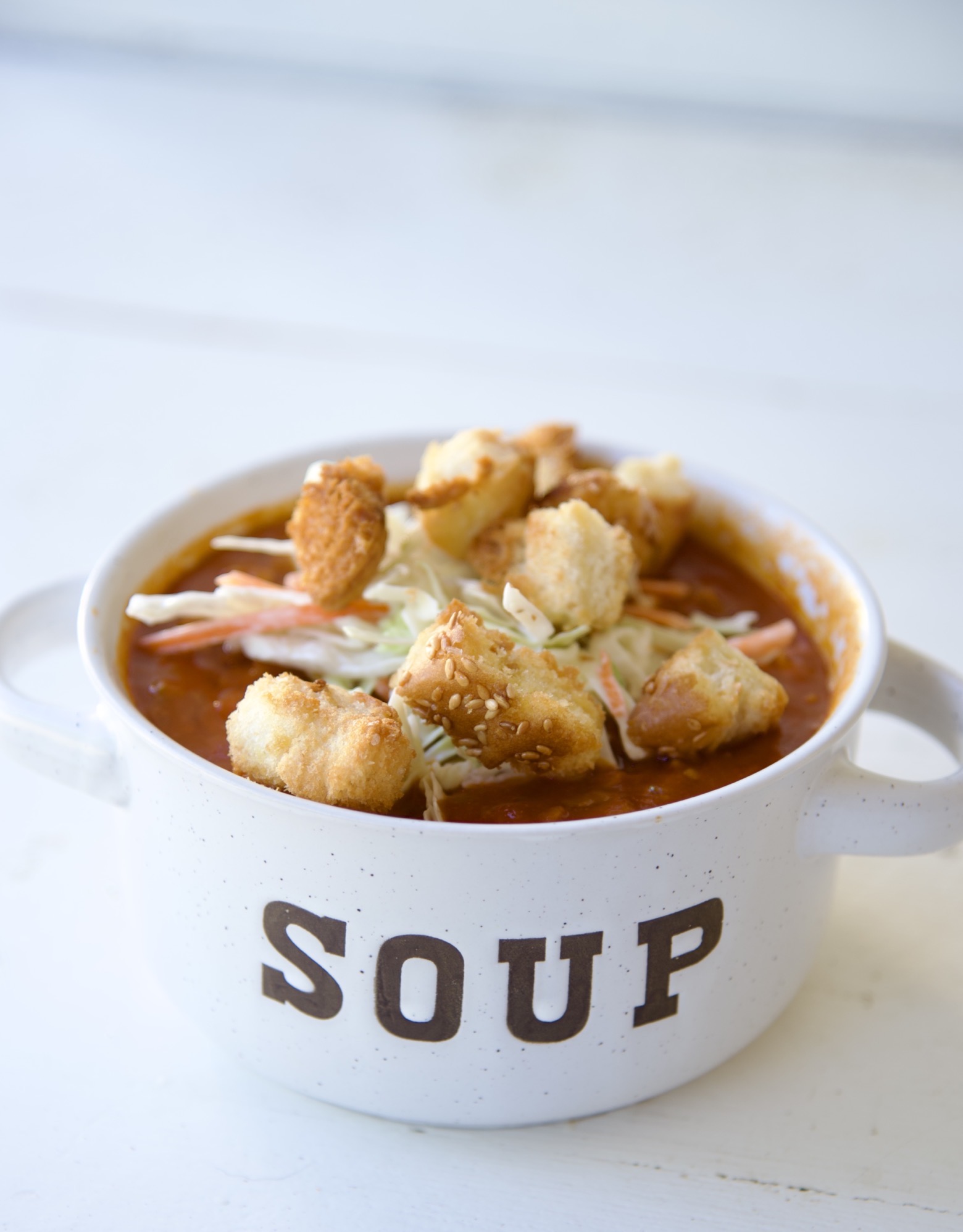 Do you need to make the Hamburger Bun Croutons?
Technically no.
You could just toast a full bun and put it on top.
Or if you don't want as many carbs you can leave them out.
BUT to me they really help make the soup extra special.
You can use whatever type of hamburger bun you want.
I grew up with sesame buns so that's what I picked.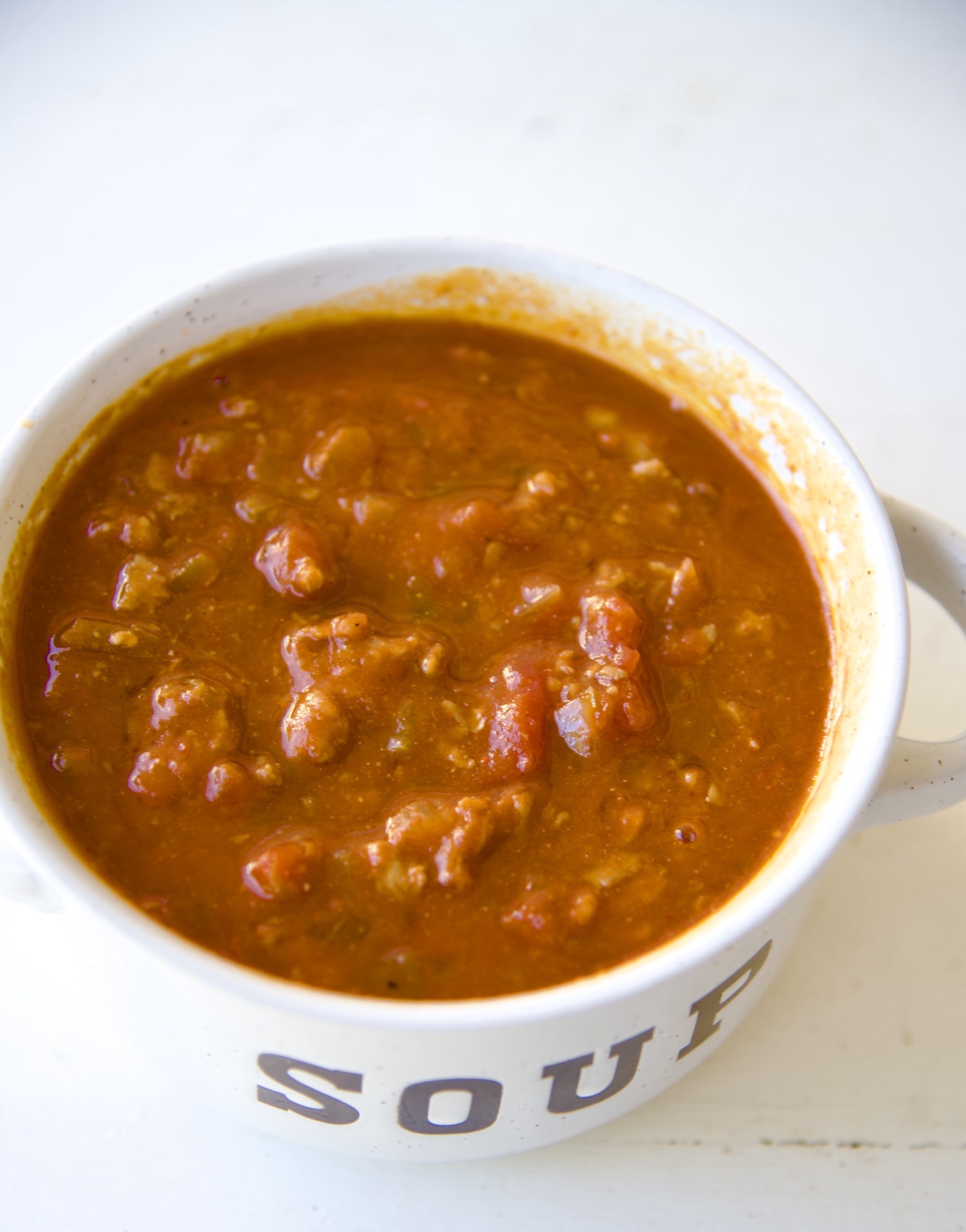 Do I have to make the Coleslaw?
You can totally skip the coleslaw.
The soup is good, with or without it.
My husband LOVES coleslaw on his sloppy joes and so I made just a quick coleslaw to go on top.
If you don't like coleslaw then totally skip.
But if you like coleslaw and have never had it with Sloppy Joes, then I encourage you to add the slaw and see if you like it.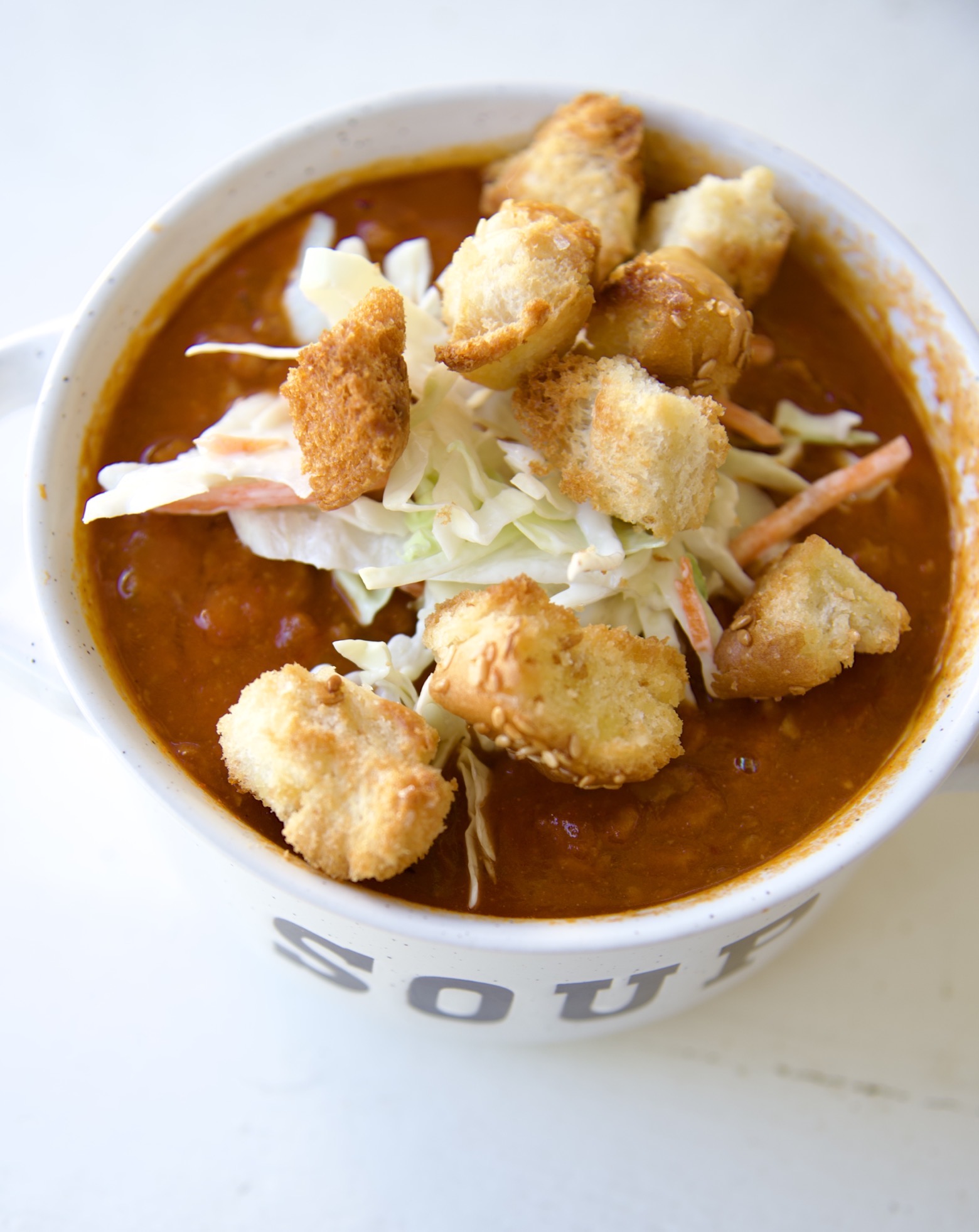 So if you are a sloppy joe fan and looking for a great soup to try…this is it!
Last but not least…it's a great time to order my cookbook.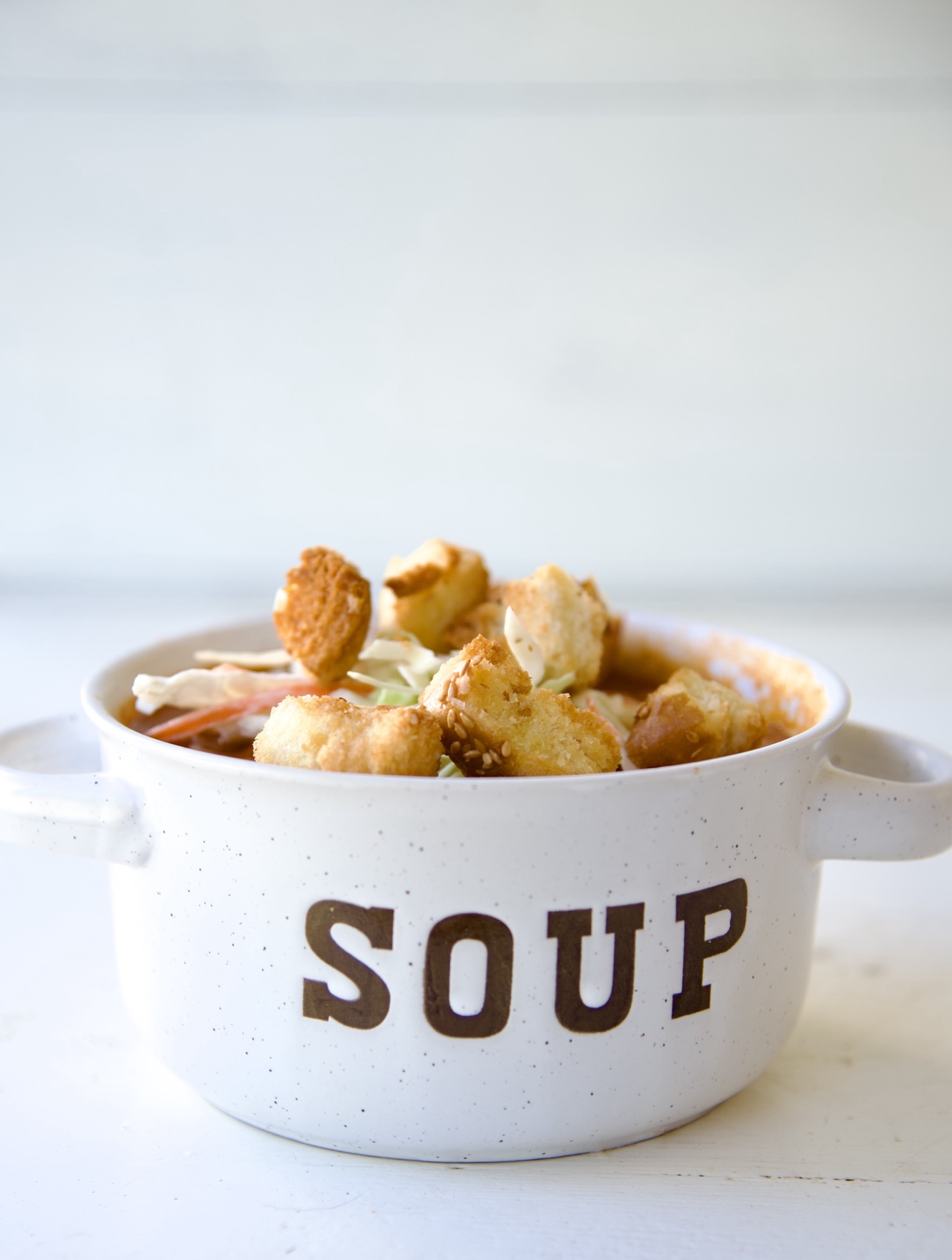 Want More Soup Recipes?
Vegetarian Vegetable No-Beef Soup
Chickenless-Chicken Noodle Soup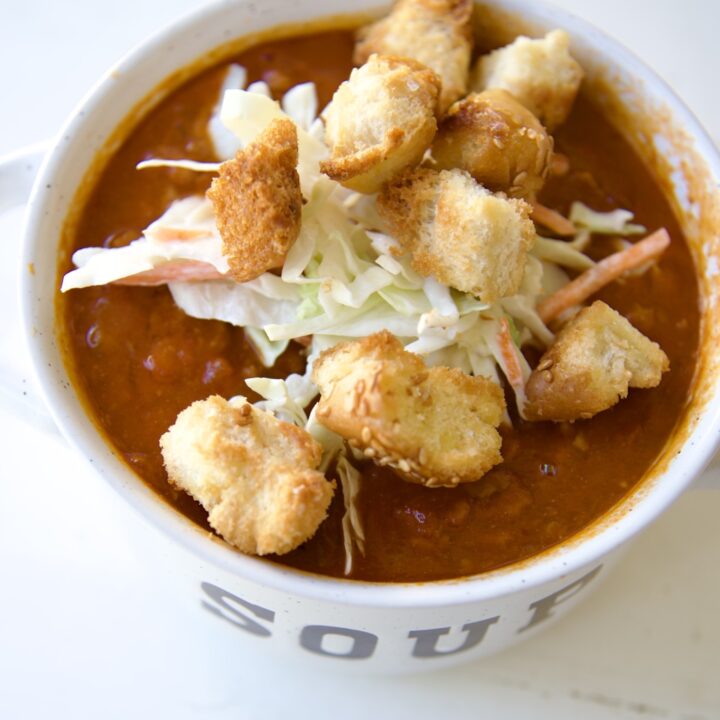 Easy Sloppy Joe Soup
Ingredients
For the Soup:
1 pound ground beef (or meat alternative such as Beyond Meat)
3 tbsp olive oil, divided
1 medium onion, finely diced
1 medium green bell pepper, finely diced
3 cups beef or vegetable stock water
2 cups tomato juice
2 oz Sloppy Joe (dry) Mix
1 cup crushed tomatoes
1/2 cup ketchup
1 tbsp brown sugar
1 tsp mustard
Pinch of cayenne pepper
Salt and pepper to taste
For the Hamburger Bun Croutons:
4 sesame seed hamburger buns
3 to 6 TBSP olive oil (will depend on how much oil you want)
1⁄2 tablespoon sea salt
For the Coleslaw:
1 (14 oz.) pkg. coleslaw mix
1/2 cup mayonnaise
1 1/2 TBSP granulated sugar
1 1/2 TBSP apple cider vinegar
pinch of salt
Instructions
For the Soup:
Using a large pot, start by sautéing a pound of lean ground hamburger till browned in 2 tsp olive oil.
Add the remaining 1 TBSP olive oil and add in the onion and bell pepper. Sauté the onion is browned.
Add in the beef stock, tomato juice, Sloppy Joe mix, and ketchup. Bring to a boil and stir.
Once boiling, reduce heat to simmer.
Add in the brown sugar, mustard, cayenne pepper, salt, and black pepper.
Let cook covered for one hour on simmer.
For the Hamburger Bun Croutons:
Cut buns into bite size pieces.
You can also use bread, which can be fresh or 'day-old'.
Place pieces in a bowl and drizzle olive oil over as you stir to coat.
Feel free to use more or less oil than is called for.
The more oil you use, the more melt-in-your-mouth they will be.
Sprinkle with salt.
Scatter bun pieces on a baking sheet so that they are in a single layer.
Bake at 350°F for about 15 minutes, stirring once.
Let cool and use on top of soup.
For the Coleslaw:

In a small mixing bowl whisk together mayonnaise sugar, apple cider vinegar and a pinch of salt.

Place coleslaw mixture in a medium mixing bowl pour mayonnaise mixture over then toss to evenly coat.

Serve on top or as a side to the soup.
Did you make this recipe? Snap a photo and leave a comment!
Be sure to follow bakerpeabody on instagram and tag #bakerpeabody with your photo! You can also post a photo of your recipe to the Sweet ReciPEAs Facebook page. I'd love to see what you make!