These Apple Pie Ala Mode Muffins are filled with apples, apple pie spices, and all topped with a vanilla ice cream glaze.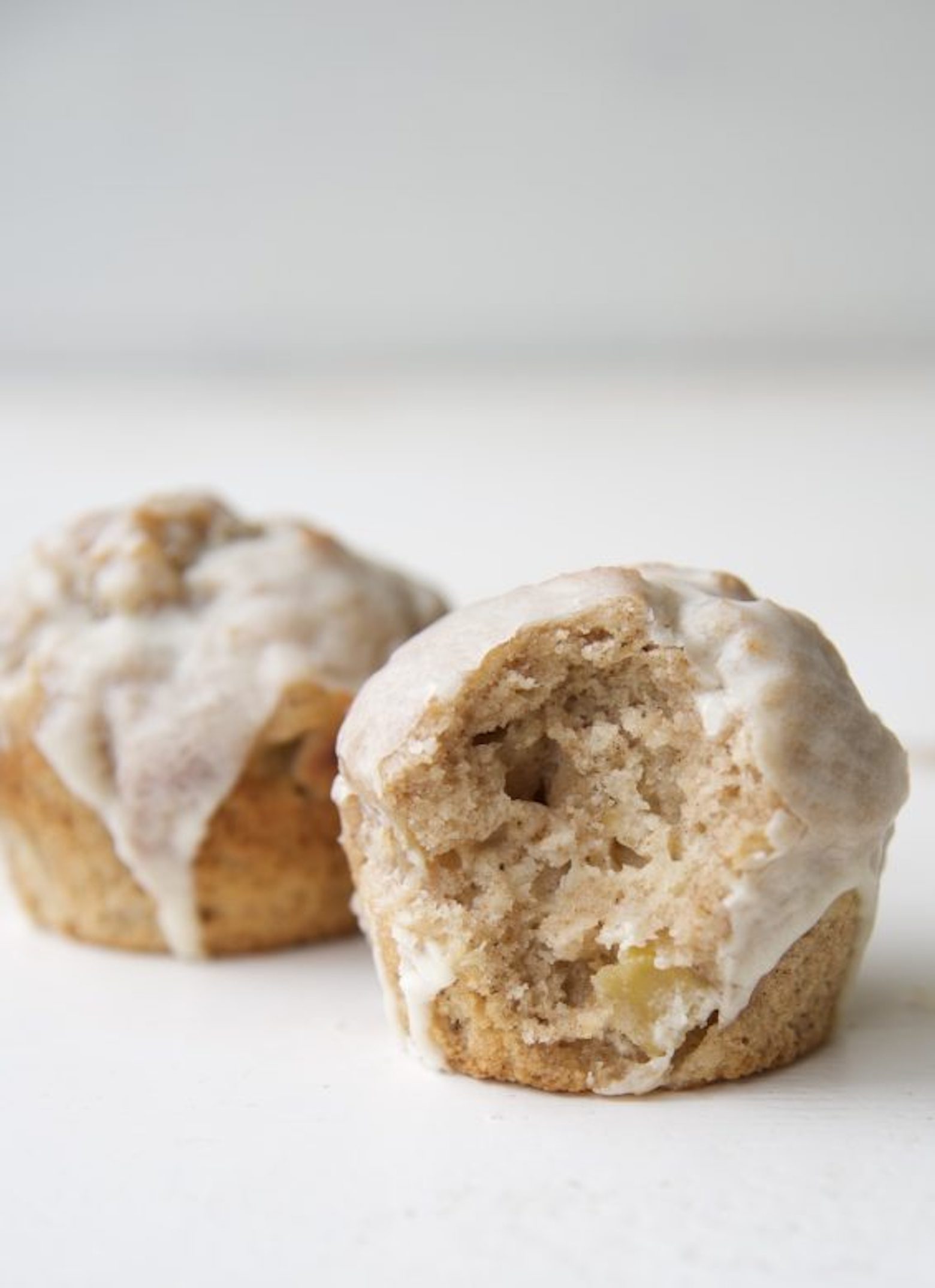 It's apple season around here.
My own trees in my yard are bursting with apples.
Which, like everyone of my neighbors who also have apple trees, have no idea what variety we have. 😀
The farms on my street with orchards are starting their fall festivals and U-pick apples.
They do know what varieties they have. 😛
No matter if you are picking your own apples or buying them at the store, September is definitely the time of year to start baking with apples.
These muffins are in honor of my love of of apple pie topped with vanilla ice cream.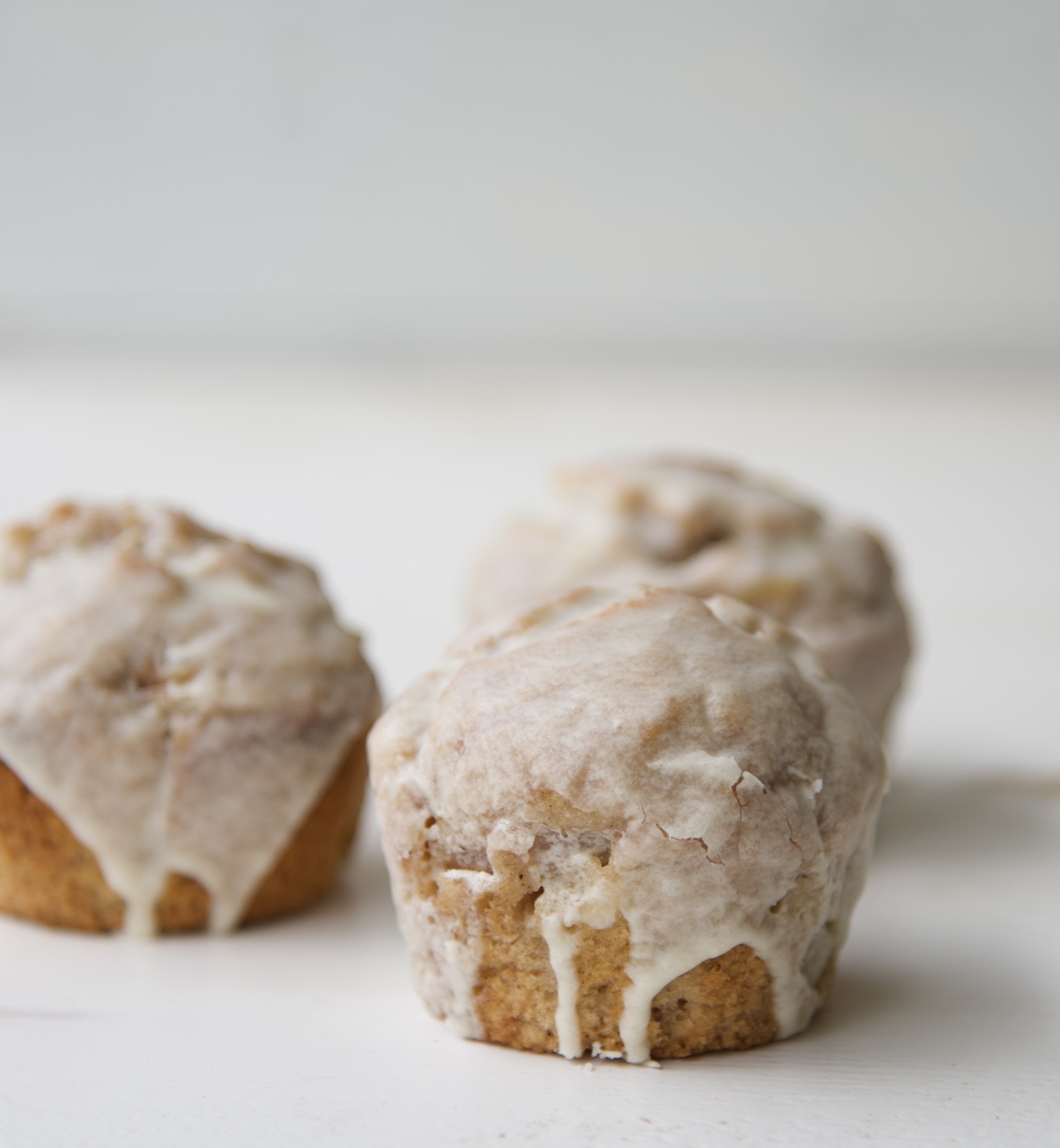 Why You'll Love These Apple Pie Ala Mode Muffins:
Moist Muffins – Yes, I said moist. Deal with it. Sometimes that is just the word you need to use. 😛
Lots of Apples – There is no searching for the apples in these muffins.
Vanilla Ice Cream Glaze – The muffins are drizzled in a yummy vanilla ice cream glaze. Perfect way to have ice cream for breakfast. You can make the glaze thicker by adding more powdered sugar. And you can make it thinner by adding more melted ice cream or a little milk.
Easy Recipe – Peeling and chopping apples is the hardest part of the recipe.
Probably a Cupcake – I fully admit that on any given day someone might confuse these for a cupcake. For me it's a muffin if it's morning and cupcake when I feel like admitting they are more a cupcake than muffin. 😀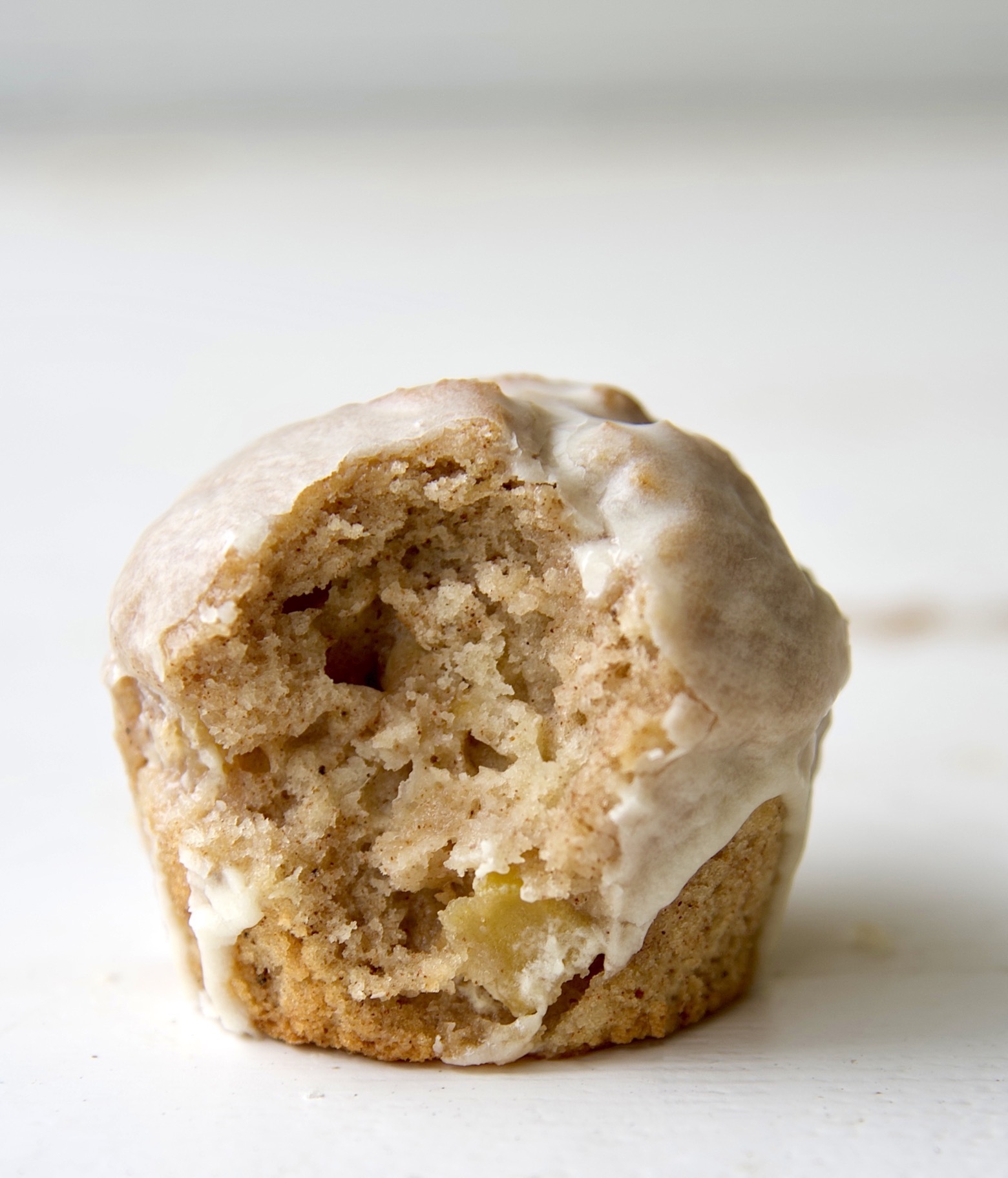 Ingredient Overview:
As always, the full recipe with measurements & directions can be found at the bottom of this post.
All-purpose flour – Spoon your flour into the measuring cup, then level it with a flat utensil for best results. Scooping the measuring cup directly into your flour will lead to too much flour, and a potentially dry bake.
Vegetable Oil – Vegetable oil keeps these muffins ultra tender and moist! Yep, I said moist again. If you really want to use butter, I suggest using half melted butter and half vegetable oil.
Sugars – I use a blend of both brown sugar (for more depth) and granulated sugar. Please note that the brown sugar is not packed.
Eggs – Use large eggs and make sure they are at room temperature.
Apples – Honeycrisp apples are ideal for baked goods. They hold their shape and do not get mushy. Honeycrisp are also sweet but with a tartness as well. You could use other kinds of apples like Granny Smith, Braeburn, Fuji, or your favorite variety.
Vanilla Ice Cream – Basically, whatever your favorite vanilla ice ice brand is (or homemade) should be used for the glaze.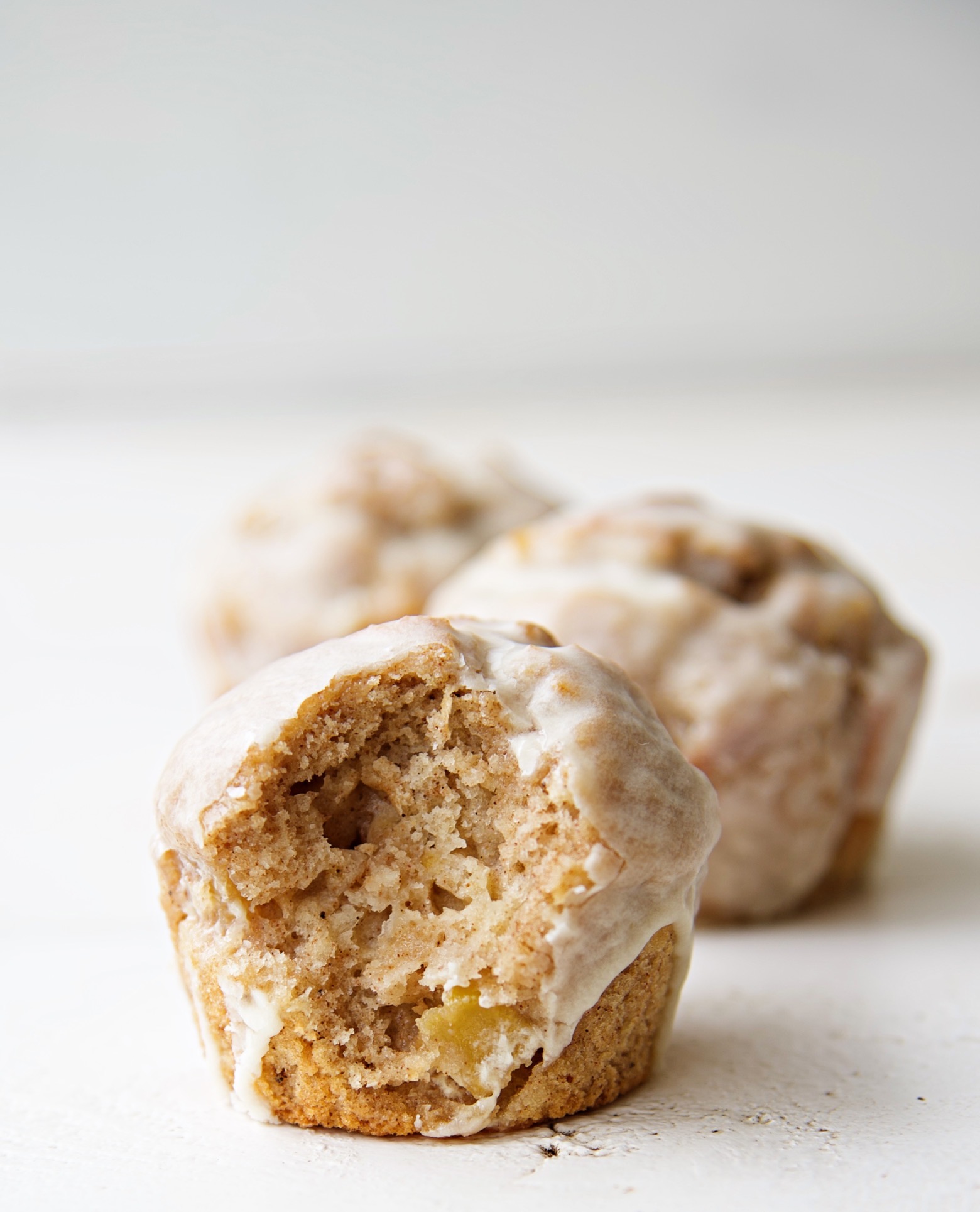 Tips for Making these Muffins:
Why vegetable oil and not butter? Vegetable oil will produce muffins that stay the most tender when cooled.
Buttermilk – If you don't want the tang of buttermilk then substitute for regular milk. Though I really think buttermilk produces a better muffin.
Do not over-mix or the muffins will become tough. I know it's said all the time. But people really do over-mix their muffins and quick breads. Think light touch.
P.S. It's a great day to buy my cookbook Holy Sweet!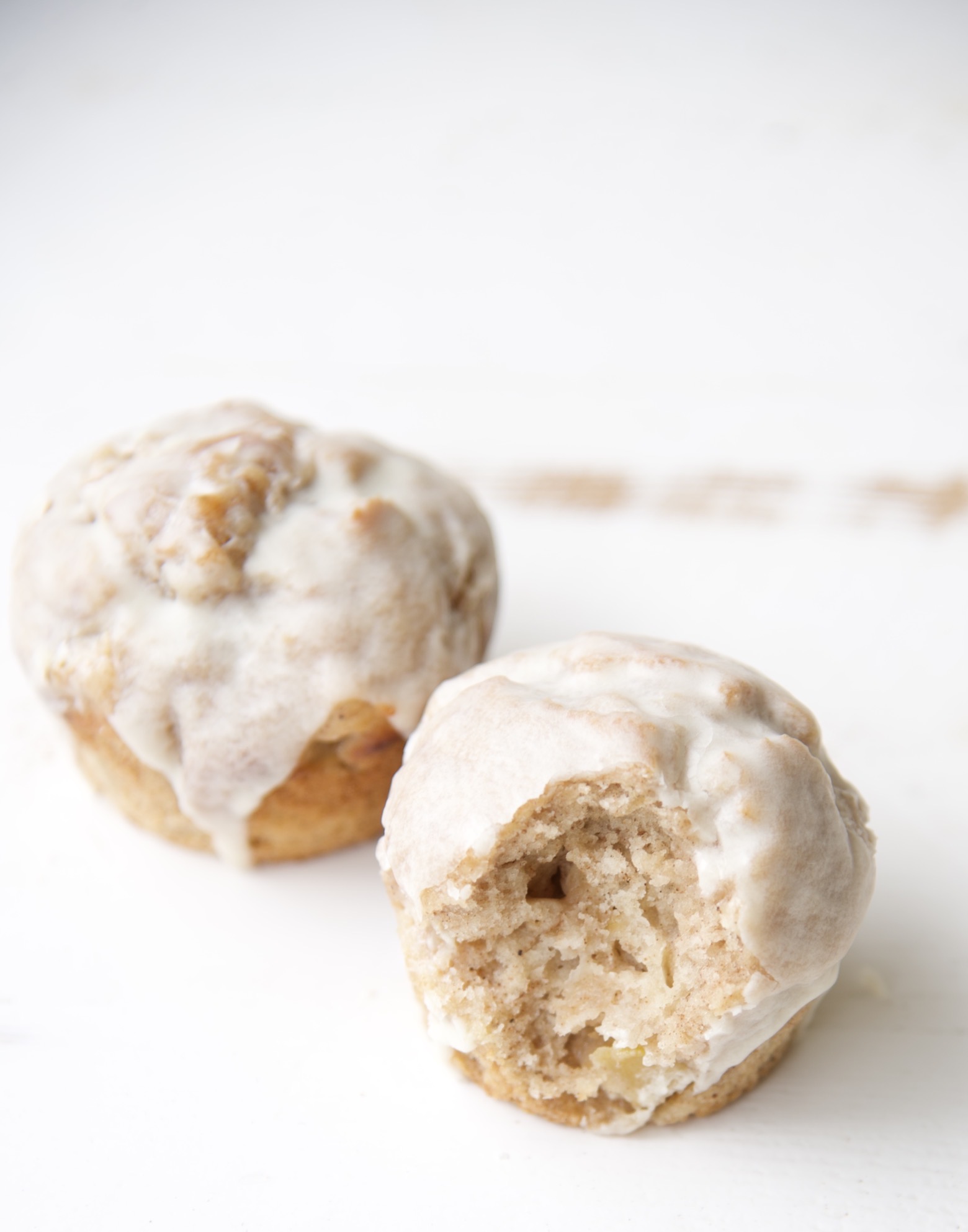 Want More Muffin Recipes?
Clementine Chocolate Chip Muffins
Cider Glazed Apple Fritter Muffins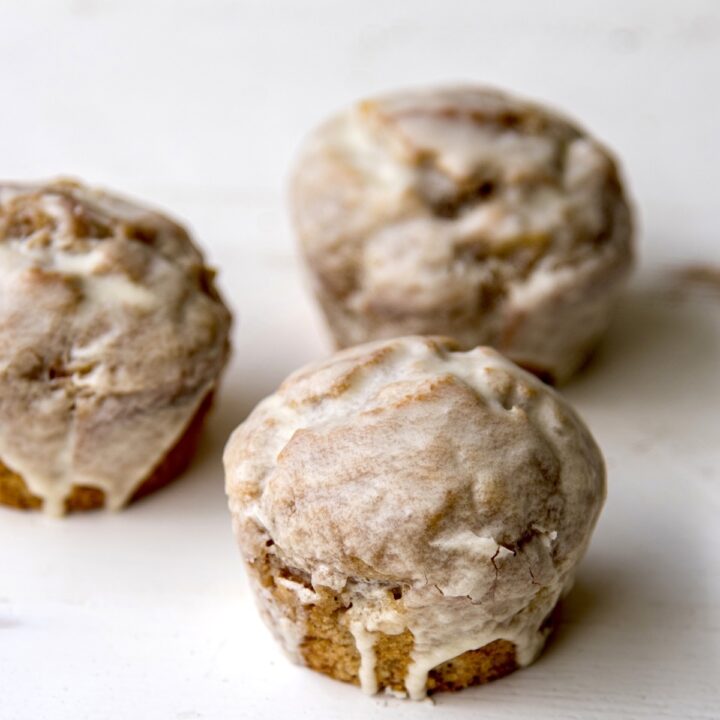 Apple Pie Ala Mode Muffins
Ingredients
For the Muffins:
2 2/3 cups all-purpose flour
1/2 tsp baking powder
1/4 tsp baking soda
2 tsp apple pie spice
3/4 tsp salt kosher salt
2/3 cup vegetable oil
1/2 cup granulated sugar
1/2 cup brown sugar
2 large eggs, at room temperature
1 tsp vanilla extract
1 cup buttermilk, at room temperature
3 large Honeycrisp apples, peeled, cored, finely diced
1/4 cup granulated sugar
3 tsp apple pie spice
For the Vanilla Ice Cream Glaze:
3/4 cup melted vanilla bean ice cream
4 TBSP melted butter
2 1/2 cups powdered sugar
Instructions
For the Muffins:
Preheat oven to 425°F and line a muffin pan with liners.
In a medium bowl, combine the flour, baking powder, baking soda, apple pie spice, and salt.
In a large bowl, mix together the oil and sugars until smooth.
Add eggs, vanilla, and buttermilk.
To the wet ingredients, add the flour mixture..
Mix until just combined. Set aside.
In a small bowl, mix together apples, granulated sugar, and apple pie spice.
Gently fold apples into muffin batter.
Divide the batter evenly between the 12 muffin cups. Unlike most muffins you want to fill these all the way full.
Bake for 18-20 minutes, or until an inserted toothpick comes out with a few crumbs, but no wet batter. As the muffins are baking, make the glaze.
For the Ice Cream Glaze:
Simply whisk together the melted ice cream, butter, and powdered sugar in a medium bowl.
Pour glaze over the muffins.
Did you make this recipe? Snap a photo and leave a comment!
Be sure to follow bakerpeabody on instagram and tag #bakerpeabody with your photo! You can also post a photo of your recipe to the Sweet ReciPEAs Facebook page. I'd love to see what you make!