Vegetarian Tomato Cheddar Soup is a classic tomato soup getting a cheesy makeover by adding Cheddar cheese to the soup.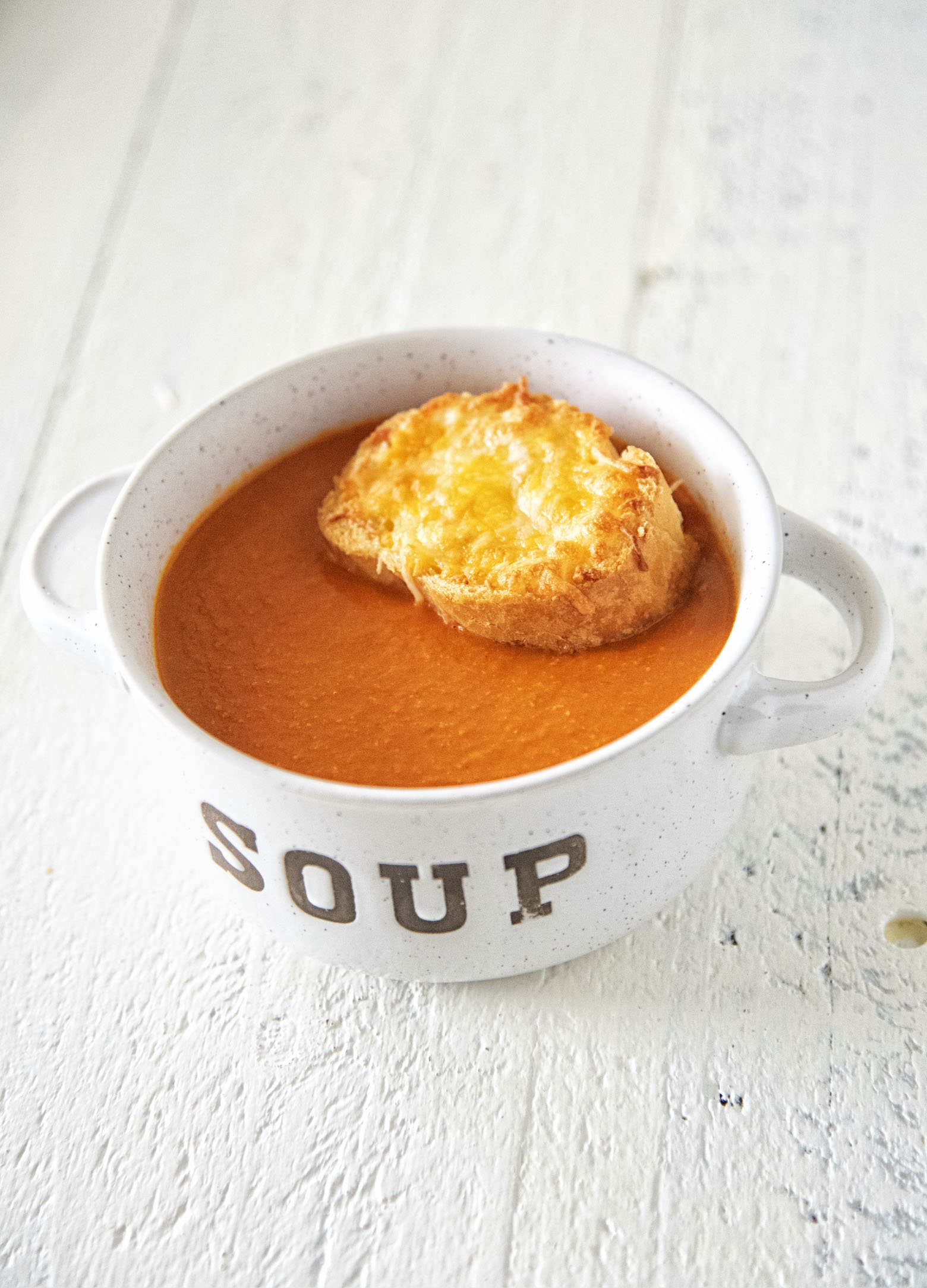 I lived on tomato soup all of my childhood…and if we are being honest, my adulthood too. 🙂
As a kid I loved Campbell's Tomato Rice soup.
That I prepared with milk instead of water.
And I would eat it with Ritz crackers covered in cheeseball spread.
Clearly I was gourmet from the start. 😛
As I got older I switched to the grilled cheese and tomato soup combo.
Which is totally a classic but I have since evolved to the cheese toast.
Why?
Because there is less bread and more cheese. 🙂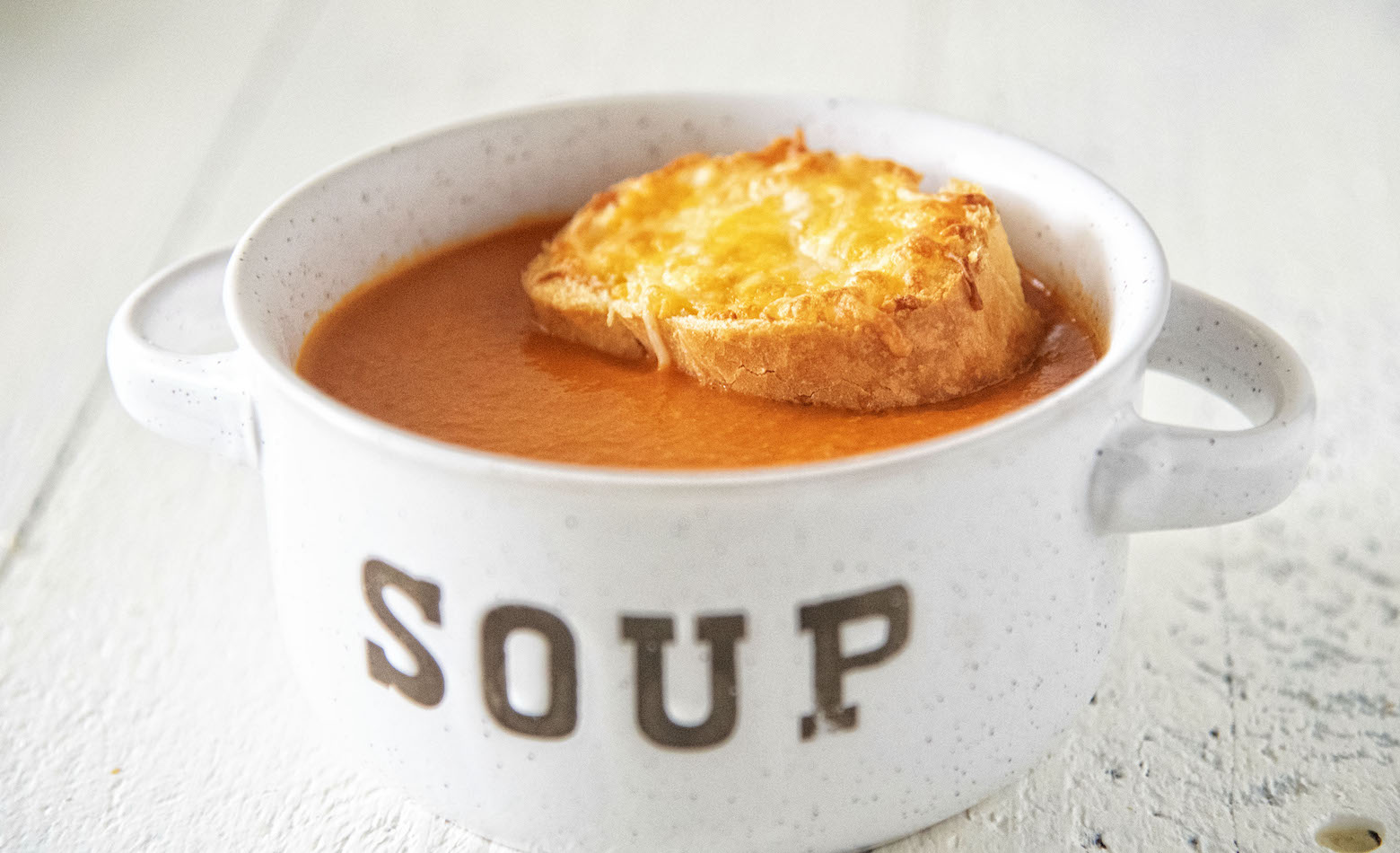 This Vegetarian Tomato Cheddar Soup is a twist on the classic by adding large quantities of Cheddar cheese.
I really missed out my whole life by not adding cheese to tomato soup!
Cheddar does not always melt that easy and so I ran my soup through the blender after I added the cheese.
I really suggest doing that.
We have a Vitamix and even though they are costly, I can't recommend them enough (not an ad).
Even my husband says it's worth it. 🙂
Which is a ringing endorsement if there ever was one. 😀
After you make this you will never want tomato soup from a can again…or without cheese in it. 🙂
P.S. It's a great day to buy my cookbook Holy Sweet!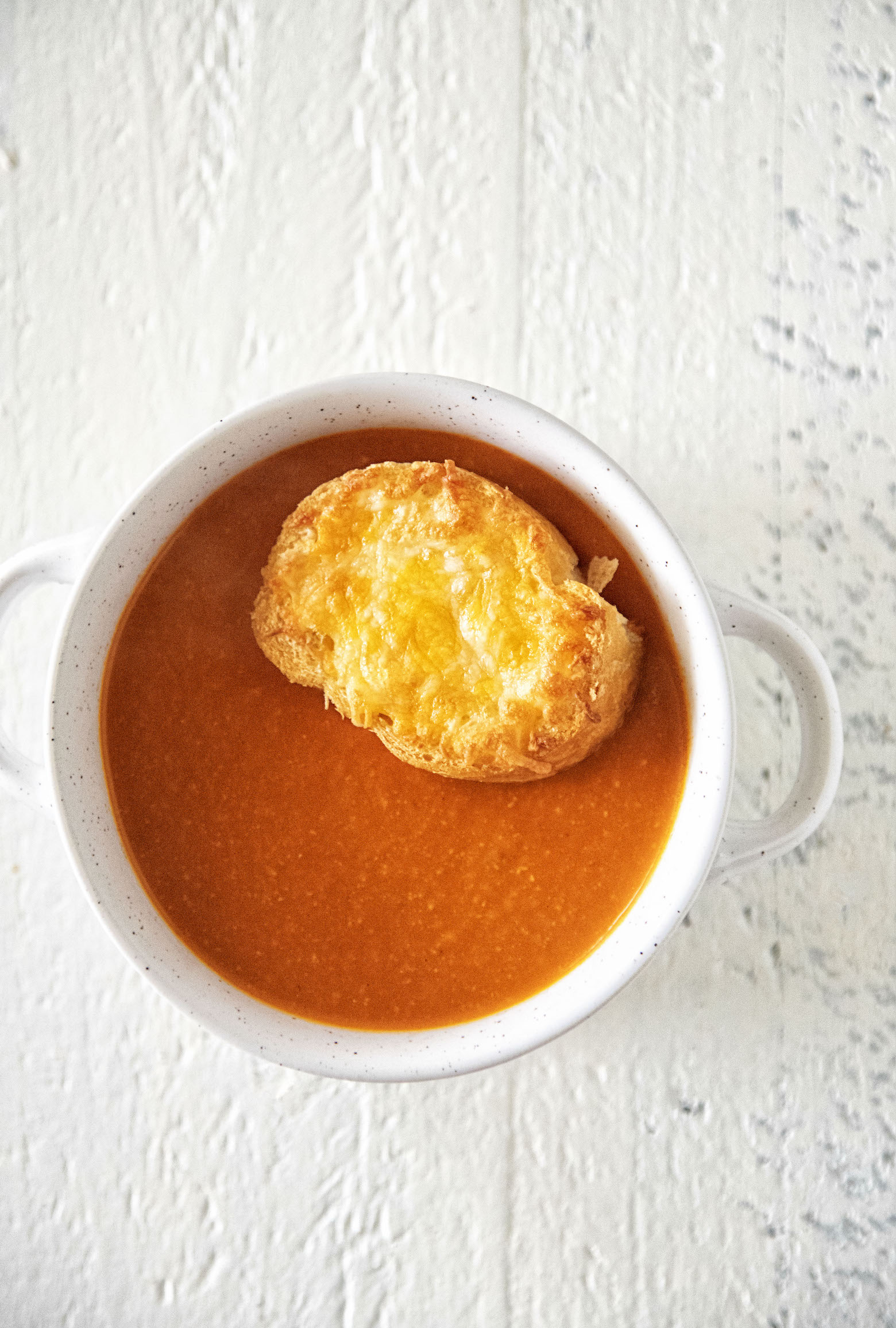 Want More Recipes? Try These:
Vegetarian Vegetable No-Beef Soup
Roasted Broccoli Cheddar Quiche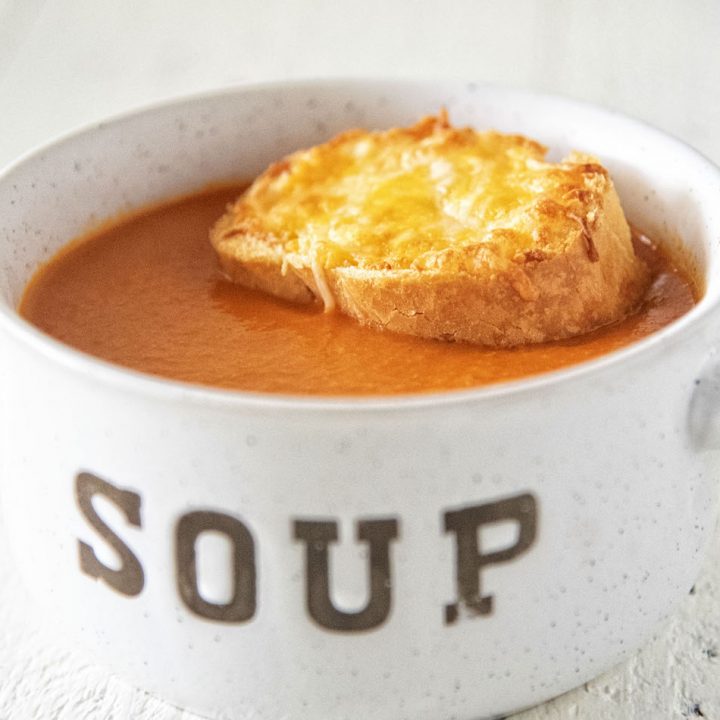 Vegetarian Tomato Cheddar Soup
Ingredients
For the Soup:
4 TBSP. unsalted butter
1 1/4 cups diced onions
2 TBSP minced fresh garlic
2 TBSP. tomato paste
2 cans whole San Marzano tomatoes in juice (28 oz.)
4 cups vegetable broth
4 cups shredded sharp Cheddar cheese
1/2 cup heavy cream
1/2 cup whole milk
salt and pepper to taste
For the Cheese Toasts:
12 slices baguette
1/4-inch thick
2 Tbsp. olive oil
1/2 cup Cheddar cheese
1/4 cup Parmesan cheese, shredded
Salt and black pepper to taste
Instructions
For the Soup:
Melt butter in a large pot over medium heat; add onions and sweat until softened, 5 minutes.
Stir in garlic and tomato paste and cook 1 minute.
Add tomatoes; lightly crush with the back of spoon.
Stir in broth and bring to a boil; cook 10 minutes.
Purée soup using a handheld blender, or in batches using a standard blender.
Reduce heat to medium and stir in 4 cups Cheddar cheese, a handful at a time, letting each addition fully melt before adding the next.
Cheddar cheese does not melt fully (or at least in my case) so I run it through the blender one more time.
Off heat, stir in heavy cream and milk; season soup with salt and pepper.
For the Cheese Toasts:
Preheat broiler to high with rack 6 inches from element.
Brush both sides of baguette slices with oil and season with salt and pepper; place on a baking sheet.
Broil baguette slices until toasted, about 1 minute per side.
Sprinkle baguette pieces with 2 tsp. Parmesan and 2 TBSP Cheddar cheese.
Broil crostini until cheese is bubbling and starting to brown, 1–2 minutes.