This Apple Crumb Pie Cheesecake has a pie crumb crust, brown sugar apple pie cheesecake filling, topped with a crumb topping.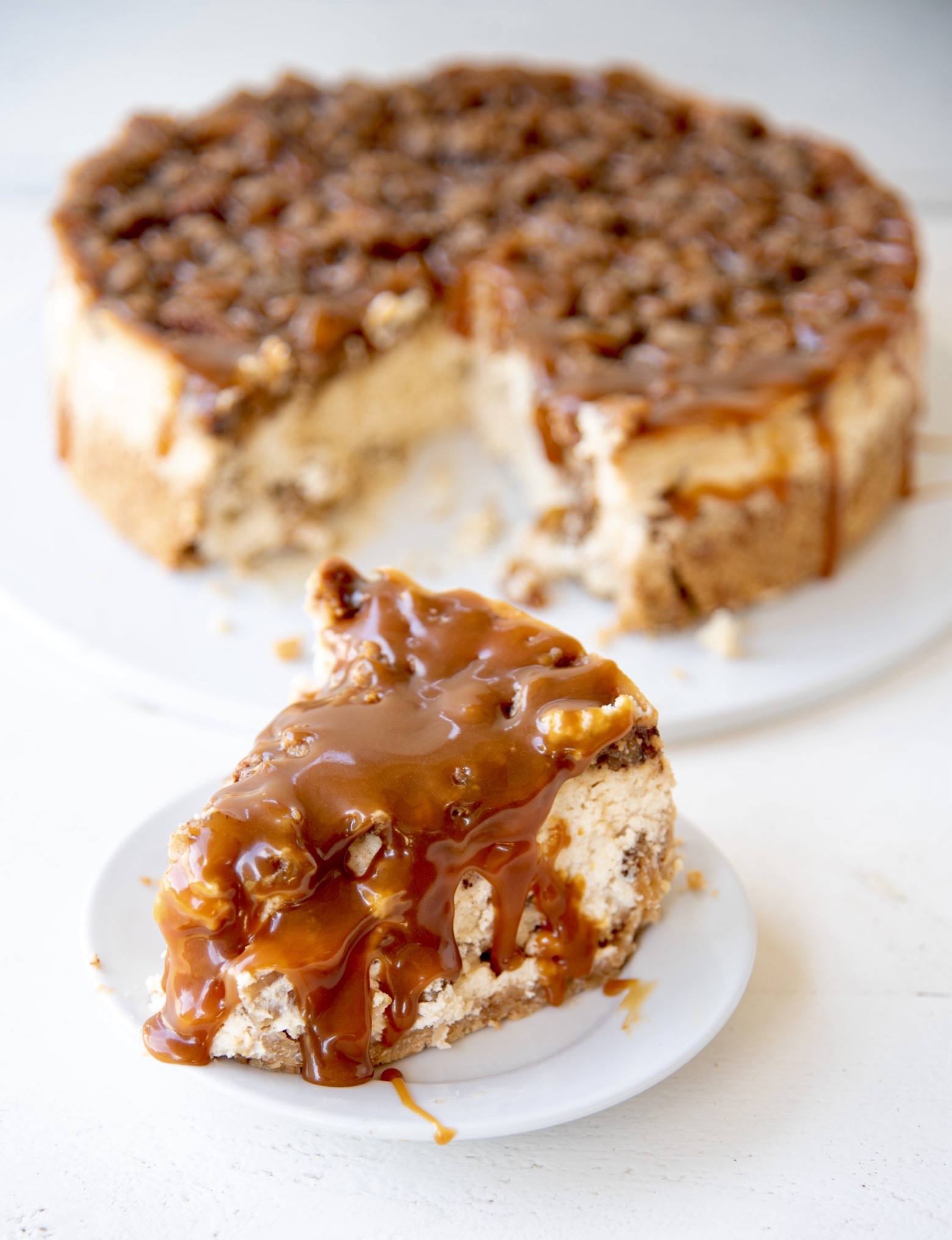 Why You'll Love This Apple Crumb Pie Cheesecake:
6 Layers to Love
Pie Crust-Crust: While this may sound redundant saying crust-crust. But you bake store bought (or homemade if you want) pie crust. Then you finely crush the pie crust. Then use the pie crust crumbs to make a crust like you would a classic graham cracker crust.
Apple Pie Apples: Honeycrisp apples diced and cooked in cinnamon, brown sugar, and apple pie seasoning. Then strained as to not add more liquid to the cheesecake.
Crumb Topping: This crumbly topping is a scaled-down version of what I use when making crumb cake.
Cinnamon Swirl: A mix of butter, cinnamon, and brown sugar.
Brown Sugar Cheesecake Filling: A creamy cheesecake filling using brown sugar instead of granulated studded with apple pie apples.
Apple Cider Caramel Sauce: To save time you can just buy caramel sauce (just make sure it's a good one). I make a apple cider caramel sauce (recipe is included) but you can use a plain caramel or even a salted caramel sauce.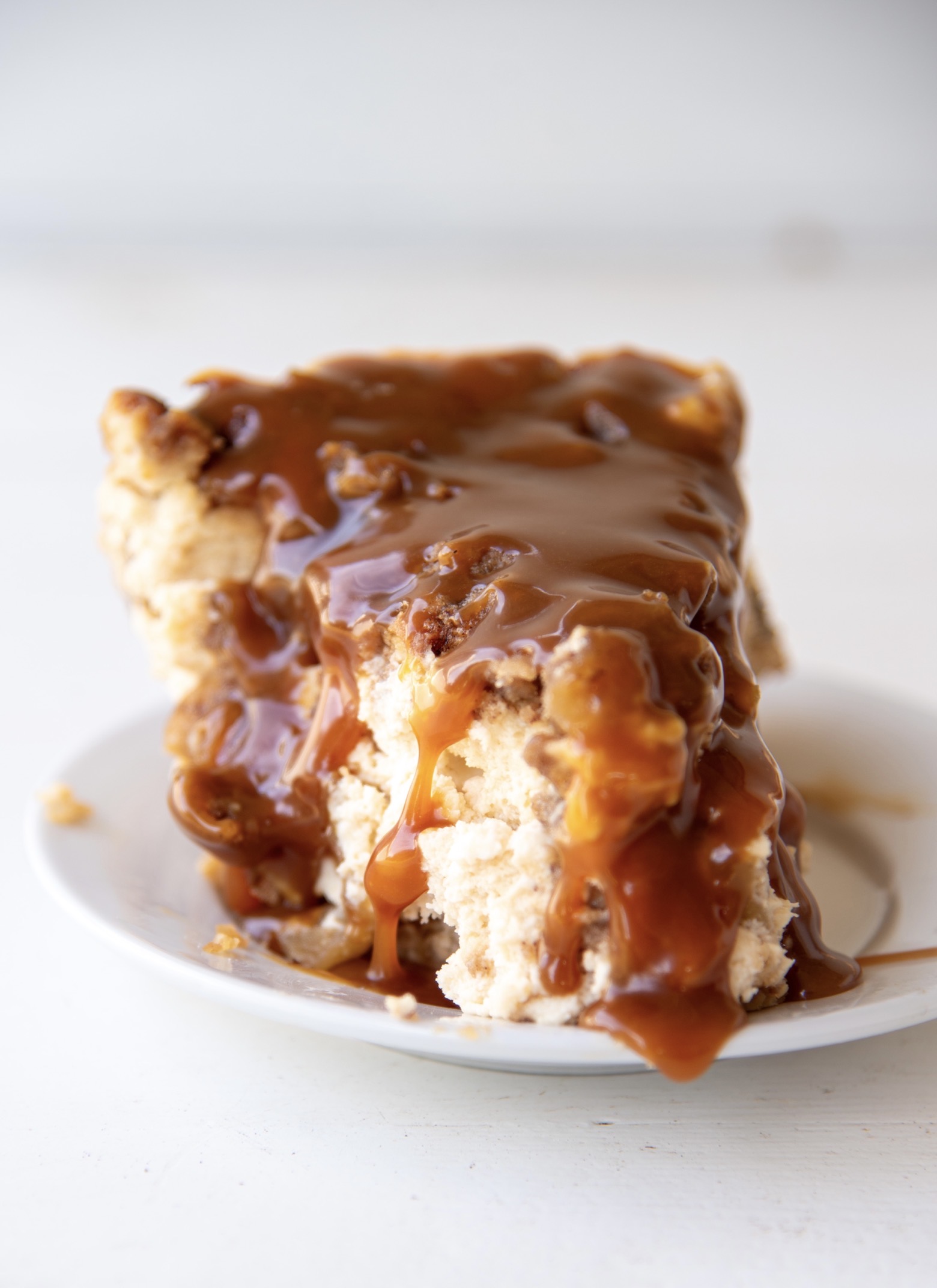 Ingredient Highlights:
As always, the full recipe with measurements & directions can be found at the bottom of this post.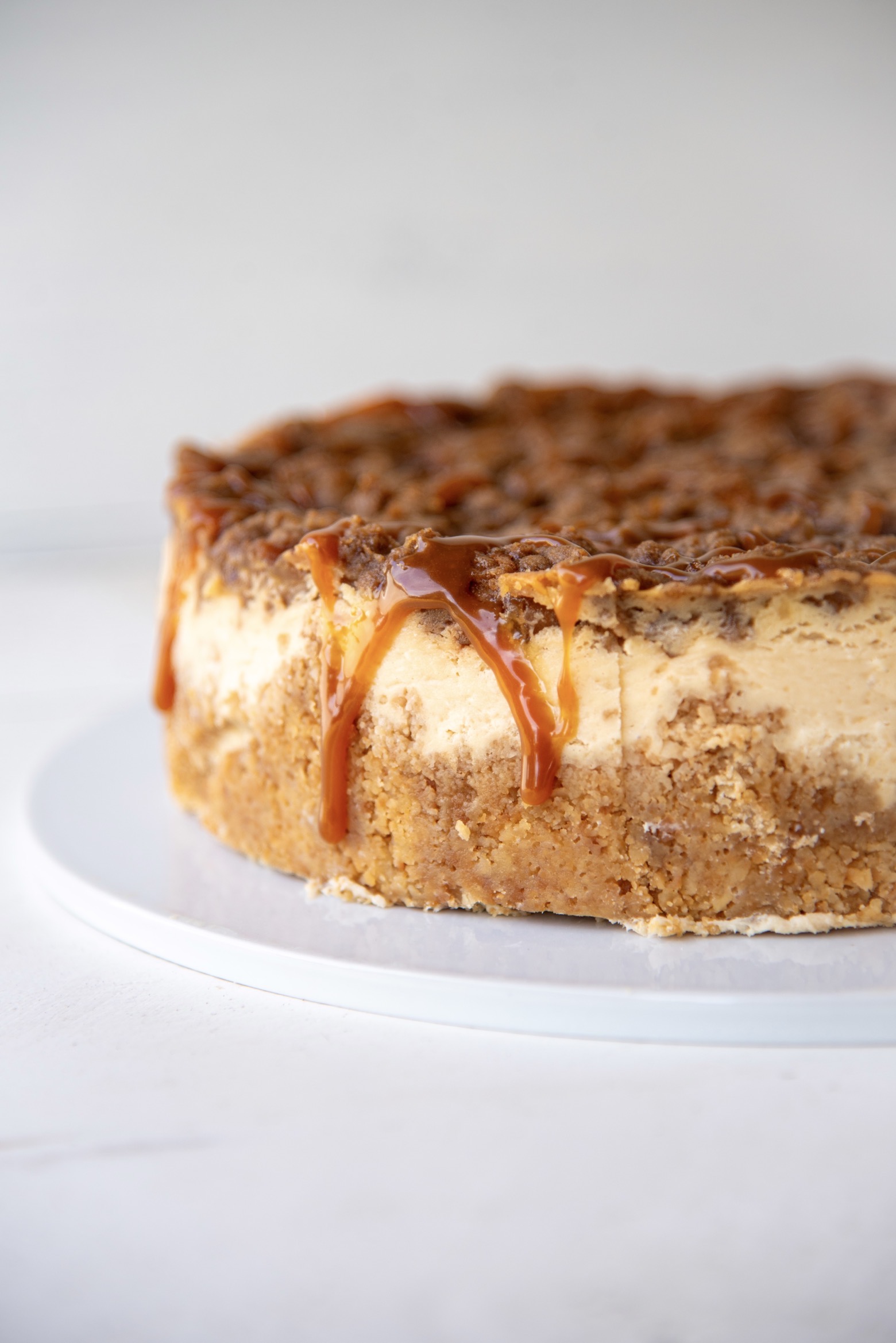 Expect to see a lot of apple recipes in the coming months.
As my apple trees are producing a ton of apples.
It's a miracle they still produce.
See, my husband has been passively trying to kill our fruit trees for years.
He doesn't water them. And yes, the Seattle area does get rain often, lately there has not been as much.
We don't prune them like you are supposed to each year.
Every now and then the takes the tree saw and hacks it up if it's starting to grow into the neighbors yard.
But it's never intentional.
Our one apple tree has been hit by our trailer twice.
It now leans weird.
But, it lives out of spite.
And it's our fruit tree that produces the most fruit. 🙂
My theory is that the apple tree has the goal to produce so many apples that eventually we are buried in them. 😀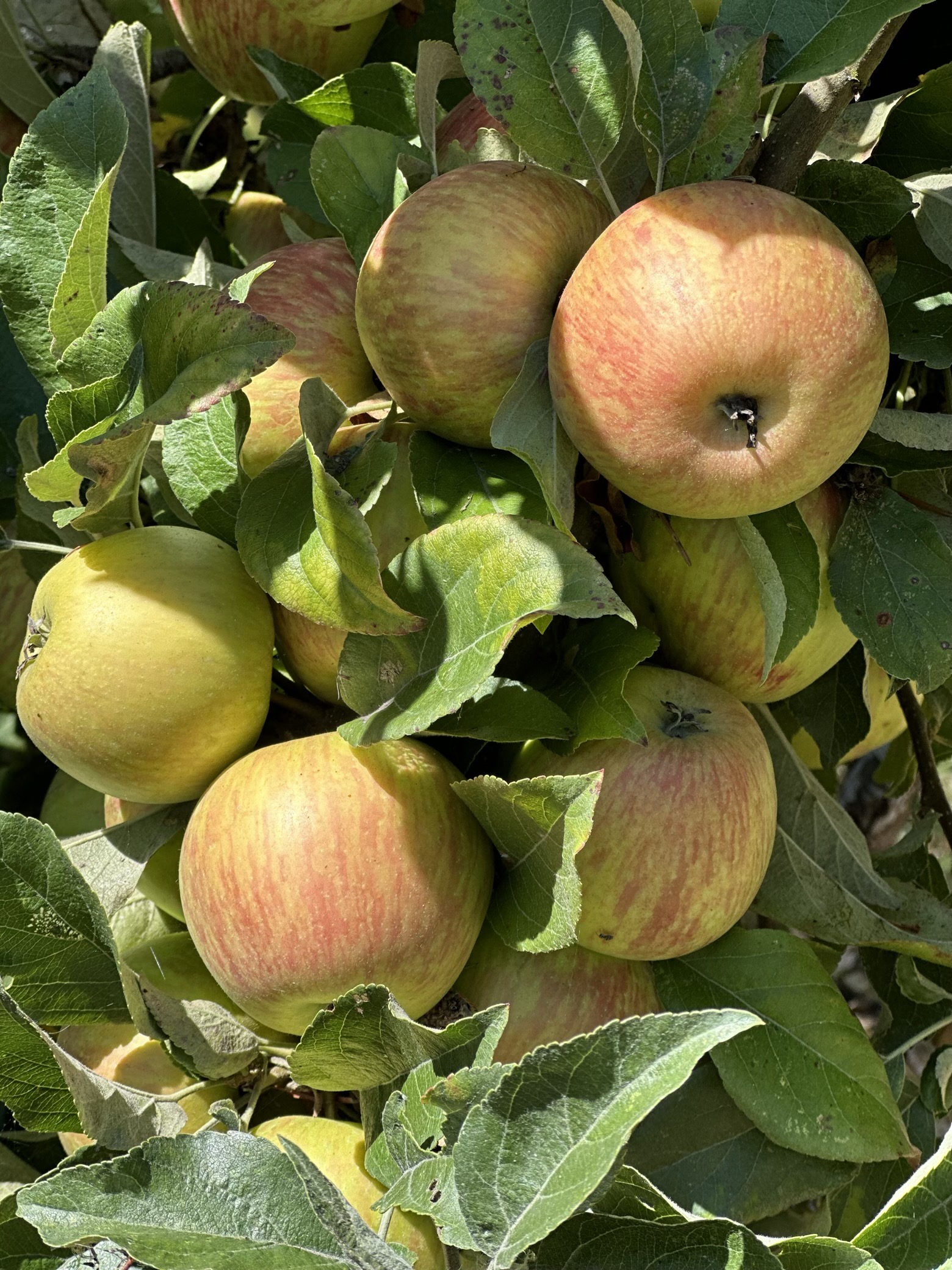 I have no idea what kind of apples I have.
I know they are tart-ish and I like using them in baking as they hold together well.
Part of why I don't know what kind they are is because the previous owner that planted them spliced three different varieties in each tree.
So it's apple lottery.
This cheesecake is a combo of my two favorite dessert.
When I make an apple pie I like to have a regular pie crust bottom and a crumb top.
And so I went that route with this cheesecake as well.
To get the true pie flavor I used pie crust instead of graham crackers to make the crust.
It really does add to the dessert.
You could make this caramel apple and not use the apple pie spice if you prefer.
But me, I love the warm flavors that apple pie spice adds.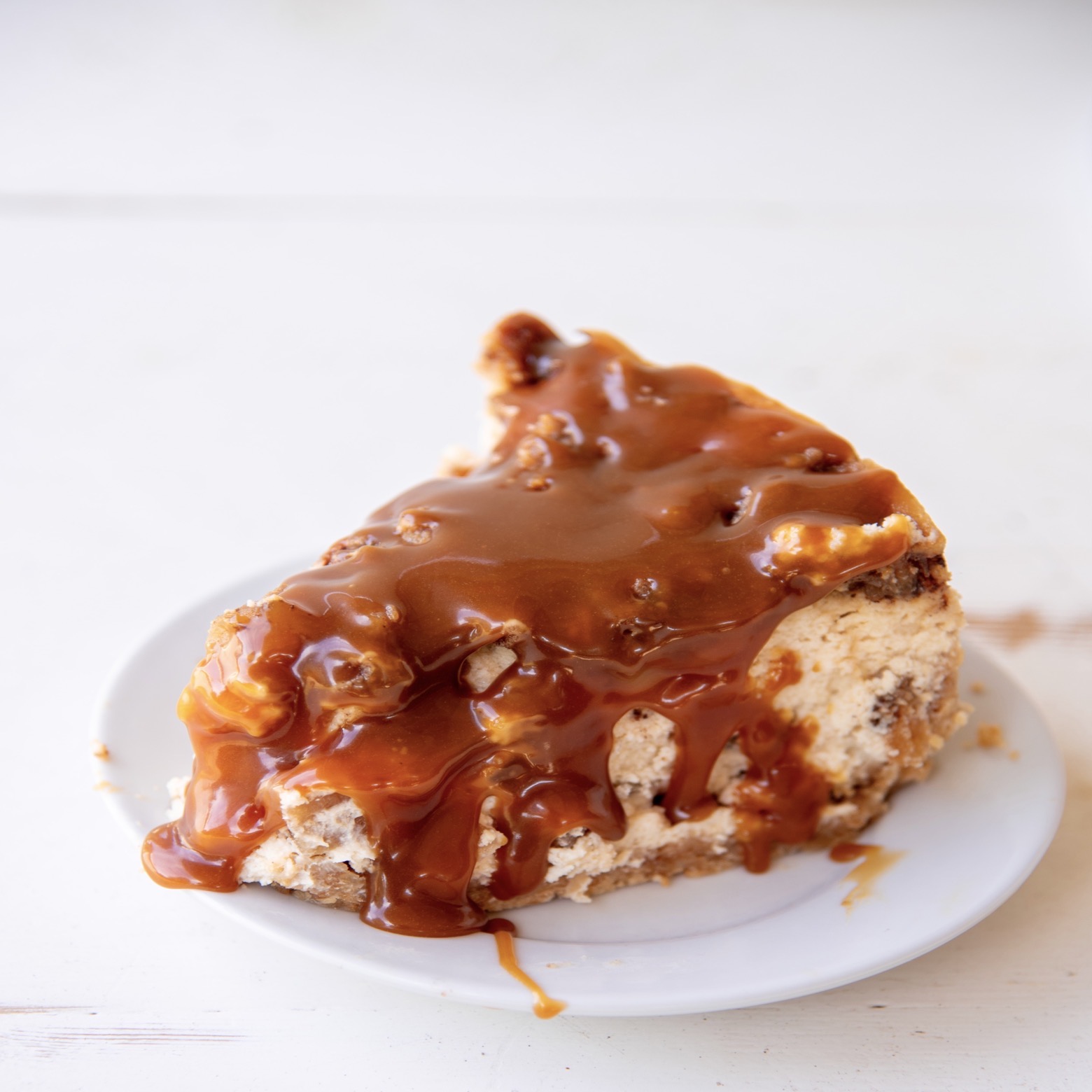 Tips for a Successful Cheesecake:
Frequently Asked Questions:
Want More Cheesecake Recipes?
Chocolate Chip Cookie Dough Cheesecake
Cinnamon Roll Caramel Apple Cheesecake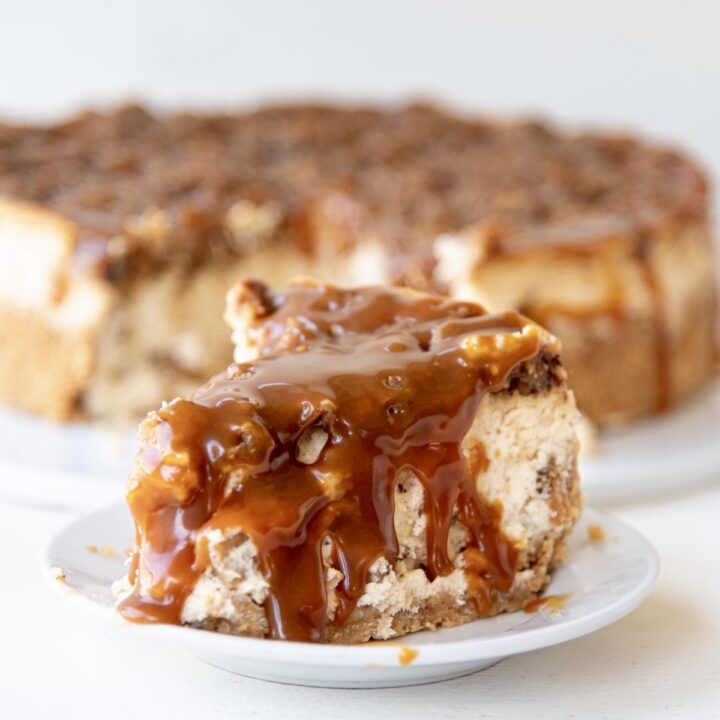 Apple Crumb Pie Cheesecake
Ingredients
For the Pie Crust-Crust:
2 (9-inch) store bought pie crust (I used Pilsbury...the package comes with 2 crusts), baked and finely crushed
1/2 cup salted butter, melted
2 tbsp brown sugar
For the Crumb Topping:
1/3 cup brown sugar, packed
pinch of salt
4 TBSP unsalted butter, melted and then slightly cooled
2/3 cup plus 3 TBSP cake flour
For the Apple Pie Apples:
2 large Granny Smith or Honey crisp apples, peeled, cored, cut into small dice
1/4 cup brown sugar
1 tbsp. cornstarch
1/2 tbsp. unsalted butter
1/2 tsp. apple pie spice
1/8 tsp. kosher salt
1/2 cup apple cider (or apple juice or water)
For the Cinnamon Swirl:
5 TBSP plus 1 tsp. packed brown sugar
2 TBSP salted butter, melted
1 1/2 tsp. ground cinnamon
For the Cheesecake Filing:
32 ounces (four 8-oz boxes) full fat cream cheese, at room temperature
1 and 1/2 cups brown sugar
3 large eggs, at room temperature
2 large egg yolks, at room temperature
3/4 cup full fat sour cream, at room temperature
2 tsp vanilla extract
For the Apple Cider Caramel Sauce:
1/3 cup apple cider
1 cup granulated sugar
3 TBSP unsalted butter cut into pieces
3/4 cup heavy cream, at room temperature
1 tsp. vanilla extract
Instructions
For the Pie Crust-Crust:
Preheat oven to 450F (or whatever your pie crust calls for).
Roll out the two pie crusts on one large sheet pan or two sheet pans.
Bake for 10-12 minutes until golden brown. Don't let it get too brown since you are baking it again.
Remove from oven and let cool completely.
Finely crust the crust using a food processor. Or put pie crust in a storage bag and use a rolling pin to crush the crust.
Spray a 9-inch springform pan with nonstick spray and make sure the bottom is securely fastened.
Stir together the pie crust crumbs, butter, and sugar in a small bowl and press into prepared pan and up the sides of the pan.
Bake this for 10 minutes.
Set aside.
Reduce oven temperature to 350F.
For the Crumb Topping:
In a medium sized bowl, put sugar and salt and stir until combined.
Add the melted butter and then cake flour and mix (hands work best for this).
Place in fridge for 15 minutes.
Remove from fridge and crumble the topping. Set aside.
For the Apple Pie Apples:
In a medium saucepan, toss apples, sugar, cornstarch, butter, apple pie spice, and salt, and 1/2 cup apple juice until combined.
Bring to a simmer over medium heat and cook, stirring frequently, until apples are knife-tender and sauce is thickened, about 15 minutes.
Let cool to room temperature.
For the Cinnamon Swirl:
Combine brown sugar, melted butter, and cinnamon in a small bowl.
Pour cinnamon mixture into the bag; refrigerate until filling is as thick as toothpaste, about 10 minutes.
For the Cheesecake Filling:
Remember that your cold ingredients need to come to room temp before you start or the filling won't turn out.
Using a stand mixer with the paddle attachment cream the softened cream cheese until creamy, about 1-2 minutes.
Add the brown sugar 1/4 of a cup at a time. Let cheesecake mix for 30 seconds after each sugar addition.
Scrape the sides of the bowl with a rubber spatula as you go.
Add the eggs one at a time, mixing on medium speed after each until just incorporated.
Add the egg yolks one at a time, mixing on medium speed after each addition.
Scrape down the sides and bottom of your bowl and mix another 30 seconds until all the eggs and yolks are fully incorporated.
Add the vanilla and mix until just incorporated.
Pour 1/3 of the batter over the baked and cooled crust, then add one third of the apple pie apples in an even layer.
Scatter 1/3 the cinnamon swirl mix in teaspoon size drops on top of the apples.
Carefully swirl the mix.
Pour 1/3 of the batter over the first layer. Then add one third of the apple pie apples in an even layer.
Then 1/3 of the cinnamon swirl mix in teaspoon size drops on top of the apples.
Carefully swirl the mix.
Pour remaining batter over the second layer.
Then add the remaining apple pie apples in an even layer.
Then the remaining cinnamon swirl mix in teaspoon size drops on top of the apples.
Carefully swirl the mix.
Scatter the crumb topping on top of the cheesecake.
You will need to wrap your pan in foil so water doesn't leak into your springform pan.
Better yet, use one of the silicone wraps.
I like those way better. I linked the one I use in the blog post.
Bake the cheesecake for 1 hour and 30 to 1 hour and 35 minutes in a water bath..
When done, the cheesecake will have only a slight wobble in the center, and a toothpick inserted into the edge will come out clean, and will have a bit of thick batter when inserted into the center.
Turn off the oven and crack the oven door open.
Let the cheesecake cool in the oven for 1 hour before removing it.
Remove the foil and set the springform pan on a wire rack.
Let cool completely at room temp, then cover with foil and refrigerate at least 6 hours or up to 1 day before removing from the pan and serving.
Drizzle some caramel apple sauce on top of the cheesecake. Save some to pour on individual pieces when you serve the cheesecake.
For the Apple Cider Caramel Sauce:
Place the apple cider and sugar to a medium saucepan.
Heat over medium-high heat until it begins to boil, stirring constantly to dissolve the sugar.
Turn the heat down to medium and insert a candy thermometer.
Do not stir the sugar as it boils.
As soon as the mixture reaches 310-15 degrees F immediately remove it from the heat.
If you want a darker caramel you can go to 330F.
Just be careful not to let it go too far because it will burn.
Carefully and slowly pour the cream into the caramelized sugar while whisking.
The caramel will bubble up and is extremely hot.
Continue to whisk until all the cream has been added and is mixed in thoroughly.
Whisk in the butter and vanilla.
Set the pot on a wire rack to cool completely before transferring to a glass container for storage.
Store in the fridge for up to a week.